Not having a standardised ice rink in Hong Kong has made Benny Chan's training trickier, but he's not letting that hold him back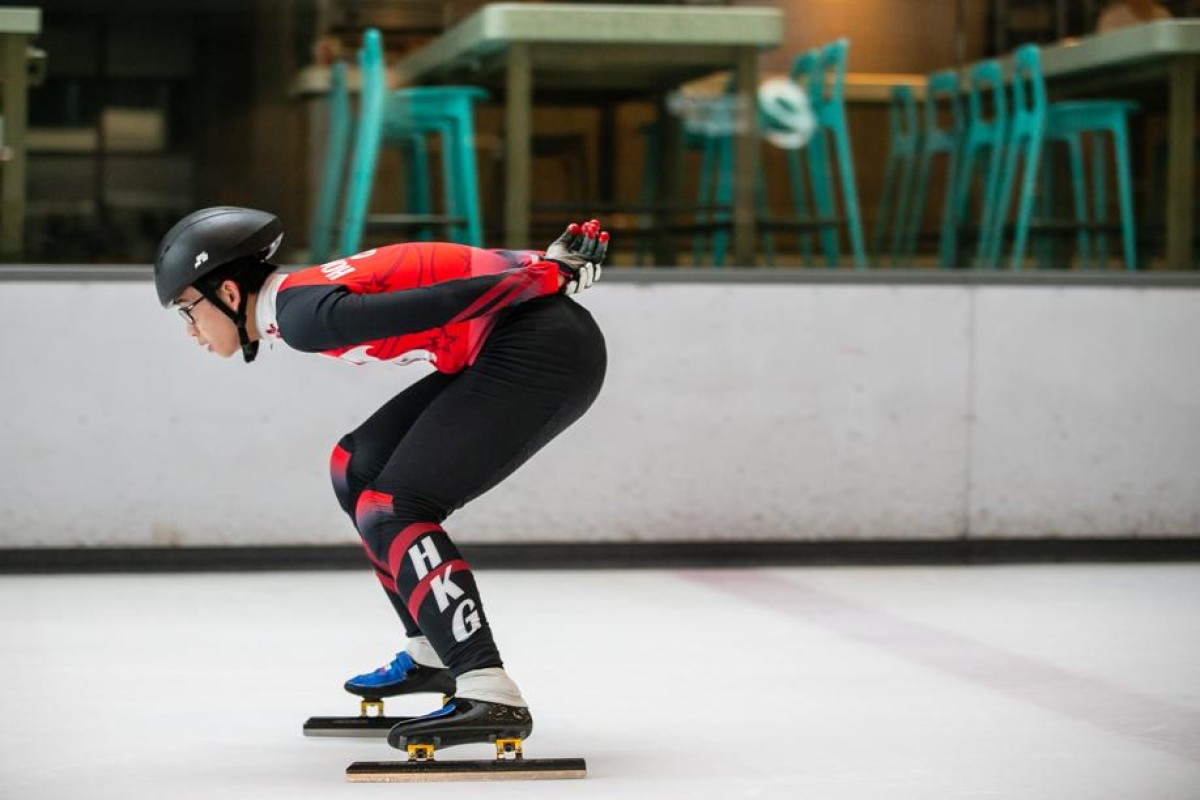 Benny could only get his skates on once or twice a month when he first started the sport.
Most athletes know they must train frequently if they want to make progress in their sport. But in Benny Chan Ho-tung's case, this was easier said than done.
The 14-year-old short track speed skater has been in the sport for almost eight years, after his roller skating coach recommended he swap his wheels for some sharp and shiny blades. He was immediately drawn to the pace of short track speed skating, in which professional skaters can reach speeds of up to 50km/hour on average. 
HK's speed skater at the 2019 Winter Universiade on learning resilience through injury, and academic discipline through sports
Unlike most athletes who train for hours and hours every week, when Benny first started, he could only get his skates on once or twice a month. This is because Hong Kong does not have any international standardised ice rinks, and the rest are often packed with public skaters, training figure skaters, and ice hockey teams. 
The Hong Kong junior short track speed skating team, which has around 15 members, has to travel to Dongguan in Guangdong to train. Benny goes around four times a month, usually spending his weekends there to practise. Not having a proper place to train is a headache for the teen skater, who has set his heart on competing at an international level someday. 
"The sport is all about keeping a 'sense of ice', which can only be maintained by training consistently," said Benny, referring to a skater's familiarity with the feeling of gliding, or in his case, running, on an icy surface. "It is quite exhausting to travel back and forth during weekends, so I really hope Hong Kong will have a standard rink soon," he added.
Benny may not get to sharpen his skills as often a skaters from other countries, but that hasn't stopped him from shining in junior competitions in Asia. Last December, the King's College student clinched a bronze medal in the Junior C Men 1000m event at the 2018 Asian Open Short Track Speed Skating Trophy held in Jakarta, Indonesia. 
He also took part in the 2019 World Junior Short Track Speed Skating Championships in Montreal, Canada, in January as the youngest contestant there, and the 1st Winter Children of Asia International Sport Games in Moscow, Russia, in February, in which he placed fourth in the Men's 1500m B finals. 
YP EXCLUSIVE - Alysa Liu, the 2019 US National figure skating champion, talks about triple axels, ignoring internet chatter, and her Olympic dreams
Reflecting on his achievement in Jakarta, Benny said he was not in his best form on the first day, as he was ill, but he rested and cleared his head in time for the following day, which led to a much better result.
"I was a lot more cautious on day two, I knew exactly what I wanted to do. It was really crucial [for me to adjust] my mindset after the first day," he recalled. 
In addition to having a well-thought-out game plan, Benny believes his height gives him another advantage over his opponents. The teenager stands at around 1.78 metres, which is quite tall for a 14-year-old.
He explains his tall, slim figure allows him to make longer and more powerful strides, which has an even more notable advantage in long distance races. It is also why he has been recruited as a member of his school's cross country team – doing endurance running has improved the skater's lung capacity for racing on ice. 
As Benny starts Form Four in September, he will need to make some important decisions, such as what subjects to take as his electives for the HKDSE.
He admits he is a bit stressed about how his senior secondary school life will unfold, but he is confident it will not affect his sports career too much. 
"The school has been very supportive in letting me go to different competitions," he said. "The principal also asks how I'm doing with my sport all the time - so I think everything will be fine!"
Edited by Nicole Moraleda
Sign up the YP Teachers Newsletter
Get updates for teachers direct to your inbox
Subscribe to YP Weekly
Get updates direct to your inbox