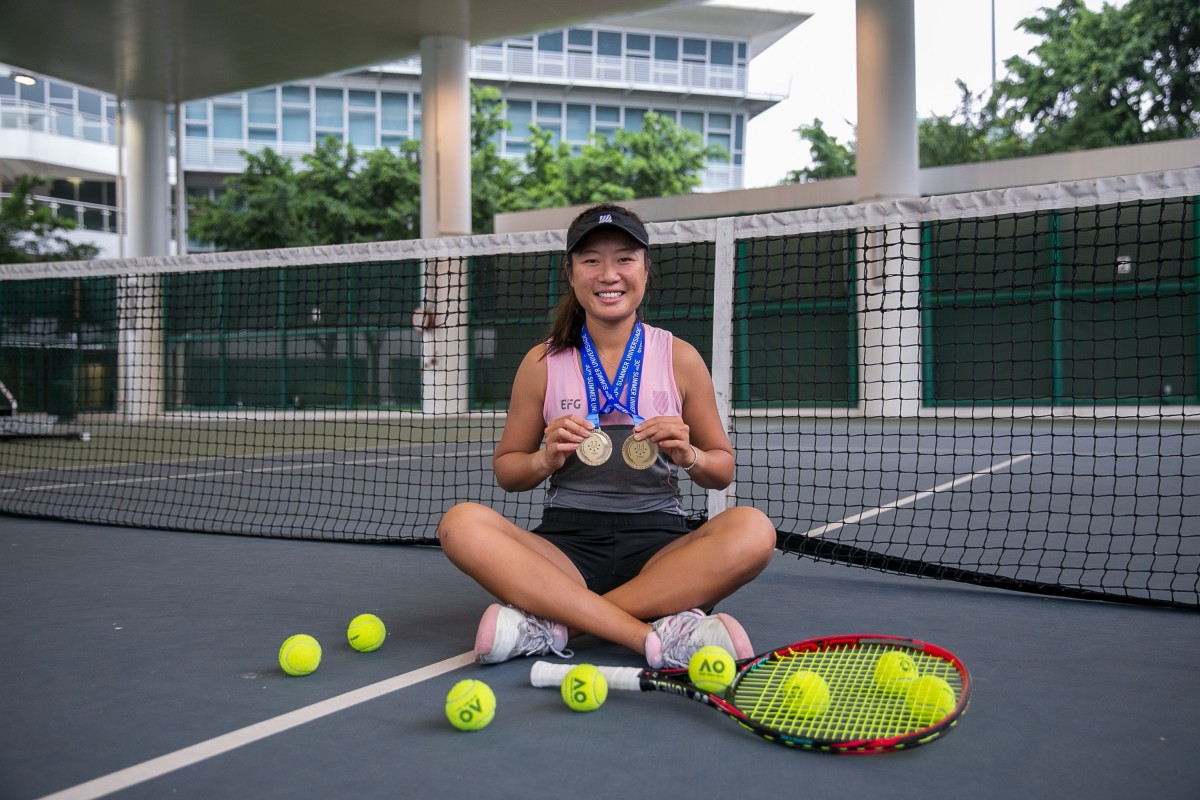 Eudice Chong won two bronze medals at the 30th Summer Universiade in Italy.
At the 30th Summer Universiade held in Napoli, Italy, earlier this month, the Hong Kong team bagged two bronze medals, thanks to tennis player Eudice Chong Wong.
The 23-year-old made history for the city when she fought her way into the top four in women's singles. Although Chong was aced by British player Emily Arbuthnott in the semi-finals, she was assured a medal as there was no third-place playoff. She won her second bronze in women's doubles, where she paired up with fellow-Hongkonger Maggie Ng.
Reflecting on clinching Hong Kong's first-ever tennis singles medal at the event held every two years, Chong said the result was expected and unexpected at the same time. While she knew she had what it takes to become a semi-finalist, Chong was amazed by her performance on the gritty clay court – which she says is not her favourite surface – because most local players practise on hard courts. Her exceptional result was proof that Hong Kong players were capable of taking on the world's best.
Teen HK tennis ace Cody Wong talks playing the 2018 Australian Open Juniors and her goal of a top 100 WTA ranking
"The two bronze medals are a good confidence booster. Hong Kong players do have a standing on the international stage, and I'm not performing well only locally," said Chong, who is the No 1 ranked player in local women's singles.
The graduate from Wesleyan University, in the US state of Connecticut, added that she hopes her results can remind up-and-coming players that juggling tennis and school is not a mission impossible. But it has not been all smooth sailing for the tennis star, especially in secondary school, where she had a tough schedule. She once doubted if tennis was worth dedicating all of her time to.
"I wasn't sure if it was something I could endure, but I knew in the back of my head that I wanted to play college tennis, so that kept me motivated," Chong recalled.
Chong's dream came true when she was admitted to Wesleyan in 2014. Representing her university in National Collegiate Athletic Association (NCAA) Division III tournaments, she established a four-year winning streak in singles events. The four-time NCAA champion said what she cherishes the most about training in the US was having a big support team, as she says it is not as easy to be close friends with her national squad teammates now.
"It is a bit different when I play professionally now. My teammates and I are definitely not enemies, but I'd say sometimes we may not be as close because we don't want to have biases on the court," she said.
In addition to new team dynamics, turning professional last year led to a complete change in Chong's training strategy. Her training time has increased significantly; she is spending at least five hours a day on the court or in the gym. Yet her hard work did not translate into success right away, leaving Chong frustrated with her performance before her medal-winning breakthrough at the university games.
World University Games 2019: Hong Kong's student athletes are ready to compete at the 30th Summer Universiade in Naples, Italy
"Turning professional has changed my mentality. I feel like it is what I'm supposed to do, it is my career," she said. "So I had to convince myself that things don't happen overnight and I need to be patient."
Chong admits that training and travelling for competitions is taxing on the body and the mind. But as much as she wants some time off, Chong needs to go full speed ahead during upcoming competitions in Thailand and China, in hopes of being ranked in the world's top 250. This would secure her a spot in the Australian Open qualifiers in January next year.
Making the Australian Open will be a stepping stone towards Chong fulfilling her dream of competing in the other three Grand Slams – the French Open, Wimbledon and the US Open.
"I hope in less than five years, I will be able to play all four Grand Slam tournaments. It's going to be tough, but it's better to aim higher than lower," she said.
Edited by M. J. Premaratne
Sign up the YP Teachers Newsletter
Get updates for teachers direct to your inbox
Subscribe to YP Weekly
Get updates direct to your inbox