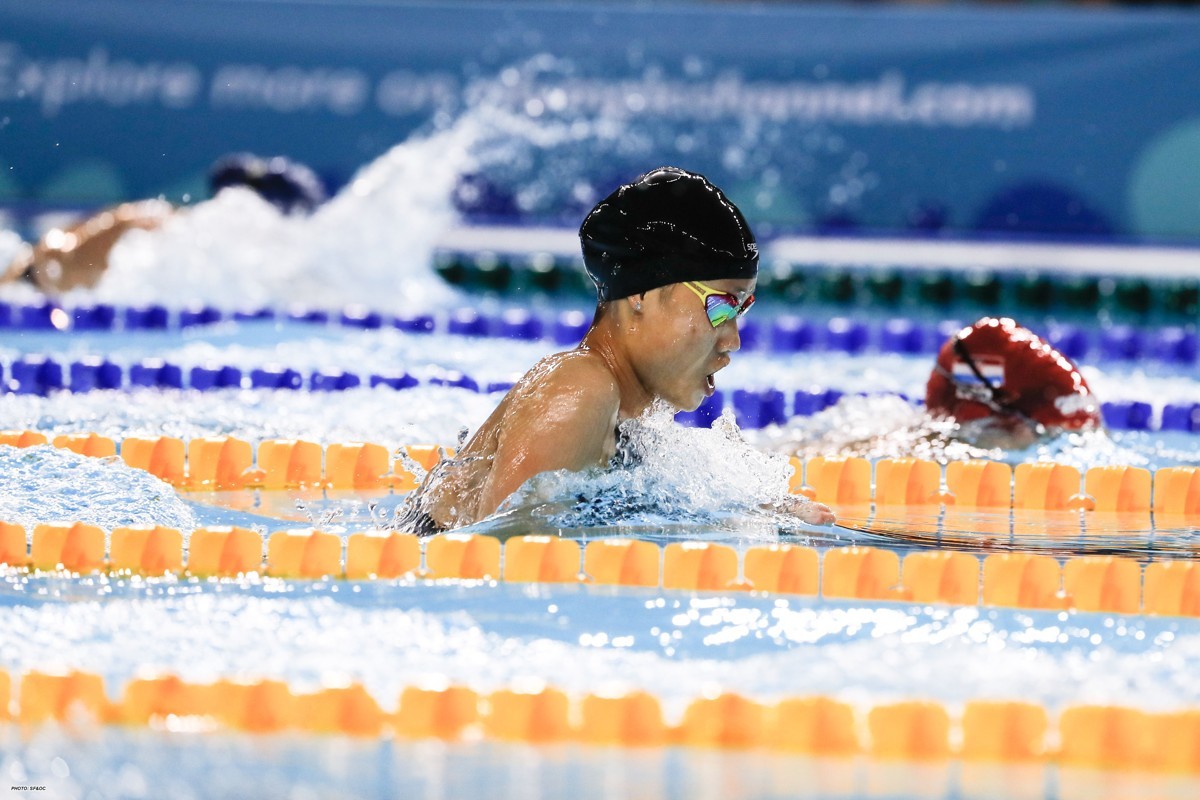 Swimmer Natalie Kan Cheuk-tung holds two Hong Kong records.
Natalie Kan Cheuk-tung has already come a long way as a swimmer. The 2020 Tokyo Olympics are just a bit further.
During the Youth Olympics held last October inBuenos Aires, Argentina, Natalie competed in three heats in just one day, while battling jet lag. She was disappointed by her results from the first two, but tried to hide it.
She powered through the fatigue with the help of her teammates. Only after the third race was over did she allow the tears to flow.
The 17-year-old swimming star holds two Hong Kong records: the 100 metre individual medley and the 4x200 metre freestyle relay. But these titles didn't come easy.
Hong Kong teen swimmer Alvin Ip on loneliness, making sacrifices and his sports role model - and no, it's not Michael Phelps
Natalie has been training for 10 years. At first she didn't see the point, but her efforts gradually began to pay off, one award at a time. Now, no matter how tiring the training is, she believes the results she gets make it all worth it. "Swimming has given me a lot … that's why I keep doing it," she says. "It has taught me to persevere."
Now in her second year with the Hong Kong team, she trains up to 25 hours a week. Her coaches are encouraging and give constructive feedback.
"I've injured my shoulder from overtraining a few times," says Natalie, adding that her coach offered to let her rest. When she insisted on continuing with her training, he gave her ice packs immediately afterwards.
"Although it's hard work, everyone is putting in effort, and that motivates me during training sessions," says Natalie, describing a sense of unity among her teammates.
Reflecting upon her experience at the Youth Olympics, Natalie now knows she put too much pressure on herself.
"I didn't want to let down my coach or my parents, because of their support and sacrifice," she says. Having always performed well in races before, the sudden setback made her feel like she had failed.
Since then, Natalie has been paying more attention to her form and technique when competing, rather than just her speed.
"It made me realise that it isn't how fast you go, but the process of the race." Her focus has shifted from winning to improving.
Natalie also considers her time at the 2018 Asia Games, held last August and September in Jakarta in Indonesia, a memorable one. She didn't expect to reach the finals while competing against adults who train full-time. Nor did she think she would break her personal best by a full two seconds – a huge leap for a swimmer (for reference, US athlete Michael Phelps won his race at the 2012 London Olympics by 0.23 seconds.)
Like many competitive athletes, Natalie follows a pregame routine to help her get into the best possible mindset. She listens to rap music, which she says makes her "hyped", and visualises her ideal performance from start to finish.
Defying gravity: 17-year-old gymnastics star Andrew Fung O-Long talks about the beauty of the sport
Even while travelling for competitions, Natalie has to squeeze in time for her studies. Time management is one her biggest struggles – "especially now that I'm taking the IB [Diploma]."
Natalie will start Year 12 at Po Leung Kuk Choi Kai Yau School this August, her final year at secondary school. She has learned to fit homework around her training, and finds studying with classmates helps her stay motivated – much like when she's training at the pool.
Natalie suspects the stress of exams may have affected her performance lately, but she has never considered quitting swimming entirely.
"I know I can rise back up," she says. "There's no point giving up."
Now, she's looking ahead to the Fina World Junior Swimming Championships, which start on August 20 in Budapest, Hungary. She has a lot riding on this competition; trials for the 2020 Tokyo Olympics have opened, and Natalie wants to make sure she is at Olympic standard. If not, there is always 2024 – Natalie knows her time will come.
Edited by Charlotte Ames-Ettridge
Sign up the YP Teachers Newsletter
Get updates for teachers direct to your inbox
Subscribe to YP Weekly
Get updates direct to your inbox