No sooner was Lokus Au given his big break than it was taken from him again – but this Concord University graduate is determined to keep trying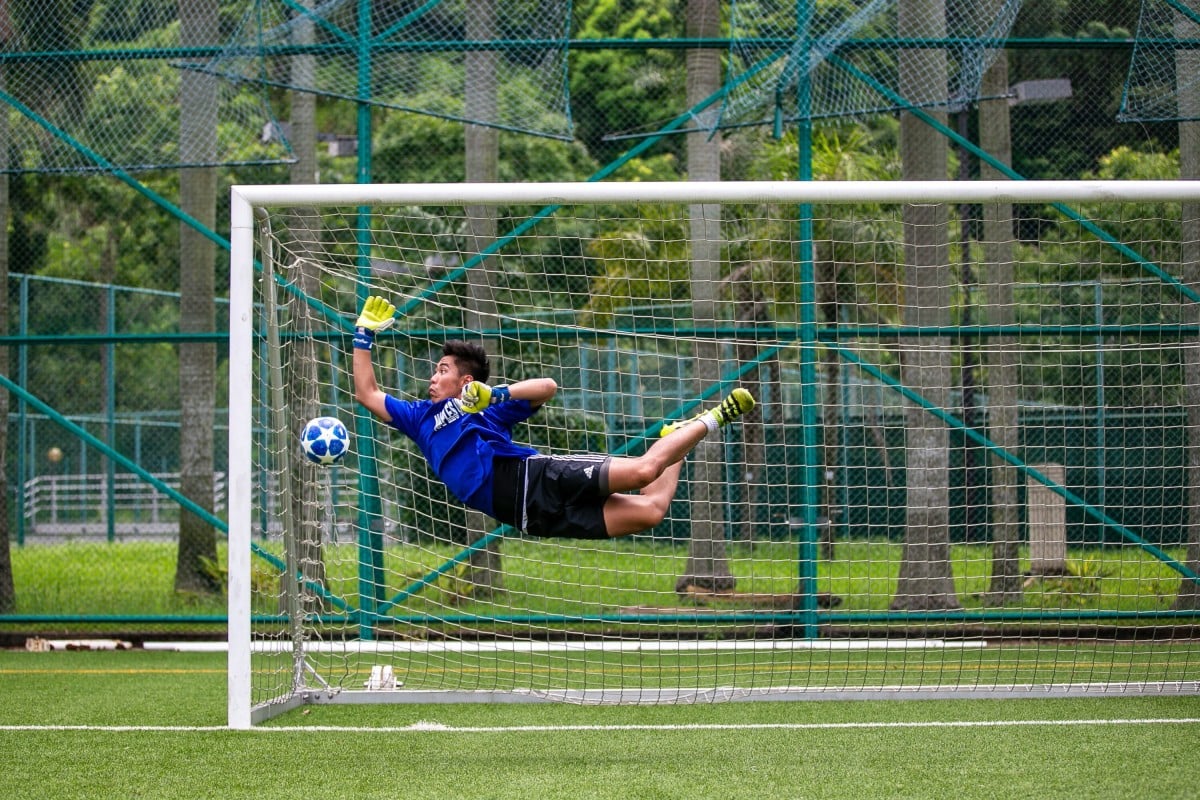 Lokus Au Ching-lok's professional career in Hong Kong did not kick off as smoothly as he had hoped for.
Like every budding footballer, Lokus Au Ching-lok has always dreamed of going professional. He got off to a flying start, too – signing to a Hong Kong Premier League team. But that's when his career as a goalie hit an obstacle.
After graduating from Concord University in the US back in May, Au was eager to get his career in professional football off the ground. However, after going to a number of selection trials in Canada and Spain, he was disappointed to find that overseas clubs aren't all that interested in Asian players. The 22-year-old says his height put him at a huge disadvantage, as most foreign teams want their goalies to be at least 1.82 metres tall.
"My height is a really big problem. I'm about 1.78 metres tall but teams generally look for taller goalies. When clubs have so many other candidates to choose from, they're not going to pick me," Au told Young Post.
Hong Kong teen swimmer Natalie Kan has the 2020 Tokyo Olympics in her sights
Undeterred, Au redirected his search to teams in Hong Kong, and managed to secure a one-year contract with Dream FC in June. The Tsing Yi-based club had competed in the city's Premier League in 2017-2018. Au was thrilled, and eager to return to Hong Kong to begin training with his new teammates. Yet just days before he was due to hop on a plane, he received devastating news.
The Dream FC had announced it would be withdrawing from the 2019/20 Hong Kong Premier League, because the club had failed to pay a deposit of more than HK$1 million to the Football Association. All players and coaches were dismissed, including Au.
"I was so shocked and felt really helpless. It was too late to find another team because they had already confirmed their line-up," Au said. "I've been away at university for the past three years and I had very few connections in Hong Kong," he added.
Despite his plans going awry, Au has refused to give up. He's still looking for vacancies in both local and overseas teams, but in the meantime, he's making sure he stays in his best shape by training regularly with other teams – without being paid. He's confident that things will work out in the end.
"I know I just have to wait, so it's really important to be patient. My parents are also supportive, but they also made it clear I must be able to support myself financially," he said.
Hitting such a big stumbling block has made Au more appreciative of his days in the US, where he played for two semi-professional teams, Legends FC and Naples United FC. He believes training in a new environment helps players improve by pushing them out of their comfort zone, and he recommends local aspiring footballers take any opportunity they get to train overseas – the earlier, the better.
Defying gravity: 17-year-old gymnastics star Andrew Fung O-Long talks about the beauty of the sport
"Definitely go training abroad if you have the chance, you'll improve much quicker," he said. "What's more, lots of clubs have arrangements with schools to allow for a more flexible training and studying timetable."
There has been a rise in recent years of young players looking to go professional. Au believes this is partly due to improved wages and welfare for footballers. In fact, some of Hong Kong's most successful players can earn monthly salaries of up to six figures.
"Professional footballers in Hong Kong are treated much better than they were 10 years ago," said Au. "Considering the city's ranking in the sport, many local players are more well-paid than some foreign players," he said.
All HK Schools Jing Ying Football 2019 champions, South Island School, say teamwork is key to success
Yet at the end of the day, what motivates Au to keep going is not how much he can earn, but his genuine love for the sport. His ultimate dream, he said, is to be able to pull on the Hong Kong team jersey and represent his city. He hopes to make the Hong Kong team within the next five years, so that he can compete in high-profile tournaments such as the Guangdong-Hong Kong Cup.
"I will be 27 in five years, which should be my prime. I believe I will be able to achieve those goals – otherwise I will consider quitting," he admitted.
Edited by Charlotte Ames-Ettridge
Sign up the YP Teachers Newsletter
Get updates for teachers direct to your inbox
Subscribe to YP Weekly
Get updates direct to your inbox