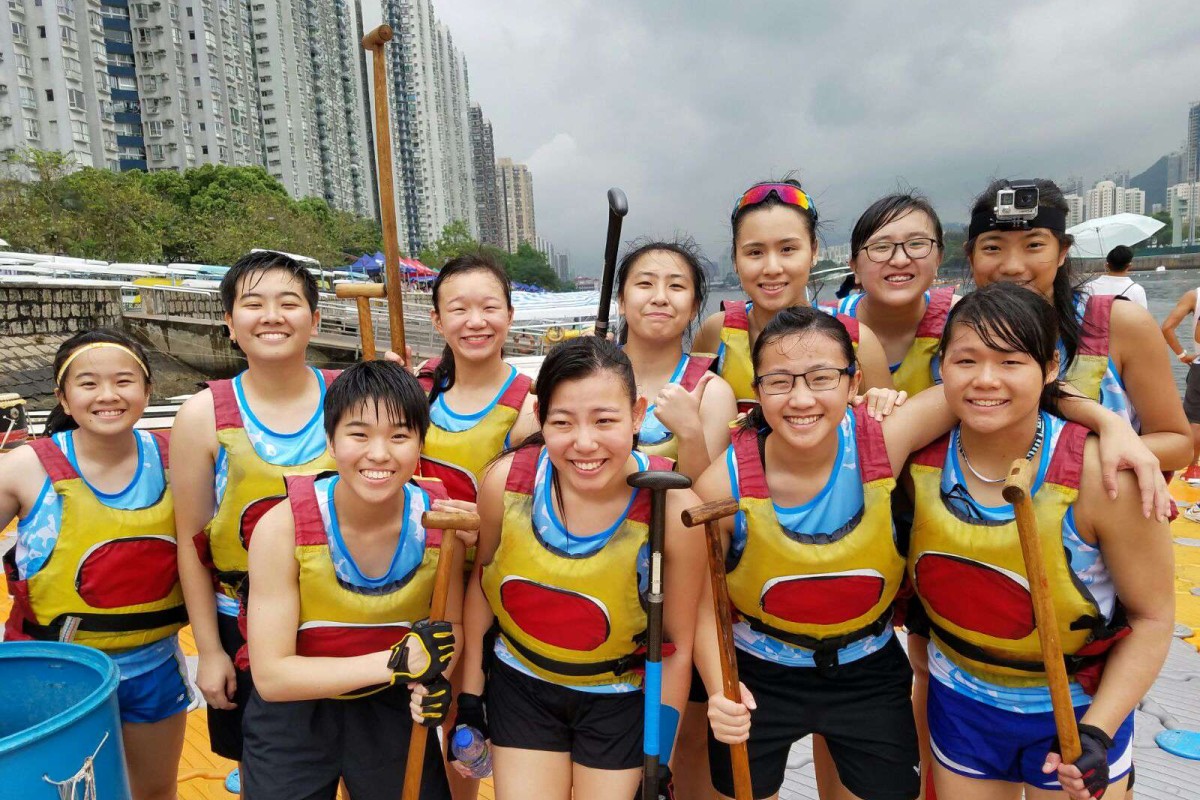 Diocesan Girls' School was very happy with their gold-medal victory in the small boat girls' division (Gold Cup) for the second year in a row.
Seventy teams from 31 schools gathered at Shatin Shek Mun Training Centre on Sunday to compete in the Young Post 7th Hong Kong Inter-school Dragon Boat Championships. The annual event has been organised by the Hong Kong China Dragon Boat Association since 2010.
This year, girls', boys', and mixed teams took part in 200-metre small and standard boat races. Students battled through suffocating heat and scattered thunderstorms to compete in the Silver or Gold finals in the Plate or Cup division.
Defending champions, Cognitio College – High Fliers team, retained their title in the standard boat mixed category (Gold Cup), while Hong Kong Sea School's (HKSS) Seal House team took the gold in the boys' division.
HKSS Seal House team captain Tam Yu-him, 18, said sufficient warm-ups and synchronisation were key to winning gold. "We came second in the heats because we hadn't warmed up adequately, and that served as a wake-up call for our team," he said. "We focused on the importance of paddling at exactly the same time, and ran and stretched hard before the final."
In the small boat (Gold Cup) category, Diocesan Girls' School (DGS) took gold in the girls' division for the second consecutive year, making them two-for-two, as this is only their second year in the competition.
DGS' Carolby Wu Sze-wai, 17, said their brilliant result was based on exceptional physical strength and techniques.
"It was especially important to build up our physical strength through power training so we could paddle powerfully throughout the race," said Carolby.
Tsang Pik Shan Secondary School, a school known for their prowess in canoeing, clinched gold in the small boat mixed category.
Cheung Lok-tin, 16, said his school's canoeing techniques could also be applied to dragon boat racing.
"Both sports' techniques – like paddling – are similar, despite using different muscles and movement," said Lok-tin. "I believe our competence in canoeing put us in a better position than other teams."
One of the highlights of the tournament was the intense competition between Diocesan Boys' School (DBS) and HKSS in the boys' small boat division.
Both schools battled fiercely, with neither team taking the lead. But in the last 20 metres, DBS pushed just a little bit harder, and won in a time of 00:52.022, while HKSS came a close second in 00:52.069.
DBS captain Lai Nok-hei, 17, said they had done better than expected, and playing rugby had helped them a lot to prepare for this race.
"We have a well-established bond that we used to perfectly synchronise all our movements," said Nok-hei.
"There is something similar between rugby and dragon boat, as both involve explosive power to move forward."
Sign up for the YP Teachers Newsletter
Get updates for teachers sent directly to your inbox
Sign up for YP Weekly
Get updates sent directly to your inbox