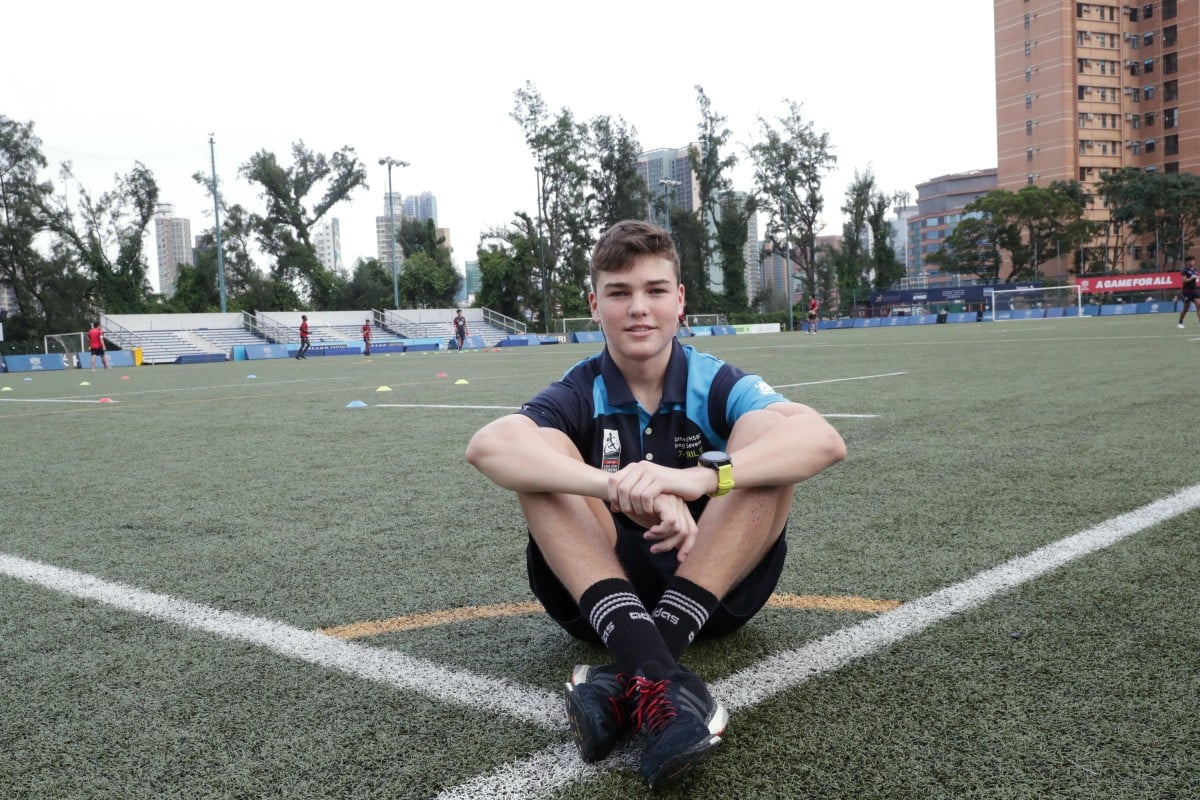 Rory Crombie referees matches played by people far older than him.
Rugby referees are a unique breed in sport. Behemoths tower over the man or woman in the middle, capable of picking them up with one hand, only to utter "yes sir" and "sorry ma'am". One boy now capable of creating the gravitas needed to command that respect is 17-year-old Rory Crombie.
The Hong Kong schoolboy is the youngest test match referee in the world, having taken charge of India vs Philippines this year. Unlike cricket, where test match status is narrowly defined, rugby union tests are more broadly defined as contests between any two nationally representative teams.
The teenager, who picked up the sport at the age of six, started reffing when he was just 14. It was only a year before he was involved in adult men's and women's games. He even refereed the Hong Kong women's premiership final.
Two West Island School students on competing in the Asia Rugby Under-18 Girls Sevens and giving back in India
"Obviously my age is just part of the challenge, and that's what I enjoy, that part of overcoming that possibility of a player reacting badly to seeing a young referee, and that's something you have to deal with," he said.
The 17-year-old said players have generally afforded him the same respect they would an adult. When a player is in his face, he makes sure he uses the break in play as effectively as possible.
"The first time it happened I probably wouldn't have dealt with it as well as I would now. You just cannot take it personally," he said. "If I'm flustered, it's pretty good to use downtime in the game to reset. We have scrums, line outs, tries, conversions, all of those are times that you can think about how you are doing."
The teenage referee is not getting ahead of himself. He has a range of goals, but all of them are within his control. He could write down the number of matches he wants to referee, or a grade he wants to be involved in, but the invitation to take charge of a game is someone else's call. All he can do is focus on his performance.
"I can plan for my set up and I can plan for things I want to focus on," he said. "So, for example, the India-Philippines game, one of my focuses was on the scrum, just making sure that it was all set up right."
Rory's meticulous planning also applies to managing his schoolwork, which is set to become more demanding as he turned Year 13. The Kellett School student will sit for his GCE A-Level examinations in May and June next year, but he believes it will not take a toll on his refereeing career, as it will be the off-season time.
HK rugby player Salom Yiu goes back to school to talk about winning gold at the 2018 Asian Games, and learning from your defeat
More importantly, Rory has always made the most out of his free periods, where he would train in school or complete his homework, in exchange for some rest time at home.
"I like to use a schedule to keep myself on track and so far it's helping me balance my work and training quite well," said Rory, who is training eight hours a week.
Rory has come a long way in a short time, not least having his voice break. As he sets his sights on university, he will consider his refereeing career in his applications.
"I've started to take refereeing more seriously than I used to but I'd like to keep going in the direction I'm headed, and hopefully referee bigger and better games," Rory said.
Sign up the YP Teachers Newsletter
Get updates for teachers direct to your inbox
Subscribe to YP Weekly
Get updates direct to your inbox