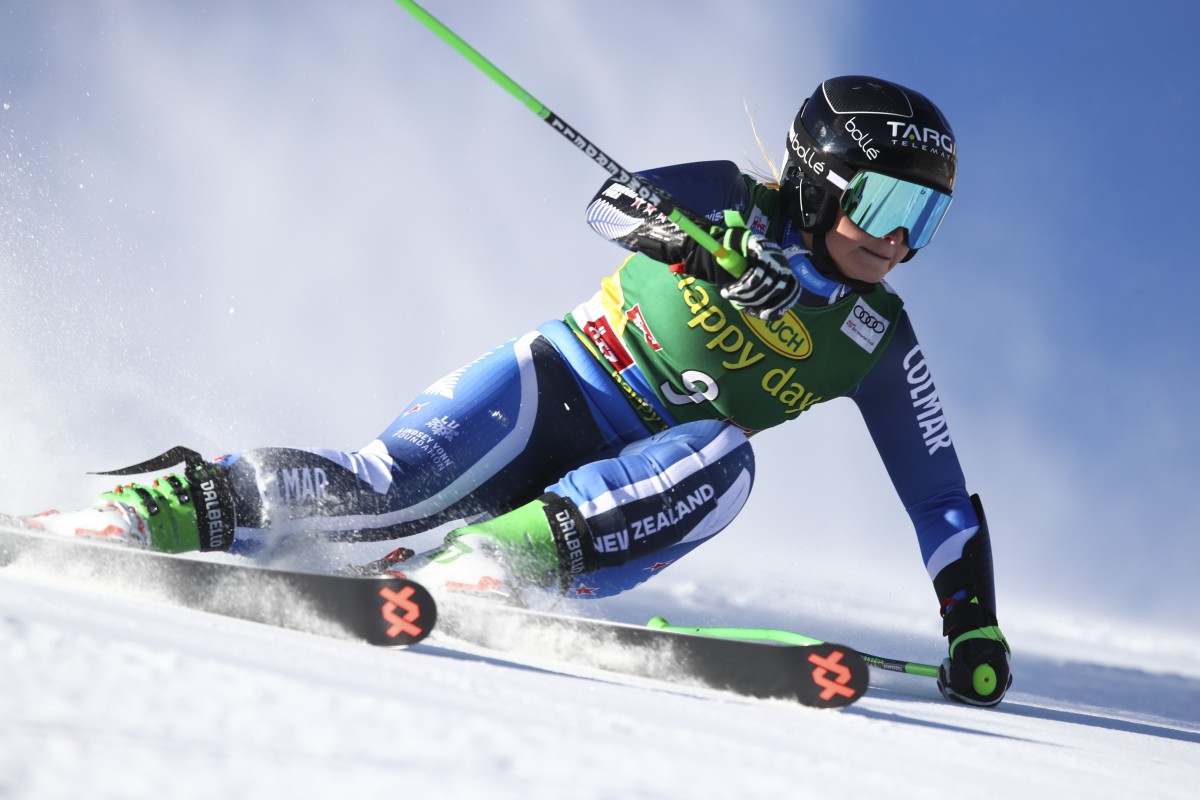 Alice plans to compete in her first World Cup speed event in Saint Moritz, Switzerland, in December.
New Zealand teenager Alice Robinson, one of the biggest hopefuls in alpine skiing, kicked off this year's winter sports season on Saturday with her first World Cup victory.
Alice edged out Olympic champion Mikaela Shiffrin to win the women's giant slalom – a race that involves skiing between sets of poles – in Austria, traditionally the first race of the World Cup season. It was the first ever World Cup win in the women's giant slalom for New Zealand, and the first in any discipline since Claudia Riegler triumphed in the slalom in Switzerland in 1997.
"It's going to take a while to sink in," 17-year-old Alice said. She flew back to New Zealand on Monday to graduate from secondary school this week.
Teen ski sensation Chloe Cornu Wong's quest to represent Hong Kong at the 2022 Winter Olympics in Beijing
Alice, who won the junior world title in the grand slalom in February, finished runner-up to Shiffrin in the season-closing World Cup Finals in Sweden the following month. Last Saturday's result proved this achievement had been no fluke.
"I think I proved that wasn't a one-off so I am happy with that," said Alice, who had been hoping her first victory would come soon.
"I thought, 'Oh, it could happen,' but ... to win is pretty crazy."
Alice, who trailed Shiffrin by 0.14 seconds after the opening run, was one-fifth of a second faster than the American in the final run. She won her first World Cup race in only her 11th event.
"It's nice to start off quite well, but I've just got to keep building and hopefully keep it up," said Alice, who plans to start in her first World Cup speed event at a super-G – a slalom race that is faster and has wider turns than a giant slalom – in Switzerland in December.
Alice positioned herself for a possible triumph when she became the only racer to stay close to Shiffrin in the opening run.
HK's amazing teenage skiers who are schussing towards the 2022 Winter Olympics
She lost only 0.14 seconds on the Olympic giant slalom champion, while pre-race favourites like Federica Brignone, Tessa Worley and Viktoria Rebensburg were at least 0.86 seconds behind the lead.
"I was a little bit nervous but I tried to keep myself calm, just trying to enjoy it all," Alice said about her second run.
Shiffrin was full of praise for her rival, who was also 17 when she won her first World Cup race, back in 2011.
"You could see it last year that Alice is going to be really strong," Shiffrin said.
"It's super cool and really exciting. She gave a really solid race so it's awesome."
Edited by Nicole Moraleda