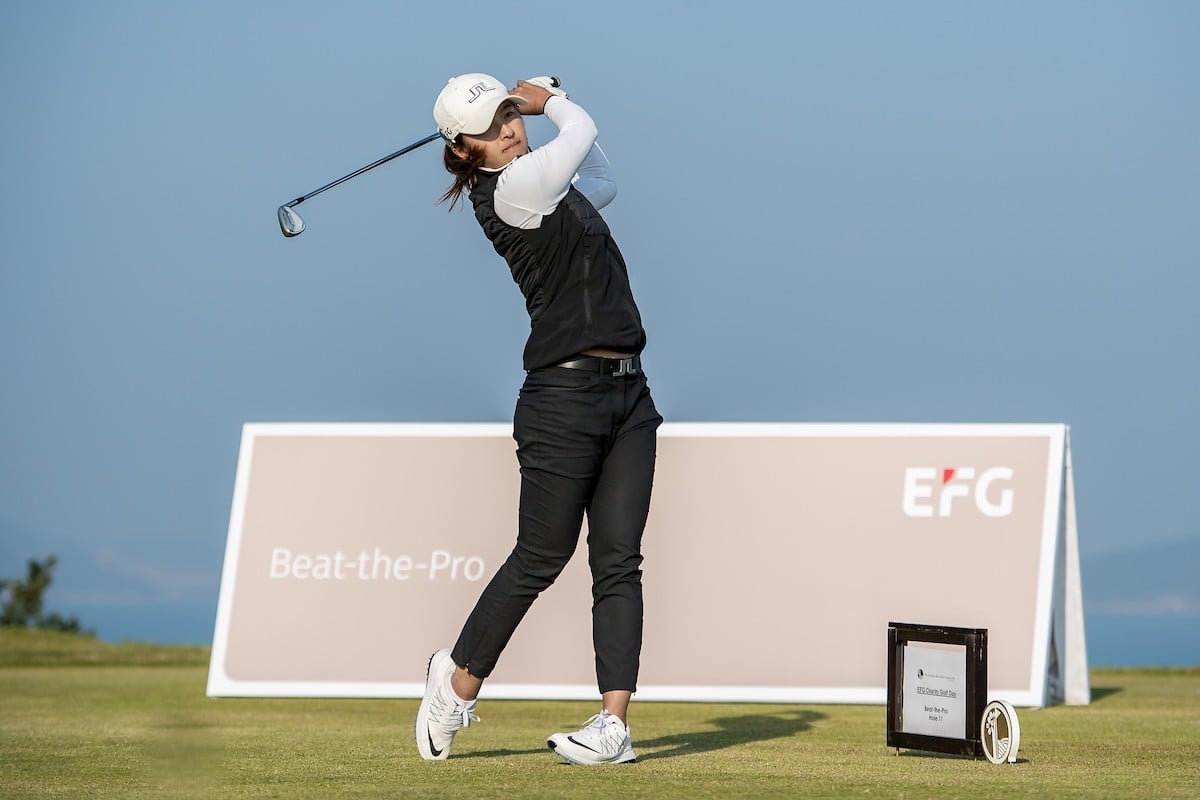 Tiffany Chan is the first Hong Kong golfer to qualify for the LPGA tour.
Tiffany Chan Tsz-ching, who became the first Hong Kong golfer to qualify for the Ladies Professional Golf Association (LPGA) tour earlier this month, wants the world to know that golf "is not just a rich man's sport."
"I'm living proof that anyone can make it in this sport if they work hard enough," Chan told Young Post. "I'm not rich; I learned how to play golf at the Tuen Mun public driving range for six dollars an hour. I became successful just from that.
"It's all about working hard and making the most of your resources."
Chan, 24, has been playing golf since she was six years old, and her success has been nothing short of incredible. The former Diocesan Girls' School (DGS) student earned a full scholarship to Daytona State College in the US, where she became a two-time National Junior College Athletic Association champion.
This allowed her to transfer to the University of Southern California – one of the top athletic schools in the US – from where she graduated in June. She also represented Hong Kong at the 2016 Rio Olympic Games.
But all of this pales in comparison to making the LPGA tour, the world's most prestigious women's golf competition.
"I don't know if I'm still dreaming," Chan said after she qualified. "I know there are a lot of junior golfers [in Hong Kong] who want to go to college and turn pro and I think me being the first will help. I definitely want to inspire the youth in Hong Kong and this was a major step."
Chan is an ambassador for inspiringHK, a sports charity that gives underprivileged youngsters – particularly girls – the chance to take part in sports such as golf. "It's my way of giving back to the golf community back home," she said.
The communications graduate fell in love with the game at an early age. "I just loved the feeling of looking at my target, measuring how to do it, making solid contact with the ball and watching it hit the target." she said.
"Honestly, maths and golf are very similar. You calculate the distance, and come up with a formula on how to hit the ball. If you have a good formula, you can be successful every time."
Chan wants to help change Hong Kong's sporting culture – or lack of it. She remembers how difficult it was for her to balance her golf training with her school work.
"In DGS, they were focused mostly on academics, and it was difficult to get approval to go to every tournament," she said.
"I had to treat golf as my hobby, rather than my career. In the US, it was a lot easier to balance training with classes and they are a lot more supportive of athletes."
Moving forward, Chan hopes to maintain her stellar play so that she can keep her card for the LPGA tour, and possibly bring Hong Kong a medal at the 2020 Olympics.
Her advice to young athletes – other than to work hard – is to make sure they have good time management.
"It's the most important thing, especially when you have to balance school work as well. I met a lot of top athletes over the past few years and that's what every single one of them is doing. Managing your time and focusing on what you have to do is the most important thing."
Edited by Nicole Moraleda
Sign up for the YP Teachers Newsletter
Get updates for teachers sent directly to your inbox
Sign up for YP Weekly
Get updates sent directly to your inbox