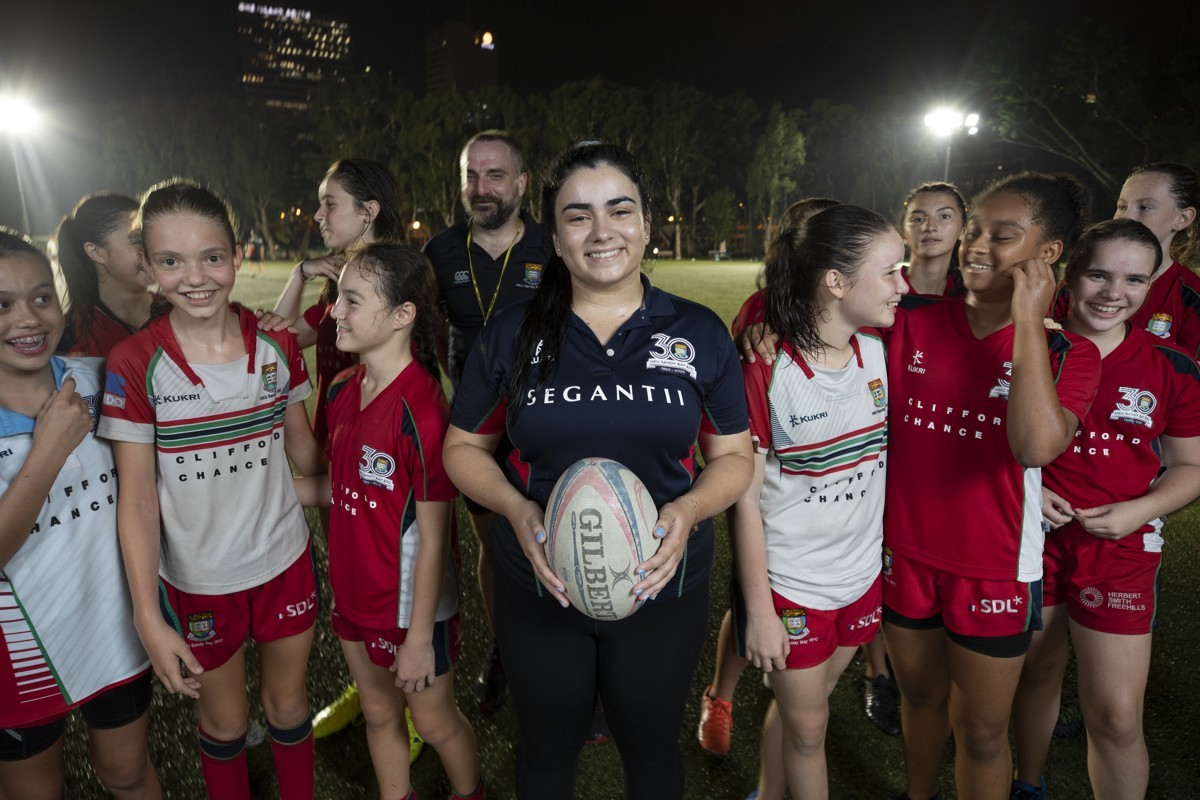 Sandy Bay girl's rugby U14 coach Tanya Dhar trains the team at Wong Chuk Hang, Hong Kong.
To her teammates at Valley Black Ladies, the team she plays for in the Hong Kong women's rugby premiership, 19-year-old Tanya Dhar is known as "T". But to another group of teenage girls, "T" is "Mama T".
This nickname was given to Dhar by the Under-14 Sandy Bay youth girls' team after she started coaching them August last year. Dhar is one of the youngest rugby coaches in the city, and one of the very few female ones.
During the early years of her rugby career – which began when she was just four – Dhar struggled to find her feet in the male-dominated sport. She never got the chance to showcase her talent when she trained with an all-boys team, as her teammates hardly ever passed her the ball.
Vincent Ng combines hiking and running to conquer Hong Kong's highest peaks and toughest trails
"The boys wanted to play with each other, so I didn't get to do anything," she recalls.
Luckily, there were other girls like Dhar who were clamouring to play, leading to the formation of a number of local all-girls teams. With the added support of the Hong Kong Rugby Union (HKRU), women's rugby has grown from a niche hobby to a burgeoning industry in Hong Kong.
The City University student, who describes rugby as her "happy place", believes the nature of the sport – physically demanding, and involving a lot of close contact and teamwork – is what brings players together. She says it's impossible for one player to carry the rest of the team, because there is physically too much going on. And after the Black Ladies survived a particularly tough game together, Dhar realised how close the team had become.
"We had never been put in a situation before where we had to be physically there for each other," she says. "We became really close friends because of that."
After playing the sport for more than a decade, Dhar wanted to expand her role on the field. She got her coaching certificate last June, and was quickly offered a position at Sandy Bay, her childhood club, two months later.
While the girls on the youth team quickly warmed to Dhar, and their parents were mostly supportive too, she admits that she felt very intimidated at first. She's been challenged by older, male coaches from other clubs during games, but always stands her ground – anything to ensure her girls get to play a fair game.
"A lot of people tried to put me under pressure, and they thought I would crack because I was a teenage girl," she says. "But at the end of the day, they need to realise the game is just about the girls, not the coaches or parents."
Pakistan's Naseem Shah, 16, becomes youngest cricketer ever to make test debut in Australia
Dhar says she has great respect for male coaches, having been coached by men in her entire career. But she believes female coaches have a better understanding of the struggles teenage girls might be facing. She notes that part of the reason she's been able to build such a good rapport with her players is that she was in their place not so long ago.
"I'm able to understand what the girls are going through more; it makes them realise what I'm doing is what's best for them," the West Island School graduate says.
Although she's only been in the role for a year, Dhar's leadership abilities have already earned her the title of HKRU Girls' Youth Coach of the Year, which she received in May in recognition of her ability to handle challenges from parents and coaches with confidence, and for being a role model to other girls in rugby.
Badminton star Lee Cheuk-yiu wins title at Yonex-Sunrise Hong Kong Open
This isn't to say that Dhar wouldn't be willing to coach a boys' team one day. She had her first taste of coaching young male players in Yokohama, Japan, in October, as part of the Child Fund it Back programme, a charity event held during the Rugby World Cup.
"Men have always coached girls, I don't see why it can't be the other way around," she says.
As Dhar pursues a dual career in rugby, she hopes she can continue to make an impact on the local scene, and show other young female players that you can succeed in the sport while challenging gender stereotypes.
"Be as girly as you want – braid your hair, do your nails – don't ever feel like you have to be somebody else."