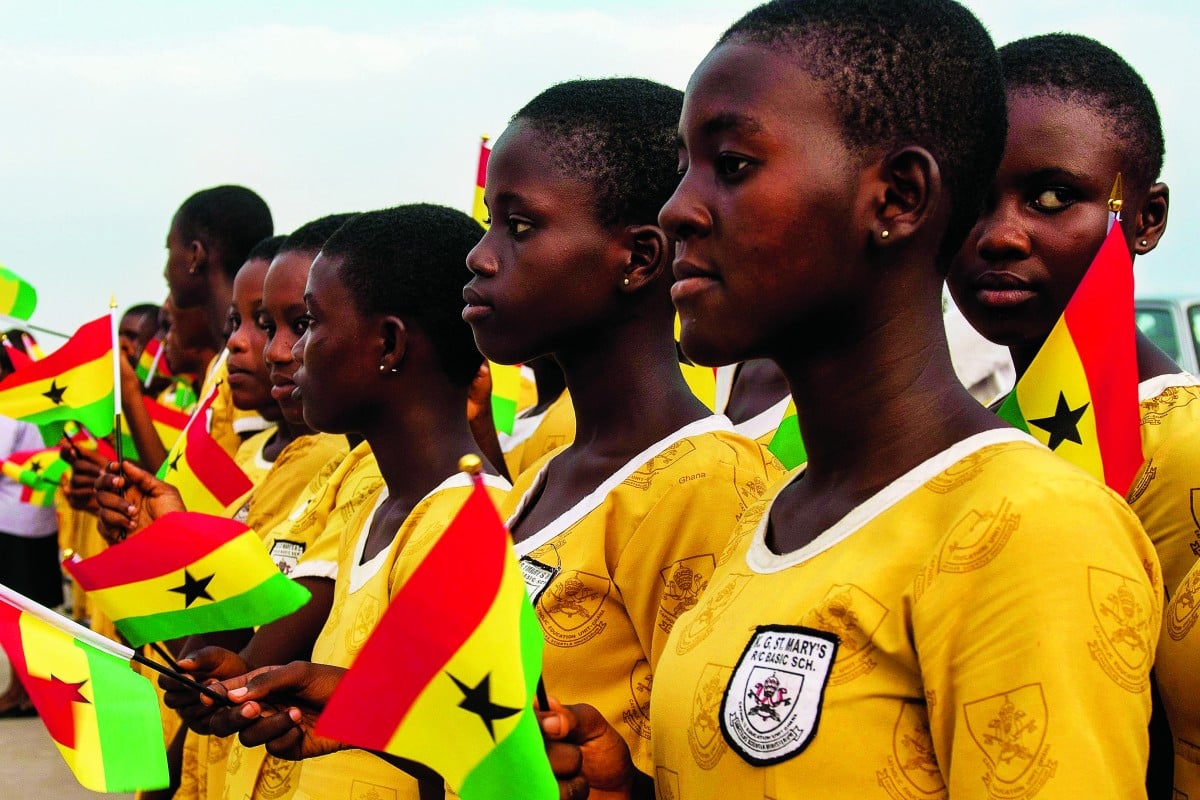 Students of the KG St Mary's school wait for the arrival of the president of Ghana outside the Bukom Boxing Arena.
Parkins Takyi-Aidoo bobs and weaves around a punch bag, dancing on concrete as he practises for the knockout blow that one day could secure him fame and glory.
The Ghanaian is just 13 years old but by training in the Bukom neighbourhood of Accra in Ghana, he has a better chance than most of becoming a contender.
The teenager spends hours each day at an outdoor gym, aiming to make his dream of a world championship belt come true. Painted yellow circles, designed to perfect footwork, are all over the courtyard floor. Well-used punch bags hang in one corner and old rusted weights are proof of the punishing regime needed to hit hard and win.
Ghana has produced seven world champion boxers and most came from Bukom. Without a suitable gym in his town, Parkins came to Bukom for boxing.
"That is where champions are built," he said, wiping sweat from his face. "It's about hard work and dedication. That's why I'm here."
The sport's appeal in the country is so big, some places for learning how to box are getting a makeover. A stadium opened nearby by Ghanaian President John Dramani Mahama earlier this month, leads the way. Equipped with an 800-seat auditorium, a training, physiotherapy and gym block, a 300-seat hall and a 4,000-seat open arena, it is designed to help young fighters.
Parkins is one of hundreds of young men who hope to be the next Joshua Clottey, a Bukom hero who won the International Boxing Federation (IBA) welterweight title in 2008.
In his February 2016 State of the Nation address, Mahama said the new centre would help boxing hopefuls from Bukom and surrounding areas to "realise their dreams".
Its modernity stands out among 20 gyms in the area.
Bernard Armah, who trains nearby at the Will Power Boxing Gym has given himself 10 years to achieve his dream.
"People encourage you to take up boxing," says the 18-year-old, whose family comes from Bukom, and who grew up knowing it as an area where champions are born.
Ghana's most famous boxer is Azumah Nelson, honoured as one of the African continent's best ever fighters. He came out of Bukom to win three World Boxing Council (WBC) belts at featherweight and super featherweight in the 1980s and 1990s.
The gym where the young hopeful trains is part of Ike Quartey's home, another Bukom star who held the World Boxing Association (WBA) welterweight belt from 1994 until 1997.
Coach Prince Owusu said Bukom has become a breeding ground for boxers.
"Most of them enter boxing [because of poverty]," said the trainer, adding that boxing in Bukom offers a chance at some kind of education in a country where jobs and schooling are rare. The skills and discipline demanded by boxing make the young athletes excellent candidates for police and private security firms, he said.
"It's a job opportunity if you know how to fight."
In Ghana, a country with high unemployment and low household incomes, it's often the sons of fishermen who step into the ring in order to escape a hard life at sea.
"Most of them can't read or write," said the president of the Ghana Boxing Authority, Peter Zwennes. "A lot of them, when they can't have education, take to boxing." Whether the new sporting stadium near Bukom will host Ghana's next champion boxers remains to be seen. For Bernard, the goals are many – if he makes it, he sees a golden life of travel and fame, but insists home and relatives will always be his priority.
"If I become successful in the future, I will [use that success to] help the family," he said.
Sign up for the YP Teachers Newsletter
Get updates for teachers sent directly to your inbox
Sign up for YP Weekly
Get updates sent directly to your inbox