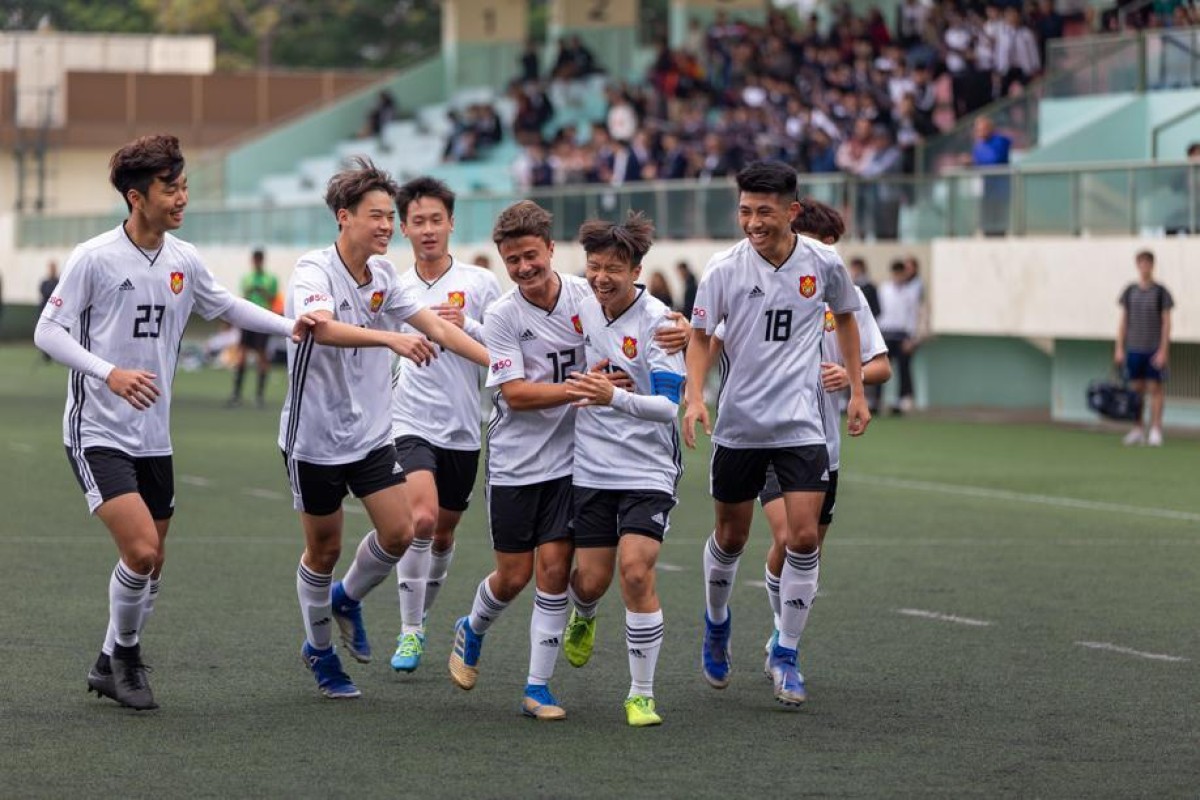 James Tang (second from right) celebrated his first goal for Diocesan Boys' School in the final with his teammates.
When James Tang In-chim was made captain of the Diocesan Boys' School (DBS) football team last year, he knew he had some big shoes to fill. The 16-year-old had watched previous DBS teams being crowned champions at the Hong Kong Island and Kowloon Interschool Football Competition (Division One) and the Jing Ying Football Tournament. 
As the new captain, James had one mission: to keep DBS' winning streak alive. The pressure was definitely on, but the Form Five student passed the test with flying colours. 
In the boys' Grade A final of the Division One competition held on January 13, James scored twice as DBS clinched its fourth successive title by beating Hong Kong International School 2-0.
Hong Kong sports moments that made history in the 2010s
Both his goals – a chip in the first half and a long-range shot in the second half – were stunning efforts, and he was named man of the match.
Reflecting on his performance, James told Young Post he was confident DBS would win, but he never expected to score two goals. 
"I really didn't think about scoring any goals before the match, because as the captain, my priority is managing the team's performance, rather than finding ways to show off my personal skills," he said.
Cyclist Yvonne Ching is on track for Olympic glory
The midfielder added that the victory was a perfect send-off for the team's Form Six players, who will be graduating in June.
"I believe our victory will leave the Form Six players with fond memories of interschool tournaments," he said.
So what's the team's winning formula? James said they spend a lot of time together – they train at least six hours a week – so the players know each other very well. 
On top of that, the team often uses the element of surprise to their advantage, for example, by letting rookies shine in crucial matches. 
James is a good example. Two years ago, the then-Form Three student played for DBS in the Jing Ying final – and scored a goal. 
"I thought I would only be a reserve, but  my coach decided to put me on the field and I scored," James recalled. "It was a really important match for me, because it proved I was more capable than I thought." 
DBS badminton star follows in his father's footsteps 
The teenager, who began his football journey in Primary One, has always dreamed of building a career around his favourite sport. 
Now he is well on his way to turning his dream into reality by playing for Happy Valley's Under-18 team. He is hoping to earn a spot on the professional team in around five years' time. 
To prepare himself for Hong Kong's high-intensity Premiere League, James believes he needs to build up his physical fitness. 
Inspiring quotes from the top athletes of 2019
He explains that many budding local players have to juggle football and school, which leaves them with little time on the field. Their training then tends to be more focused on honing their football skills, such as ball control, dribbling and passing, rather than improving their strength, endurance and coordination. 
"There was one time when I was out of breath after running on the pitch for a few minutes ... that's when I knew I must improve my fitness if I wanted to play well in the future," he said. 
The plan to up his game may have to wait, however. James said he wants to reduce his training as he prepares for next year's DSE. 
"I hope I can get into university first, before turning professional. A degree will open up more potential pathways, so even if it doesn't work out on the pitch, I still have a backup plan," he said.