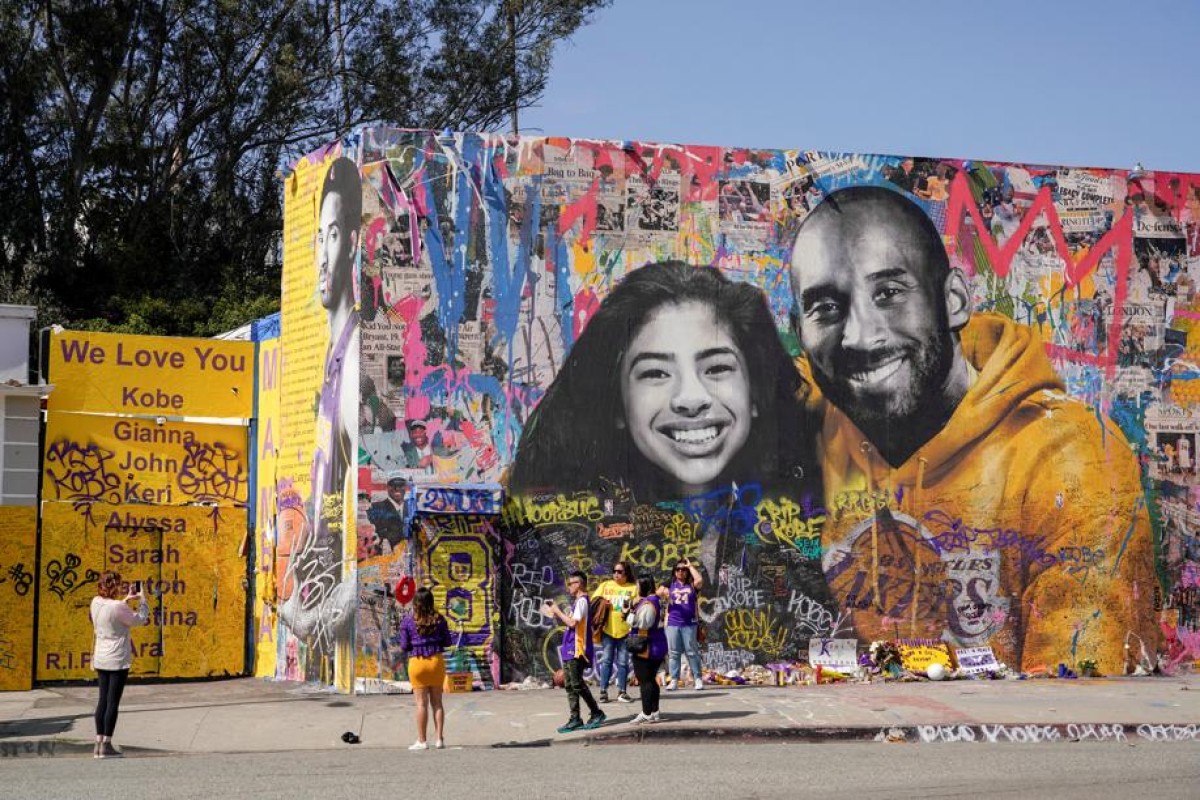 Fans gather around a mural of late NBA great Kobe Bryant and his daughter Gianna Bryant during a public memorial for them and seven others killed in a helicopter crash, at the Staples Center in Los Angeles.
Vanessa Bryant took the stage in front of about 20,000 people Monday in Staples Center to talk about two loves in her life, her 13-year-old daughter Gianna and her husband Kobe, one of the greatest basketball players of all time.
With tears in her eyes, but a steadfast voice, she spoke of him as a fierce competitor on the basketball court. He was the Black Mamba. A Lakers legend. A writer. An Oscar winner. A celebrity.
But to this young widow he was her "Kobe-Kobe, my boo-boo, my bae-boo, my papi chulo," she said to the stage-side celebrities and everyday fans in seats high above. "I was his Vivi, his principessa, his reina, his Queen Mamba. … I couldn't see him as a celebrity, nor just an incredible basketball player. He was my sweet husband, and the beautiful father of our children. He was mine."
For more that two hours, his memory was alive in the arena revered as the "House That Kobe Built." Vanessa's eulogy during the nationally televised memorial was her first public address since the deaths last month of her daughter and husband.
Gianna and Bryant were among nine people killed
when the helicopter they were taking to Bryant's Mamba Academy in Thousand Oaks for a youth basketball game slammed into a hillside in Calabasas.
She described how she and Kobe dreamed of getting old together, of being "the fun grandparents" to their daughters' future children. They had planned to renew their wedding vows, and he recently told her in a text that he wanted to spend more time alone together, just husband and wife.
"We never got the chance to do it," she said.
Her daughter Gianna was a "daddy's girl, but I know she loves her mama," Vanessa said.
Gianna kissed her mom goodnight and good morning every day, without fail.
The teenager was a budding basketball star, "competitive like her daddy" and "confident but not in an arrogant way." She told the boys' basketball coaches at her school that she was willing to give the boys some pointers.
Gianna had an infectious smile, a sarcastic sense of humor. She spoke Mandarin and Spanish. She loved dancing on TikTok videos and had a signature style: white T-shirt, black leggings, denim jacket, white high-top Converse shoes and a flannel shirt tied around her waist.
Vanessa said she knew Kobe and Gianna were together in the afterlife.
"We love and miss you, boo-boo and Gigi," she said to them. "May you both rest in peace, and have fun in heaven."
In the audience, Jennifer Lopez and Michael Jordan wept. Outside, just beyond the tight security and the barricades surrounding L.A. Live, fans honored Bryant in ways small and big, wearing jerseys with his No. 24, releasing doves, and showing off a custom purple Lamborghini featuring a mural of his face.
On the stage — surrounded by more than 33,000 red roses, one for each point Bryant, 41, scored — speakers painted an intimate portrait of the man as a husband, father, friend and intense competitor. Even the memorial's date, Feb. 24, or 2-24, was a tribute to Bryant's and Gianna's jersey numbers. She wore No. 2, and he wore No. 24 in the latter portion of his 20-year career with the Lakers.
"He wanted to be the best basketball player that he could be," Michael Jordan said. "And as I got to know him, I wanted to be the best big brother that I could be. To do that, you had to put up with the aggravation, the late-night calls or the dumb questions. I took great pride as I got to know Kobe Bryant that he was just trying to be a better person, a better basketball player."
Sign up for the YP Teachers Newsletter
Get updates for teachers sent directly to your inbox
Sign up for YP Weekly
Get updates sent directly to your inbox