US teen sports star Dalia Hurtado handles every challenge life throws her way
The 16-year-old student plays on the American football, volleyball and soccer teams at her school and participates in boxing and softball through neighbourhood progammes

She hopes to study medicine and one day be an army doctor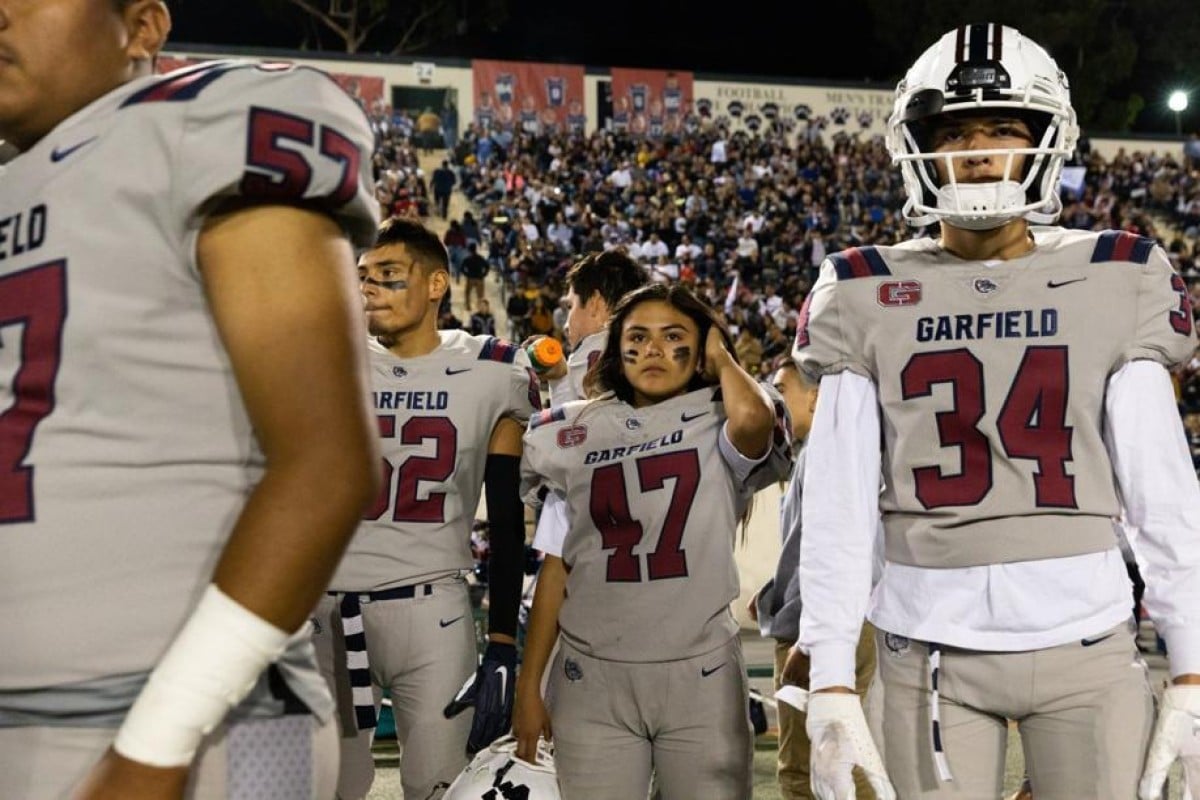 Dalia Hurtado is a one-girl lesson in diversity; the Mexican-American student plays five different sports and breaks gender stereotypes by playing on her school's American football team. Photo: TNS
Like many girls her age, Dalia Hurtado is having an identity crisis. Unlike most girls her age – to say nothing of most boys – Dalia deals with it by playing five sports: she's on the American football, volleyball and soccer teams at Garfield High School in Los Angeles, and participates in football, softball and boxing through neighbourhood and club programmes.
She's a one-girl lesson in diversity: a US citizen with Mexican parents, a tough girl with a tender heart, a rugged athlete who applies her make-up with great care, a teenager who wants to hang out with friends yet spends much of her free time on weekends helping her grandma. 
Scottish football player credits development to time in Hong Kong
Doing so many different activities is something of a coping mechanism.
"I get my mind off a lot of things. I stay occupied," the 16-year-old says. "That's why I love doing it." 
"I'm tired, [but] It's become a routine."
Dalia was born in Los Angeles to parents who have returned to Mexico; they can't be there to cheer at games and won't be able to send her off to the prom or watch her graduate next spring. Her life, like her family, has been split by a border that, for the moment, can't be crossed from either side.
The Hong Kong teen following in Ronaldo's footsteps
In the past few months, that life has been made even more complicated by the deadly virus that has taken away the two things – schools and sports – that have kept her focused.
Dalia first crossed the border when she was six, following her mother to Colima, Mexico. But their neighbourhood was wracked by violence, and she knew that, if she were to achieve her dreams, she had to move back to the US. 
She was just 10 at the time.
But her mother didn't have the proper documents to return to the US, and Dalia's five siblings didn't want to leave Mexico. So she flew to Los Angeles alone, to join her grandmother. They live in a tiny back house off a crowded street in East Los Angeles. Her grandfather lives in the house in front.
Dalia said she plays so many sports to keep her mind occupied. Photo: TNS
In Mexico, Dalia had played football with boys, and she refused to be limited by gender stereotypes. When she tried out for the American football team in her second year at Garfield, her grandmother objected, telling her it was too rough. Dalia's mother had been a cheerleader. Why not try that?
But it was precisely because it was rough that she wanted to do it. It didn't come easily at first. Much  shorter than most of her teammates, Dalia made the team as a place-kicker – and then promptly missed her first kick. 
"It was embarrassing in front of all the guys," she said. "But that didn't stop me. I practised and practised hard."
Taiwan national football player makes historic move
That practice paid off last October when Dalia scored the final extra point in a 61-0 rout of another school team.
In part because of Dalia's example, coach Lorenzo Hernandez says, there are now eight girls on his football team.
"The unique thing about it, which makes it really awesome, is that she's [inspiring] a bunch of other female athletes to come out and try multiple sports, you know?" Hernandez said. "She does a tremendous job with that. And I don't even think she realises."
Last autumn, Dalia would rush from volleyball practice every afternoon to change into her football gear and work on her kicking. Before the shutdown, she'd often ride a bus more than an hour each way to football, boxing and softball practice and games, doing homework on the way.
Before Covid-19, Dalia would often ride one hour each way on the bus to get to her games, doing her homework on the way. Photo: TNS
For much of the spring she also studied online. "I have good grades," Dalia says. "I made my grandma proud this time."
Covid left her very little to keep her busy.
She is focusing more on the future, though. Her strongest sport is soccer, which Garfield coach Jose Rodriguez thinks could earn her a university scholarship. He sees her enjoyment when she plays the game. 
"When she's at practice, she's just smiling, just wants to kick the ball, run and just play, forgetting about all the other problems," he said. 
Hernandez is also keeping an eye on her. "I've had a lot of conversations with her," he said. "I think she's trying to find an identity, and the good thing about her is that she's exploring all options."
One Hong Kong figure skater on how a Spider-Man quote applies to her
One of those options is medicine, Dalia says, a career path inspired by the current virus crisis. There will be many steps on the path to becoming an army doctor, as she hopes. But Dalia has a track record for beating the odds. Making it as a high school American football player and a football stand-out. Making it back to LA as a 10-year-old.
If she completes medical school, that's a graduation she won't allow her mother to miss. When she turns 21, Dalia can petition to have her mother rejoin her in Los Angeles, a move she's already planning.
As for why she wants to be a doctor, her soccer coach said the answer is obvious – and indicative of Dalia's character.
"She wants to help people."
Sign up for the YP Teachers Newsletter
Get updates for teachers sent directly to your inbox
Sign up for YP Weekly
Get updates sent directly to your inbox