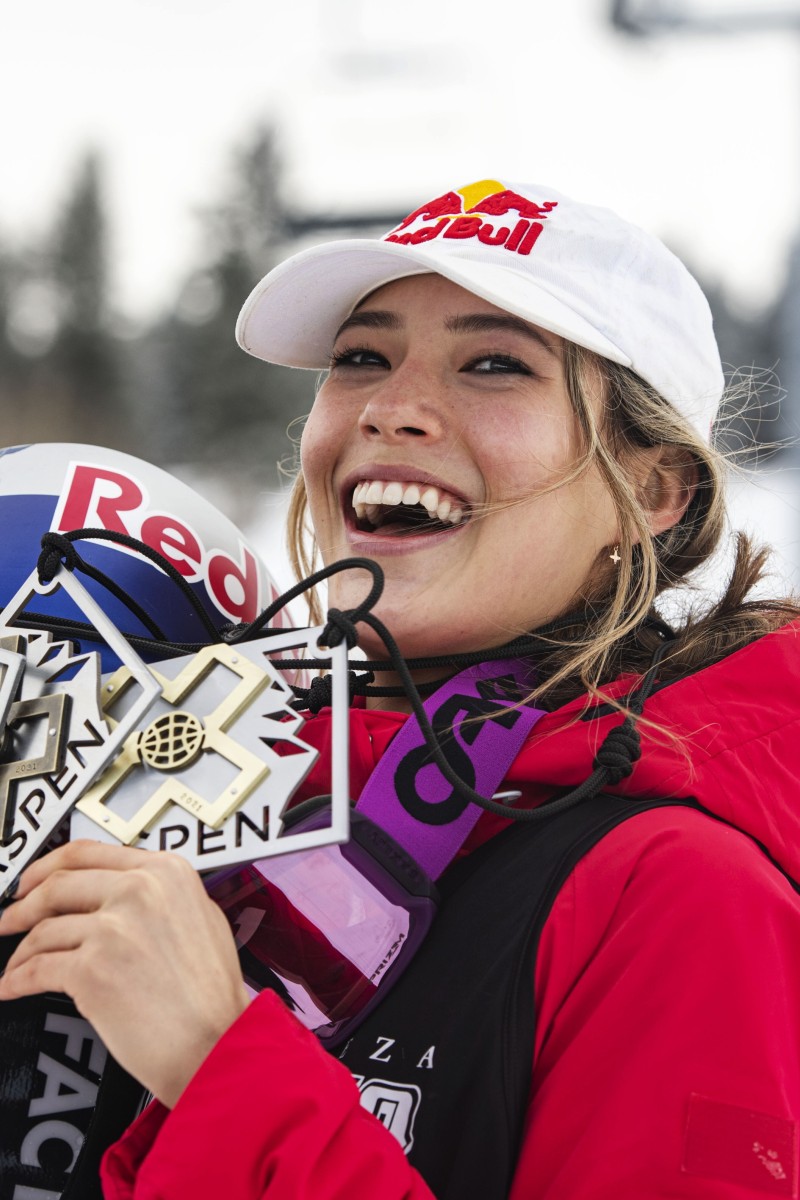 Teen freeski prodigy Eileen Gu Ailing has no regrets
Born in the US to an American dad and Chinese mum, she's chosen to compete on behalf of China and is on a medal rampage after the Winter Youth Olympic Games and X-Games

Eileen hopes to empower women and encourage them to try skiing and extreme sports
X Games rookie Eileen Gu holds her two gold medals and one bronze after winning the women's ski slopestyle final during the 2021 Winter X Games. Photo: AP
Nearly two years ago, at age 15, freeski prodigy Eileen Gu Ailing decided to compete for China instead of the US. And she has no regrets.
Born in the US to an American dad and Chinese mum, the now-17-year-old has since gone on a medal rampage. She won two 2020 Winter Youth Olympic Games golds; added China's first two golds at this year's X-Games (making history as the first-ever female rookie to win three medals); and took two golds and a bronze at the FIS Snowboard and Freeski World Championships (with a broken bone) earlier this month.
A dream of field hockey success is becoming a reality for this Hong Kong teen
Freeski is a type of downhill skiing that involves tricks and jumps. Currently there are two Olympic freeskiing events: half-pipe skiing, where competitors perform tricks in the sort of structure used by skateboards, and slopestyle, in which athletes ski down a slope littered with a variety of obstacles.
Both the US and China have embraced Eileen's achievements, she says. The Chinese team has naturally been very happy with "the biggest decision I ever made in my life" and her results, but her former team are on board, too.
"The US team ... has been nothing but supportive throughout the whole process – I'm still friends with everybody even now at competitions," she says.
Eileen competes in the women's freeski halfpipe qualification during Day 2 the Land Rover US Grand Prix World Cup at Buttermilk Ski Resort in Aspen, Colorado. Photo: AFP
Her decision to represent China wasn't universally popular, though. Despite still being at secondary school and not having yet moved from semi-professional to professional status at the time, Eileen found herself under attack from social media trolls. While she says the overwhelming majority of messages were positive, she says there were definitely some unpleasantness.
"The thing that really caught me off guard was the amount of hate I had. I was 15 years old and had death threats – hundreds of DMs from people saying terrible things that a 15-year-old shouldn't have to read," she says.
"It was like a car crash – you couldn't look away. You keep looking for more. I knew it was hurting me, but I couldn't stop.
Teen aims to become the world's first Sikh boxing champ
"It's easy to say 'Just don't listen to it', but when you're 15 – or any age – to receive that amount of negativity, nobody can handle it in [easily]. I guarantee it would affect anybody."
Luckily, Eileen had a revelation. She realised: "I was young, successful, doing the right things, proud of what I had done and the potential I had. For the most part these [critics] were 40-year-old men sitting on their couch.
"If you're hating on a 15-year-old, how much is your opinion really worth? Are you the person I should be taking advice from? It took me a while to understand that, but when I did it made me so much stronger."
This equestrian is part athlete, part horse whisperer
She's taking that confidence and paying it forward to fans who message her on social media.
"I've had fans message every day for almost a year, telling me about their day, that they were really nervous for a test and then scrolling down after a few days to see that 'I've aced the test'," she says.
"It's beautiful and I'm really grateful that I could garner a bit of a platform.
Eileen competes in the women's freeski halfpipe finals during Day 3 of the Aspen 2021 FIS Snowboard and Freeski World Championship. She won the event! Photo: AFP
But even these levels of self-assurance can falter. Eileen has a broken metacarpal bone at the bottom of her index finger, which affected the way she skied at the FIS World Championships: she couldn't hold ski poles. This not only affected her sense of balance it – it was the first time she'd competed without them – it also messed up her pre-game ritual.
"I'm really superstitious, so before dropping into the halfpipe, I always do two taps on my knees on my poles, two thigh taps, two shoulders, then the head. To take away the pole taps before dropping in was a major problem, it totally messed with me!"
The teen raising the bar for boys in ballet
For much of her education, Eileen was at an all-girls' school whose motto was "educate, encourage and empower women". This formed the backbone of many of her beliefs, and her approach to encouraging other young women to give sports a go.
"I get so many DMs on Instagram and Weibo that I've inspired girls to try skiing or do their first 360, both in China and the US, which is what makes it all worth it," she says.
"Skiing truly has made me who I am so I want to spread extreme sports, especially to younger girls – to show they can do it."
Sign up for the YP Teachers Newsletter
Get updates for teachers sent directly to your inbox
Sign up for YP Weekly
Get updates sent directly to your inbox