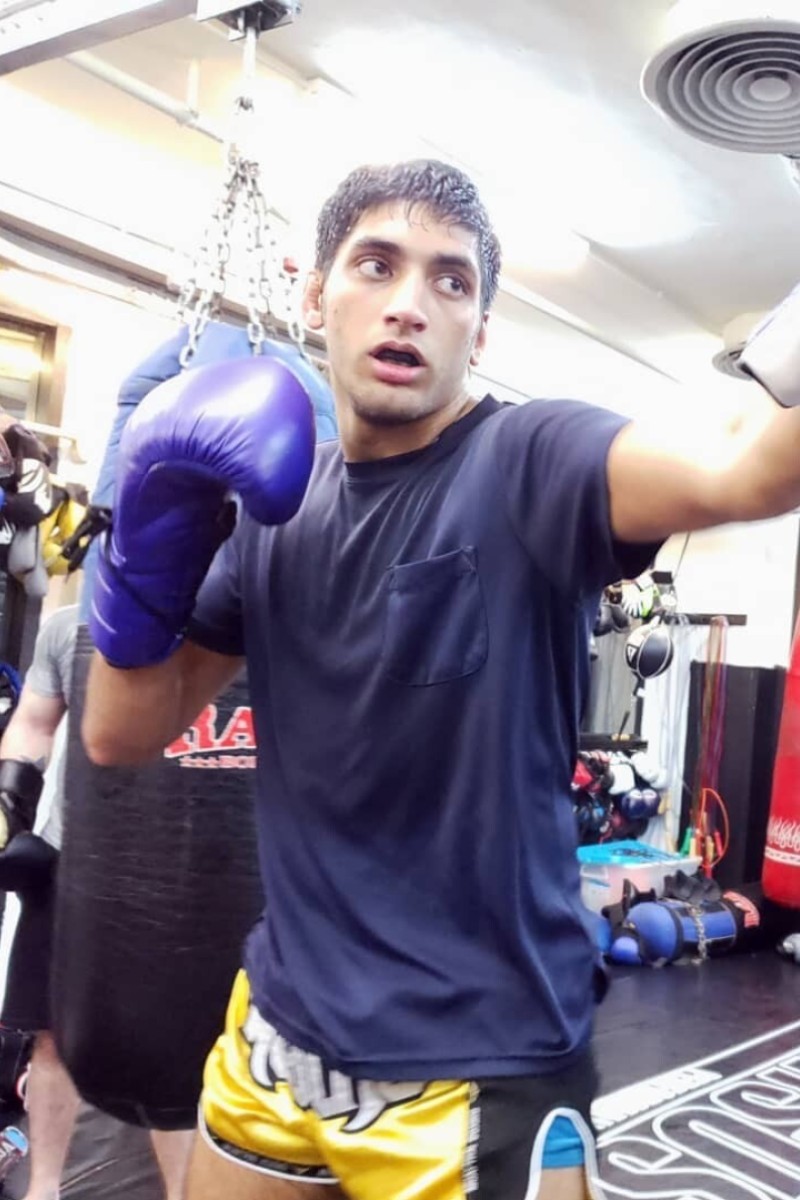 The HKUST student spent the coronavirus pandemic training with his team from Versus Performance outdoors or at someone's flat

The sport has taught him humility and sportsmanship; lessons that can be applied to all areas of life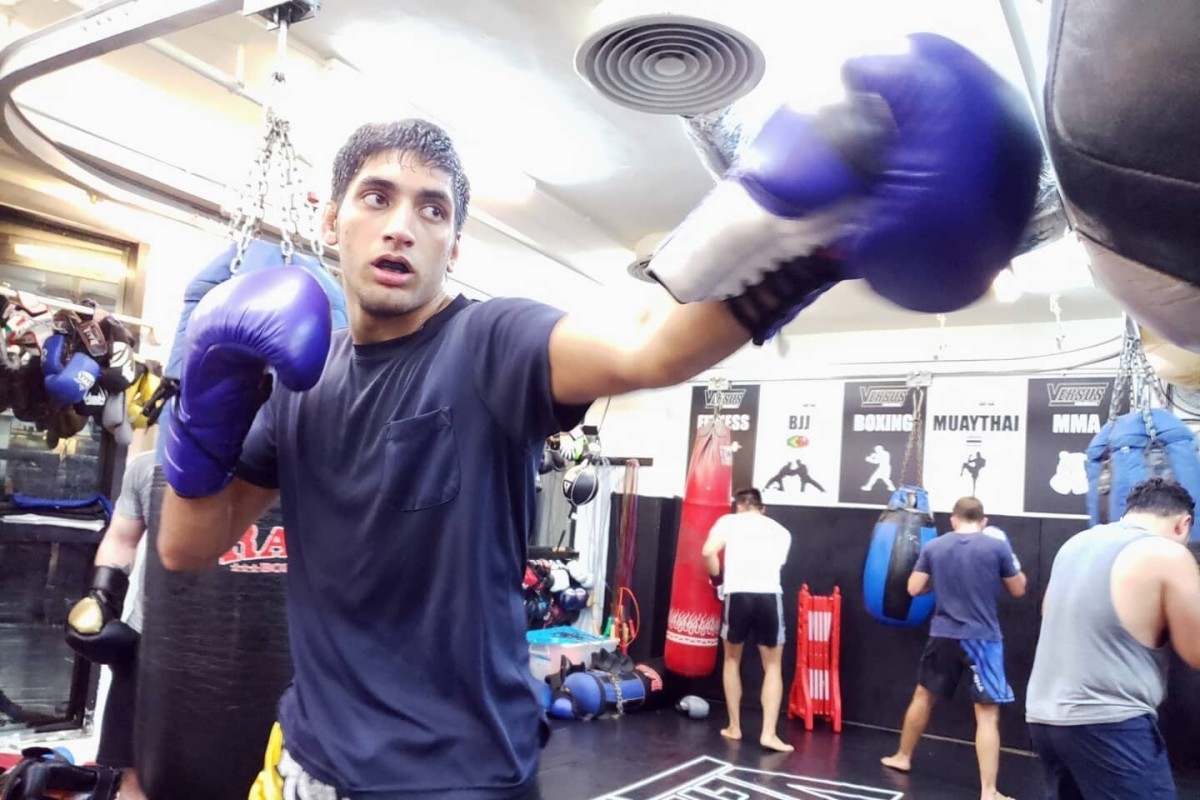 Rehaan Lulla spars with teammates at Versus Performance gym in Sheung Wan. Photo: Versus Performance
Despite the constant risk of injury, lack of government support and virtually no financial incentive, Rehaan Lulla says he could not imagine a life without Muay Thai: "the art of eight limbs".
And not even months of training and sacrifice during the pandemic in our notoriously cramped city has put off the West Island School alum.
"Honestly, the whole process is just a lot of fun," said the Indian-born, Hong Kong-raised 22-year-old, adding that part of the excitement comes from not knowing what to expect.
Hong Kong's top boxer wasn't always so passionate about the sport
"Sometimes you don't even know who you're going to fight that night if it's a tournament.
"There are a lot of intangibles involved and there's always a different story from every fight – no two are the same. I couldn't imagine a life without fighting."
Last week, Lulla overwhelmed former multiple Hong Kong champion Pun Ka-long. He was the only non-ethnically Hong Kong fighter on the main card, with commentators rather bluntly praising "the Indian guy's overwhelming power and swift defence".
Lulla after he won his bout at KF1 in Tai Po's ATV Studio in April. Photo: KC Lau
The downside to uncertainty
Given the disruptive closing-reopening cycle of the city's gyms, Lulla and his Versus Performance team spent most of last year grinding in makeshift training areas.
"What we'd do is hit pads and do some sparring in the park, then train at my teammate Max Leali's house," he said.
"He matted out his living room and we trained while his cats walked around us. It's a super small space – like most flats in Hong Kong – but a lot of time was spent there."
The HKUST student had faced Pun years earlier in the Hong Kong Secondary School Muay Thai Boxing Championships. Lulla edged the first encounter, but the stakes were much higher this time.
Could this teen be the world's first Sikh boxing champion?
"We fought when we were both 17. It was tough and we were both wearing body protectors, headgear, knee and elbow pads … this time was full contact, totally different," said Lulla.
"As you get older you definitely mature as a fighter. You realise what you have to do to win fights with your attributes. For a long time I never really used my reach properly, even though I have really long arms and legs. I was just going forward and punching.
"I've worked a long time on using my speed and reach."
Covid's effect on HK teen athletes
Lulla was introduced to the martial arts world at 11. He had become less passionate about his rugby and cross-country clubs and instead started boxing at Impakt, later moving to other gyms before finding a home at Versus.
"There was not a lot of training for younger fighters in Hong Kong – you kind of had to get into it later on. I decided to take it more seriously at 14, but it was really hard to get fights as a teenager.
"At Versus, I could train everything I wanted to in one place and be more consistent in training MMA," said Lulla, who had previously competed in regional boxing, grappling and shooto (another combat sport) events.
This teen's dream of field hockey success could become reality
Having blitzed his way through school-level championships, Lulla quickly felt a huge climb in competition.
"It started getting a lot harder at the junior and Hong Kong championships. I didn't win either. It's been a tough road," he said.
"But my mentality has changed since then. I put a lot less pressure on myself and try not to lose the fun side of it."
Lulla tries to defend takedowns in an MMA-style wrestling drill with teammate Adrian Wu. Photo: Versus Performance
Lessons of humility and sportsmanship
The lessons of absolute humility and sportsmanship unique to combat sports can be applied to everything else in life. Traditionally, Hong Kong's Muay Thai gyms are found tucked away in rundown industrial buildings or commercial centres. But that low-key, underground aspect of the nature of the sport is also part of the appeal.
"Sport in Hong Kong is generally not taken seriously. Fighting is not an elite sport here either, so if you take part you're doing it purely for the enjoyment and perhaps the hopes of one day competing overseas or against someone visiting Hong Kong," Lulla said.
The goalie following in Ronaldo's footsteps
"Muay Thai is a lot more low-key than the Conor McGregors and Israel Adesanyas of MMA. Nobody knows who the best athletes are unless you're in the sport or are a diehard fan. A lot of them are really skilled and very tough.
"These industrial buildings are the places that produce the champions and the toughest fighters. Those really small places, that's where you get the actual competitors."
Nothing stops this football-crazed kid from playing his favourite sport
Lulla, who was born in India, then moved to Taiwan and Hong Kong for his father's work, is well aware of the equally important obligation to be successful outside the ring.
He adds thatnot everyone in his life loves how he spends his spare time.
"My mum obviously wants me to quit – she even told me today [the fight last week] that this should be the last fight and I should focus on my career. But I feel I can do both and I have enough time to do so," he added.
The teen shooting for his chance at NBA success
"My dad lets me do what I want as long as I do what I have to in other aspects in life: studying, working, internships, part-time jobs. He wants me to be responsible more than anything. If I focused all my time on fighting, he'd probably want me to quit as well.
"My dad really wanted me and my younger brother to play a lot of sports. I remember wanting to quit rugby and he said 'No, you have to compete in at least some sports'. So I ended up quitting everything for fighting. He got me into it, can't blame me!"
Sign up for the YP Teachers Newsletter
Get updates for teachers sent directly to your inbox
Sign up for YP Weekly
Get updates sent directly to your inbox