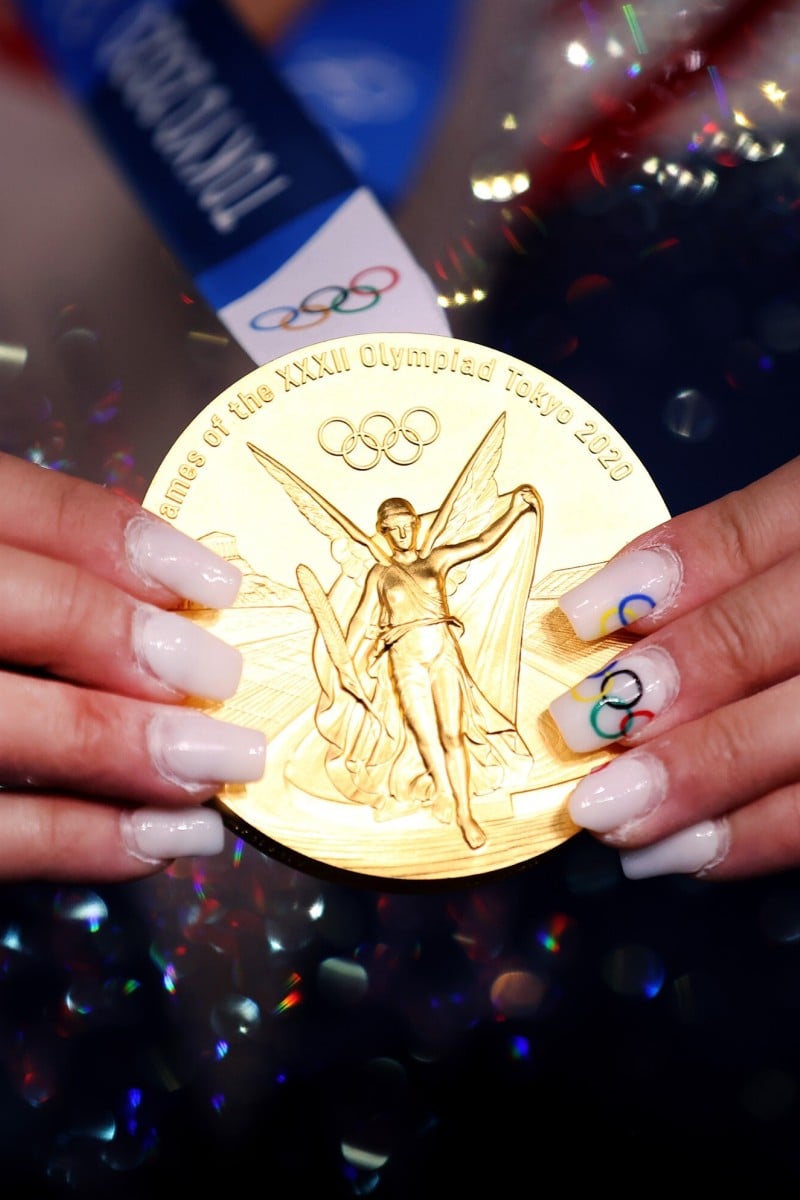 Tokyo Olympics: strangely – or sensibly – specific rules for athletes, from nail polish in gymnastics to clean hair in karate
What's behind the mask and suit that Hong Kong fencer and Olympic gold medallist Edgar Cheung Ka-long wears?

Gymnasts like Team USA's Simone Biles and Sunisa Lee can only paint their nails in neutral colours, among a long list of other unique rules that athletes must follow depending on their sport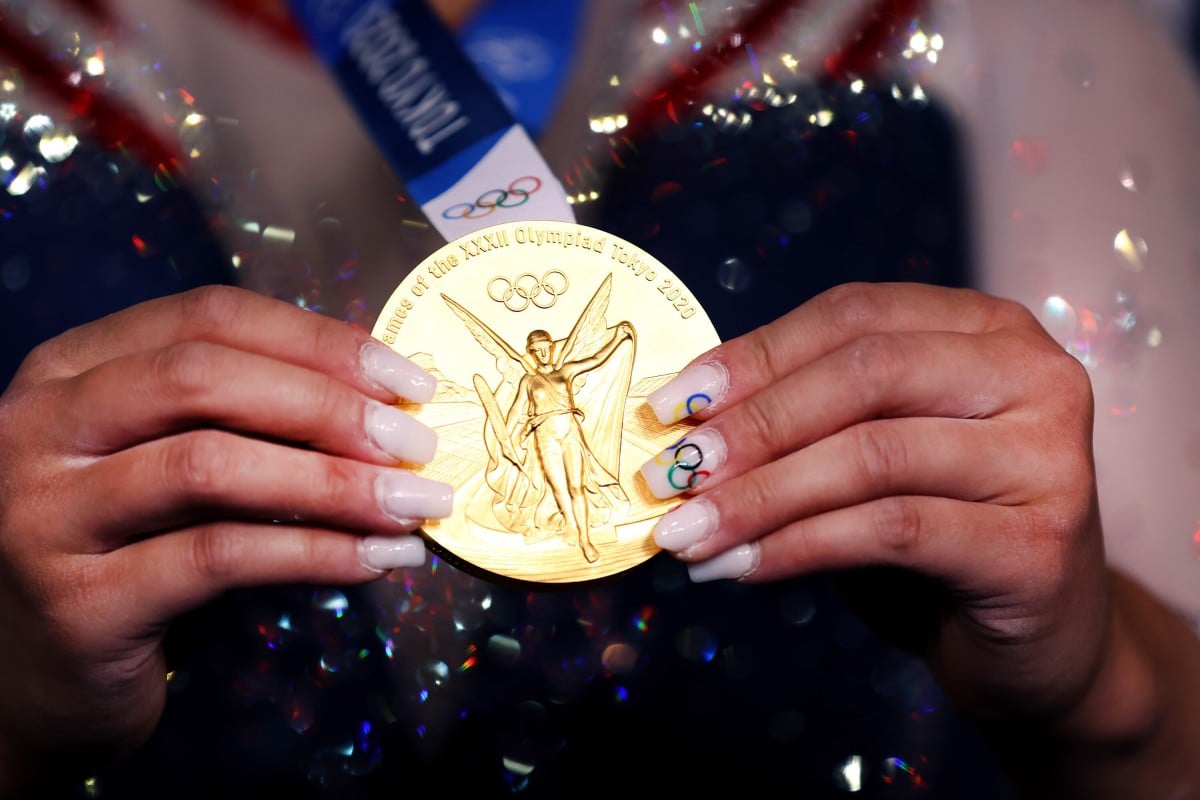 After winning the women's all-around final, US Olympic gymnast Sunisa Lee holds her gold medal, as she shows off her acrylic nails. Photo: Getty Images / TNS
As the world's best athletes try to fight their way to Olympic glory, what you might not see are a host of rules they have to reckon with to ensure they can play on competition day.
Although some are clearly intended to prevent disruptions or unfair advantage, many others may seem strange or downright quirky – such as being prohibited from sweating before a wrestling match or being allowed to run with only one shoe.
Tokyo Olympics: two bronze medals for Hong Kong in one day
Here is a look at some of the weird and wonderful rules of Olympics competition.
Fencers have traditionally worn white clothing because touches were recorded on the surface of their opponent's clothing through ink-soaked cotton on weapon tips. Now, with electronic scoring, fencers are permitted to wear clothing of any colour except black.
Edgar Cheung Ka-long takes his mask off to celebrate his victory over Daniele Garozzo Italy in the Men's foil Individual Golden medal bout. Photo: EPA-EFEClothing, however, must be made entirely of material that is able to withstand a significant amount of force. This rule became more strict after the 1982 World Championships when Russian fencer Vladimir Smirnov died when his opponent's broken blade pierced his brain though his mask.
Jackets, under-plastrons, breeches and trousers must be able to resist 800 Newtons of pressure (nearly 82kg of force), while the bib of the mask must be able to resist 1,600 Newtons (163kg of force).
What you need to know about star fencer Edgar Cheung Ka-long
A swimming cap designed for black swimmers' natural hair was rejected by the International Swimming Federation (Fina) for the Tokyo Olympics because it did not fit "the natural form of the head".
Soul Cap, an extra-large swimming cap from L to XXL size, was created as an alternative for swimmers with large hairstyles like braids, Afros or dreadlocks. Since the cap was launched four years ago, more than 30,000 have been shipped out. It is made of the same material as most swim caps, and ironically
Following public criticism, Fina said it understood the importance of inclusivity and would revisit the decision.
It's not necessary for gymnasts to compete barefoot in gymnastics. The International Gymnastics Federation allows gymnasts to perform in socks, and some opt for it to help them with their turns and prevent sweating.
They can also wear nail polish, but mostly neutral colours to avoid creating distraction for judges.
US gymnasts Simone Biles and Sunisa Lee have been known for their nail-art during competition, with Lee winning her gold medal while wearing a long set of acrylic nails featuring a design with the Olympic rings.
In what appears to be a testament to the decisiveness typically required in sports, wrestlers must either be closely shaven or have a beard that has been grown for several months with no in-between. The reasoning is that short stubble may irritate an opponent's skin. Competitors are forbidden from applying any greasy or sticky substance to their bodies when arriving on the mat.
Each wrestler is also required to carry a handkerchief at all times. The "blood rag" is intended for exactly what it's named for – to clean up any blood during the competition.
1 karate star, 2 bronzes, 3 paddlers: meet Hong Kong's latest Olympic medallists
Karate, which is making its Olympic debut, is an art that holds its competitors to the highest standards of honour and etiquette, meaning that their appearances must not be lacking.
Hong Kong's karateka Grace Lau Mo-sheung won the bronze for the women's individual kata at the Tokyo Olympics. Photo: ReutersHair and fingernails must be kept clean and cut to a short length that does not interfere with conduct. Competitors may be disqualified if the referee deems that a competitor's hair is not clean enough.
Running barefoot or with only one shoe in a competition sounds like a crazy idea but it's actually allowed by the International Association of Athletics Federation.
Shoes provide athletes with protection and stability to the feet and a firm grip on the track. However, they cannot be constructed to give athletes any unfair advantage.
Sign up for the YP Teachers Newsletter
Get updates for teachers sent directly to your inbox
Sign up for YP Weekly
Get updates sent directly to your inbox