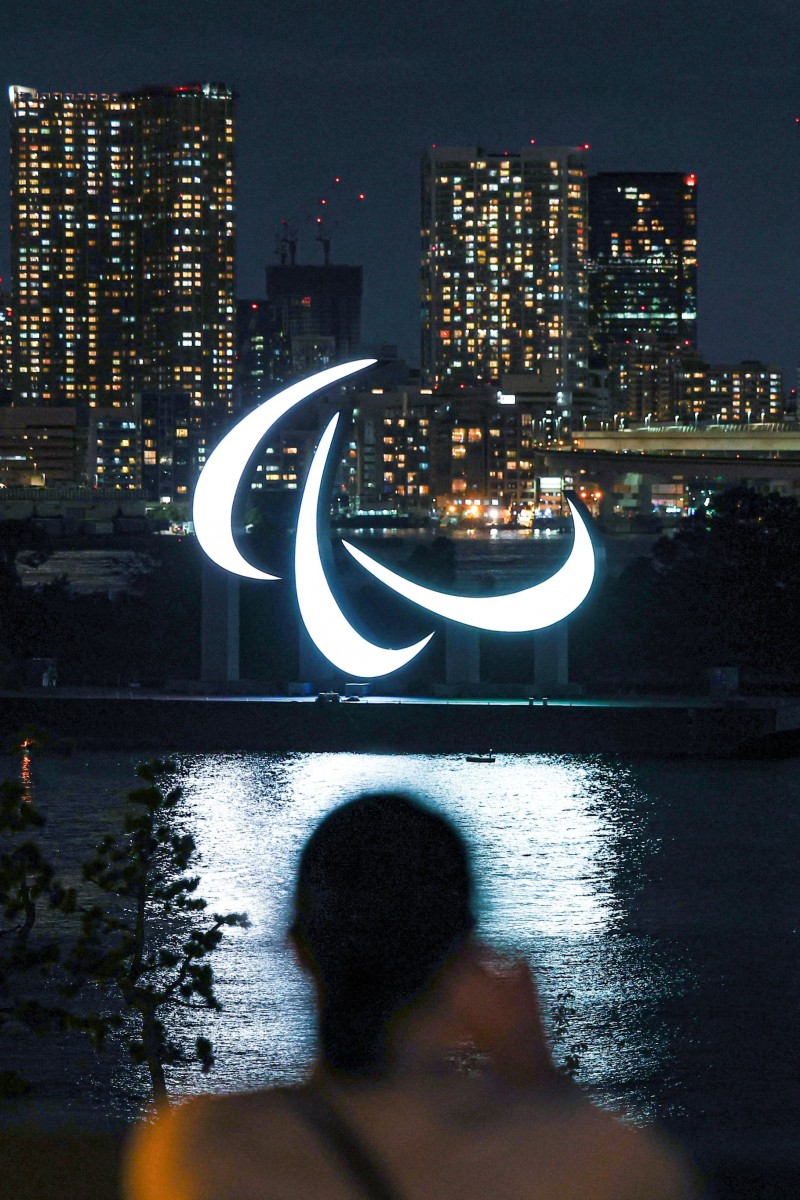 More than 4,500 athletes from all around the world will fly to Japan to compete in the Games, including 24 Hongkongers

Though live spectators are banned, the Tokyo 2020 Paralympics are set to break all TV viewing records, with an estimated global audience of 4.25 billion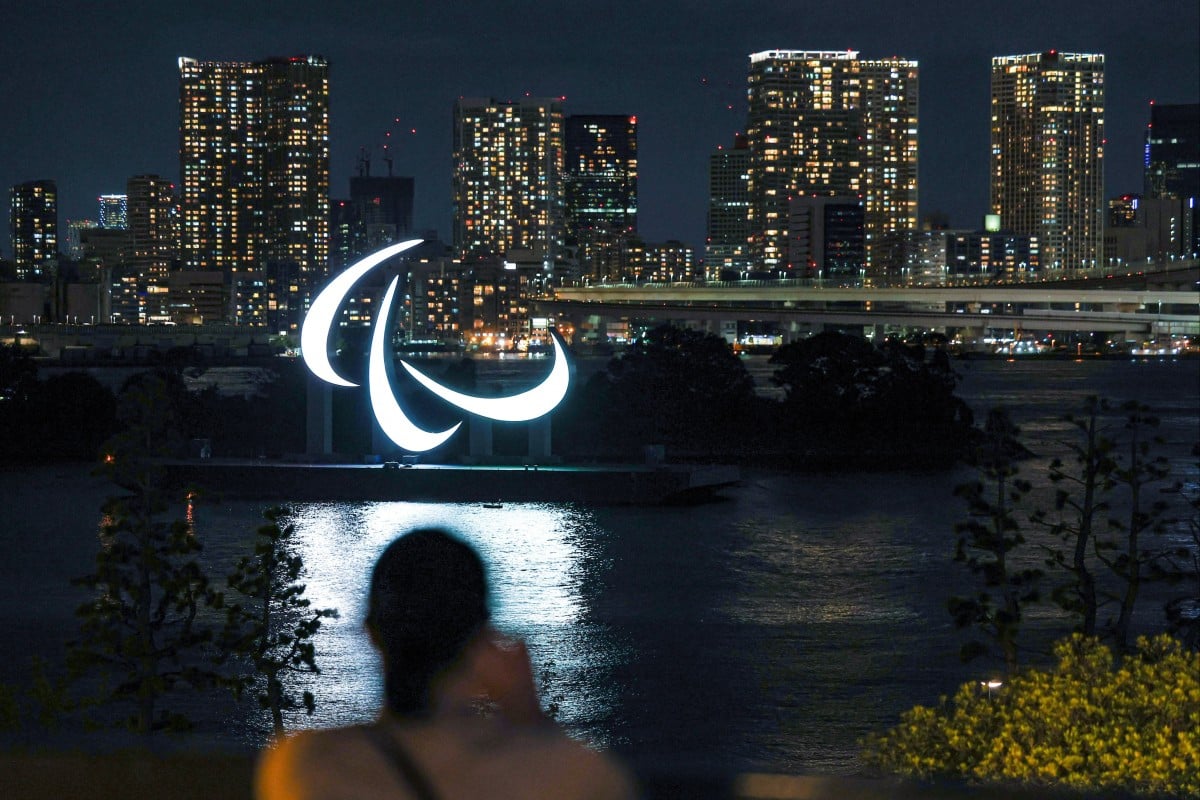 An illuminated Paralympic symbol is seen at the waterfront area of Odaiba Marine Park ahead of the opening ceremony of the Tokyo 2020 Paralympic Games, which begin on Tuesday. Photo: Reuters
More than 4,500 athletes from around the world will be battling it out in the Tokyo Paralympics from Tuesday, competing for a chance to stand on top of the medal podium.
The Paralympics generally do not receive as much public attention as the Olympic Games, with broadcasters in Hong Kong usually only running highlights of the events, rather than showing them live. This year, calls have been made for broadcasters to treat the Paralympics the same as the general Olympic Games.
The Paralympics begin on Tuesday and run until September 5. This year, 23 Hong Kong athletes will be competing across eight sports. Here's what you need to know about the Paralympics:
Siobhan Haughey shares her secret to Olympic success
How much money are Hong Kong Paralympians rewarded if they win?
Cash incentives will be offered to Paralympians under the Henderson Land Commendation Scheme for Elite Athletes, though the prize money is smaller than for those who compete in the Olympics. The incentive is divided into individual and team awards for athletes finishing in first to eighth place.
Edgar Cheung Ka-long, the Hong Kong fencer who took gold in the Tokyo Olympics, pocketed HK$5 million for winning his solo gold medal under this scheme. A Paralympic gold medallist would only be awarded HK$800,000 under the scheme, around six times less than their Olympic counterpart - and that's after the amount was recently doubled.
What inspires these young Olympians
In the US, Paralympians and Olympians will earn equal payouts for medal performances for the first time this year.
"Paralympians are an integral part of our athlete community and we need to ensure we're appropriately rewarding their accomplishments," Sarah Hirshland, the United States Olympic Committee CEO, said in 2018, when announcing the decision that Olympians and Paralympians will get equal rewards.
Igor Plotnikov of the Russian Paralympic Committee is assisted by his coach during swimming training. Photo: Reuters
Will there be an audience at this year's Paralympic Games?
The Paralympics will be held largely behind closed doors, with no public spectators permitted.
"In light of the current case numbers in Tokyo and wider Japan, everyone attending these games must be vigilant," Andrew Parsons, International Paralympic Committee (IPC) president, said earlier.
Hong Kong's B-girls aim for Paris 2024
Local viewers can still support the city's athletes through five local broadcasters: HK Open TV, i-Cable, Now TV, TVB and ViuTV. However, the Hong Kong government has only required these stations to broadcast the opening and closing ceremonies, as well as highlights of the Games, instead of live events.
Earlier at the flag presentation ceremony for the Hong Kong Paralympics delegation, Chief Executive Carrie Lam Cheng Yuet-ngor required public broadcaster RTHK to live stream the opening and closing ceremonies, as well as live programs of no less than 70 hours.
All about Hong Kong cyclist Sarah Lee
The station will provide additional services, such as sign language interpretation for people with hearing impairments. It will also dub some programmes into Urdu so that people who don't speak English or Cantonese can still enjoy the broadcast.
According to the IPC, the Tokyo 2020 Paralympics are set to break all viewing records, with an estimated global TV audience of 4.25 billion people likely to watch the Games, surpassing the 4.1 billion viewers who enjoyed the Rio 2016 Paralympic Games.
Japanese wheelchair tennis player Yui Kamiji takes part in an official practice session for the Tokyo Paralympics. Photo: Kyodo
What are the criteria for para sports?
To join the Paralympics, athletes must have an underlying health condition that leads to a permanent eligible impairment. In total, there are 10 eligible impairments, which can be divided into three categories–physical, vision and intellectual impairments.
Each sport has different requirements and athletes are grouped by the type and level of their impairment. While some sports are limited to one impairment, such as goalball for athletes with vision impairments, other sports like para swimming and para athletics are open for athletes with all ten eligible impairments.
Members of Japan's Paralympic men's wheelchair basketball team form a circle during a practice session at Musashino Forest Sport Plaza. Photo: Kyodo
What events will Hong Kong athletes compete in?
A total of 24 Hong Kong athletes will compete in eight sports: archery, fencing, athletics, boccia, swimming, table tennis, para badminton and equestrian. Half of the athletes will be making their first appearance in the Games.
The lowdown on star fencer Edgar Cheung
Para badminton is making its debut at this year's Games, and the city is sending some of its best to compete. Hong Kong's top para badminton players, Daniel Chan Ho-yuen and Wand Chu Man-kai, who rank second and third in the sport, are among this year's medal hopes. Seven-time Paralympic gold medallist, wheelchair fencer Yu Chui-yee, is also one to watch.
The city's delegation in the Rio Paralympics five years ago brought home two gold, two silver and two bronze medals.
Yu Chui-yee (left) in the final of the women's individual foil at the 2016 Rio Games. Credit: Hong Kong Paralympic Committee
How do visually-impaired athletes compete?
Blind or visually impaired athletes use assistants in their competitions. For example, in swimming, "tappers" team up with the swimmer to make sure they know when they are approaching the end of the pool by "tapping" them once or twice. In track events, "guide runners" can be attached to an athlete by a strap on their arms or hands, but the athlete must finish ahead of the guide.
6 athletes who sported their own style at the Games
In Tandem, a para cycling classification for athletes that require a sighted pilot, a guide cyclist pairs with a non-sighted rider. The cyclists must be in sync, and the pilot must not be a professional cyclist.
Judo is the only sport in the Paralympic Games that is restricted solely to visually impaired competitors.
Sign up for the YP Teachers Newsletter
Get updates for teachers sent directly to your inbox
Sign up for YP Weekly
Get updates sent directly to your inbox