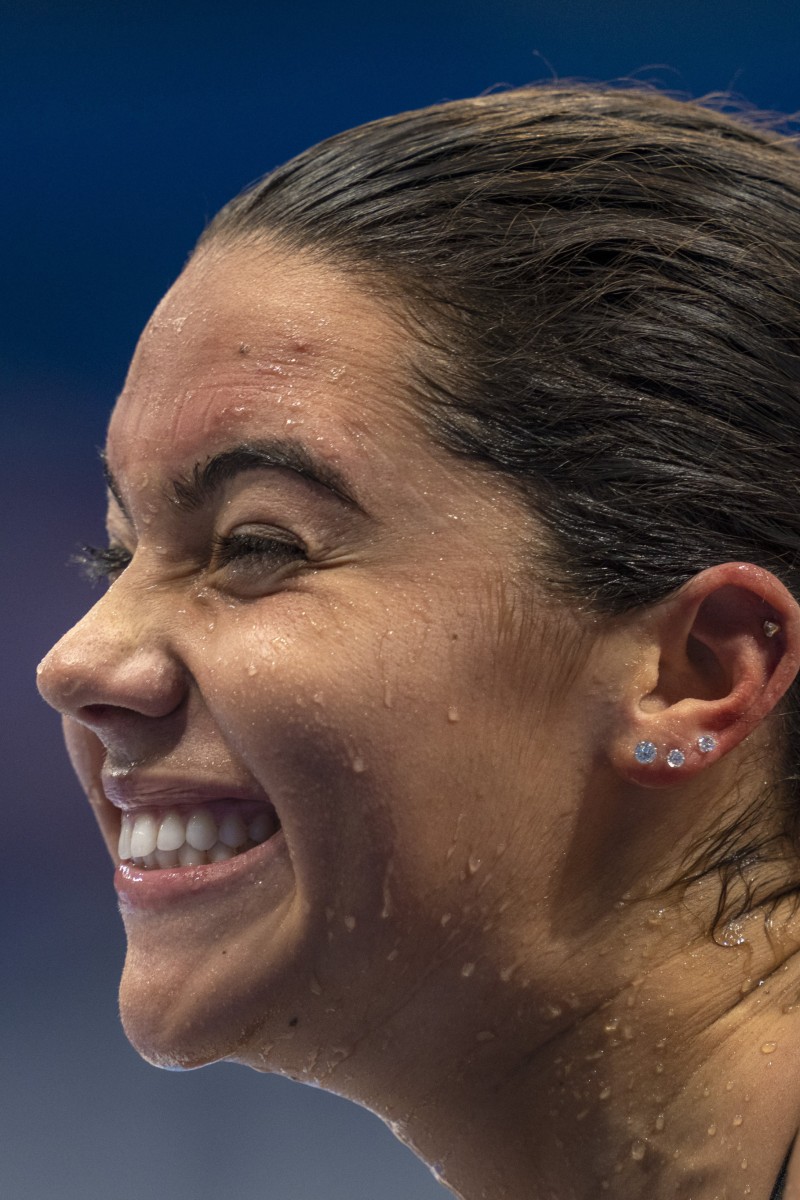 9 young Paralympic athletes we're watching at this year's Games
These teen swimmers, badminton players and taekwondo athletes have overcome many challenges and broken more than a few records to get to where they are today

From Hong Kong's Chan Yui-lam, 17, to Team USA's Anastasia Pagonis, 17, and Venezuela's Lisbeli Vera Andrade, 19, here are just a few Paralympians you should know about
Esther is the Production Editor for Young Post, and she worked as a teacher in the United States, Macau, and Hong Kong before joining the Post in 2021. She has an interest in literature and the environment, amongst other issues important to teens today.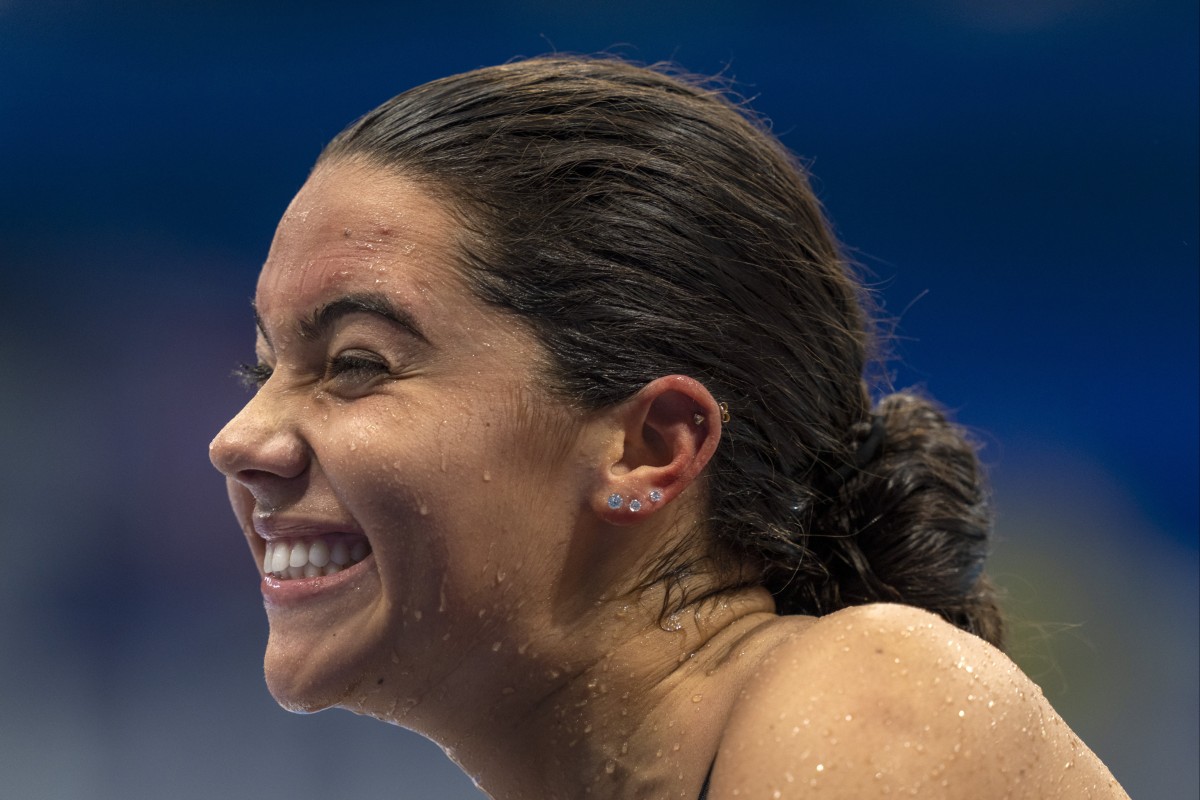 Anastasia Agonis, from the US, reacts after beating a record at the Women's 400m Freestyle - S11 Heat 2 at the Tokyo Aquatics Centre during the Tokyo 2020 Paralympic Games. Photo: AP
We wish we could highlight everyone at the Tokyo Olympics and Paralympics, but there just isn't enough time! Still, we were able to round up these awesome young athletes competing in this year's Games – take a look at their stories.
What you should know about the Paralympics
Anastasia Pagonis (USA), 17, swimming
When Anastasia Pagonis was 11 years old, she began gradually losing her sight to Stargardt disease, and at 14, she was diagnosed with autoimmune retinopathy, which left her only with light visual perception. She nearly gave up swimming altogether, but with the support of her family and her Coach Marc Danin, she was able to get back into the pool.
"When I jump into the water, that's my happy place," said Anastasia in an interview with US local media. "That's when I feel free. When I'm out of the water, I always have to rely on someone."
In 2020, she won two gold medals at the Melbourne World Series in Australia. At the Paralympic trials for the 400m freestyle, she broke the world record – twice.
When she's not in the water, the para-swimming star posts make-up tutorials and educational material on her Instagram, where she has over 200k followers. She hopes her posts can help people rethink their perceptions of the vision impaired.
"When I go out with my guide dog or with a cane, some people don't believe I'm blind because I'm wearing jeans and a crop top, and I have nice hair and wear makeup. They can be quite rude about it," she explained in an interview with World Para Swimming in 2020.
5 Hong Kong athletes to watch at this year's Games
Aya Ayman Abbas (Egypt), 20, swimming
Not only does Ayman have 15 international medals, but she is also the first and youngest Egyptian, African and Arabic female athlete to win a world para-swimming medal.
But she also makes time for her studies at the American University in Cairo, where she is studying business and theatre. She wants to become Egypt's first professional actress in a wheelchair.
In an interview for her university website, the swimmer said, "I wish I could get into filmmaking, especially acting, and help people with disabilities stand in front of the camera to prove how good they can be as public speakers or directors. We can do anything."
Chan Yui-lam (Hong Kong), 17, swimming
The star swimmer took up the sport when she was 10 years old and joined the swimming team at her school. At the London 2019 World Para Swimming Championships, Yui-lam broke the Asian Record and brought home a bronze medal in the S14 Women's 100m Butterfly.
It has been her long-term goal to get to the Paralympics.
Chan Yui-lam won Hong Kong's award for Most Promising Junior Athlete in 2019.
Yui-lam told Hong Kong news outlet Sportsroad in 2019: "This world is actually very big. Don't trap yourself in a small circle – even if you can't see outside your circle, tell yourself to try harder. You will only learn more. It's not just a dead end behind you."
Siobhan Haughey's secret to Olympics success
Husnah Kukundakwe (Uganda), 14, swimming
Aiming to become her country's first female Paralympic swimming medallist, this phenomenal young athlete was born without a lower right arm.
As the first Ugandan to ever compete in the Singapore 2019 World Para-swimming World Series at the age of 12, Husnah is no stranger to the spotlight.
While she is determined to do well in Tokyo, the S8 and S9 swimmer also has other career goals.
"School is really important to me, because I want to achieve my dream of becoming a paediatrician. As much as I would love to swim for the rest of my life, I also want to achieve this other dream that I have had since I was a kid," Husnah wrote in a post on the Malala Fund's digital publication, Assembly.
The sports we'd add to the Olympics
Juan Diego Garcia (Mexico), 18, taekwondo
The 2019 Para Taekwondo World Champion – Mexico's first – has been besting his competitors since he first stepped foot in a dojo at the age of five. The other students were shocked that he was able to defeat them with just one arm.
This year is the first time that para-taekwondo will be featured in the Paralympics.
"Maria Espinoza, triple Olympic medallist, is a very important role model to me because we're both from Sinaloa. I want to be where she is and now I'm on that path," he said in a video for the Olympic web series, Unleash the New.
Lisbeli Vera Andrade (Venezuela), 19, track
Born without part of her left arm, the runner, who won two bronze medals at the Dubai 2019 World Championships, was discovered by luck, though she had always dreamed of running on the track.
"I went to all the school athletics games as a spectator and from that moment on I dreamed of running on the track," she told Assembly.
While she was competing in a local street race, Venezuelan coach Leonel Cabezas just so happened to see her and recommended her to the coach of the national team.
The Tokyo Games will be Libeli's first time at the Paralympics. While she is now famous for her achievements, she has discussed the discrimination and bullying she experienced when she was in school, and has spoken out about what needs to change.
"Teachers have to educate themselves about disabilities to be able to transmit values to students. We have to normalise attitudes towards disability so that it doesn't become the subject of ridicule or curious stares," she said.
What inspires these young Olympians
Liu Yutong (China), 17, badminton
At the age of 13, Yutong became the 2017 World Champion in the women's WH2 singles and won gold again in 2019. With para-badminton making its debut at the Tokyo Games, the world No 1 in her category is the player to beat.
When she was four, Yutong lost her legs in a car accident. Although she started playing table tennis when she was young, she soon discovered her love for para-badminton. But sport isn't her only passion in life.
"I always paint apart from training. I had such an urge for painting when I was very young; I could feel that inner calm as soon as I picked up my pencil," the young shuttler said in an interview with the Paralympic website.
Merle Menje (Germany), 17, athletics
The wheelchair racer is coming to Tokyo fresh off of her victories at the European Para Athletics championships, where she brought home four medals. With two golds in the women's 400m and 5,000m T54, and two silvers in the women's 100m and 800m T54, Merle is a strong medal contender at the Paralympic Games.
After her win, Merle told the Paralympic website: "I just want to train, be better and then we will see what I can achieve."
Weighing the costs of the Olympic Games
Sara Vargas (Colombia), 13, swimming
Sarah bagged four gold medals and one silver at the 2019 Parapan American Games Lima, where she was also the youngest athlete.
The teenage swimmer said that her accomplishments would not have been possible without the support of her family, especially her mother, who has the same disability that affects her stature.
While she balances her schoolwork and social life with training, she tries not to focus too much on the pressure of having people in her country watching her.
"I don't swim because I want to set an example. I swim because I like it and if I become an example for someone, then great," she said in an interview with Assembly.
Sign up for the YP Teachers Newsletter
Get updates for teachers sent directly to your inbox
Esther is the Production Editor for Young Post, and she worked as a teacher in the United States, Macau, and Hong Kong before joining the Post in 2021. She has an interest in literature and the environment, amongst other issues important to teens today.
Sign up for YP Weekly
Get updates sent directly to your inbox