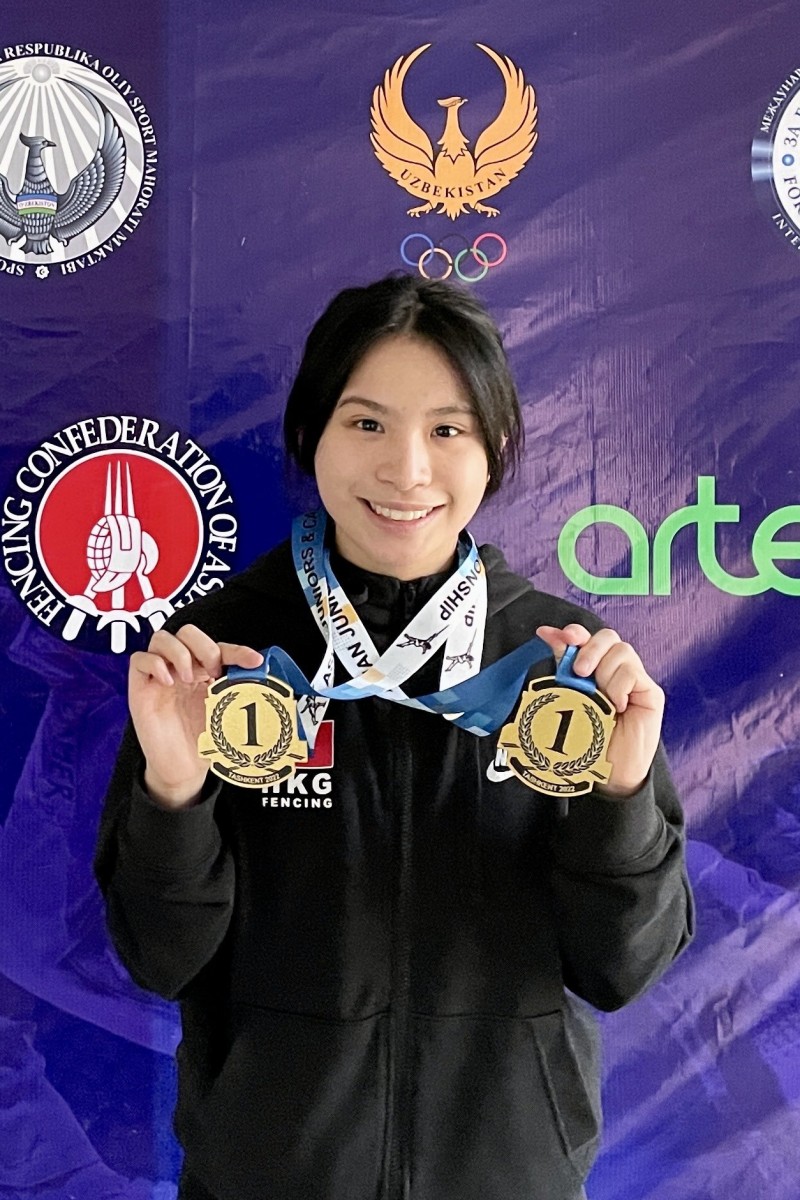 Teen Hong Kong fencer Janelle Leung on being inspired by Edgar Cheung's Olympic win, training despite Covid-19 hurdles
The 17-year-old, now ranked No 10 among the world's junior women foilists, shares about her journey to 2 gold medals at last month's Asian Juniors Championship

Every week, Talking Points gives you a worksheet to practise your reading comprehension with questions and exercises about the story we've written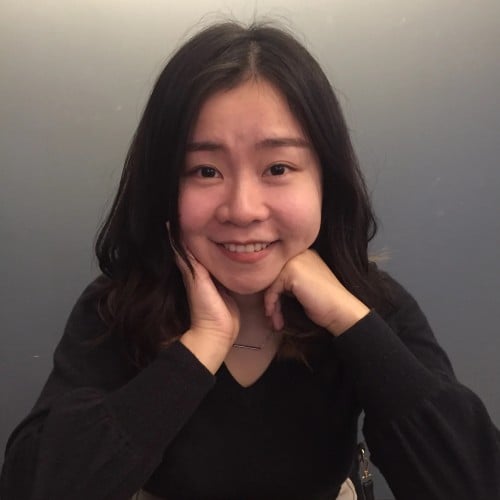 Kelly is a journalist from Hong Kong. She joined the Post in 2018, where she writes about Hong Kong's arts and culture, social welfare and the environment. She has a master's degree in Journalism from the University of Hong Kong.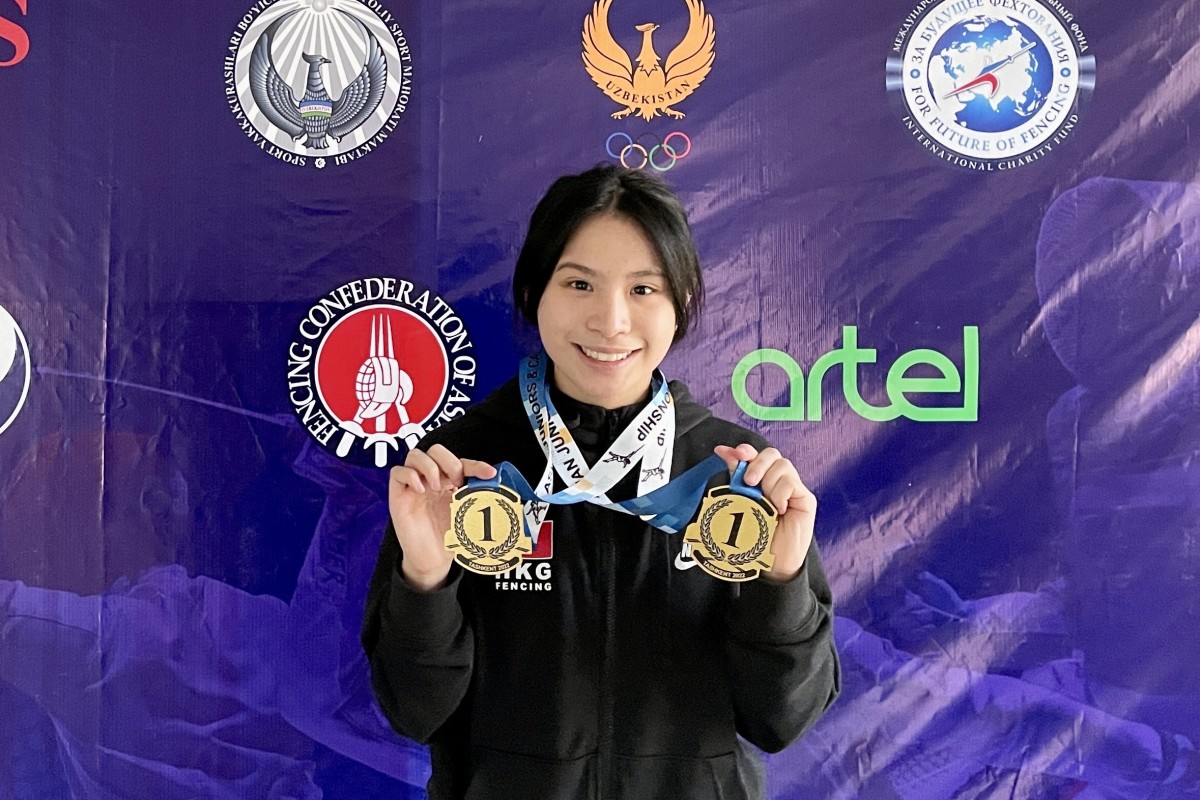 Janelle Leung, 17, is the first junior female foil fencer from Hong Kong to take home two gold medals at the Asian Juniors and Cadets Fencing Championship. Photo: Handout
Last month, 17-year-old foil fencer Janelle Leung Ya-lei clinched two gold medals at the 2022 Asian Juniors and Cadets Fencing Championship in Uzbekistan, marking the first time a junior Hong Kong female won the individual and team events in the same year.
While the victory itself was momentous, the teen recalled one of the most unforgettable memories happened off the piste – when a young female fencer from Uzbekistan complimented her fencing skills through a drawing.
"Her English wasn't really good, so she showed me a booklet where she drew me," said the Form Five student from St Paul's Co-educational College. "I've never had a fan before. So that was really overwhelming, and I encouraged her to keep going."
"I never thought that getting double gold [medals] can affect younger ones and motivate them to ... continue their fencing journey."
Why Beijing 2022 is a 'full-circle moment' for Hong Kong skier Audrey King
While Janelle may be surprised to have inspired a younger fencer, she – like many other athletes from Hong Kong – was encouraged by the city's spectacular wins at the Tokyo Olympics last year.
Janelle aspires to one day qualify for the Games, especially after witnessing how fencer Edgar Cheung Ka-long made history by winning Hong Kong's second-ever Olympic gold medal last summer.
"Him winning gold in the Olympics reminded me that there's a chance to win the world championships. It's not just [about] participating for the Hong Kong team – you can actually win," she asserted.
"That gave me a lot of confidence before the Asian Juniors Championship and helped me get gold."
Janelle Leung, 11 at the time, won a Hong Kong fencing competition and received the award from Edgar Cheung, who would later become an Olympic gold medallist. Photo: Handout
This had been the Hong Kong fencer's first time taking part in that tournament.
Then, on April 5, she competed in the Junior Women's Foil at the Cadet and Junior Fencing World Championship in Dubai. After her events there, Janelle is now ranked 10th among junior women foilists around the world and the highest-ranked junior female foilist from Hong Kong.
What you need to know about Hong Kong gold medal winner Edgar Cheung
Her extraordinary results are also proof that the pandemic has not got the best of her.
As a part-time athlete under the Hong Kong Sports Institute, Janelle used to train three to four days a week, five hours a day after school, totalling a minimum of 60 hours a month.
But recently, the fencer has not been able to use the Sports Institute's training centre because it has been closed since January amid the city's fifth wave of coronavirus cases.
"I didn't have anywhere to train with my teammates. So all I did [were] ... workouts at home and watching some fencing videos, like top fencers from all around the world in the World Cup, and learning from them," she explained, adding that she did her best to stay in shape.
Hong Kong's Covid curbs on sports hit young athletes
"So I didn't really expect much, to be honest," she said about the Asian Juniors Championship last month.
"I didn't want any stress to affect me. So when I got to the top four, top two, and in the end, the finals, I was very relaxed, and I did really well."
Her recent successes are the result of years of hard work, but her first foray into the sport was an accident. When Janelle was five, she was at the mall for a Spanish class when she stumbled across a fencing summer camp.
"I saw those people wearing protective clothing, the masks, the blades, the foils. And it's so cool because I've never seen an actual blade before," the teen recalled. "So I told my dad I wanted to try it."
Janelle Leung says fencing has influenced many aspects of her life, including what she hopes to study in the future. Photo: Handout
Over time, her passion for fencing grew, and she found she did not have the same level of interest in other sports.
"Fencing is different because it is all about mentality. It's all about techniques. So it doesn't matter how your body is shaped or your physical advantage," she said.
"It is how you think of each match, how you use your techniques and strategies – like a chess game."
Hong Kong star swimmer Siobhan Haughey shares secrets to her Olympic success
The athlete said the most challenging aspect of fencing was learning how to control her emotions so she could adapt and change tactics in critical, but fleeting moments throughout the 15-point game.
"I have to think of each move and what others will think of – because if I win the first point, they will know I would do [those moves] again. So I have to change," Janelle said.
The secret to maintaining her training and her studies, the Form Five student-athlete shared, was being able to concentrate fully on whatever task she had in front of her.
"When I'm in a fencing centre, I would focus on fencing – I wouldn't think about academics. And when I'm studying, I would never think about fencing," she explained.
Hong Kong Olympic medallist Sarah Lee's 3am study routine
Next year, the task before her is the Diploma of Secondary Education exams, and the dedicated fencer has set her sights on studying medicine at university.
"Because of fencing, I also have grown an interest in sports medicine," Janelle said.
Her sport has not only shaped her academic pursuits, but winning gold has also inspired her to tackle everything with the same assertiveness she applies to fencing.
"It gives me motivation to do other things with more confidence, and it's telling me that everything is possible," she said. "Each competition is about your mentality. So if you tell yourself you can do this, you can do it."
Click here to download a printable worksheet with questions and exercises about this story. Answers are on the second page of the document.
Sign up for the YP Teachers Newsletter
Get updates for teachers sent directly to your inbox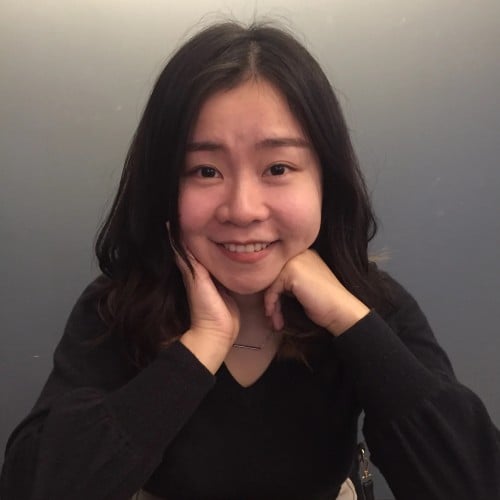 Kelly is a journalist from Hong Kong. She joined the Post in 2018, where she writes about Hong Kong's arts and culture, social welfare and the environment. She has a master's degree in Journalism from the University of Hong Kong.
Sign up for YP Weekly
Get updates sent directly to your inbox