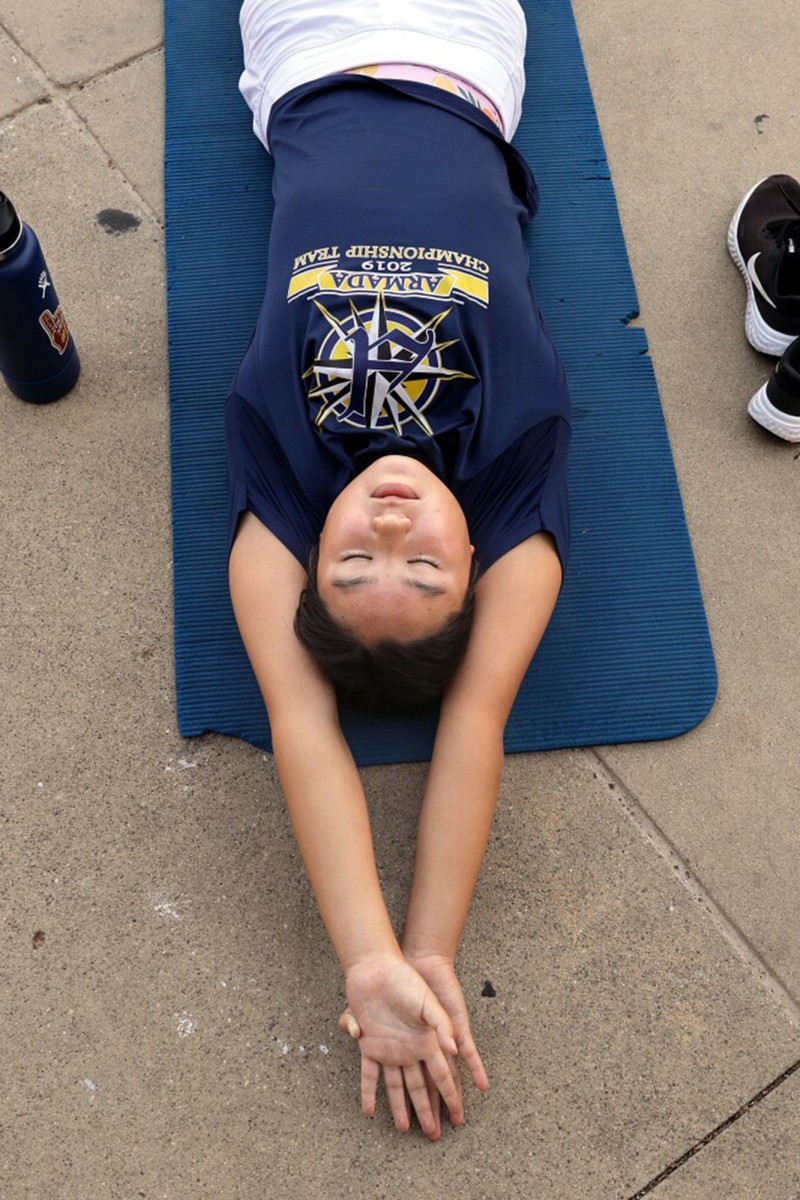 'Here she comes': 14-year-old swimmer Kayla Han makes waves in the US with 2024 Paris Olympic Games on horizon
Holder of multiple US age group records, Kayla Han was 13 when she shot to fame as the youngest Olympic trials qualifier last year

Now 14, Kayla is competing against Olympians and collegiate stars, though she says she is just focused on swimming her own race and doing her best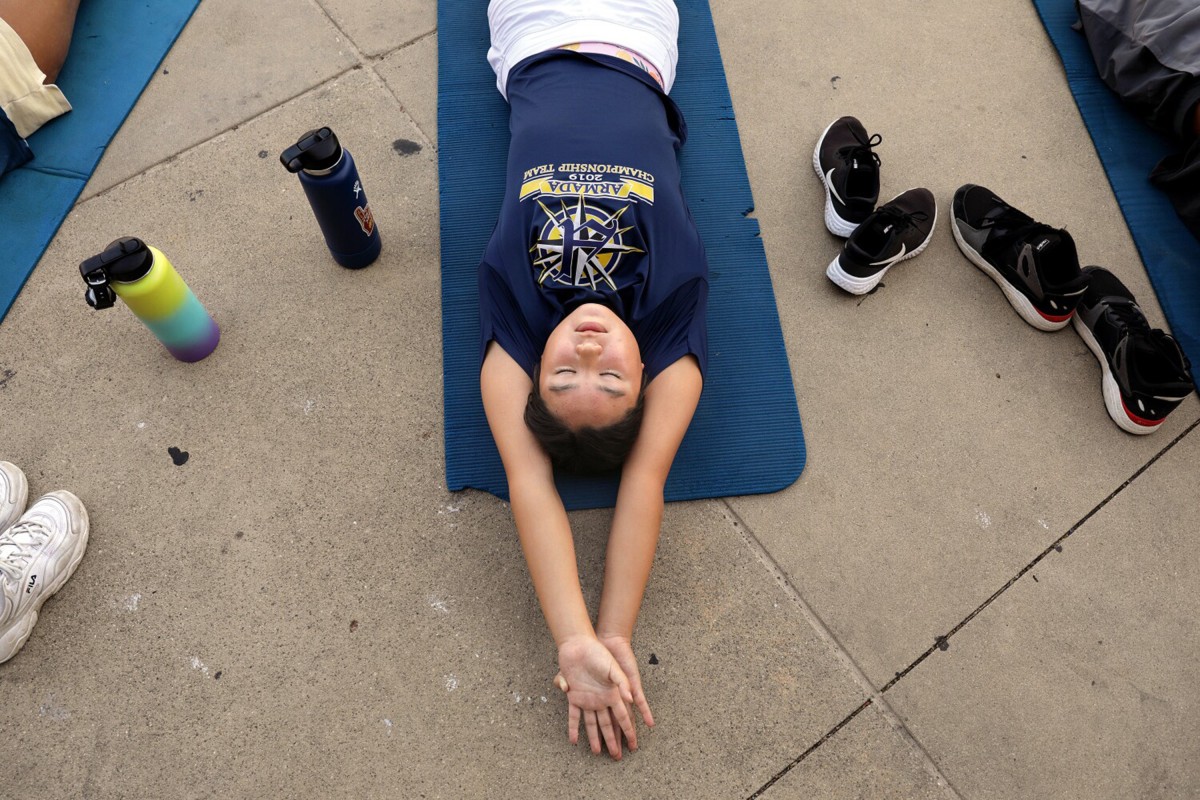 Kayla Han stretches before practice with La Mirada Armada Swim Team in the US state of California. Photo: TNS
The 13-year-old girl in a plain blue swimsuit and white swim cap just kept going. Stroke after stroke, Kayla Han's arms propelled her forward despite the burn building in her lungs and shoulders. A socially distant, limited-capacity crowd cheered. Han knew she was catching up.
"Here she comes!" two-time Olympic medallist Elizabeth Beisel exclaimed on the NBC feed as Han inched ahead.
Kayla hasn't stopped charging up the swimming ranks since her breakthrough performance at last year's Olympic trials, where her epic comeback in the last 15 metres of the Wave I 400m individual medley B final earned more than 1.2 million views on YouTube. It was the most-watched clip of the 2021 Olympic trials and Han's unofficial coming-out party.
Teen Hong Kong fencer shares why nothing can foil her confidence
Since touching the wall in 4:51.08 at the Olympic trials, swim blogs have tracked her times at every meet. Public address announcers rarely miss a chance to announce Kayla's credentials: the youngest Olympic trials qualifier last year and multiple national age group record holder.
"I think Kayla is somebody that will be a leader on Team USA and probably at a very young age," Beisel said.
To see a teenager so unbothered by a slow start stood out to Beisel. Kayla was not scared to run down any of her competitors, even if they were more than a decade older.
"We just have to pace ourselves, especially with the young ones," Beisel said. "We want to see them flourish and blossom into the athletes that they are, but we don't want to put the cart before the horse."
Earlier this year, at a meet that featured many swimmers who had already accomplished Kayla's ultimate dream of going to the Olympics, the 14-year-old offered a glimpse at her future goals in swimming.
"Just training really hard and just doing my best, that's all I can ask for," Kayla said. "And see what happens in 2024."
The attention building around Kayla during the past 14 months has been unavoidable. She notices the increased interest in her career but tries not to let it faze her.
"I just swim my own race and practise my butt off," she said.
From refugee to Serie A, 18-year-old teen football player Moustapha scores in debut
No workout seems to phase the teenager, whether it's her team's famous "New Year's Insanity" workout that lasts nearly six hours or two-a-day sessions at 7,000-foot altitude.
"Her work ethic is probably unlike anyone else that I've ever seen," said teammate Mia Carley. "She pushes herself every day, which is something I think we all hope we can do."
When Kayla and the other distance swimmers were assigned a brutal set of 50 100m freestyle swims, Kayla didn't look like she had any problem, even as her male teammates struggled. As the boys began to fall behind the clock's unrelenting pace, Han only seemed to get stronger.
"I honestly kind of like not a lot of rest because then sometimes the boys fall off," Kayla said with a bashful smile, "and I get ahead of them, and I can beat them."
This season, Kayla is swimming against the odds. At the US national championships in Irvine, Olympians and university stars from established swim programmes teamed up in massive cheering sections, shouting, clapping and whistling as their teammates raced.
Han, the only one of La Mirada Armada's club swimmers who qualified for the meet, only had her coach, Rick Shipherd, standing on the deck.
The solitary existence is becoming more common for Kayla this season as she started taking part in more championship meets.
In April at the international team trials, Kayla reached best times in the 400m freestyle and individual medley, 800m freestyle and 1,500m freestyle. She was also the youngest competitor named to the Junior Pan Pacific Championship team, the highest-level meet for US junior swimmers this season.
Hong Kong swimmer Jamie Yeung on achieving her dream to be at the Tokyo Olympics
Learning how to judge success by thousandths of a second instead of the five- to six-second drops a year ago has been a challenge as she grows up in the swimming spotlight.
"When I was 12, I would be dropping at every single meet," Han said, "but now it's not so often. So I feel like I'm getting used to that right now and this meet definitely is making my mentality strong."
Kayla was racing the best swimmers in the world now, Shipherd said. They're bigger, faster and stronger than the teenager who sings K-pop songs in her head during long practices. A month before swimming next to six-time Olympic gold medallist Katie Ledecky, Kayla celebrated her 14th birthday with a sleepover with her swim friends.
"She's having to grow in a hurry," Shipherd said.
Sign up for the YP Teachers Newsletter
Get updates for teachers sent directly to your inbox
Sign up for YP Weekly
Get updates sent directly to your inbox