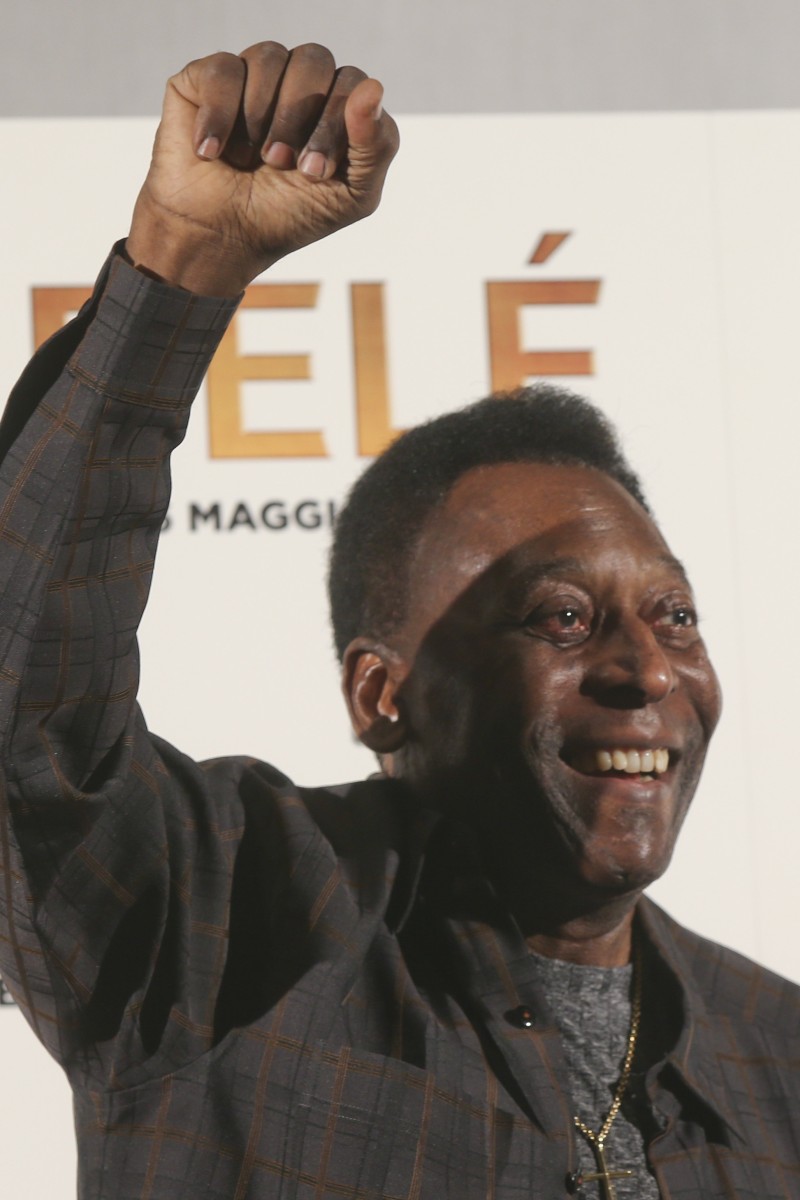 Widely regarded as one of the sport's greatest players, Pele had undergone treatment for colon cancer since 2021

Beloved player was the only man to win three World Cups and named player of the century by Fifa, along with Argentina's Diego Maradona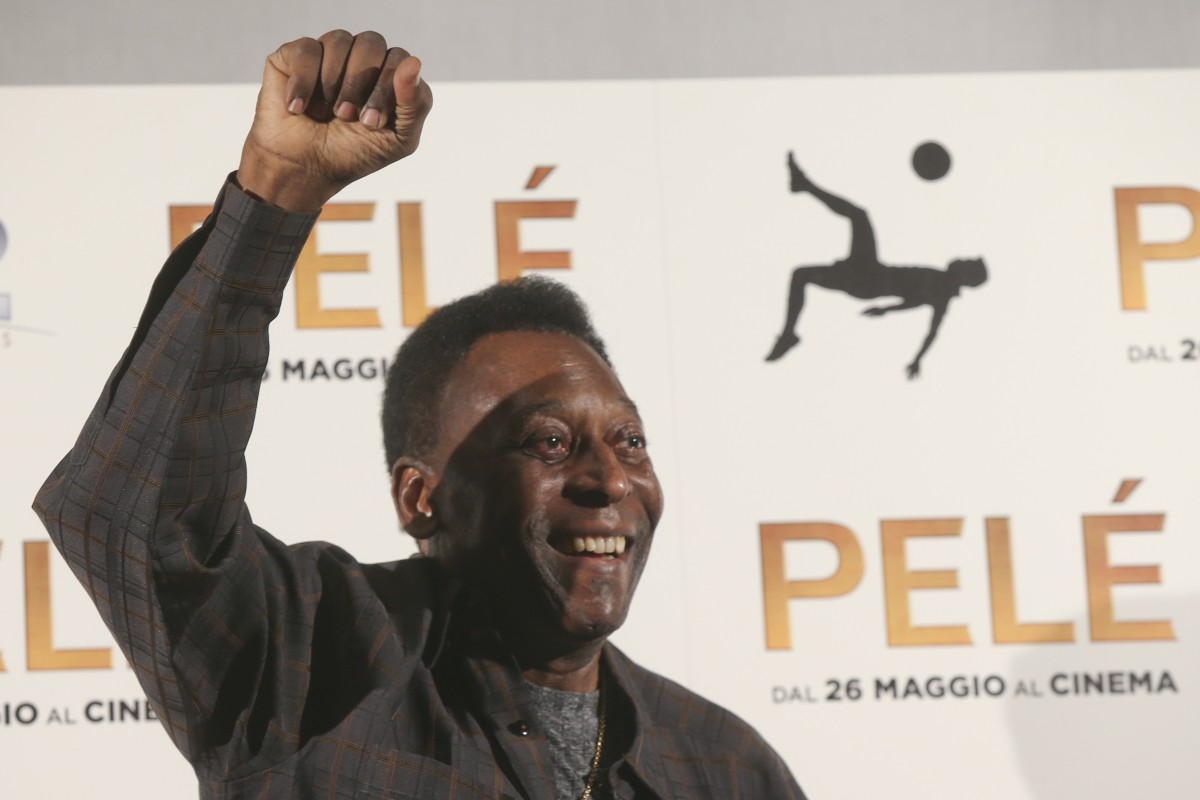 Pelé, the Brazilian king of soccer who won a record three World Cups and became one of the most commanding sports figures of the last century, died on Thursday, December 29, 2022. He was 82. Photo: AP
Brazilian football great Pele has died at the age of 82, his family and the São Paulo hospital where he was being cared for announced on Thursday.
The Hospital Israelita Albert Einstein confirmed the footballer's death due to multiple organ failure as a result of colon cancer.
Pele, the only man to win three World Cups, had been hospitalised since November.
"Everything we are, we owe to you," Pele's daughter Kely Nascimento wrote on Instagram. "We love you immensely, rest in peace."
Argentines erupt in 'immense happiness' after epic World Cup final against France
The stadium where Pele played some of the best matches of his career will also hold his funeral on Monday and Tuesday.
Santos, the club where Pele played in Brazil, said in a statement the public will be able to pay their final respects at Vila Belmiro Stadium, outside Sao Paulo.
Santos said the coffin will leave Albert Einstein hospital in Sao Paulo early on Monday morning and will be placed in the centre circle of the field.
Visitation will start on Monday at 10am and finish the next day at the same time.
The Christ the Redeemer statue in Rio de Janeiro, Brazil was illuminated with the colours of the Brazilian national flag in tribute to Pele. Photo: EPA-EFE
Pele's casket will be carried through the streets of Santos and will pass in front of the home of his 100-year-old mother, Celeste. Recent reports in Brazilian media say Pele's mother cannot leave her bed and is not lucid.
The burial will take place at the Memorial Necrópole Ecumênica, a vertical cemetery in Santos. Only family will attend.
Pele has a home in Santos, where he lived most of his life. He spent his last years in the city of Guarujá.
The Brazilian football federation CBF took to Twitter to post a photo of "King Pele" with the word "eternal" written above a black and white portrait.
Hong Kong football team's biggest fan? Meet the only supporter to travel to India to see the side qualify for the 2023 Asian Cup
Born Edson Arantes do Nascimento on October 23, 1940 in the town of Três Corações (Three Hearts) in the state of Minas Gerais, Pele became known in Brazil as the "King of Football". He won the World Cup three times, in 1958, 1962 and 1970.
World football's governing body Fifa named him as player of the century along with Argentina's Diego Maradona, who died in 2020 at the age of 60.
Pele spent nearly two decades enchanting fans and dazzling opponents as the game's most prolific scorer with Brazilian club Santos and the Brazil national team.
His grace, athleticism and mesmerising moves transfixed players and fans. He orchestrated a fast, fluid style that revolutionised the sport – a samba-like flair that personified his country's elegance on the field.
A fan stands in front of an image depicting Brazilian soccer legend Pele as people gather to mourn his death in Santos, Brazil, on December 29, 2022. Photo: Reuters
The player who would be dubbed "The King" was introduced to the world at 17 at the 1958 World Cup in Sweden, the youngest player ever at the tournament. He was carried off the field on teammates' shoulders after scoring two goals in Brazil's 5-2 victory over the host country in the final.
Injury limited him to just two games when Brazil retained the world title in 1962, but Pele was the emblem of his country's World Cup triumph of 1970 in Mexico. He scored in the final and set up Carlos Alberto with a nonchalant pass for the last goal in a 4-1 victory over Italy.
The image of Pele in a bright, yellow Brazil jersey, with the No 10 stamped on the back, remains alive with soccer fans everywhere. As does his trademark goal celebration – a leap with a right fist thrust high above his head.
Hong Kong Paralympic athlete calls for more education, support for disabled people
Pele's fame was such that in 1967 factions of a civil war in Nigeria agreed to a brief ceasefire so he could play an exhibition match in the country. He was even knighted by Britain's Queen Elizabeth in 1997.
Pele was Brazil's first modern black national hero but rarely spoke about racism in a country where the rich and powerful tend to hail from the white minority.
Opposing fans taunted Pele with monkey chants at home and all over the world.
Pele, centre, poses with two other soccer greats: Cosmos teammate and captain of the 1974 World Cup team from West Germany, Franz Beckenbauer (left), and Bobby Moore, captain of England's 1966 World Cup team. Photo: AP
"He said that he would never play if he had to stop every time he heard those chants," said Angelica Basthi, one of Pele's biographers. "He is key for black people's pride in Brazil, but never wanted to be a flag-bearer."
Pele's life after soccer took many forms. He was a politician – Brazil's Extraordinary Minister for Sport – a wealthy businessman, and an ambassador for Unesco and the United Nations.
He had roles in films, soap operas and even composed songs and recorded CDs of popular Brazilian music.
Hong Kong pro athletes share their experiences, saying passion and family support are important for a full-time career in sports
As his health deteriorated, his travels and appearances became less frequent. He was often seen in a wheelchair during his final years and did not attend a ceremony to unveil a statue of him representing Brazil's 1970 World Cup team. Pele spent his 80th birthday isolated with a few family members at a beach home.
In all, Pele played 114 matches with Brazil, scoring a record 95 goals, including 77 in official matches.
Pele ended his career on October 1, 1977, in an exhibition between the Cosmos and Santos before a crowd in New Jersey of some 77,000. He played half the game with each club. Among the dignitaries on hand was perhaps the only other athlete whose renown spanned the globe – Muhammad Ali.
Sign up for the YP Teachers Newsletter
Get updates for teachers sent directly to your inbox
Sign up for YP Weekly
Get updates sent directly to your inbox