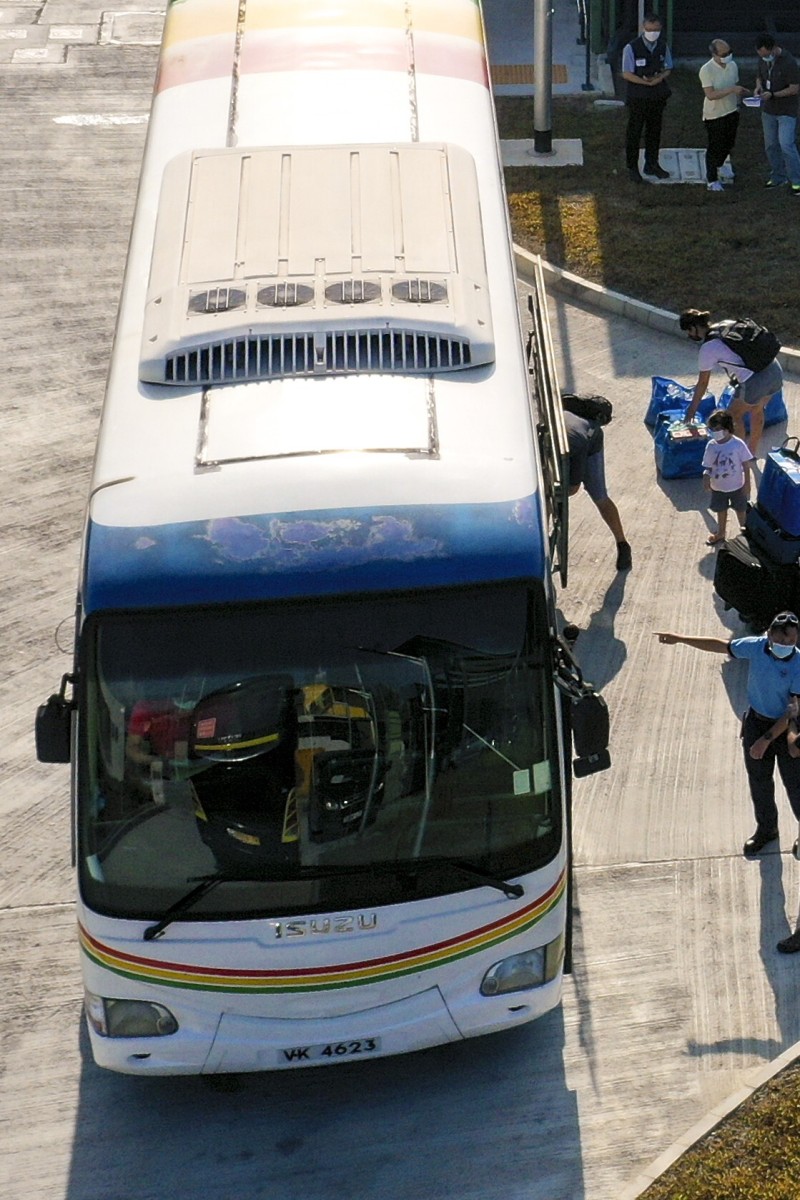 Face Off: Should vaccinated people be sent to quarantine if there is one confirmed case in the building?
Each week, two of our readers debate a hot topic in a parliamentary-style debate that doesn't necessarily reflect their personal viewpoint

This week, they discuss whether Hongkongers who have taken both doses of the Covid-19 vaccine should still be sent to isolation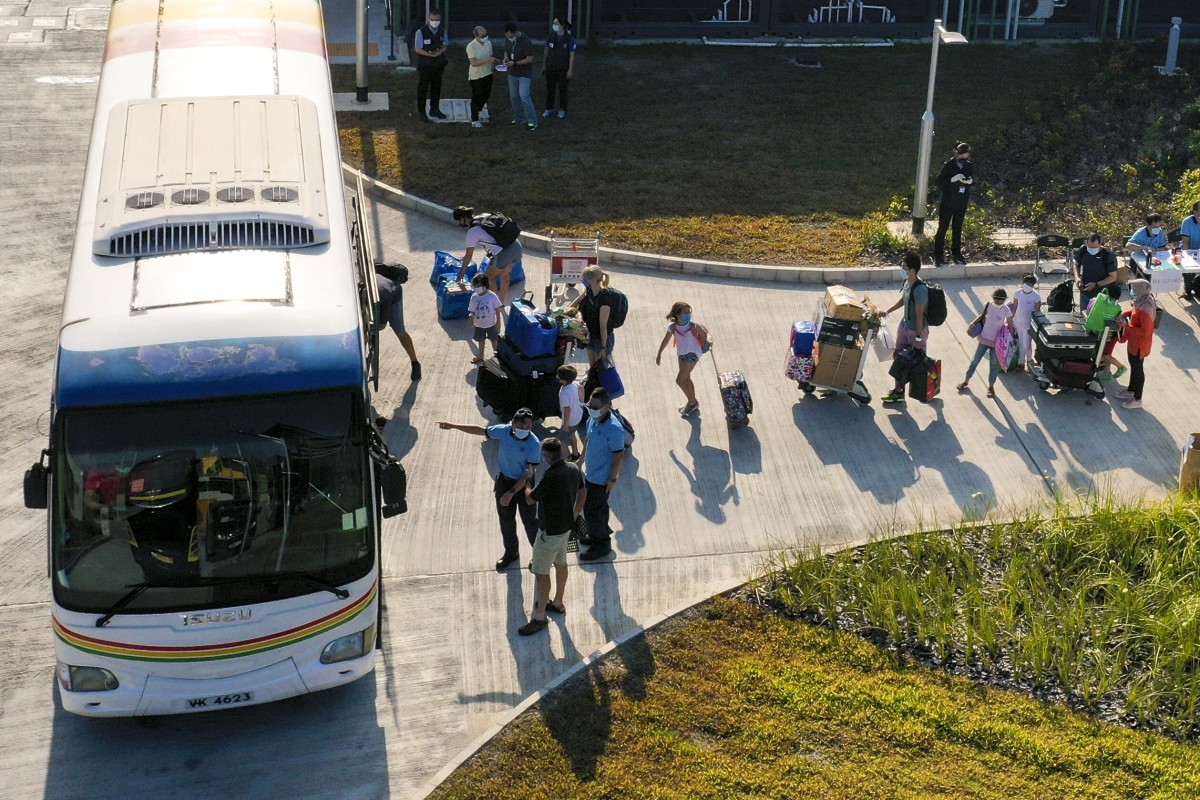 People leave Penny's Bay government centre. Is it fair for a whole building to quarantine due to one positive coronavirus case? Photo: SCMP/Nora Tam
Janice Mook, 16, Diocesan Girls' School
When there is one confirmed case in a residential building, vaccinated people should be sent to quarantine centres.
The Covid-19 vaccination programme has been operating in Hong Kong for a few months now. Of the vaccines available here, the Pfizer-BioNTech vaccine's efficacy rate is 94 per cent, and the Sinovac's efficacy rate is unclear, but somewhere above 50 per cent.
While being vaccinated does provide protection against the disease, it does not mean that everyone is completely immune. And someone who is vaccinated can still spread the virus to others, though a few studies have suggested that the risk of transmission is lowered by vaccination.
How useful are vaccines in curbing the Covid-19 pandemic?
Although vaccines are important for ending this pandemic, we should still adhere to other interventions such as quarantining potential carriers of the virus.
Moreover, the vaccines take about two weeks before they become fully effective, as our bodies need time to produce antibodies against the virus. Therefore, despite being vaccinated, people should still be sent to quarantine centres, when there are confirmed cases in their building, especially if they have only taken the first jab or are still under the two-week observation after being fully vaccinated.
Scientific studies are still being conducted to assess how effective these vaccines are in producing antibodies against the variant strains. Studies so far suggest that the Pfizer-BioNTech vaccine does protect against severe and fatal cases of the British, Brazilian, and South African variants. There is still limited data on whether the Sinovac is effective against variants.
With the ongoing threat of both imported and local cases with the mutant strain in Hong Kong, vaccinated people should not lower their guard. For the sake of public health, vaccines must be paired with other anti-epidemic measures like quarantine to effectively combat the spread of the coronavirus.
Penny's Bay quarantine centre on Lantau island. Photo: SCMP/NORA TAM
Yuhan Huang, 14, German Swiss International School
Confusion and frustration pervaded the evening of April 30, when more than a thousand people in Tung Chung were ordered to spend three weeks in government quarantine centres. They were all residents of a housing complex that had one confirmed case of a mutated coronavirus strain.
However, some of these residents had already been vaccinated, and this measure led to public outcry, with the general sentiment being, "Why am I getting vaccinated if I still have to be quarantined?"
This quarantine measure adds additional fuel to the existing reluctance of people in Hong Kong towards getting vaccinated, and this reluctance could be harmful as it also wastes previous efforts to contain the virus.
Should we choose cloth or single-use face masks?
According to the Hong Kong government's health advisors, 70 per cent of Hongkongers need to be vaccinated in order to achieve herd immunity. So far, only about 10 per cent of the population has been fully vaccinated.
Forcing vaccinated people to undergo the same quarantine as unvaccinated people will not convince more people to get a vaccine. For the vaccination rates to improve, there needs to be better incentives.
In addition, the process of testing so many residents and transporting them to the quarantine centres every time there is a confirmed case in a building could pose transmission risks in and of itself.
In the recent case regarding the residents in Tung Chung, a resident who was interviewed by the SCMP said people queued next to each other for hours while waiting to be tested, before they were "packed" onto buses headed to the quarantine centres.
Quarantine has the potential to infect even more people – because as we know from the patient zero in this cluster, people get infected in quarantine. This raises the question of why vaccinated residents weren't given the option of home quarantine.
Ben Cowling, a professor of epidemiology at the University of Hong Kong School of Public Health, told the Hong Kong Free Press there was scientific reason to relax quarantine measures for vaccinees, adding that quarantining people can also affect their mental health.
To protect Hongkongers' mental health and to promote vaccinations, the government should allow vaccinees to quarantine at home.
Sign up for the YP Teachers Newsletter
Get updates for teachers sent directly to your inbox
Sign up for YP Weekly
Get updates sent directly to your inbox