Face Off: Will citywide mass testing be useful amid Hong Kong's fifth wave of Covid-19 infections?
Each week, two of our readers debate a hot topic in a showdown that does not necessarily reflect their personal viewpoints

This time, they discuss whether a universal testing drive would be effective in fighting the local outbreak
Teresa Kwok
Clarisse Poon
|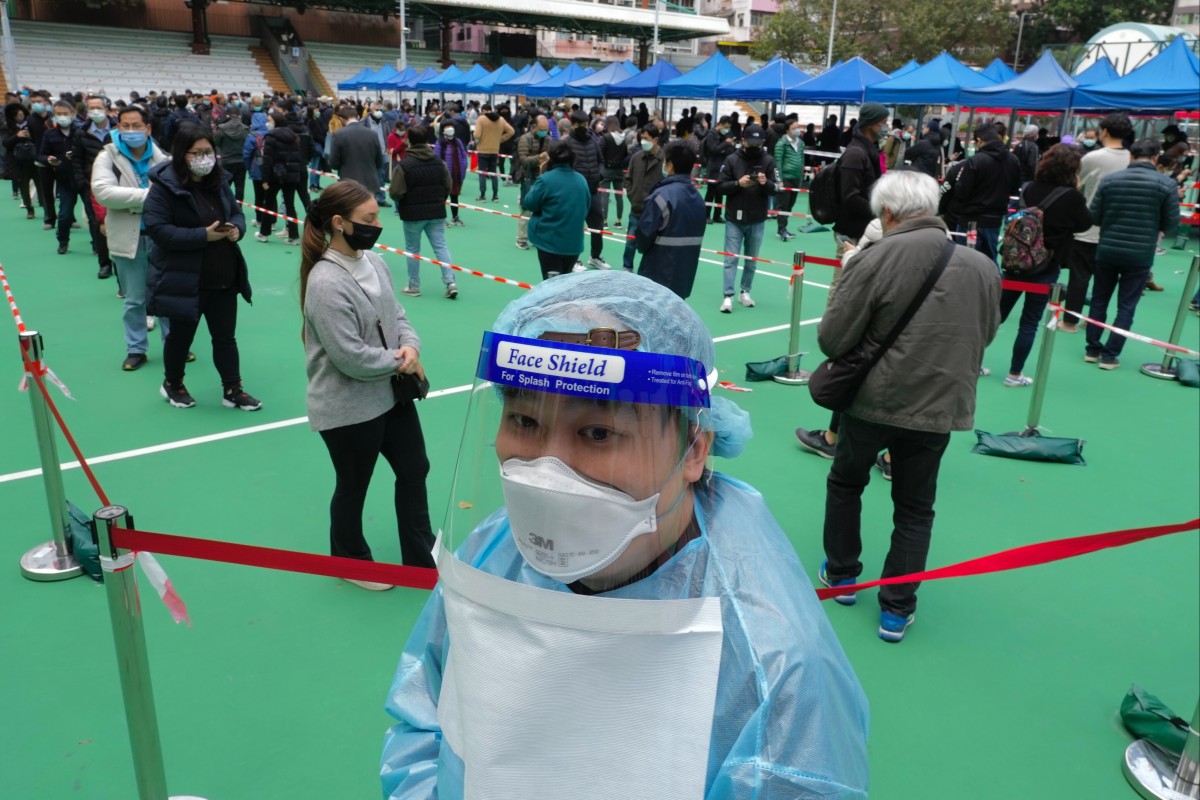 Hong Kong residents wait to get tested for the coronavirus at a temporary testing centre in February. Photo: AP
If you are interested in joining future Face Off debates, fill out this form to submit your application.
For: Teresa Kwok, 17, South Island School
Chief Executive Carrie Lam Cheng Yuet-ngor announced earlier this month that mass Covid-19 testing was not the government's priority at the moment. Instead, she emphasised that the focus of her administration's pandemic strategy would now be on reducing deaths and severe cases.
While Lam said universal testing was still in the cards, its exact timing would depend on the city's epidemic situation. It is a shift from the government's past approach.
Meanwhile, the outbreak is still quite serious in Hong Kong. Thousands of coronavirus infections are being reported daily, and many people are dying.
Carrie Lam says government 'won't lie flat' in fight against Covid
A lot of elderly people and young children are still not vaccinated. So they have a higher chance of getting infected and falling seriously ill. Mass testing can help protect them by cutting community transmission. It can also help identify positive cases and relieve the burden on Hong Kong's public health system.
Some have earlier argued that a lack of quarantine and treatment facilities will render the exercise ineffective if conducted in the middle of a wave.
But the central government has promised its full support for Hong Kong. It has offered to build temporary hospitals and isolation facilities here and to send medical professionals from the mainland to help the city tackle its daily infections.
A Covid-19 patient reads in a room at the Tsing Yi isolation facility. Photo: Yik Yeung-man
Currently, the government suggests that individuals who test positive for Covid-19 should isolate themselves at home. However, that doesn't work in Hong Kong where the flats are tiny. This can harm people's mental health and infect others. Thus, it is better for people to be isolated in government facilities under a testing drive.
There are also reports of asymptomatic patients eating out and being active in the community. This shows that they are irresponsible and have little regard for others.
The only way to avoid people spreading Covid-19 is to do mass compulsory testing which can save lives. Such an approach can help the city win the war against this epidemic and return to our normal lives once again.
Face Off: Is Hong Kong's "early summer break" a good move for students?
Against: Clarisse Poon, 12, St. Paul's Co-educational College
To understand whether citywide testing is useful, we should first ask: what is the purpose of this scheme? Is it aimed at breaking transmission chains and helping Hong Kong achieve a zero-Covid goal? To isolate the infected? Or to reduce the death rate?
Unfortunately, mass testing does not achieve any of the above objectives, especially when we are in the middle of our worst-ever coronavirus outbreak.
Universal testing can only be effective if it is backed up by rigorous tracking and monitoring systems. Mainland China uses mass surveillance tools, such as CCTV cameras, to monitor quarantined people and track the spread of the coronavirus. Digital health codes on people's phones store users' travel history and identify their exposure risk to Covid-19 patients.
A security guard blocks an exit while directing people to scan a QR code to track their health status at Shanghai Hongqiao Railway Station in November 2021. Photo: Reuters
Such methods cannot be implemented in Hong Kong because rights groups say they are an infringement of privacy. As for our Leave Home Safe app, its usefulness depends on users' self-discipline. It cannot force them to seek medical help and report symptoms truthfully.
Mass testing during the early stages of an outbreak is useful in identifying clusters and isolating cases. Take Shenzhen, for example. The city of 17 million people was put under lockdown last week, after it reported 66 new Covid-19 cases in a day. This was followed by three rounds of citywide testing.
On the other hand, Hong Kong is still in its fifth wave of Covid-19, recording thousands of cases every day.
Hong Kong schools to send 5,000 staff to assist in Covid mass testing
Therefore, mass testing would be meaningless, since we do not have sufficient isolation facilities or manpower to deal with those who test positive. As many experts have said, the best time to do this is not when a city has thousands of cases every day, but when it has dozens of cases.
The fast-spreading Omicron outbreak has swamped Hong Kong's hospitals and morgues. Pouring resources into mass testing at a time when the city holds the world's worst death rate for Covid-19 does not help alleviate the crisis.
The government's main objective should be to reduce the number of deaths and serious cases, which requires the full deployment of its manpower and resources.
Sign up for the YP Teachers Newsletter
Get updates for teachers sent directly to your inbox
Sign up for YP Weekly
Get updates sent directly to your inbox