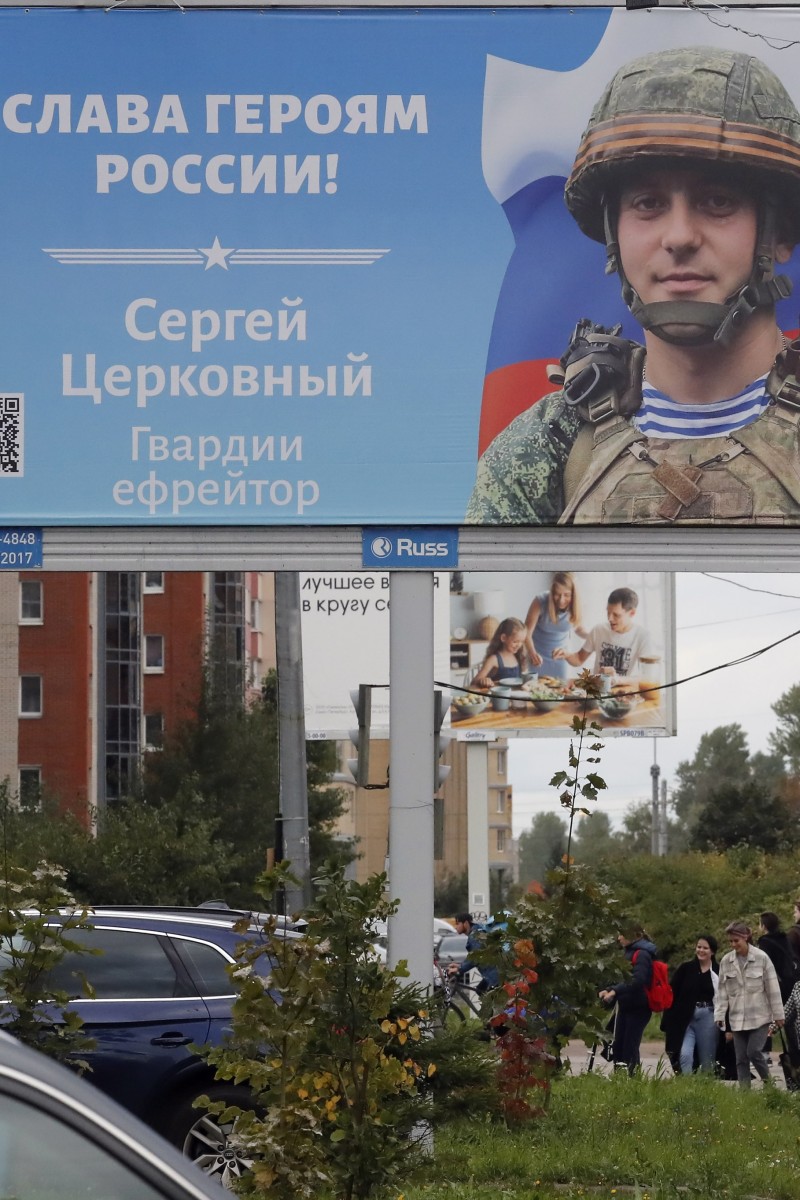 The Lens: As Russia calls up 300,000 reservists to fight in Ukraine, flights out of the country skyrocket in price
In a televised address, Russian President Vladimir Putin backed a plan to annex parts of Ukraine and vowed 'all means' for defence

Each week, we choose a picture from the news and provide questions to help you dive deeper into the topic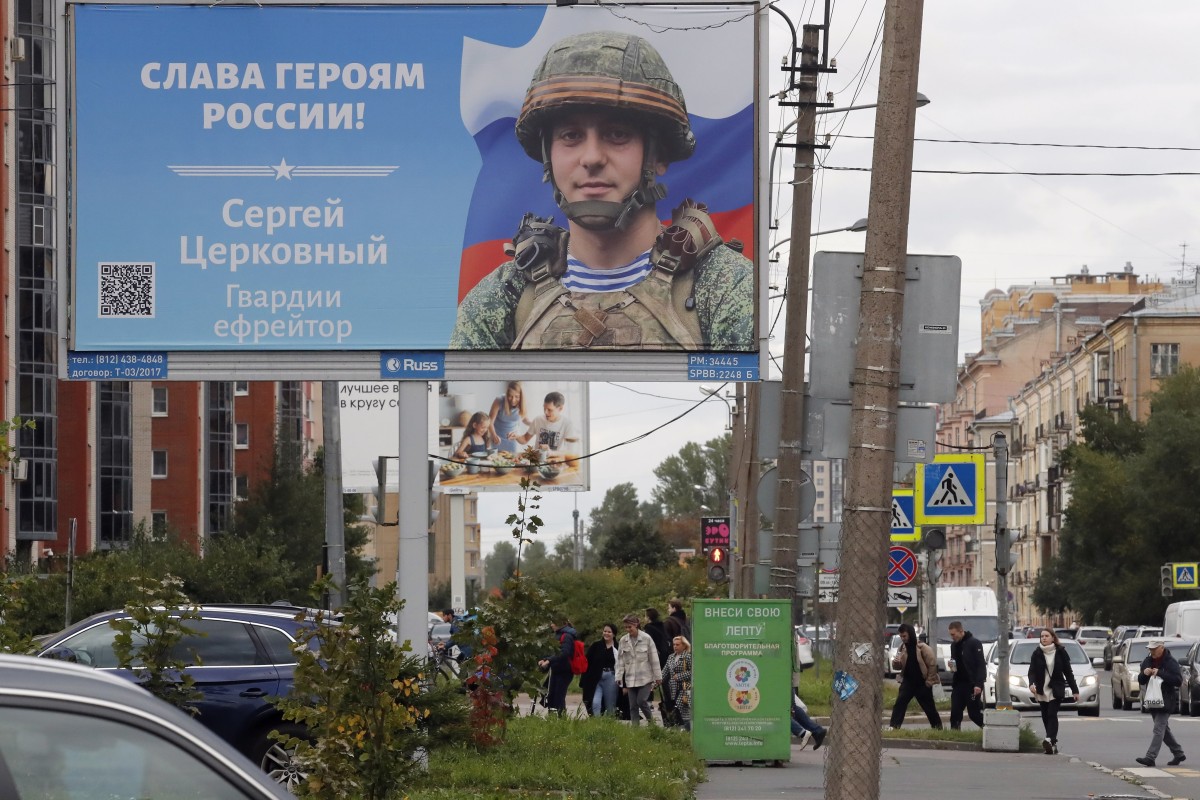 A billboard in St Petersburg, Russia depicts a soldier next to the slogan "Glory to the Heroes of Russia". Photo: EPA-EFE
Have some thoughts on this issue? Send us your response (no more than 300 words) by filling out this form or emailing [email protected] by September 28 at 11.59pm. We'll publish the best response next week.
Who do you think the "Heroes of Russia" refers to?

Based on the news snippet, why are tickets to leave Russia becoming more expensive?
Reuters and Yanni Chow
Russian President Vladimir Putin last week called up 300,000 reservists to fight in Ukraine. He backed a plan to annex parts of the country, hinting to the West he was even prepared to use nuclear weapons.
This was Russia's first such mobilisation since World War II.
It also signified the biggest escalation of the Ukraine war since Moscow's invasion on February 24.
Meanwhile, Russian forces have been experiencing mounting casualties and battlefield setbacks. This month, a Ukrainian counteroffensive has driven Russian troops from areas they had captured in northeast Ukraine.
In an address to the nation, Putin said: "If the territorial integrity of our country is threatened, we will use all available means to protect our people – this is not a bluff". Russia had "lots of weapons to reply", he said.
Russian pop star's criticism of war in Ukraine sparks debate after Instagram post
Russian Defence Minister Sergei Shoigu said the partial mobilisation would see 300,000 reservists with previous military experience called up.
Last week, security forces detained more than 1,300 people in Russia at protests denouncing the mobilisation, said the independent protest monitoring group OVD-Info. Unsanctioned rallies are illegal under Russia's anti-protest laws.
One-way flights out of Russia skyrocketed in price and sold out quickly after the announcement. Some fear that men of fighting age will not be allowed to leave.
Shoigu said last week that 5,937 Russian soldiers had been killed since the start of the conflict. But the US in July estimated Russia's death toll at around 15,000.
Do you think Russians support the mobilisation? Explain.

How have other countries responded to Vladimir Putin's hint at using nuclear weapons?
Teresa Kwok, South Island School
Queen Elizabeth's name appears on many of Hong Kong's institutions, such as Queen Elizabeth Hospital in Yau Ma Tei. The queen is greatly admired by Hongkongers, who mourned her death through social media and at the British consulate.
The queen is still called by her Cantonese nickname, meaning "boss lady", which shows her positive influence on the city's people. She visited Hong Kong in 1975 and 1986. The queen's visit in 1975 marked the first time a reigning British monarch had visited the city.
Older generations mention her warmth and support for the city. This shows that the queen had a positive relationship with the people of Hong Kong.
People queue up to leave floral tributes while mourning Queen Elizabeth's death outside the British consulate in Hong Kong. Photo: Sam Tsang
Queen Elizabeth reigned for 70 years. She served her people by giving speeches in difficult times. During World War II, she joined the Auxiliary Territorial Service to train as a driver and mechanic. She has also done charity work throughout her life.
Her death signals the start of a new era in Britain's monarchy.
Anti-monarchists argue that the royal family is using money from the public without performing any significant duties. They say this is also increasing the wealth gap in the United Kingdom.
However, Britain should not abolish the monarchy because the royal family represents traditional British culture and values. The royal family's charity work has had a positive influence. They are an important part of Britain's history and should be cherished.
The Lens: Hong Kong's tribute to 'the lady in charge' under British rule
Sign up for the YP Teachers Newsletter
Get updates for teachers sent directly to your inbox
Sign up for YP Weekly
Get updates sent directly to your inbox