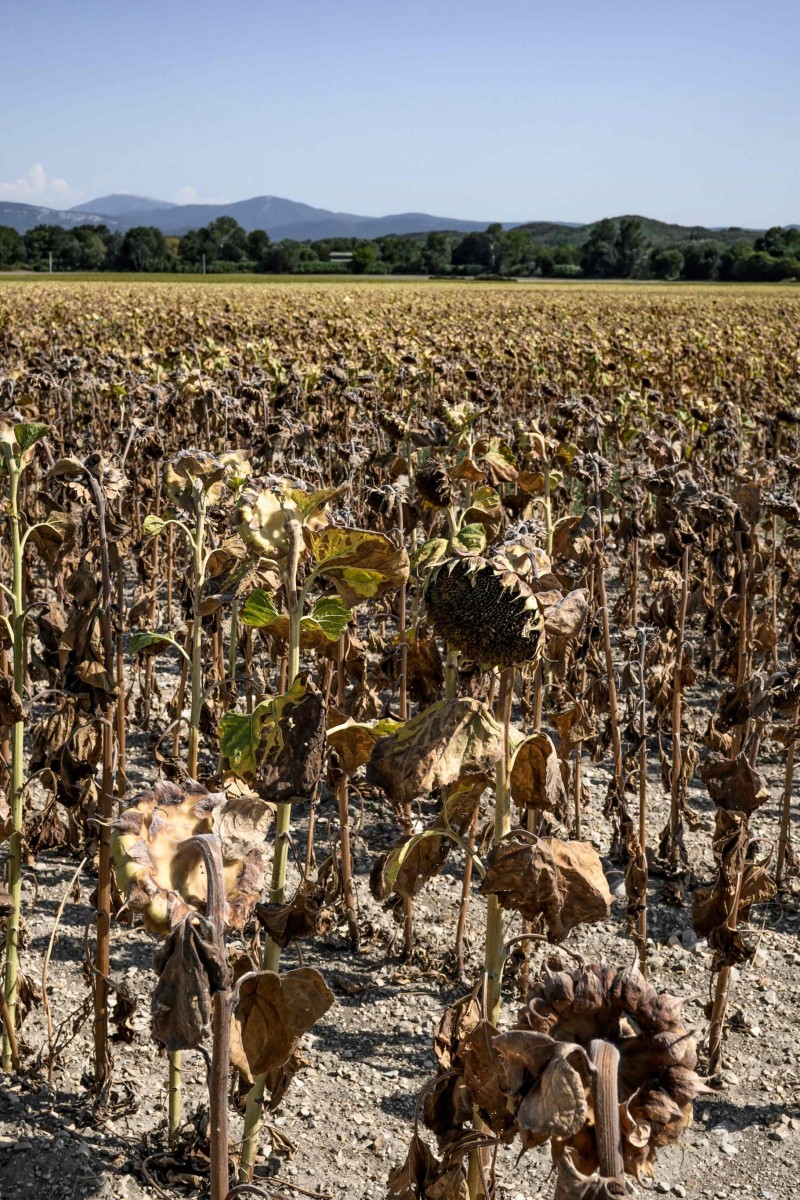 The Lens: Expect more heatwaves and extreme weather under climate change
Small actions, like reducing electricity use and taking public transport, can cut greenhouse gas emissions and help the environment, one student writes

Major Japan talent agency attempts to rehabilitate after deceased founder, Johnny Kitagawa, accused of sexual abuse by dozens of male performers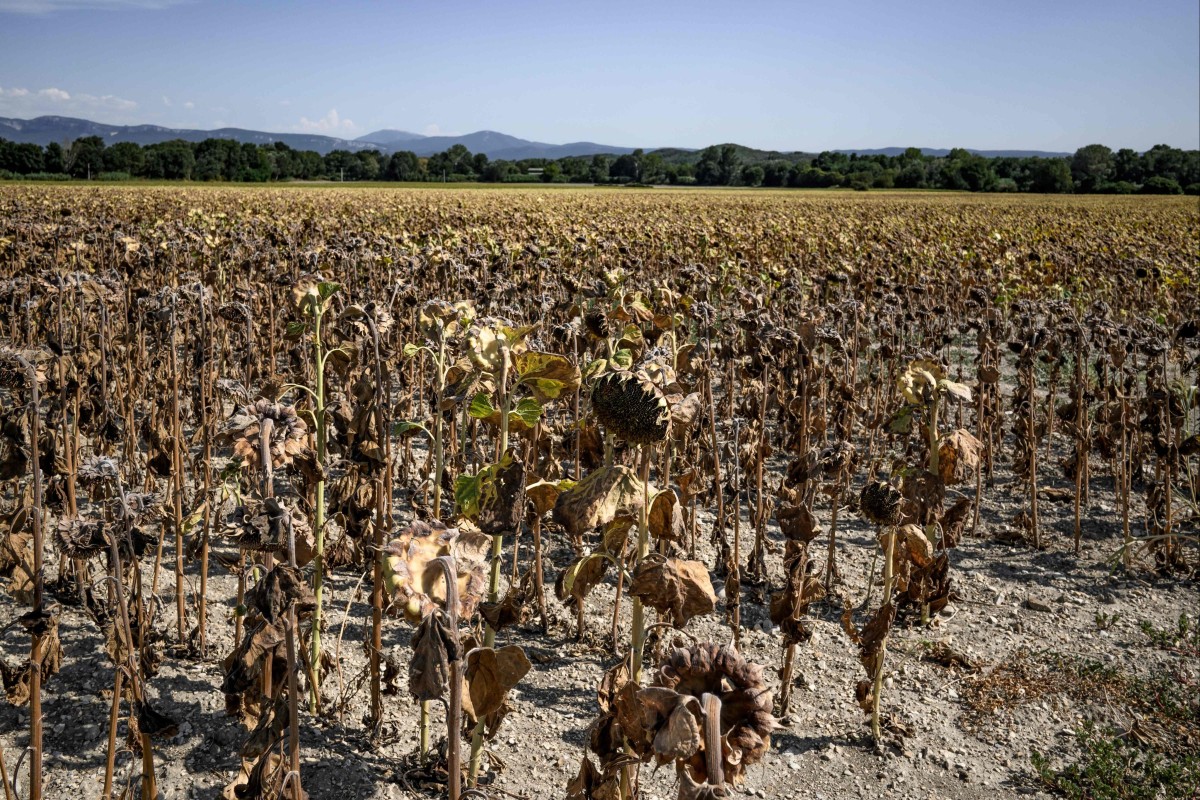 Burnt sunflowers in a field during a heatwave in southeastern France on August 22, 2023. Photo: AFP
Have some thoughts on this issue? Send us your response (no more than 300 words) by filling out this form or emailing [email protected] by September 20 at 11.59pm. We'll publish the best response next week.
Valerie Chiu, St Mary's Canossian College
Valerie Chiu from St Mary's Canossian College. Photo: Handout
For many people, the only way to deal with blistering hot summers is to switch on the air conditioner. However, even this simple act can have a detrimental impact and get us caught in a vicious cycle of small actions that hurt the planet.
The more electricity we use, the more greenhouse gases we emit, worsening climate change. The planet has been showing us how severe of an impact climate change has had: for example, last month was the hottest August globally, the third month in a row to set such a record, according to data from the European Union Climate Change Service.
Experts believe we will keep breaking climate records and will continue experiencing frequent extreme weather events if we don't reduce greenhouse gas emissions. One consequence we have seen recently in Hong Kong was Super Typhoon Saola, which was soon followed by Typhoon Haikui. Nature suffered during these storms, with trees knocked down all over the city. The wind and rain also brought rubbish into the streets, and the damage from the storms will cost a lot to repair.
Climate change has many consequences, and we must fight it to ensure a better future for ourselves and our descendants. There are a few things people can do on their own, including cutting back on the amount of electricity they use, conserving water, taking public transport and practising the 5rs: reuse, recycle, reduce, refuse and repurpose.
I hope people can come together and solve this issue. If we don't, heatwaves and other extreme weather events will keep threatening our daily lives.
Check out last week's article on extreme weather
Japanese daily newspapers report on the death of leading boy band star-maker Johnny Kitagawa in 2019. Earlier this year, dozens of male performers came forward to accuse the businessman of sexual abuse. Photo: AFP
An attempt to rehabilitate the name of Japanese talent agency Johnny & Associates after its founder was accused of sexually abusing hundreds of young boys appears to have backfired, with companies cancelling advertising contracts and the public calling for legal sanctions.
The scandal emerged this year after dozens of male performers came forward to accuse agency founder Johnny Kitagawa, who died aged 97 in 2019, of sexual abuse. His agency has dominated Japan's music scene since 1962.
Julie Fujishima, Kitagawa's niece, said at a press conference last Thursday that she would be stepping down as the agency's president to take responsibility for the situation and veteran artist Noriyuki Higashiyama would take over her position.
But the 56-year-old new boss has also been charged with sexually assaulting young boys. When pressed about the allegations, Higashiyama said: "I don't remember clearly ... Maybe it happened, maybe it didn't. I have trouble remembering."
After the press conference in Tokyo, brands and business partners began announcing they would cut ties with the agency and called for legal action. Food and drink giant Kirin Holdings said it will halt the development of new adverts and promotional materials with any entertainers represented by the agency.
Asahi Group Holdings, another leading food and drinks firm, also announced that it will no longer use the agency's performers or renew any existing contracts. Having 23 celebrities from the agency promoting its products, the company called on the agency to compensate the victims and introduce measures to prevent a recurrence of such incidents.
Staff reporters and Sue Ng
Do you recognise the man in the newspaper? What is he being accused of?

What impact will the controversy have? What should the agency do next?
Sign up for the YP Teachers Newsletter
Get updates for teachers sent directly to your inbox
Sign up for YP Weekly
Get updates sent directly to your inbox