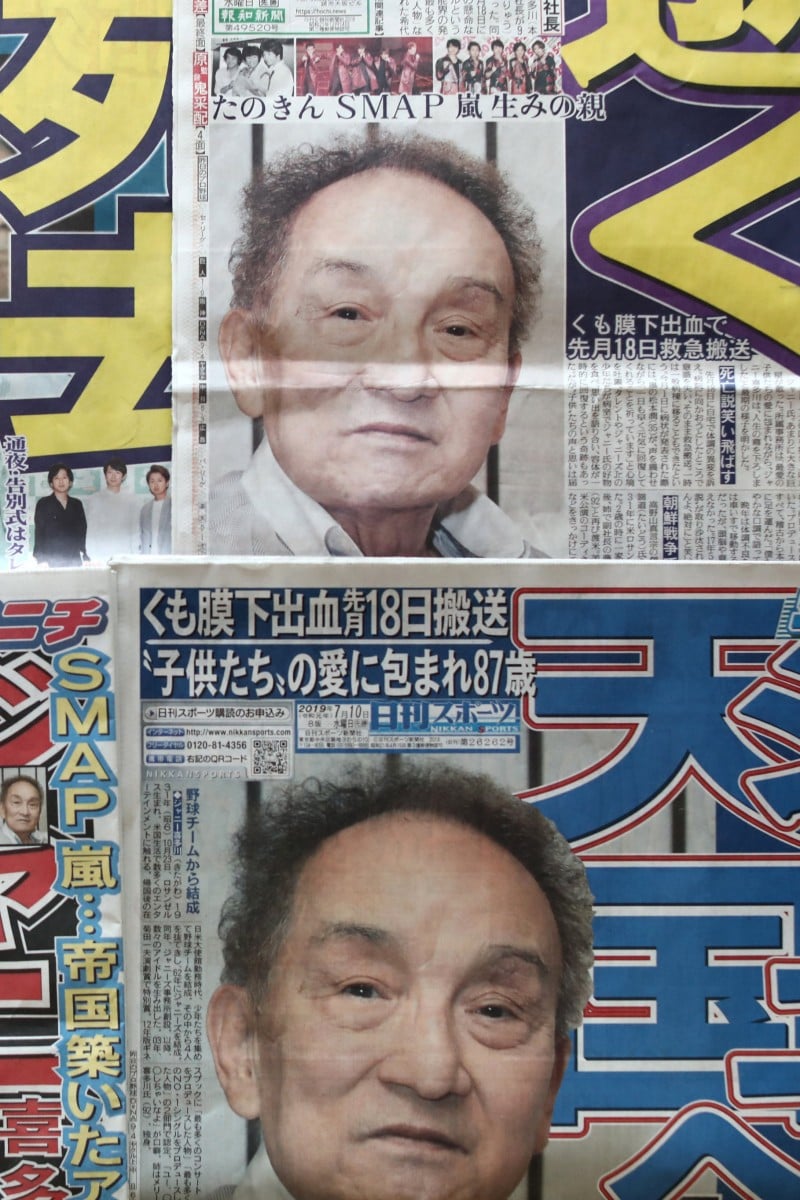 The Lens: Japan's Johnny Kitagawa sexual assault scandal and why society should not protect abusers
Top J-pop talent agent exploited power and faced allegations of abusing male performers for years, yet many turned a blind eye to accusations

Britain's Prime Minister Rishi Sunak has called for a ban on XL bully dogs following recent attacks, but animal welfare charities say it's not the solution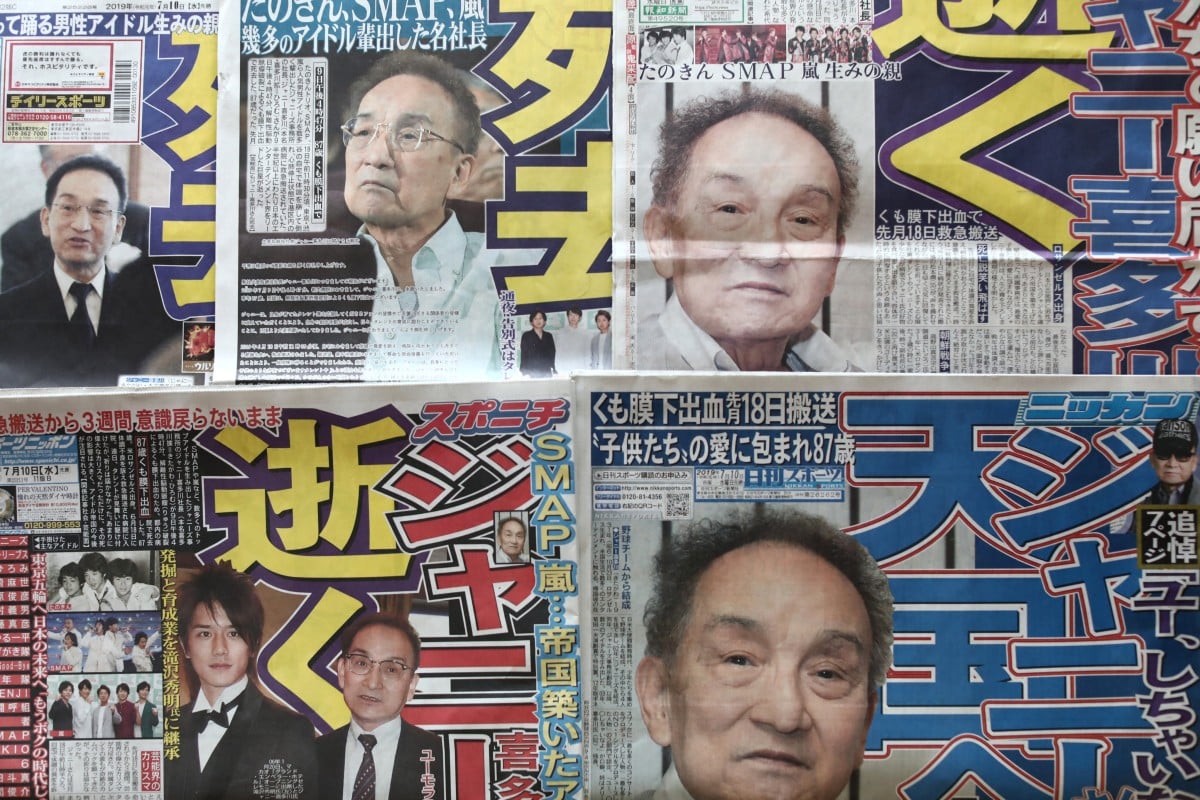 Japanese daily newspapers report on the death of leading boy band star-maker Johnny Kitagawa in 2019. Earlier this year, dozens of male performers came forward to accuse the businessman of sexual abuse. Photo: AFP
Have some thoughts on this issue? Send us your response (no more than 300 words) by filling out this form or emailing [email protected] by September 27 at 11.59pm. We'll publish the best response next week.
Emily Kwai, Munsang College
Emily Kwai from Munsang College. Photo: Handout
As an avid lover of pop culture, I was astounded when I saw the news out of Japan. I was shocked at how Johnny Kitagawa, a prominent figure in the entertainment industry, could exploit his power and abuse so many people in plain sight while being widely praised for his work. Unfortunately, the reports we have seen so far are probably just the tip of the iceberg.
Japan's reserved and traditionalist culture likely played a role in hiding his abuse. Although the scandal was brought to light thanks to a recent BBC documentary, there have been accusations against Kitagawa, the founder of a prominent talent agency, for years.
However, thanks to his power and the conservative nature of society, Kitagawa was never punished for his wrongdoings, and the general public always turned a blind eye to the news. In addition, since there is a tendency not to speak ill of the dead, people would rather gloss over the issue, which only exacerbates the problem. Not only are the crimes heinous on their own, but it is awful that they were ignored for decades. Our society has progressed greatly regarding sexual assault, but victim blaming is still prevalent. It is my hope that everyone will be more understanding and empathetic towards others.
Many of the victims were teens when the abuse happened. Their parents were responsible for keeping them safe. Some parents knew of the risks of working with Kitagawa's agency and still wanted their kids to become trainees, presumably for monetary gain, rendering them vulnerable and helpless. Although the victims have grown up and will be compensated, I highly doubt that any amount or form of compensation can reverse the damage.
Sexual assault has been a taboo topic in our society for a long time, but it doesn't have to be this way. We must take a stand for victims of assault. If we take the initiative to treat them with compassion, the stigma present in our society will disappear over time.
Read up on the issue in last week's The Lens
Some in Britain are calling for a ban on the XL bully dog following recent attacks. Photo: Shutterstock
British Prime Minister Rishi Sunak described American XL Bully dogs as a "danger to our communities" and announced plans last Friday to ban the breed by the end of the year following public outcry after a series of recent attacks.
The announcement came less than a week after one of the dogs was involved in an attack on an 11-year-old girl walking to the shops with her sister in the city of Birmingham. Two men who intervened were also injured.
"I've ordered urgent work to define and ban this breed so we can end these violent attacks and keep people safe," Sunak said in a video message. "It's clear this is not about a handful of badly trained dogs; it's a pattern of behaviour, and it cannot go on."
He said a man was killed last week in central England in an attack involving a suspected XL bully dog. Police said a man had been arrested on suspicion of manslaughter.
According to campaign group Bully Watch, which advocates for a ban on selling and breeding large XL bully dogs, the breed was responsible for more than half of all fatal dog attacks in Britain last year.
XL bully dogs were bred from American pit bull terriers and American Staffordshire terriers and first appeared in the UK "around 2014 or 2015", with the numbers growing rapidly in recent years, the campaign group said.
However, several British animal welfare charities, including the RSPCA, said banning specific dog breeds is not the solution.
In a joint statement, they instead blamed "irresponsible breeding, rearing and ownership". They said the government should instead focus on "dog control regulations and on promoting responsible dog ownership and training".
Reuters and AFP
Do you recognise the dog in the picture? Why is it in the news?

Should Britain ban the breed? Why or why not?
Sign up for the YP Teachers Newsletter
Get updates for teachers sent directly to your inbox
Sign up for YP Weekly
Get updates sent directly to your inbox