BOCG Young Reporter Programme fosters writers, talent, and big dreams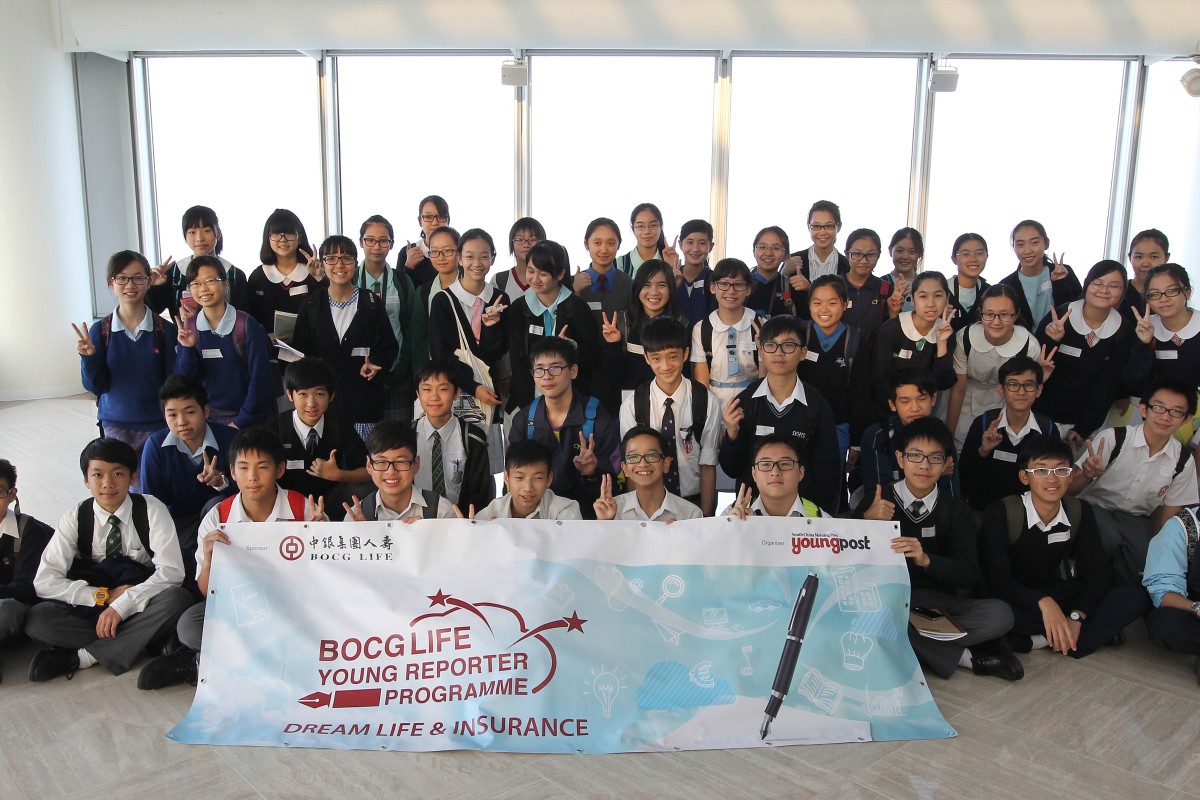 48 students with the senior executives from BOCG Life, Terry Lo, Ellick Tsui, Kialy Lo in the Young Reporter Programme.
To provide students in Hong Kong with an opportunity to explore the world and sharpen their writing skills, BOCG Life collaborated with Young Post and launched a two-day Young Reporter Programme in November. Writers of the five best entries were awarded winners, and here are their winning pieces.
Winner:

Dedrick Cheng Yeung-hei
Po Leung Kuk Mrs Ma Kam Ming - Cheung Fook Sien College  
Do you have a goal in life? Have you a plan to achieve it or are you just waiting for the chance to come? Having a realistic goal and planning ahead are crucial for any dreams to be fulfilled, said Terry Lo, Chief Executive of Bank of China Group Life Assurance (BOCG Life).
 "Many people have a lot of goals but I want to remind you that you should keep your dreams realistic," said Lo who was sharing his personal experiences with 48 student reporters at the BOC Tower in Central on November 14. Jointly held by BOCG Life and Young Post, the programme offered students a journalistic writing workshop, a VIP tour at the bank, and a chance to meet Lo and two other senior executives.
"I had lots of different dreams when young. At first, I wanted to be a fireman. When I was a bit older, I wanted to be a doctor. After some years, I realized my passion for Mathematics and wanted to be a mathematician. And now I've become a chief executive in the banking industry," said Lo. "We need to differentiate our dream and reality and think carefully what is achievable. For example, if you want to be a surgeon but you are afraid of blood, you might have to give it up," he added. 
Lo has been appointed CEO of BOC Group Life Assurance Company Limited since October 2012. Before joining the company, he has accumulated a wealth of experiences in aviation and IT for more than 20 years, and held managerial positions in planning, revenue management, airport operation and information management in Dragon air as well as Cathay Pacific Airways.
Lo explained to students why having a good financial planning was relevant to achieving one's dream life. 
"When I was young, many of my dreams failed because of my family's financial situation. However, I never blamed them because they would have been more than willing to help if they could. Nowadays, most families generally have better economic power to provide for their children. With many financial planning products in the market, they can easily help their children to fulfill their dreams too." 
"If your parents don't have the means to save money for your future, you will then have to work harder in future and earn it yourself. Studying hard and getting a scholarship is also one of the alternatives," he added.
As a CEO, Lo thinks young people today have a lot of potential and he would offer them with his own life motto: "If you do more, you will be rewarded more." 
"Some teenagers may be reluctant to do more work as if paying more effort is disadvantageous. But I believe they should all learn from the attitude of workers in the 80s. They should understand that if they do more, they will be rewarded in return. The result may not appear immediately but will be seen in the long run. So, don't be fussy about doing more work than your colleagues when you come out to the workplace. This kind of I-Can-Do-More attitude will help you achieve your dreams in life."
Being a hardworking staff himself, he reflected on his experience and concluded:  "If I hadn't worked so hard, I wouldn't have accomplished so much today," he said. 
First Runner Up: Kylie Yeung
What is your dream in life? Do you want to be a doctor? Or would you rather be a lawyer? Both professions have crossed the mind of Ellick Tsui, Deputy Chief Executive and Chief Financial Officer of Bank of China Group Life Assurance (BOCG Life). However, when he was studying in university, he decided to choose the path of computer and mathematics. 
Speaking to a group of students in the Young Reporter Programme jointly held by BOCG Life and Young Post on November 14, Tsui shared how he was able to achieve his dream through financial planning. "To achieve your dreams, you need health and adequate money. Financial planning helps a person calculate how much he needs to pursue his life dream, no matter what that dream is," he said.
Taking himself as example, his dream life is to provide a stable life for his parents and own family. "Once I started working in society, the first thing I wanted to do was to repay my parents," he said. 
At different stages of his life, he bought different insurance plans for different members of his family, starting from his parents, then his wife and his son. "I added my family members in the list of beneficiaries of my life insurance plan. After my son was born, I also started a saving plan for his education, and a retirement plan. In case anything bad happens to me, my family would continue to be supported financially," he said.
Tsui said insurance has changed over time. In the old days, there would be a system in the company when if anything bad should happen to a group member in a team, the rest of the team would help share the risk. This was the earliest form of life insurance. 
"In the modern day, life insurance works in the same way except that the risk is transferred to an insurance company which will help to minimize one's loss," he added. 
Some young people might think the chance of any horrible accidents happening to them is very slim. But Tsui believes in preparing for the worst.
"Even if there is only one in a million chance that something unfortunate might happen to you, what would you do if you encounter that one in a million? To prepare for the risk is what life insurance is about and I think it is very important in a civilised society."
Tsui advised the students to start financial planning earlier than later, as such move will prepare them well for the future.     
"You can start small and now. Just thinking how you should use your pocket money is already a type of financial planning," he said.
"Everyone has his or her potential. I believe if you work hard, anything is possible. I believe that every one of you have a passion and can contribute to the society one day. So, are you ready to pursue your dream life?" 
Merit: Angel Chan Cheuk-lam
Yan Oi Tong Tin Ka Ping Secondary School 
All of us have our own definition of a dream life.  But how can we achieve it?  Financial planning and insurance may help us shorten the path to your dream life and reduce potential risks in life, according to Ellick Tsui, Deputy Chief Executive & Chief Financial Officer of Bank of China Group Life Assurance Company limited.     
On November 14, Tsui shared his experience with 48 Form Three students at the Bank of China Group Tower in Central.  He started by explaining some basic and useful concepts to the group of students. 
He said, "Insurance is the transfer of your risks in life to your insurance company. It also helps to safeguard your family. Financial planning is about risk management and accumulation of wealth at different stages in your life; it can also help you to make some investments."    
"Perhaps your dream life is having lots of wealth. Maybe you want to have a successful future career.  No matter what your dream is, you will need a good financial and insurance plan to support it."  
Speaking from his own experience from being single to becoming a husband, then a father, Tsui reminded students that they would also experience different phases in life, and in each of the phase, a different set of needs. "That's why you need detailed planning. You need to ask yourself what you'd require in each phase and what risk you want to prevent. And you should evaluate your plan once every few years," he said.
"If you don't plan wisely beforehand; if you have no target saving, you are bound to trip over on the road to your dream life and fail," he added.
Some people may think insurance is just about cheating people to paying for unnecessary products, like stealing. But Tsui explained that is hardly the truth.  
"Nothing other than insurance will give your family the protection they need if you have any accidents. In fact, insurance can help us through predictable happenings in life, as it allows us to share potential risks [with an insurance company]. As the saying goes: It's better safe than sorry," he said. 
So when should we, students, start purchasing insurance plans?  
"You may start from now on by having target savings," advised Tsui. "How you spend the money you have now is part of financial planning which will help you achieve your future dreams."
Tsui also encouraged students to develop the right attitude from an early age. 
"If you contribute your best at what you do every day, your dream must come true one day. Success is always related to how much effort you pay," he concluded.  
Merit: Rosaline Chan Yin-hei
 Maryknoll Convent School (Secondary Section)
Insurance is not just a product, but something indispensable to our dream lives – this is what I have learnt by participating in Young Reporter Programme jointly held by the Bank of China Group Life Assurance (BOCG Life) and Young Post. 
On 14 November, I had the golden opportunity to tour the Bank of China Tower in Central, one of the most recognizable skyscrapers in Hong Kong. The inner structure of the building is absolutely extraordinary as it combines both Chinese and western architectural styles. I especially like the observation deck on the 43rd floor, which gave me a wonderful feeling of hovering over the nearby buildings.
After the eye-opening tour, I got to interview Mr. Ellick Tsui, Deputy Chief Executive and Chief Financial Officer of BOCG Life. To be honest, I was so nervous that my legs went wobbly and my hands were shaking when I stepped into the room. However, Mr. Tsui's calm and kind attitude boosted my confidence as the interview began. I learnt that he has studied in Canada and has been working for various insurance companies before joining this company.
"Insurance is a kind of financial planning. It is meant to lower the risks involved in achieving our goals," said Mr. Tsui.
Mr. Tsui also told me that 20 to 30 years ago, it was extremely difficult for students to be admitted to a university. Fortunately, his parents had planned ahead, so he could study overseas with their savings. He also revealed his dream life which was to make sure his family was safe and sound. That prompted him to buy insurance to protect his family in case anything should happen to him.
"There is a direct relationship between our dream live and insurance, as achieving our goals in life requires financial planning," he said. "When you begin working in future, you should also start financial planning. And it would be best to do it as soon as possible," he added. 
Mr. Tsui further explained that insurance is a protection as it can transfer risks. 
"As the saying goes: risk could be a probability of one out of ten thousand, yet it is a reality when it happens. Therefore sharing risk is necessary to help eliminate some of the risks in achieving our dream lives," he said.
In conclusion, Mr. Tsui advised teenagers to be responsible and remain optimistic. 
"There are times when we face obstacles in life and we may have to go through a storm. But if we do our best, we will succeed," he said. 
This day, Mr. Tsui reminded me that the key to achieving our dream live is to be industrious, persevering, willing to accept responsibilities and always ready for challenges. As he shared his mottos which have now become mine: "No pain, no gain" and "Nothing is impossible for a willing heart". I should try my best and work hard, and my success will be near. 
The interview has offered me a new perspective of life. I now understand that financial planning is essential to achieving my dream life. I think the programme is successful as it has allowed me to gain a better understanding of an important lesson in life.
Carmel Pak U Secondary School
48 students from different schools participated in the Young Reporter Programme joinly held by Bank of China Group Life Assurance (BOCG Life) and Young Post on November 13 and 14. They visited the Bank of China Tower in Central, attended a journalism workshop to hone their skills in writing and conducting interviews, and above all, learned about the importance of insurance in one's life through interviewing the senior staff at BOCG Life.
Chief Marketing Office Kialy Lo was among the senior staff who spoke to the students at the event. She shared with them her own dream in the past and career choice. 
"When I was young, to be honest, I wanted to be a medical doctor in future as it was highly regarded as a professional career by the society," says Lo. "But as I grew up and became more knowledgeable and experienced, I realized I was afraid of blood so I changed my mind of wanting to be a doctor," she said.
Lo suggested students should not limit themselves when choosing a career and that they should try to get the opinions of people in a variety of occupations to find out more before making a decision. 
"To achieve your dream career, you also need to be prepared and understand that it may be difficult to find a job right after you graduate from university. And you can always gain some initial job experience by taking up summer jobs," she added. 
Lo advised the young generation that it is important to find out what they want to do in life. "When you have a clear idea about what you want, you will have motivation. With motivation, you will succeed. And dare to aim high," she told the students. 
However, she also reminded students against pursuing wishful dreams. 
"To reach your life goal, you also need to try hard and get as much experience as you can.  Your need to research for information that can help you to reach your target. Get to know the job market, interact with people to widen your knowledge. These will help you to achieve your dream career," she said. 
A balanced life is what we need, Lo said. "You need to have dreams. But you also need to survive and support yourself. Both are important," she said.
  
Lo is a firm believer that insurance can help people to achieve their goals in life. 
"For example, parents can purchase education funds for their children to provide sufficient money for their study. The children then won't have to work while studying or rely on student loans. As a result, they can focus on their studies," she said.

Working in the insurance industry has been rewarding for Lo, as it has helped her to fulfill her different goals in life, as well as providing her with good financial security. 
"With financial planning, your dreams can coexist with a prospectus life. And your success depends on your attitude and motivation. Always remember to work hard and you'll find your dream job one day!" she said.