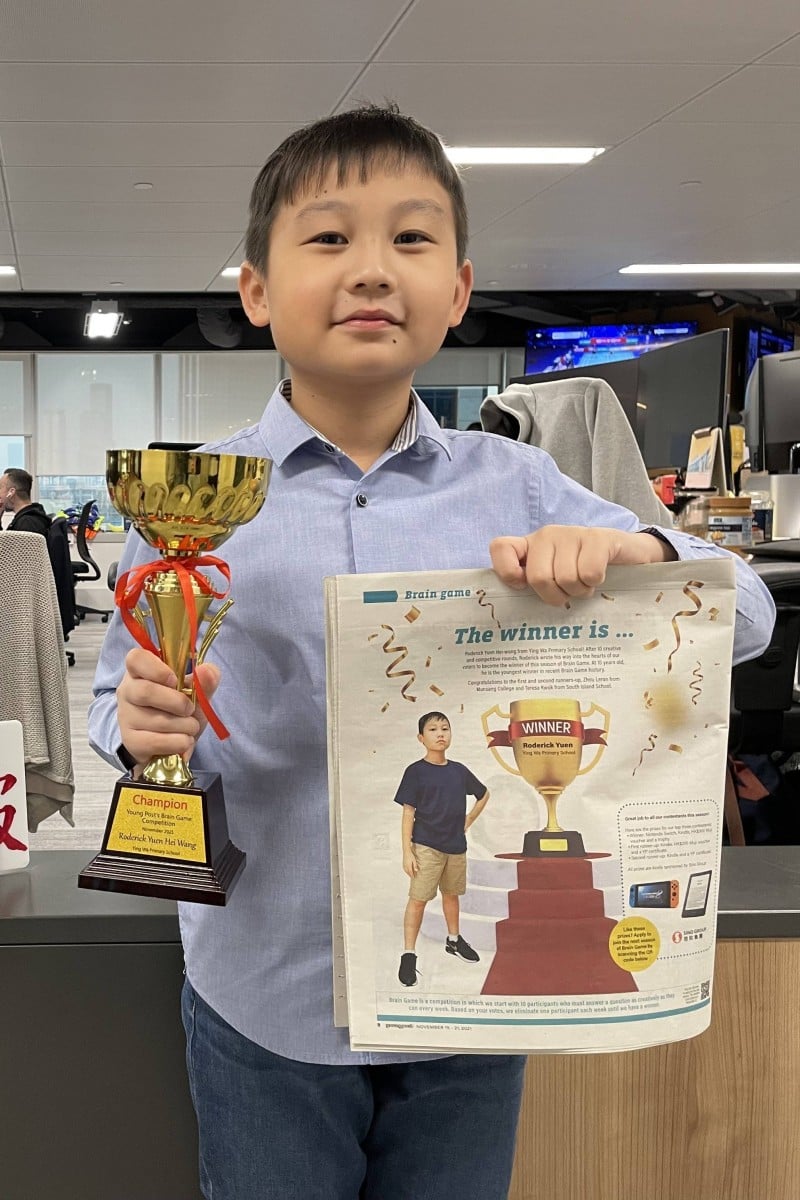 Brain Game: Meet this season's winner, Roderick Yuen Hei-wang from Ying Wa Primary School
At 10-years-old, Roderick Yuen is our youngest winner in recent Brain Game history, and he shares about his journey through the writing competition

Show off your creative writing skills and apply to join our next game, where you could win some awesome prizes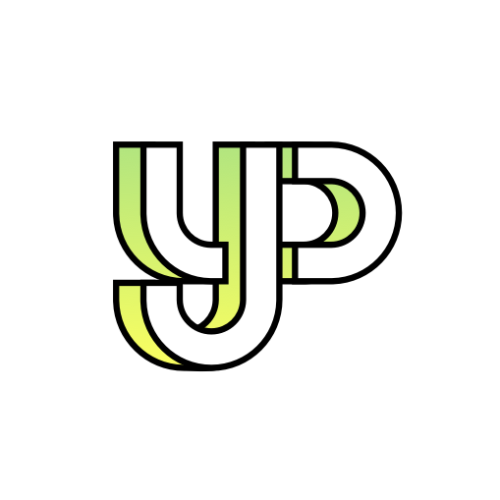 We cover the latest news, views and stories on Hong Kong students, school life, sport and local education, as well as keeping tabs on what's hot and what's not.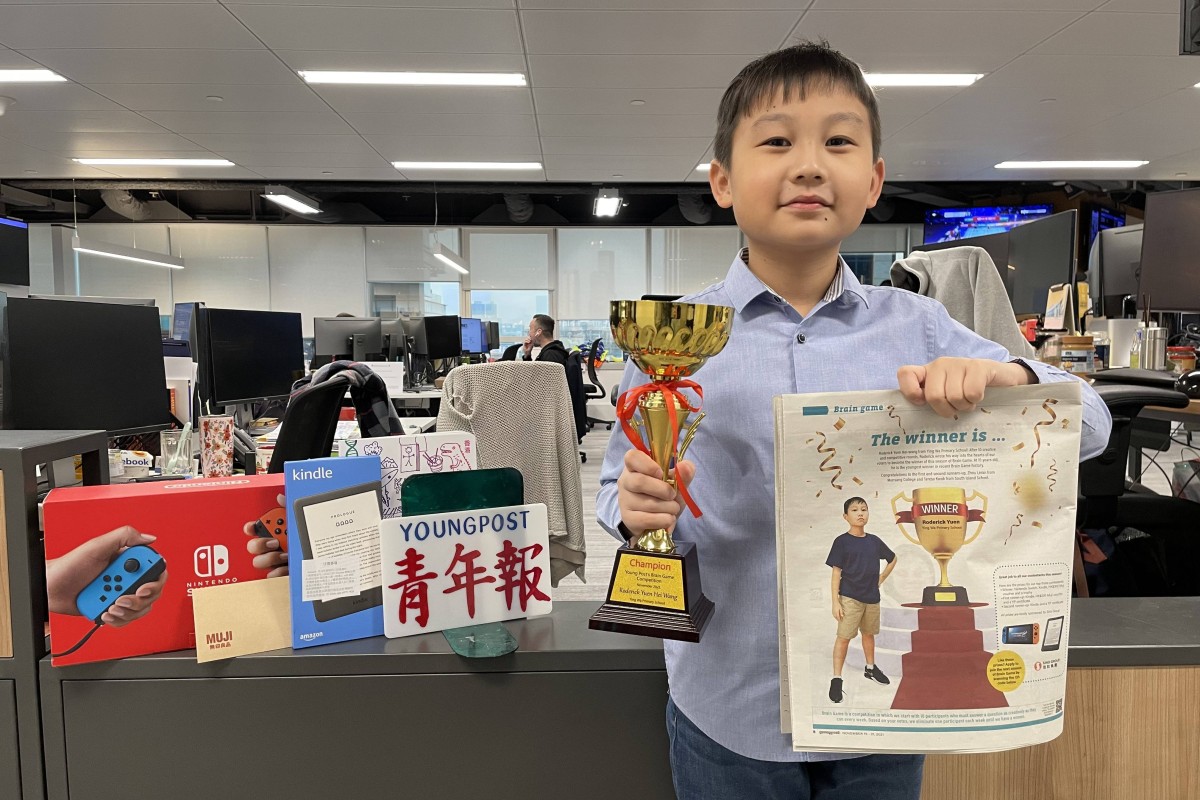 Roderick Yuen, this round's Brain Game winner, walked away with a Nintendo Switch, a Kindle, and a few other prizes. Congrats, Roderick! Photo: SCMP/ Yanni Chow
If you love a challenge and want a chance to win some great prizes, we are looking for 10 new writers to take part in the next season of Brain Game!
Click here for the form to apply. The deadline is at 11.59pm on November 21. We will inform the contestants we've chosen on November 22.
Since I was a lower primary school student, I was already an eager Young Post reader, and I was a big fan especially of the weekly Brain Game page. I thought the questions were very intriguing, and I was itching to join the competition. When I became an upper primary school student this year, I mustered the courage to submit my application.
At first glance, the questions were difficult to answer – challenging my brain and almost flipping it upside down.
The other contestants were very creative. Sometimes, I was inspired by their points of view. Reading their entries widened my own perspective of the questions we were asked and allowed more ideas to bloom. Thus, my writing skills improved with each round of the competition.
Check out Roderick's winning response here
Apart from learning to be more creative, the importance of not procrastinating is another jewel I have taken away from my experience in Brain Game. In the first few rounds, I would put off completing my submission until the very last moment. But the other competitors had very high standards, which made me realise that I had to be well-prepared if I hoped to progress to the next round.
I found that teens like out-of-the-box responses. Referencing popular games, television shows or idols could also capture their votes.
The most impressive question I received was the final one, which was about the plot and actors of a film I would like to produce. This question provided room for me to think and express my ideas. It not only challenged my creativity, but also allowed me to display my personal style.
Take a peek at what he won! Photo: Yanni Chow
I enjoyed the whole process of contributing to Brain Game because writing responses prompted new ideas to spin in my mind. I started off as a "last-minute fighter", and I would struggle to come up with creative ideas during the last few hours before a deadline.
Still, I managed, and overall, I had a very enriching experience in this competition.
I am honoured to be the youngest winner in recent Brain Game history. For other young writers out there, remember this: your age does not matter when you write – only your ideas do. If I have the chance, I will definitely take part in future Young Post competitions.
I hope more young readers like me will be excited to participate in future seasons of Brain Game.
Sign up for the YP Teachers Newsletter
Get updates for teachers sent directly to your inbox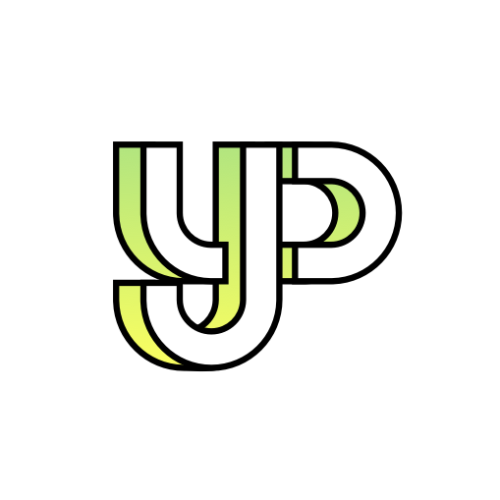 We cover the latest news, views and stories on Hong Kong students, school life, sport and local education, as well as keeping tabs on what's hot and what's not.
Sign up for YP Weekly
Get updates sent directly to your inbox