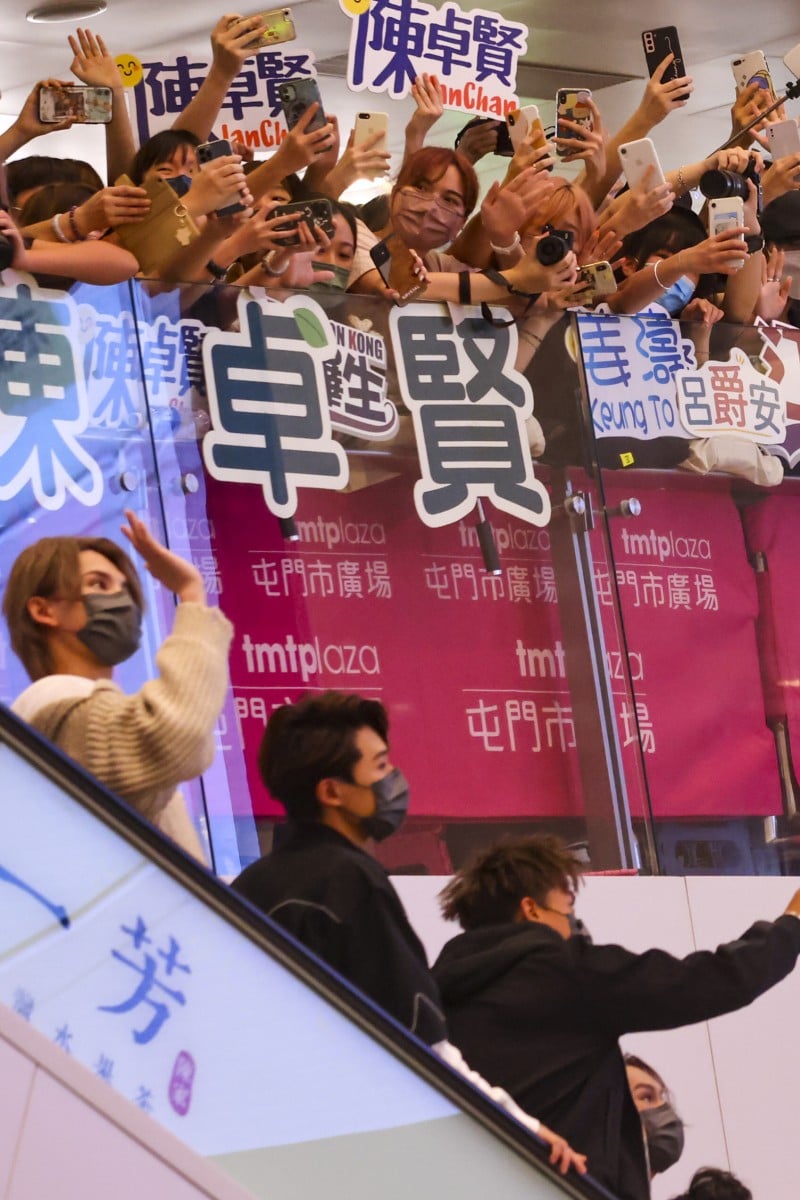 Your voice: from one Mirror fan to another, please be rational; toxic tactics of tech companies (long letters)
Hyung-jun Kim
Bernize Lin Lok-yiu
One reader is a fan of the Canto-pop boy band, but she wants to warn others not to be so obsessed that they disrupt Hong Kong malls or give up their studies

Another teen shares his thoughts on how businesses use perceived and planned obsolescence to convince consumers buy more electronic devices
Hyung-jun Kim
Bernize Lin Lok-yiu
|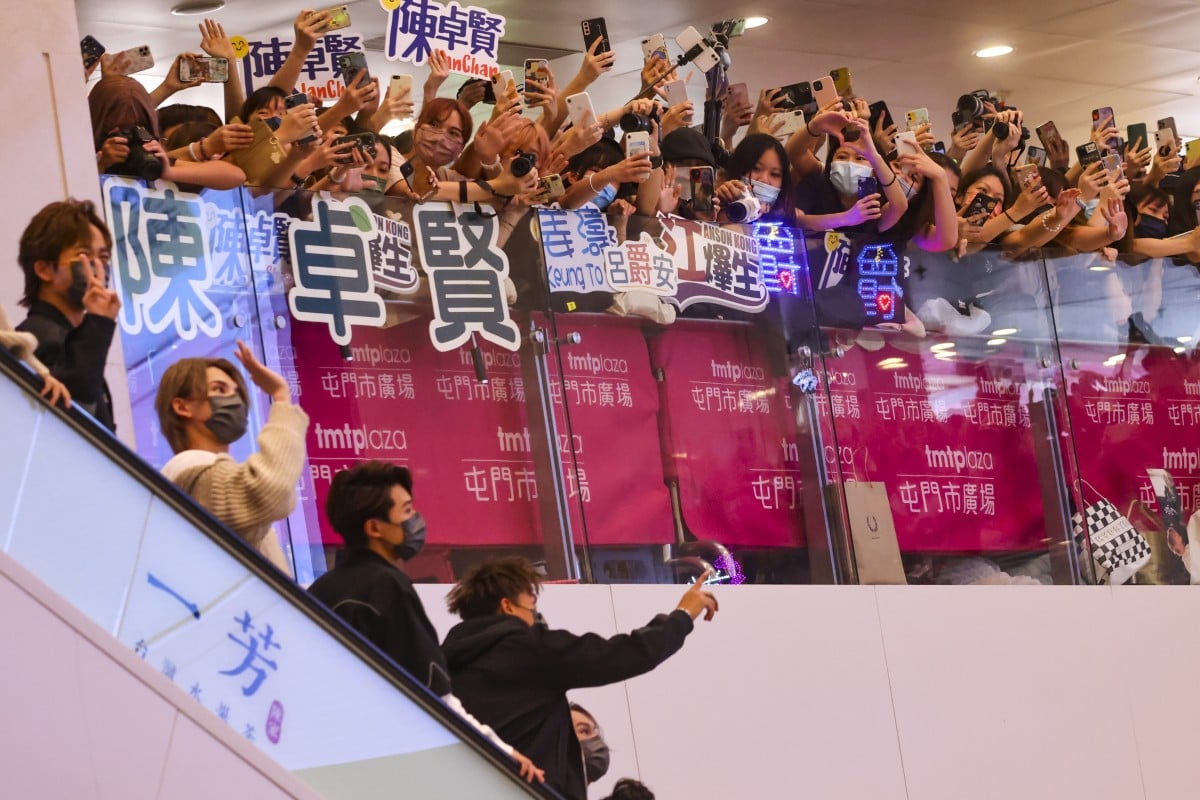 Fans swarmed Tuen Mun Plaza where boy bands Mirror and Error were promoting the Tokyo Olympics. Photo: Dickson Lee
Have something to say? Send us a letter using this Google form.
Bernize Lin Lok-yiu, Valtorta College
In the past half year, the craze over Canto-pop boy band Mirror has spread through Hong Kong – from their sold-out concert series in May, to the popular ViuTV drama Ossan's Love, which premiered in June.
Most Hongkongers are familiar with the names and faces of the Mirror members – Anson Lo, Keung To, Ian Chan and Edan Lui, just to name a few.
Why Hong Kong loves Anson Lo and Canto-pop band Mirror
As a fan of this boy band, I have observed how crowded gatherings of Mirror fans can get. The clearest example of this happens every weekend on a bridge connecting Langham Place and the Cordis Hotel in Mong Kok.
There, Mirror fans exchange or sell the fan art they have made, such as cards or banners with fan slogans, and even a fake credit card featuring different Mirror members.
Mirror members have appeared in many advertisements across Hong Kong. Photo: May Tse
Long queues of fans always appear there during the weekend, with security guards guiding attendees into waiting areas. It is surprising that they are willing to wait for almost an hour sometimes, in a place that doesn't have any air conditioning and isn't well-ventilated.
Although I am quite impressed by their patience, I believe these gatherings affect other people in the mall.
The situation was still under control before the premiere of Ossan's Love, but after the show's immense popularity, the malls are extremely chaotic.
There are always security guards sighing in frustration. They probably do not want to lose their jobs, but some fans do not follow instructions given by the mall and even blame those poor guards. It is likely very exhausting for these workers to deal with these fans. The fans should be more considerate, and try to make sure the mall can operate as normally as possible.
Canto-pop boy band Mirror kicks off concert series "One & All Live"
In addition, teens should not spend so much money on making and buying fan art related to their idols. This practice is similar to "gambling" for some fans. They may want to help increase their idol's popularity, or promote their own fandom pages.
Some will even spend HK$1,000 on making fan art, but this is such a huge amount for young people to spend. They should concentrate more on their studies instead of spending so much money on their obsession with idols.
Say cheers? Fans pose for photos in front of their Mirror idols–well, sort of. Photo: Sam Tsang
Would the members of Mirror want to see their fans, especially teens, give up other areas of their lives?
"Mirror Loves Me, I Love Mirror" – this is a popular slogan for Mirror fans. As a fan myself, I understand how much we love the group.
Still, we all should be rational, and not adore them without considering how our actions affect others. Hopefully, we can all be more conscious of others by supporting the group in a way where we don't spend so much money, or burden others in their work.
Mirror, mirror on the wall. Photo: Felix Wong
Hyungjun Kim, Discovery College
Technology has become an integral part of our daily lives, and it is hard to imagine a world without it. Tech companies have a lot of money, so it isn't hard for them to keep researching and developing better products.
However, constant improvement is not easy to sell. When technology changes so quickly, these companies must launch new products more often. This makes it difficult to sell new devices to consumers who may have already bought the previous version just half a year ago.
Technology has become an integral part of our lives. Photo: Shutterstock
This is why most of these companies also invest a lot of money into making advertisements and researching how to make people buy new products.
One strategy that companies use is called perceived obsolescence. This is a practice by which companies instil the notion that a device's functionality is outdated and needs to be replaced by the newest model. They might instil this idea through describing the new product as revolutionary or using arbitrary statistics and graphs to show how the new product is far superior to the old one.
This is especially evident in the advertising tactics of the tech giant Apple. They have been accused of using graphs with misleading scales and unclear testing methods to mislead consumers into thinking that their newest product is leagues better than their previous one.
Another tactic companies use is called FOMO, meaning the fear of missing out. They capitalise on the social anxiety someone gets when they worry that others are having fun while they are missing out. It can also be described as a fear of regret, and this feeling is especially common with limited edition products.
Do you fear missing out the latest tech? Photo: Getty Images
A notable example of this is on Apple's iMessage platform. Text boxes appear in blue when the other person also has an Apple product, while messages from non-Apple devices appear in green.
Those without Apple devices feel different, which is very obvious to Apple users, who get a subconscious message that the non-Apple users are not the same as they are. For non-Apple users who hear about this, they may feel like an outcast.
The last but most effective strategy companies use is called planned obsolescence. Companies will intentionally make products that stop working or work very poorly after a certain amount of use.
This tactic was first employed with light bulbs in the 1920s when the most prominent light bulb manufacturers at the time banded together to decide they needed to stop manufacturing light bulbs that were so long-lasting because they wanted to generate more profit. The manufacturers agreed to produce light bulbs of depreciating quality to force customers to replace their light bulbs more frequently.
It's getting increasingly hard to live a day without touching your smartphone. Photo: Simon Song
Most tech companies today employ similar tactics. For example, smartphone makers purposefully shorten the battery life of their devices. They also design the batteries to be irreplaceable or charge high prices to replace batteries.
However, this doesn't mean that the whole phone becomes useless. There are third-party methods to replace the battery, and there are home kits for you to do it yourself. But if you want to avoid losing the warranty or if you are afraid of messing something up, you can always donate your old electronics to charities that refurbish and repurpose the products for good use.
At Crossroads Foundation, where I volunteered during the summer, they take apart old PCs and tablets and repurpose them to help Hong Kong people in need. Don't hesitate to donate any functioning electronics you no longer use.
Despite how tech companies try to push new products, there are ways you can try to be less wasteful and make a difference with your electronic devices.
Sign up for the YP Teachers Newsletter
Get updates for teachers sent directly to your inbox
Sign up for YP Weekly
Get updates sent directly to your inbox