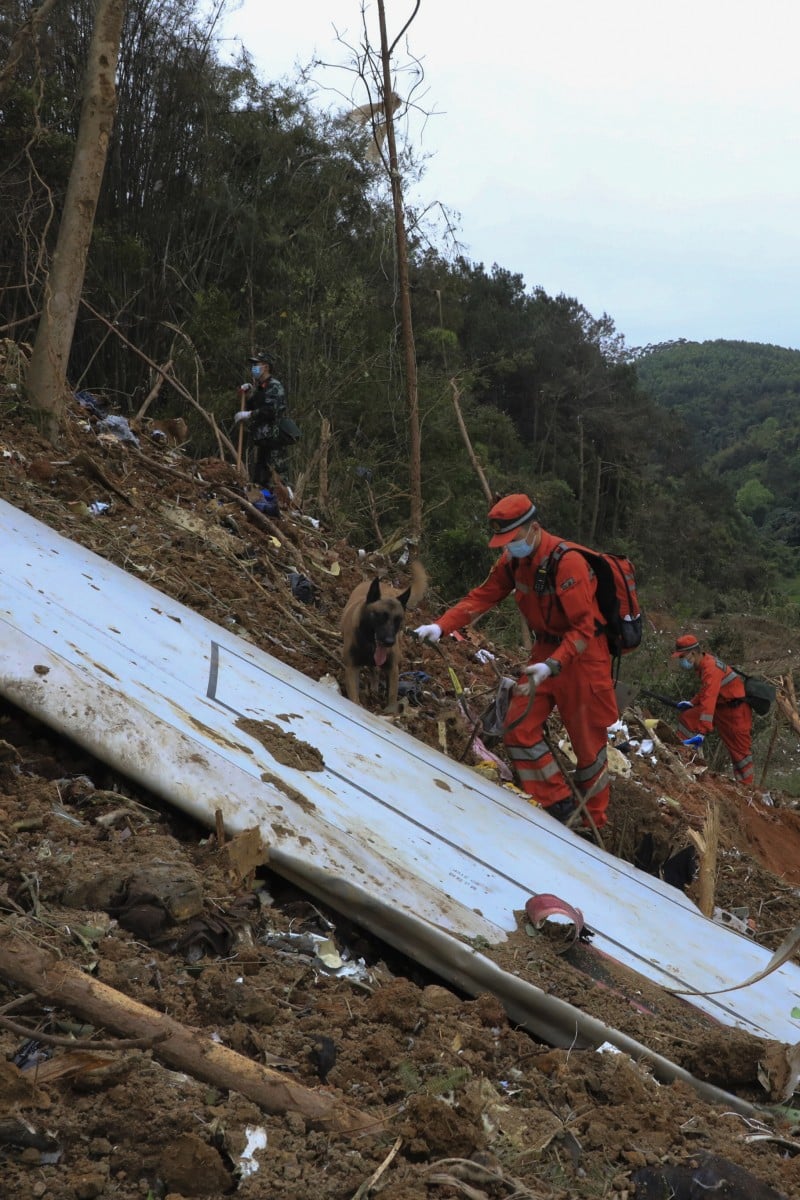 Your Voice: Tragedy of China Eastern Airlines crash; follow scientists' advice to beat the pandemic (short letters)
One reader expresses concern for the families affected by the plane crash in southern China last week

Other students share their thoughts on vaccination, friendship, stress and studying abroad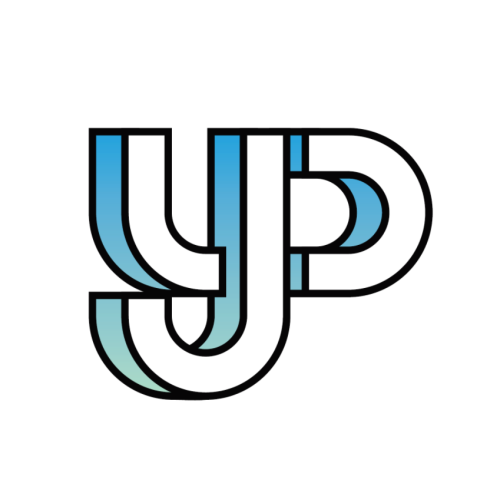 Readers share their thoughts and opinions on everything from social issues to pop culture.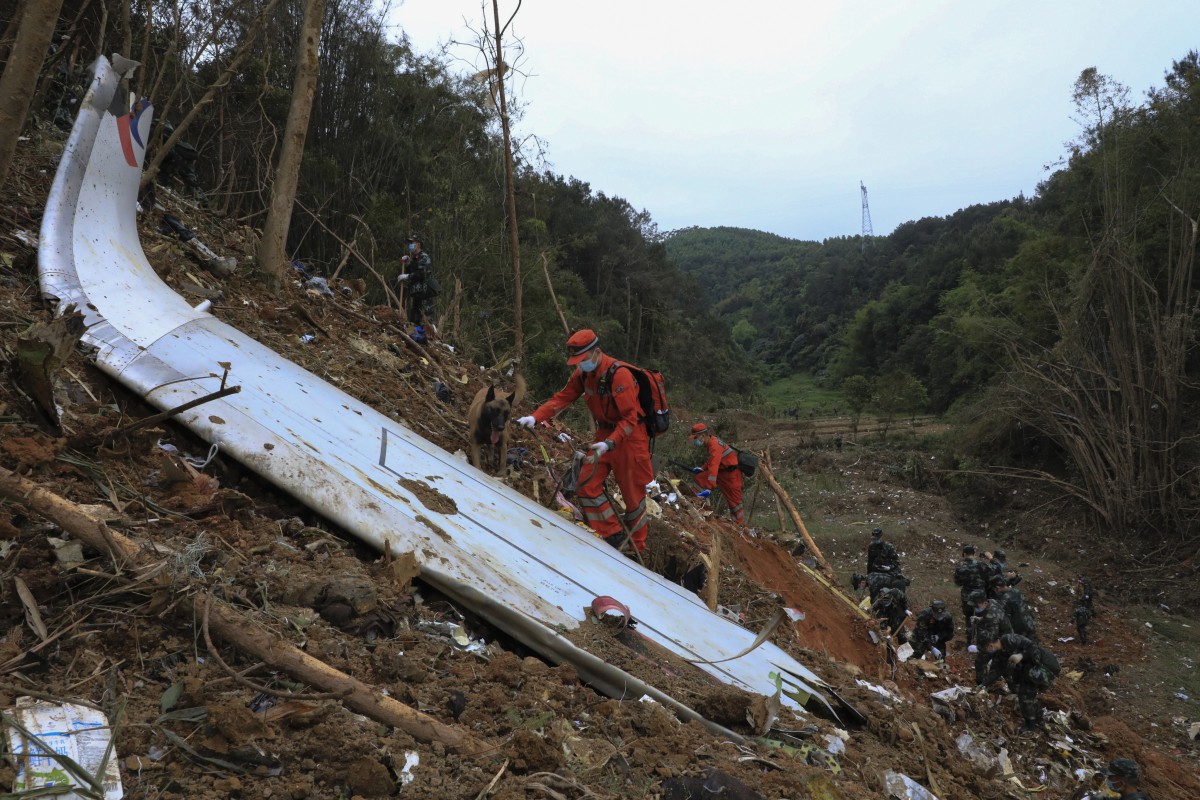 Rescuers search the site in Guangxi Zhuang autonomous region, where a China Eastern Airlines plane crashed on Monday. Photo: Xinhua
Have something to say? Send us a letter using this Google form.
Black box may help unlock mystery
Pang Pui-yiu, Fung Kai No 1 Secondary School
Last week, there was a heartbreaking news story: 132 people died following the crash of a China Eastern Airlines flight in a mountainous area in southern China. Orange debris believed to be from one of two black boxes on the aircraft was recovered on Friday morning.
Can you imagine the pain of the parents, relatives and friends of those who died in the tragedy? I saw a video in which a father cries about three children who were on that fateful flight.
I hope the black box will help unlock the mystery and offer some clues to the families of the victims. Accidents happen suddenly, and there is nothing we can do about them. I hope people will pray for the souls of the victims of this disaster.
China Eastern grounds Boeing 737-800 fleet following fatal crash
Follow the advice to beat pandemic
Rosa Chen, King Ling College
Those who have recovered from Covid-19 should still get vaccination; asymptomatic patients should wait until they are done isolating before getting vaccinated. Photo: May Tse
As the government has made Covid-19 vaccination almost a must for Hong Kong people, I needed to know if I should get the vaccine after being a confirmed case.
But according to an explainer by SCMP on this question, I should get jabbed again. The reason is that people who were already infected with Covid-19 but were not vaccinated after recovery were more likely to get Covid-19 again, compared with people who were vaccinated after recovery.
No matter if we have been infected with Covid-19 or not, we still need to get vaccinated. This is the best way to fight the pandemic.
We need to follow scientific advice and cooperate with the government's social-distancing measures.
Let's hope that Covid-19 can be eliminated one day.
Should you still have vaccinated if you've had Covid?
Isabella Chan, Carmel Secondary School
A simple Zoom call can do wonders for your mental health. Photo: Shutterstock
Depression is becoming more common in Hong Kong as the city combats its fifth and most deadly wave of infections. But even in this predicament, I am lucky to have good friends who are supporting me.
Recently, I have been trapped within the vicious cycle of thinking that I am a failure, or thinking that I'm not good enough. But a casual conversation with my friends helped me immensely.
In a light-bulb moment, I realised that I am so grateful for these indispensable pals.
Sometimes we have conflicts, but we also laugh together and help each other with homework. Even now, we support each other even though we cannot meet in person. Deep in our hearts, we know that we will always be there for each other.
Why you're procrastinating more during Covid-19, and tips for getting back on track
Doctor's tips for relaxing
Anthony Lo, King Ling College
Julie Chan, who works irregular schedule in the accident and emergency ward at Queen Elizabeth Hospital, always makes sure to relax on her days off and rest her mind. Photo: Xiaomei Chen
Dr Julie Chan, who got very good results on the Diploma of Secondary Education exam, shared her experiences with Young Post on coping with stress during the pandemic.
Chan works in the accident and emergency ward at Queen Elizabeth Hospital and faces great pressure. She has to handle about 400 cases every day, and her work has been extra difficult during the city's fifth wave of cases.
Chan suggests finding a hobby to relieve stress. She likes trying different types of food and shares her dining experiences on her Instagram account.
You should try to forget about your problems and relax during your spare time. Even if you are very busy, try to set aside some time to do what you want.
Eat healthy, nutritious food. Do some exercise, or play a sport. This can help you cope with stress.
What is therapy? A beginner's guide to getting help for your mental health
Drawbacks of studying abroad
Chow Tsz-cheuk, Holy Angels Canossian School
Studying aboard can be a wonderful, enriching experience, but students have to be mentally prepared to cope with a completely new lifestyle. Photo: Shutterstock
In recent years, many parents have sent their children to study overseas in hopes that this will help them get a high-paying job and have a brighter future.
Studying abroad in an English-speaking country will also give their children the opportunity to improve their English.
But in reality, studying abroad also has its drawbacks. It means that children have to leave their homelands, families and friends to adapt to a new environment. Without their parents' care, they may feel isolated and lonely.
The lifestyle and culture in foreign countries are can be quite different, and it could be a shock for those who are not independent enough. It is important for parents to consider the adaptability of the children before making the decision to send them abroad.
Hong Kong teens discuss responsibility and nerves of moving to Britain
More than one way to treat stress
Law Kai-chung, Lai King Catholic Secondary School
Stress is part of life – while you can't always control how you feel, you can control how you respond to them. Photo: Shutterstock
Feeling stressed? Here are some of my tips for dealing with this common feeling.
Instead of viewing stress as something negative, reframe it as something that helps you achieve your goal. For example, it can drive you to meet deadlines.
Make sure to focus on positive thoughts as this can help offset difficult situations. Learn from your mistakes, and use major challenges as a time for personal growth.
You should not withdraw from people when you are stressed. Instead, identify people whom you can ask for support. If you have a huge problem with stress, a therapist could be helpful.
Make life decisions based on what is meaningful to you, to ensure that the stress you experience is worth it. Stress is not a horrible monster. Embrace it, and turn it into something that motivates you.
Sign up for the YP Teachers Newsletter
Get updates for teachers sent directly to your inbox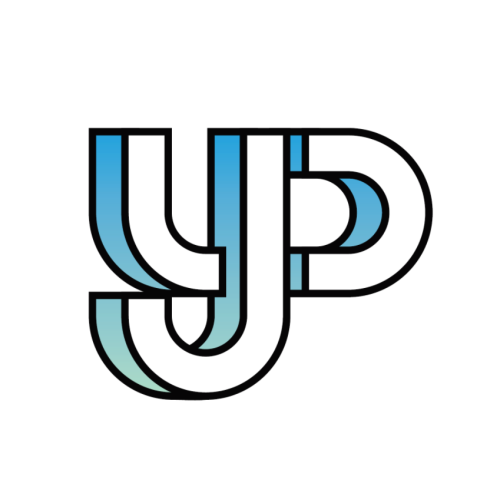 Readers share their thoughts and opinions on everything from social issues to pop culture.
Sign up for YP Weekly
Get updates sent directly to your inbox