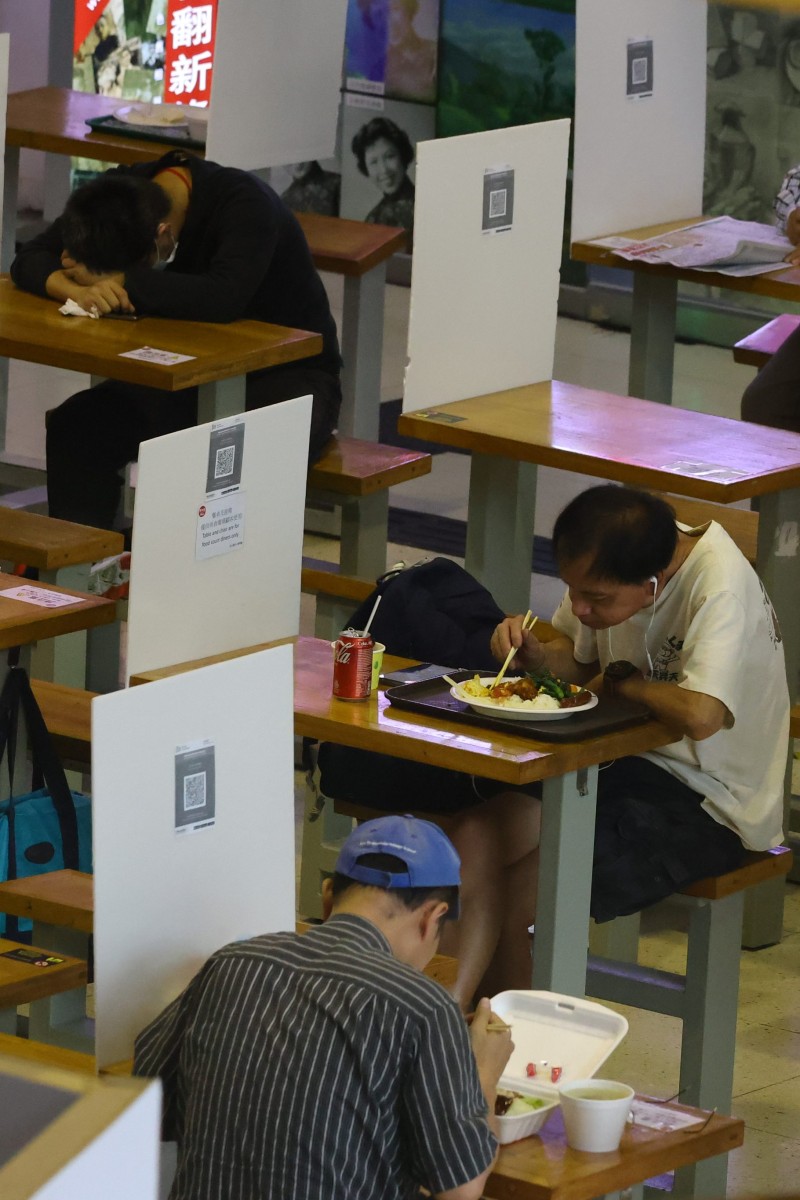 Your Voice: Hongkongers are tired of Covid restrictions; celebrities as role models (short letters)
One student writes about Hong Kong's undying spirit in the face of adversity

Another talks about the loneliness of the fifth wave of coronavirus and how the pandemic has affected our mental health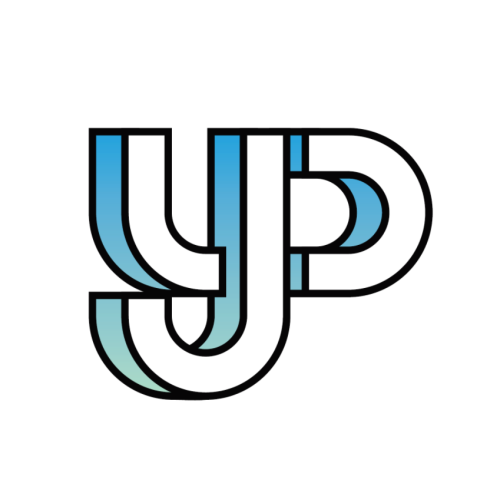 Readers share their thoughts and opinions on everything from social issues to pop culture.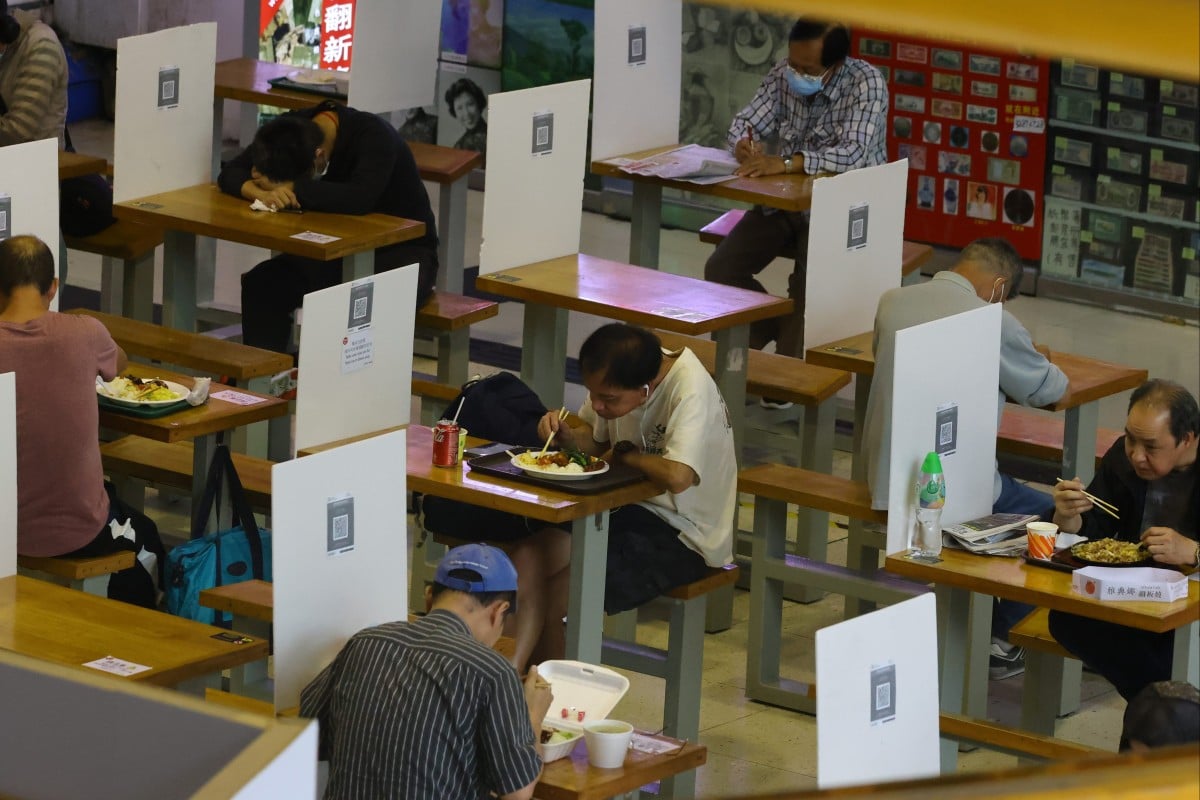 Social distancing measures limit diners to two per table. These restrictions won't be lifted until April 20 at the earliest. Photo: Dickson Lee
Have something to say? Send us a letter using this Google form.
Taste of Hong Kong's 'undying' spirit
Parco Wong, Lai King Catholic Secondary School
The two-dish-rice box has been trending in Hong Kong because of the pandemic restrictions on dining. Some think it is creating more styrofoam waste, but its affordable price benefits many people.
Sleepless Cafe in Causeway Bay started selling rice boxes as a way to continue making money during the pandemic. Photo: Yik Yeung-man
The rice boxes are also a convenient meal option that tastes similar to healthy home-cooked food. There are usually more than 20 pans of steaming Cantonese dishes for customers to choose from, such as steamed whole fish, steamed egg and curry ribs. They feel like home.
Last but not least, the fad represents Hong Kong's undying spirit. The evening dine-in ban made it tough for many restaurants to survive, but they tried to find a way out by offering two-dish-rice boxes. Even if they cannot earn much money, they still provided quality meals. This embodies the city's culture that we should preserve.
How a Hong Kong staple helped restaurants survive the dinner dine-in ban
Make up for what students have lost
Stephanie Chow Ngo-yiu, Tak Nga Secondary School
Schools should find creative ways to make up for what students have lost in switching from face-to-face to online learning.
During the Covid-19 pandemic, students have had online lessons at home, and they do not get to see their classmates. Students feel sad, lonely and stressed at home, but they do not have ways to express their feelings.
Students have missed out on a lot during the pandemic, especially when it comes to their education. Photo: Shutterstock
The Form Six farewell was held online, and students could not take photos with friends or teachers. The school could at least hold activities in the summer, so students can make some happy memories.
Some students struggle to learn because of online lessons. Schools should hold extra classes for them.
This is how schools can help their students.
Why students are especially worried about the DSE this year
Wong Pak-kiu, Lai King Catholic Secondary School
Who is your idol? Mirror? BTS? Blackpink? Celebrities can be good role models by showing teenagers how to be confident. Famous people often have to deliver speeches in front of large crowds, which demands bravery and confidence. Stars can teach teenagers how to believe in themselves.
Taylor Swift poses with fans in New York. Photo: Getty Images for Spotify
Many celebrities can also inspire teenagers to help those in need. For example, Taylor Swift donated US$50,000 (HK$391,876) to a mother of five whose husband died of coronavirus. John Legend established the Show Me Campaign to support education programmes.
While there are certainly some celebrities who do not act responsibly on camera or who make mistakes in their private lives, there are many who still have a positive influence on teenagers.
Keung To reaches out to father of disabled daughter who responds to the singer's Canto-pop hit
Loneliness of the fifth wave
Wong Lok-yung, CNEC Christian College
Nowadays, many Hong Kong students are feeling a lot of pressure from the education system. Normally, they have their friends to encourage them, but now, they can only chat on the internet. With messages, you can only see the words on the screen, and it is tough to feel your friends' emotions.
Many of us feel lonely during this strange time. Photo: Shutterstock
In the fifth wave of Covid-19 cases, many kids are trapped at home. Students feel lonely because most of their parents are working, and they do not have time to care about their feelings.
Parents may think that emotions are not a big deal, but for children, it is the complete opposite. These days, kids always have to stay home where they have no one to talk to or play with, so they start to feel lonely. If this situation continues for much longer, it will be a big problem for children's mental health.
How to negotiate with your parents for more freedom once Covid cases drop
Hongkongers are exhausted
Mango Chen, Fung Kai No 1 Secondary School
Many Hongkongers are leaving the city because of the government's strict anti-pandemic policies.
For example, the current social-distancing rules limit the number of people who can gather together in public and at home. At the beginning of the pandemic, people could still accept these restrictions. But after such a long time, people are exhausted, and they want to resume normal life again.
Some recreational facilities remain cordoned off in a sitting out area in Mong Kok, just one social distancing measure that won't be relaxed before April 20. Photo: May Tse
For three months, I have not exercised because sports facilities and courts have not been allowed to open, and my body is suffering the effects.
Some people have already moved abroad to countries such as Britain, Canada or the United States. People in those places are allowed to travel easily and meet their friends.
Everyone is so stressed about the pandemic. How can I help them?
Key issues in gender equality
Johnson Chan Tsun-Huen, Po Leung Kuk Tang Yuk Tien College
There are still many people who are fighting for gender equality in society. Sexual discrimination is gradually disappearing. However, there are still some important issues to address.
For example, Nintendo Switch released an advertisement for its game Ring Fit Adventure with actress Yui Aragaki. But a few Japanese feminists said this advertisement presented the famous actress as a sexual object. If it had featured a man, it would have been treated normally.
Peng Shuai case shows barriers Chinese women face within a male-dominated culture
Some women say: "You are a man. You have to help us girls!" They should try their best instead of relying on men for help.
I hope more people will support gender equality, but we should all think about what we can do to fight stereotypes.
Sign up for the YP Teachers Newsletter
Get updates for teachers sent directly to your inbox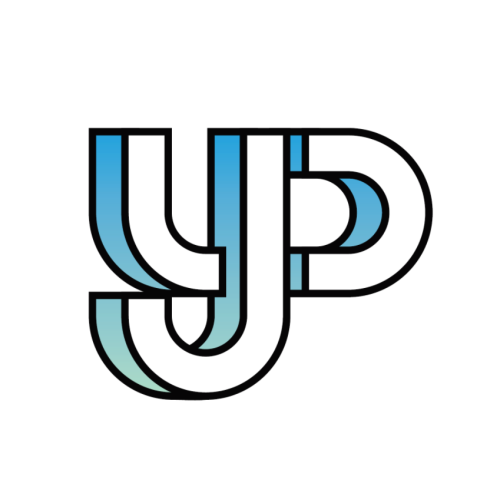 Readers share their thoughts and opinions on everything from social issues to pop culture.
Sign up for YP Weekly
Get updates sent directly to your inbox