Face Off: Are domestic helpers treated fairly in Hong Kong?
YP Reporter
Heather Ng
Nicholas Ng
Each week our two teenagers will debate a hot topic, This week ...
YP Reporter
Heather Ng
Nicholas Ng
|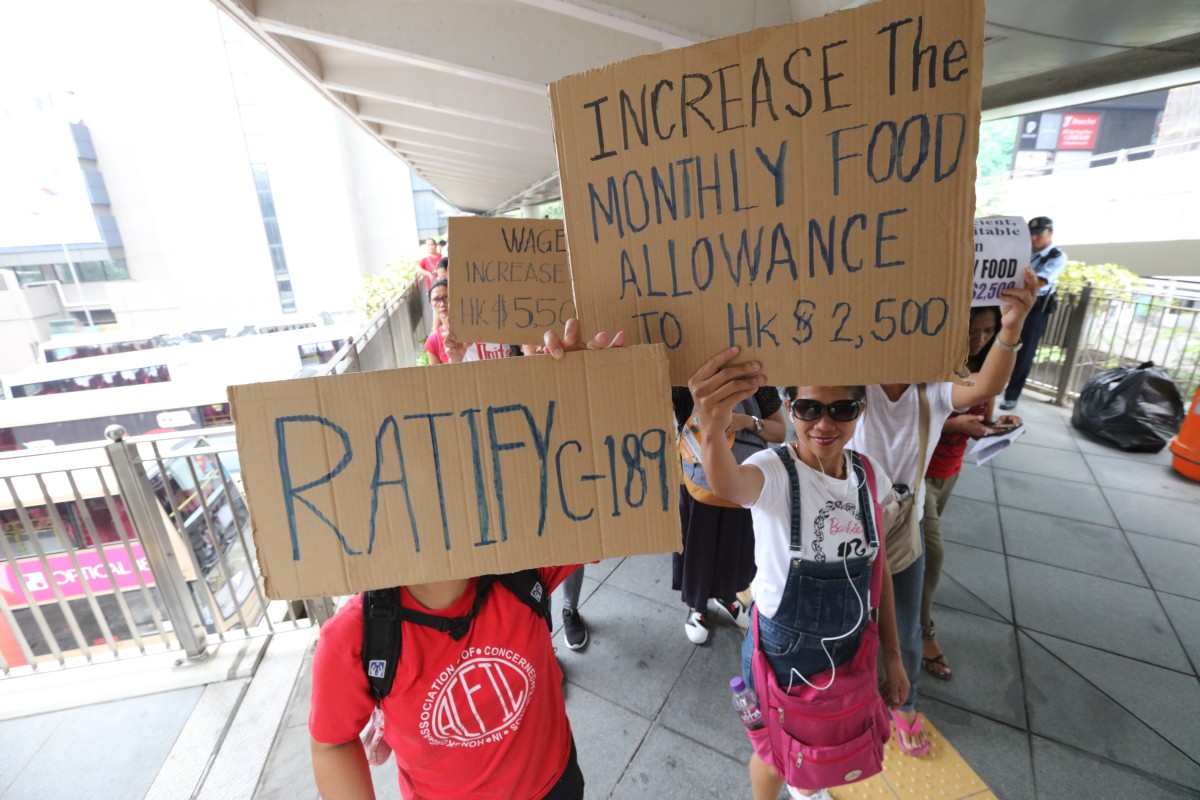 The Asian Migrants' Coordinating Body marches from Exchange Square in Central to the office of Labour Department to campaign for wage increase.
Heather Ng, 16, YMCA of Hong Kong Christian College
There are laws to protect domestic helpers in Hong Kong. For example, the Labour Department's Employment Ordinance requires employers to provide "free, suitable and furnished accommodation" for helpers. Employers must also provide floor plans of their flats to show that the helpers have reasonable privacy and good living conditions. Under the employment contract, employers are encouraged to provide a separate room for the helpers.
The department also provides free consultation services for foreign workers who complain of poor living conditions or ill-treatment by employers.
The "live-in" rule requires helpers to stay with their employers six days a week. This means they don't have to worry about food or accommodation.
Domestic workers receive a monthly salary of HK$4,310, along with a food allowance set at HK$1,037. They get a day off every week, when they can relax with their friends or do whatever they wish.
Hong Kong respects its helpers; May is Helper Appreciation Month. Launched in 2015, the initiative celebrates helpers' hard work and the remarkable contribution they make to the community.
In Hong Kong, there are many organisations that fight for the rights of domestic workers. For example, the HK Helpers' Campaign was formed by a group of local activists who are urging the government to scrap the rule that requires workers to leave Hong Kong within two weeks of the end of a contract, enforce maximum working hours, and stop illegal agency fees.
I think helpers are treated very well in Hong Kong.
Nicholas Ng, 15, South Island School
Earlier this month, around 600 foreign domestic workers in Hong Kong took part in a march calling for a pay rise and an end to terrible working conditions. They said they were worried after the recent deaths of several helpers.
This is certainly not the life domestic helpers dreamed of when they moved to Hong Kong to find work to support their families.
Firstly, the government has made it easy for employers to abuse their helpers. Under their employment contracts, domestic helpers must live with their employers. This is problematic because it means helpers are much more dependent on their employers and could be easily exploited.
Secondly, helpers work irregular hours. Some employers force them to work almost non-stop until late at night. Also, many of them are not allowed to take sick leave. This leaves the helpers in a difficult situation, because they'll have to tolerate slave-like conditions just to provide for their families back home.
Some may say most families do not abuse their domestic helpers, but this ignores the fact that many cases are not reported. Some helpers are forced to sleep in bathrooms and are not given enough food, but they don't want to complain for fear of punishment and unemployment. To make matters worse, the government isn't taking any action to protect helpers.
We must acknowledge the unfair treatment of domestic helpers and introduce legislation to punish offenders. Domestic helpers are not slaves. They are stressed because they have been separated from their families and we need to do more to help improve their living conditions.
Edited by M. J. Premaratne