Which two sports would you combine to make a better, more exciting sport?
Compiled and edited by Nicole Moraleda
Bowling and football? Karate and swimming? In this week's Top 10, we ask which two sports you would put together
Compiled and edited by Nicole Moraleda
|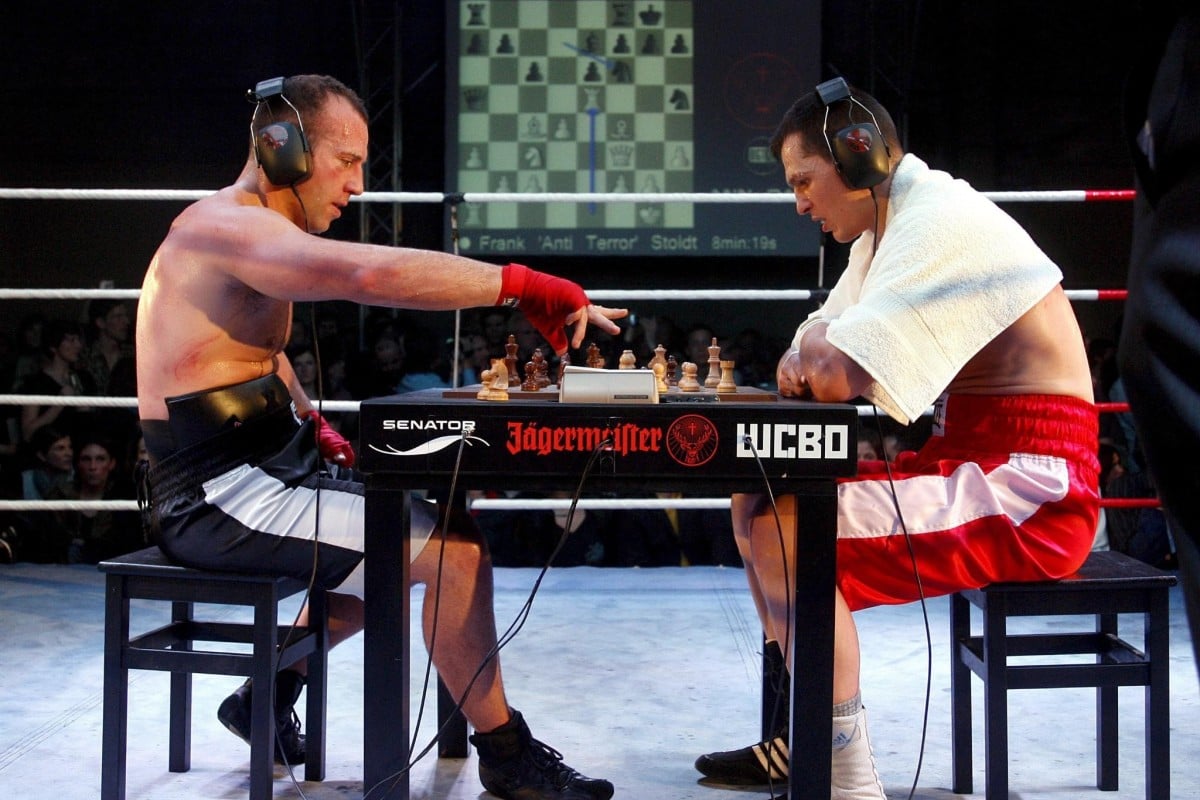 Chess-boxing is one mixed sport people have tried. What's your idea?
I'd combine bungee jumping and gymnastics. It would be like diving but in the air, adding an extra element of fear to gymnastics. Gymnastics under such risky conditions would be thrilling to watch.
Cherry Ho, 16, Fung Kai No. 1 Secondary School
I'd combine my two favourite sports: badminton and swimming. The players would compete in a swimming pool with a net in the middle, rather than a badminton court.
There would be two players in each team, and the shuttlecock would not be allowed to touch the water. I think this would be more exciting and challenging than normal badminton.
Jack Cheng Fang-jun, 13, NTHYK Tai Po District Secondary School
What reality TV show would you like to join?
I'd put canoeing and dodgeball together. Just imagine the look of surprise on your friend's face when you skilfully deflect their ball with your paddle, causing another player to capsize. It's the perfect fusion of skill, coordination, and fun!
Nicholas Ng, 17, South Island School
I think combining baseball and rugby would make the most interesting game ever. Mixing some of the rules of rugby into a baseball game, such as allowing players to steal the ball, or even tackle their opponents to prevent them from scoring, would make the game much more thrilling. Players would have to come up with whole new strategies.
Yip Tsz-ho, 15, Carmel Pak U Secondary School
Taekwondo and dance. Both sports require body coordination and a lot of energy. I think a combination of strong taekwondo moves and graceful dance moves would look amazing.
Kenny Lee, 16, Fung Kai No. 1 Secondary School
Which dinosaur would make the best pet?
I'd combine basketball and trampolining. Basketball already requires a lot of jumping. Having a court made of trampolines would help players score more easily and make the game more exciting.
Eunice Yip, 19, Hong Kong Shue Yan University
Definitely surfing and gymnastics. These two sports are both elegant yet challenging. I would be even more extraordinary if surfers could perform gymnastics tricks as they ride the waves. It would be great to see a surfer do a handstand on their board.
Chloe Lau Hong-ching, 14, St Mary's Canossian College
Dodgeball and football sounds like the ultimate combination. The aim of the game would not only be to kick the ball between the goal posts, but also get the ball to touch your opponents to eliminate them from the game.
Cheng Yui-hang, 16, Shatin College
What is the best way to cool down?
I'd combine rugby and swimming. Rugby is an intense game with heavy body smashing, and the goal is to reach the opponent's base with the ball. Players would definitely have to come up with more interesting tactics in water!
Nester Chik Yiu-kai, 17, Sing Yin Secondary School
I'd say dance and boxing. You know how in boxing matches there are usually two people who have to knock each other out, and whoever taps out first loses? In this game, that's only 50 per cent of how you'd win. The other 50 per cent depends on your technical moves (or dance technique), which the judges would look out for. The more difficult the techniques you are able to show, the better chance you have of winning the fight. I think it'd be an awesome game to watch.
Leanne Jackson, 16, Shatin College
For our next Top 10, tell us:
Who in your life are you most grateful for?
Send your answer, together with your name, age and school, to [email protected] with "Top 10: Grateful" in the subject field. Our favourite answers will appear in next week's Top 10 page!