Talking Points: what would you change about your school uniform?
Breathable fabrics, bigger logos, and trousers for girls top the school uniform wish list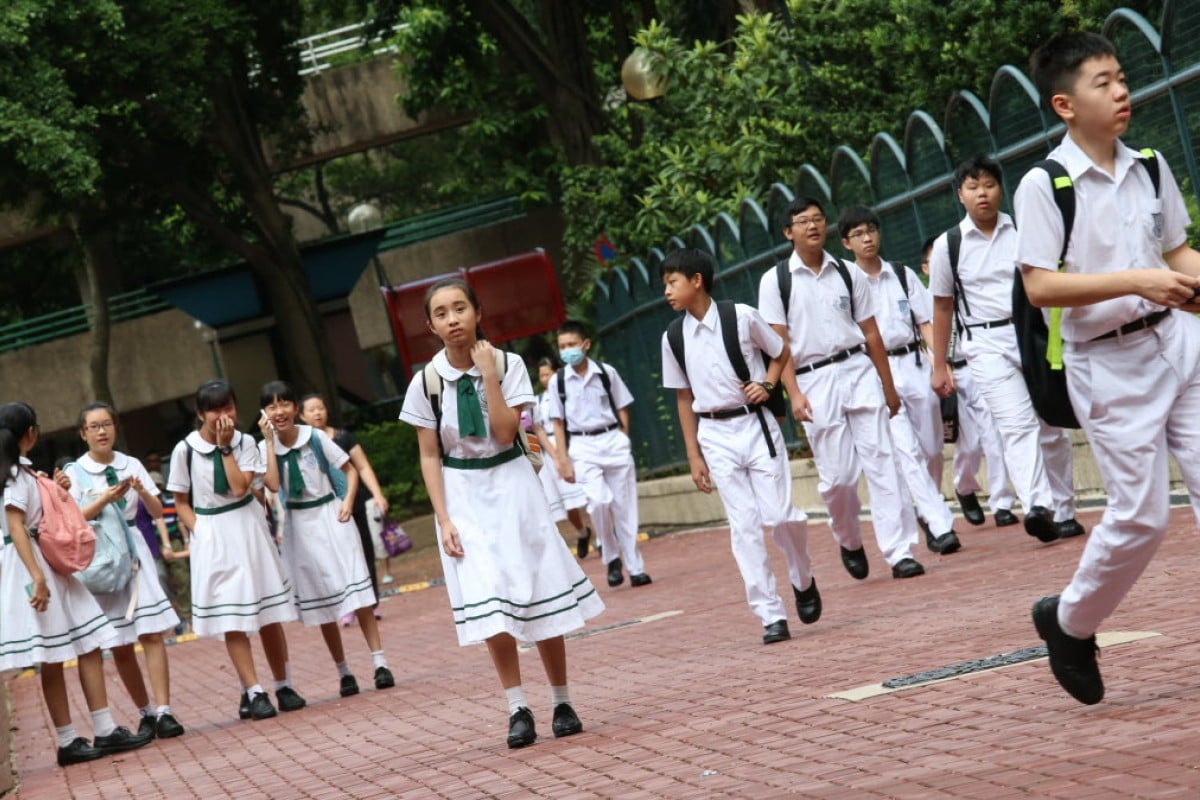 One student says a white uniform really is just too hard to keep clean.
Savannah Ward, 13, Christian Alliance International School
Our uniforms are scratchy, boring and ugly. I want them to be as comfortable and nice looking as our casual everyday clothes. I'd start by making our sleeves shorter because it gets really hot in Hong Kong. I would also change the material to a dry-fit one because it absorbs sweat better and evaporates it quicker.
I would definitely change our plain dark blue skorts – which are made from a weird material – to a more trendy wearable design made from a lighter weight material. I'd make them in brighter colours like sunset oranges, cherry blossom pinks or mint greens. The design would look more like a cheerleader-style skirt (but not as short).
Saba Iftkhar, 15, St Margaret's Girls' College
Everything! Not only is the uniform bland, it also doesn't work for any ethnic minority students with religious restrictions. As a Muslim myself, I have to wear white stockings underneath the dress and it is so uncomfortable, especially on scorching hot days. Hence, full-length sweatpants along with a half-sleeved shirt would be an ideal replacement for my school uniform. Students would be way more comfortable and we would actually live up to the school's aim – to make all students look united like one big family.
Linus Chan, 13, Christian Alliance International School
I would like to change the material of my school uniform because the fabric we use is not breathable. If it were made of cotton, most of the students wouldn't sweat as much – especially in summer. I would also allow secondary students to wear shorts in the summer, because full length trousers are very hot and uncomfortable. The uniform wear should also represent my school more. Right now the school logo is the only thing that represents the school, but I would add a lion crest, because our school mascot is a blue lion named Azul.
Wesley To, 13, Christian Alliance PC Lau Memorial International School
Our uniform looks very formal but I really dislike its texture. I would switch to cotton shirts because I sweat a lot and cotton is able to absorb my sweat. Cotton also provides great ventilation which helps you dry very quickly. My school uniform does absorb sweat, but it leaves a huge stain and it does not have good ventilation. The hot air from my body just feels like it is stuck inside my shirt.
Another problem I have with my uniforms is that it is not stretchy. Students at our age grow very quickly, so we would need to buy new uniforms quite often every once in a while. but if it were more stretchy, we could wear it for longer.
Wong Sze-yu, 11, Shatin Tsung Tsin Secondary School
I would change the fabric of the uniform. I need to climb about 130 stairs and walk through a 300-metre covered walkway to get to school everyday. This makes me really sweaty! It's easy to get sick if you are sweating and using the air-con at the same time, so I would use a wicking fabric for our uniform so that I wouldn't get sick so easily.
Secondly, our uniform is white, which gets dirty very easily. I would use fabric with nanotechnology so the dress wouldn't get dirty.
Kayleigh Lee Oi-yung, 16 Rhenish Church Pang Hok Ko Memorial College
I've wanted to change my school uniform since I was in Form One. For girls, I prefer skirts to dresses. A light blue blouse and a navy skirt would make a perfect look. For boys, a round-collared shirt would make a smart look. I wish this could happen before I graduate.
Angela Chow, 15, Fung Kai Liu Man Shek Tong Secondary School
I would change the material of our school uniform because it is too sheer. Girls are always worried about this, so many of them wear a petticoat under the uniform, but it is still very transparent. Another problem is that our school sweaters need to be more colour-fast. If a student wears their sweater after PE class, the red colour stains the white uniform, turning it pink. This is a big problem that should be fixed immediately.
Metis Chan Sze-ki, 19, Rhenish Church Pang Hok Ko Memorial College
The most important thing is that the uniform is comfortable, as students have to wear it for a whole day. But I would add some special patterns so that the uniform can be unique from other schools. This would also boost the artistic atmosphere.
Jason Chow Cheuk-yin, 16, Rhenish Church Pang Hok Ko Memorial College
The colour could be brighter, instead of light, plain colours. This can help create a lively atmosphere. It may attract more active young people to join the school.
Arzoo, 15, Tak Nga Secondary School
Oh, I would simply like to wear something colourful instead of just being all in white, looking like a nurse!
Mercy Chan Ka-hei, 12, Shatin Tsung Tsin Secondary School
If could change the uniform, I would change it to the cheongsam. This Chinese traditional dress makes a woman look polite. And when students dress up, they all are elegant.
Christal Li, 13, Tak Nga Secondary School
I want to change our school uniform to a simple jacket and trousers, because then they girls' legs wouldn't be so cold in the winter or in an air conditioned room.
Carmen Gao Ka-lam, 13, Shatin Tsung Tsin Secondary School
When I was in Primary Six, I thought it would be a great idea if boys and girls could swap uniforms. I want boys to experience some of the problems girls have when they have to wear dresses.
Charlotte Tam, 14, Carmel Secondary School
Our winter uniforms are grey dresses over a white shirt and tie, but I think skirts and shirts are better. We also have to wear sweaters, but they're often baggy and loose, and make students look untidy and lazy. I personally like Japanese style and American style, so I'd rather wear a blazer or a woolen coat instead.
Wang Wai-lam, 12, Sha Tin Tsung Tsin Secondary School
I would change my school uniform to the fairy style with a lot of flowers. I would put the lace around the dress, and add a bowknot on the belt because it is beautiful. That is my school uniform design.
Anisha Tamang, 15, St Margaret's Girls' College, Hong Kong
Definitely the school cardigan. Most schools have the same type of cardigan – a light grey colour. It's. Just. Plain. Boring. It would be better if we had a blazer instead. A bold blue blazer would definitely be a breath of fresh air. It will also compliment our white uniform and make the students look smarter.
Mak Tsz-yuet, 12, Shatin Tsung Tsin Secondary School
I think the girls' uniform should be a white cotton dress with a sky blue tie and a purple belt.
Yasmine Kwong, 13, Christian Alliance PC Lau Memorial International School
If there was something I wanted to change about my school's uniform, it would be the material. It's 65 per cent polyester and it traps your sweat in. It always feels like forever before the sweat evaporates. Also, the stiff material constricts my movements, and every time I try to move my arms or legs, it gets all wrinkled.
Louisa Lu, 13, Christian Alliance PC Lau Memorial International School
I would definitely like to change the material of my school uniform. Hong Kong is a hot city, so you're probably going to sweat. But whenever I sweat in my uniform, it takes so long to dry. Cotton is softer and dries much quicker.
Stephanie Ma, 13, Christian Alliance PC Lau Memorial International School
It would be nice to change the material to cotton so that it wouldn't leave sweat stains, and it will just be more comfy. We will also need to change the material of the PE uniform because after we sweat the shirt stinks and the smell doesn't come off.
Lun Chi-leung, 13, Shatin Tsung Tsin Secondary School
I would like to be able to wear shorts, because trousers are too hot in summer. But I wish our shirts were thicker, because it's very easy to see our classmates' undergarments.
Marcus Lam, 15, Christian Alliance PC Lau Memorial International School
For the casual uniform, they should replace the button shirt with a polo shirt that has a pattern and a outline of a flame. The trousers should be more flexible and have light blue stripes to the side of the calf. For PE, they should improve the colour and use the same material as Nike Dri Fit.
Chloe Tam, 12, Christian Alliance International School
I want to have a unique uniform like one with zips here and there, with really cool pockets! Come on, school fees are really expensive and we expect better uniforms! I mean, is it that hard?
Ashley Wan, 13 , Christian Alliance P.C Lau Memorial International School
For girls, we have to wear skorts. I want the flap to be removed and just wear shorts instead. The flap isn't necessary and there's no point in it anyways. We're basically wearing shorts underneath the flap. Wearing just the shorts would be more convenient – and probably more comfortable.
Laura Yiu Yan-na, 14, HKBUAS Secondary Section
If I were to change something about my school uniform, I would change the school skirt into trousers or pants. As a female student, I often found it difficult to move around freely while wearing the school skirt (or dress, if that is what it is called). I hate being restrained from activities and movements, such as going upstairs. Students with comfortable trousers can move more easily than those in skirts.
Moreover, I think the summer school uniform and other accessories (sweaters, jackets etc.) can use a different colour tone instead of blue-green-red combination. Frankly, I often feel like I am dressed like a sailor when I go to school.
Wong Wai-lam, 13, Tak Nga Secondary School
I would like to change our uniform to be cosplay. Can you imagine it ? When you come to school, you might see a girl dressed like a princess, and she could be your teacher or your classmate. Every day would be like a party! Amazing, isn't it?
I know. It is impossible for us to dress in cosplay, so then I just have one request about our uniforms: please don't change our dress to be a white colour !!!You know...Haha...Every month...Menstruction will come so if the dress is white colour...Then maybe ...Ha ha.. you know that.Right?
Eric Lam, 16, Fung Kai Liu Man Shek Tong Secondary School
I think the school uniform can have more school information. For example, the year your school was established, your school mascot, the name of the principal, and so on. This information will tell others about your school.
Jennifer Lau Wing-yan, 14, Ma On Shan Tsung Tsin Secondary School
Many students, especially girls hate their school uniform. Why? First of all, the material is not comfortable enough. Nylon is not a good material for school uniform because it is rough and hard. It should be replaced with 100 per cent cotton even if it is more expensive.
Secondly, the colour is too dull. Students should wear a uniform with bright, light colours, such as sky blue and white. Then they won't feel so hot when it's sunny. Also, these colours are more fashionable.
Finally, the design is old-fashioned. Girls prefer two pieces to a one-piece dress. A stylish top and a trendy skirt definitely is more popular, and easier to get changed if it gets dirty.
Eunice Hung Cheung-huen, 15, HKBUAS Wong Kam Fai Secondary and Primary School
Students should be able to choose whether to wear skirts or trousers. I believe it is a right for us to decide what to wear, as there is no law stating girls must wear dress, boys vice versa. If our school is determined to groom our dependence and uniqueness, they should not tie us to the unreasonable traditions or social labels.
Ivy Zhou-qi, 13, Shatin Tsing Tsin Secondary School
Our girls' uniform should be thicker because the dress is too see-through. I'd also put the zipper on the right hand side of the dress so that I can put it on more easily. And girls should be allowed to wear sport shoes with their uniform. For the boys' uniform, they should have the option of not wearing a belt.
Ernest Wong, 13, Christian Alliance PC Lau Memorial International School
We should change our school rules to be able to wear short pants, because they really do feel better in a humid and hot place like Hong Kong.
For our next issue, we'll discuss:
Should teenagers be allowed to buy alcohol?
We are now accepting your answers for this topic. To take part, email your answer with your name, age, and school, along with a nice, clear selfie (make sure it's not blurry), to [email protected] by lunchtime on Monday
Sign up for the YP Teachers Newsletter
Get updates for teachers sent directly to your inbox
Sign up for YP Weekly
Get updates sent directly to your inbox