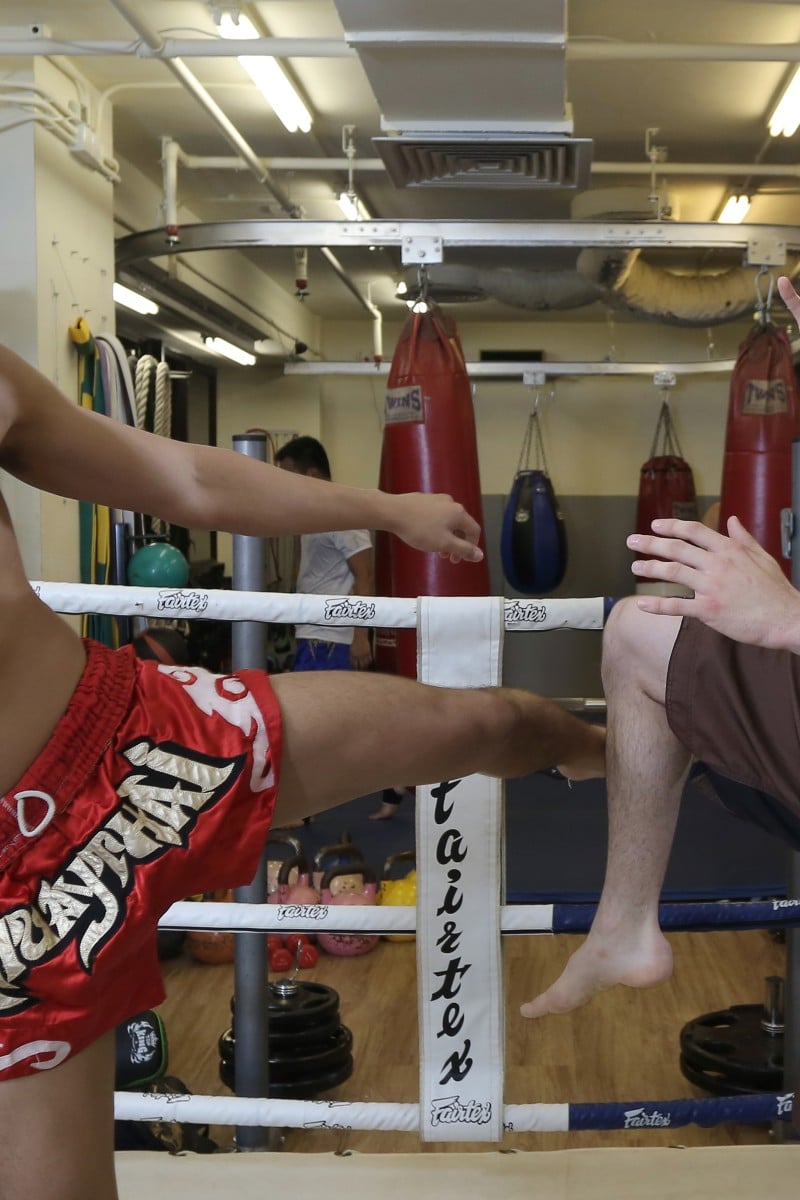 Face off: Should martial arts be part of the school PE curriculum?
Would students benefit if martial arts were added to the school PE curriculum? Two students discuss the pro's and con's ...
Compiled by Heidi Yeung
|
Mike Dacuno (L) and Max Leali practice Muay Thai at Versus Performance.
Wincy Leung, 18, King George V School
Many people around the world practise martial arts, such as judo, kung fu, taekwondo and Muay Thai. These "sports" can be very useful but they have not yet been added to school PE curriculums in many places, including Hong Kong.
Martial arts would give students another choice besides the regular physical activities (for example, basketball and football). It would provide a new, creative experience for them, helping to boost their self-confidence, dedication and perseverance. These skills are essential in a school environment. This can be seen among students in Japan, where martial arts are a part of the country's school curriculum.
Studies have shown a connection between practising martial arts and increased self-esteem. Through these activities, students can learn from their peers, develop discipline, and cultivate respect for different cultures. Martial arts strengthen muscles and endurance, while improving flexibility, balance, agility and coordination. Therefore, with better mental and physical health, students will lead a happier, well-rounded life.
Martial arts promote a healthy lifestyle, and offer many benefits that other sporting activities lack. For example, tai chi is a good way to reduce stress and relax after a hard day at school.
Although the benefits are there for all to see, some people still regard martial arts as a violent physical activity, rather than a form of self-defence. The best way to get rid of such false ideas is to promote the true value of martial arts in schools.
Jimin Kang, 17, Chinese International School
With the rising popularity of martial arts, it's clear that many students get a "kick" out of sports like taekwondo, karate and kung fu. It's great to see so many students pursuing these activities in their spare time. But would martial arts be so great in a school environment? I don't think so.
There are several reasons why introducing martial arts to the PE curriculum wouldn't be a good idea. Firstly, martial arts are not for everybody - one has to have a certain level of focus, drive and patience. These qualities are not universal. By making martial art a compulsory sport, many students who are unsuited to its demands may find themselves distracted or under pressure. This could affect their self-esteem.
Secondly, schools should not be promoting values like aggression that are often linked to martial arts. Many supporters argue that martial arts are a form of self-defence. I don't agree. Schools are well-known for their peaceful learning environment. So they should not promote "violence" during PE lessons because it will send the wrong message to the students.
Lastly, when a school adds martial arts into its PE curriculum, it may have to drop other sports, including team sports, due to a lack of time and resources. Team sports help boost students' sense of leadership, cooperation and sportsmanship. Schools would definitely be better off with a wider variety of team sports, rather than introducing martial arts to their PE programmes.
Sign up for the YP Teachers Newsletter
Get updates for teachers sent directly to your inbox
Sign up for YP Weekly
Get updates sent directly to your inbox