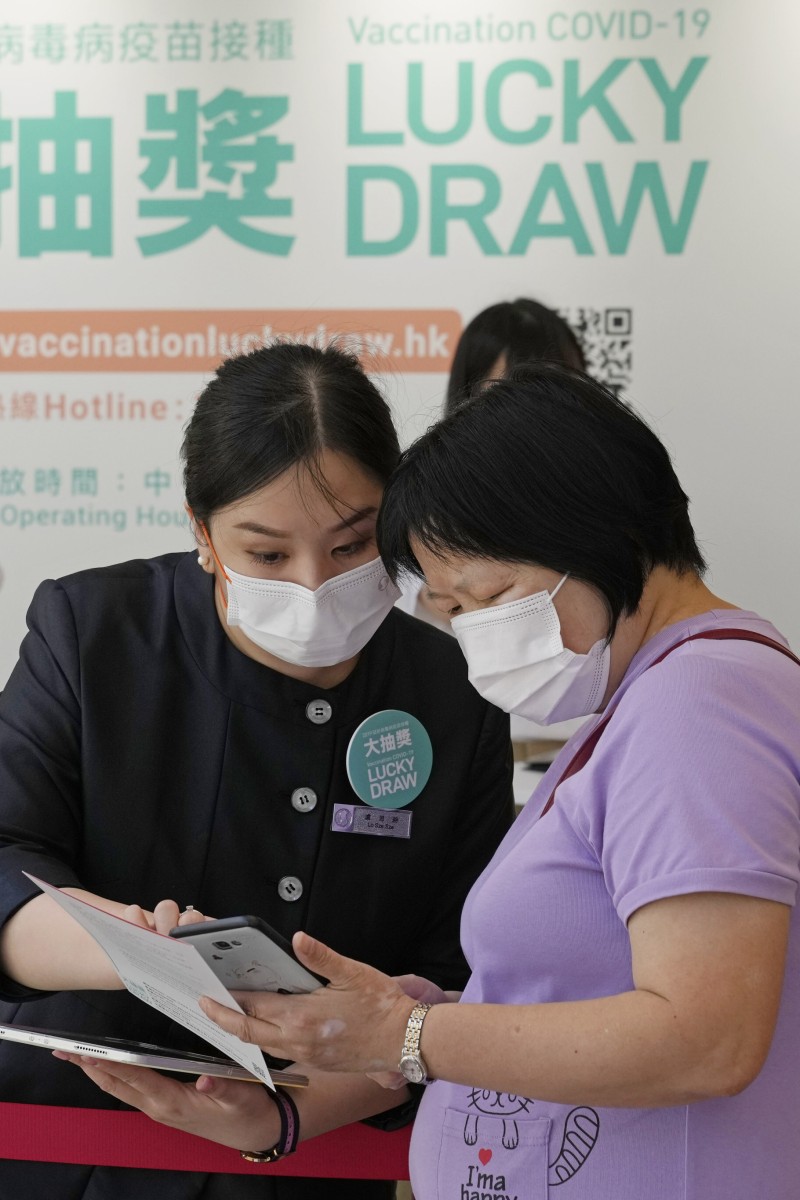 Face off: Should incentives be provided to encourage more people in Hong Kong to get vaccinated against the coronavirus?
Rhea Saxena
Nayab Naseer Qureshi
Each week, two of our readers debate a hot topic in a showdown that doesn't necessarily reflect their personal viewpoint

This week, students discuss whether rewards – such as a Tesla or a free flat – are a good way to get the city closer to its herd immunity goal
Rhea Saxena
Nayab Naseer Qureshi
|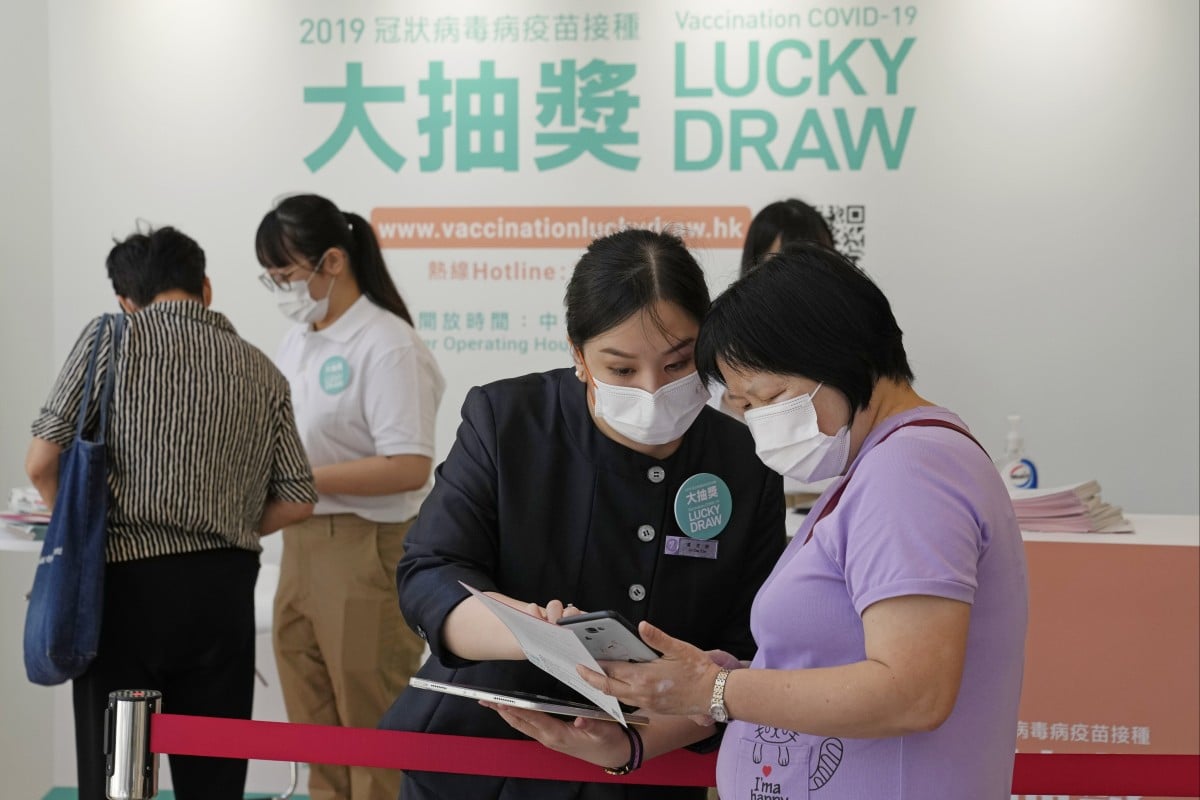 In Hong Kong, people have been offered rewards for getting vaccinated against Covid-19. Photo: AP
If you are interested in joining future Face Off debates, fill out this form to submit your application.
For: Rhea Saxena, 14, King George V School
While Hong Kong's vaccination rate has been improving in recent months, it still has yet to reach the 70 per cent "herd immunity" benchmark set by government health advisers. For this reason, incentives are needed to increase the number of vaccinated individuals.
As of October 6, 63.1 per cent of eligible people are fully vaccinated in Hong Kong. The city's vaccination drive is voluntary, so citizens are not obliged to get jabbed. To improve our numbers, the government should offer incentives to recognise those who are inoculated for helping Hong Kong reach herd immunity.
Single-dose vaccine for Hong Kong youth aged 12 to 17
Incentives could include free cinema tickets or vouchers for different stores. This would make a huge difference for teenagers, as they love free food and entertainment. Not all eligible teens have been jabbed yet, so this could encourage them to do so.
To add on, the pandemic has affected many businesses, and offering vouchers for restaurants and shops could help boost their sales. This is definitely a win-win situation. Incentives not only benefit the public, but also business owners and the government in the long run.
Hong Kong school returns to full-day lessons after meeting vaccination target
Incentives could also promote health – such as discounted gym memberships or free healthy cooking classes.
Hong Kong has some of the strictest quarantine policies and social-distancing restrictions in the world.
We have been stuck at home for so long – students sitting through hours of Zoom lessons, and many adults working from home. We must take care of our health. Incentives for inoculation are a way to protect more people against Covid-19 while also encouraging them with healthy rewards. This is the message the government should be promoting.
Above all, the government may even loosen current social-distancing measures if we reach herd immunity.
People queue up for the BioNTech vaccine at Choi Hung Road Badminton Centre. Photo: Edmond So
Against: Nayab Naseer Qureshi, 17, True Light Girls' College
Many believe that providing a reward will motivate someone to do a required task. While this seems to be the case for Hong Kong's vaccination programme, incentives actually do more harm than good.
Many Hongkongers are hesitant about the Covid-19 vaccine. Quite a few of them are not in a rush to trust the jab because the city has not yet faced severe outbreaks like those in many other places around the world.
From cash to a Tesla, and even a flat, incentives have instilled excitement about the vaccine. But even as incentives have encouraged some to get vaccinated, people who might be eager for the rewards might not consult doctors before getting jabbed, which could put their health at risk.
WHO Covid chief: 'We're not out of the woods' in the fight against Covid-19
Despite the initial increase in vaccination numbers, the city still has not reached the 70 per cent needed for herd immunity. In the end, incentives were not effective enough.
Most prizes have been offered by the private sector. This suggests that companies are compromising their budgets to get the vaccination rate rolling. But with many people suffering and losing their jobs during the pandemic, businesses should work on supporting their staff or hiring new people, rather than funding an inoculation campaign.
It is wiser to use the money on vaccine education, rather than showering money on citizens just to get them to protect themselves.
The same goes for the government. It is important to focus funds on public welfare in the middle of a pandemic.
YouTube cracks down on anti-vaccine and coronavirus misinformation
Lack of information is the main cause of people's mistrust of the vaccine. Instead of providing incentives, we should put more effort into supplying the public with accurate, scientific information from trustworthy sources.
Ultimately, education is the best way to change the minds of people who still have not got vaccinated.
Governments can play a key role in that. Providing incentives has some benefits, but we must look at the bigger picture if we want to protect everyone from Covid-19 and end the pandemic.
Sign up for the YP Teachers Newsletter
Get updates for teachers sent directly to your inbox
Sign up for YP Weekly
Get updates sent directly to your inbox