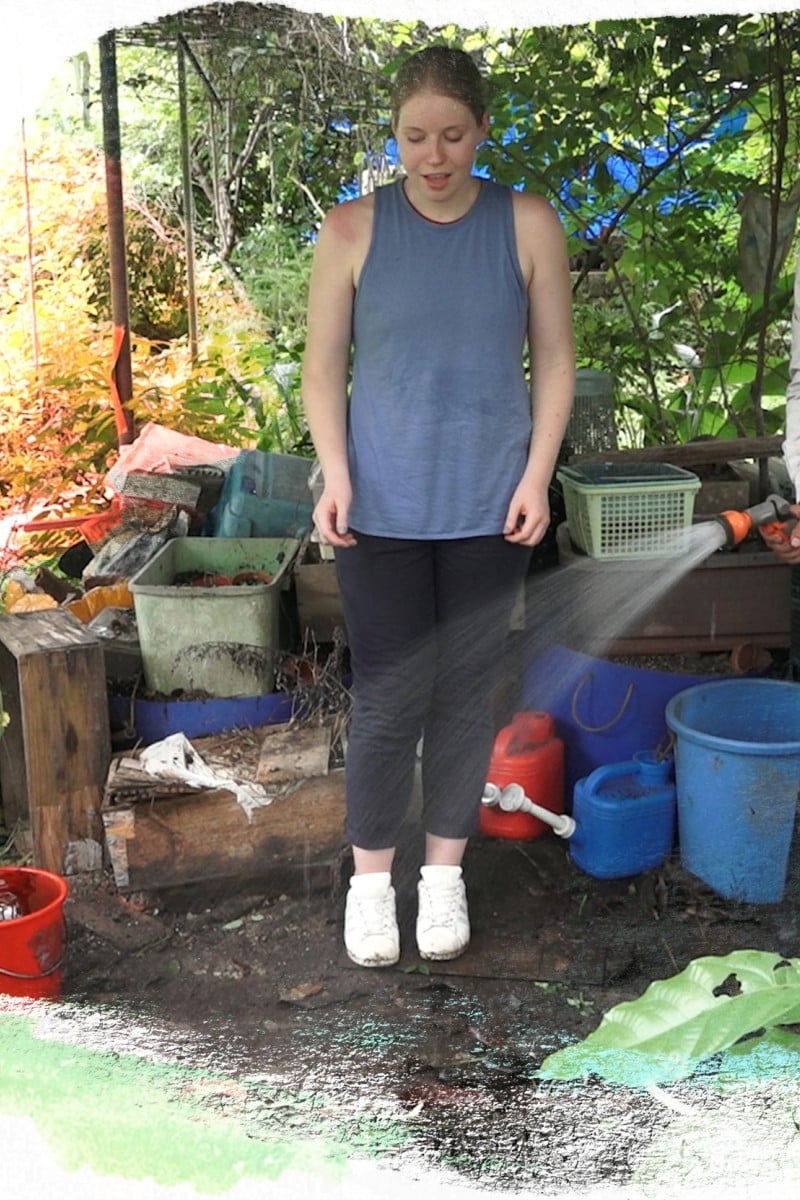 On the job: Learning about the unexpected jobs that come with working on organic farms
We gets our hands dirty while learning about what it takes to be a community farmer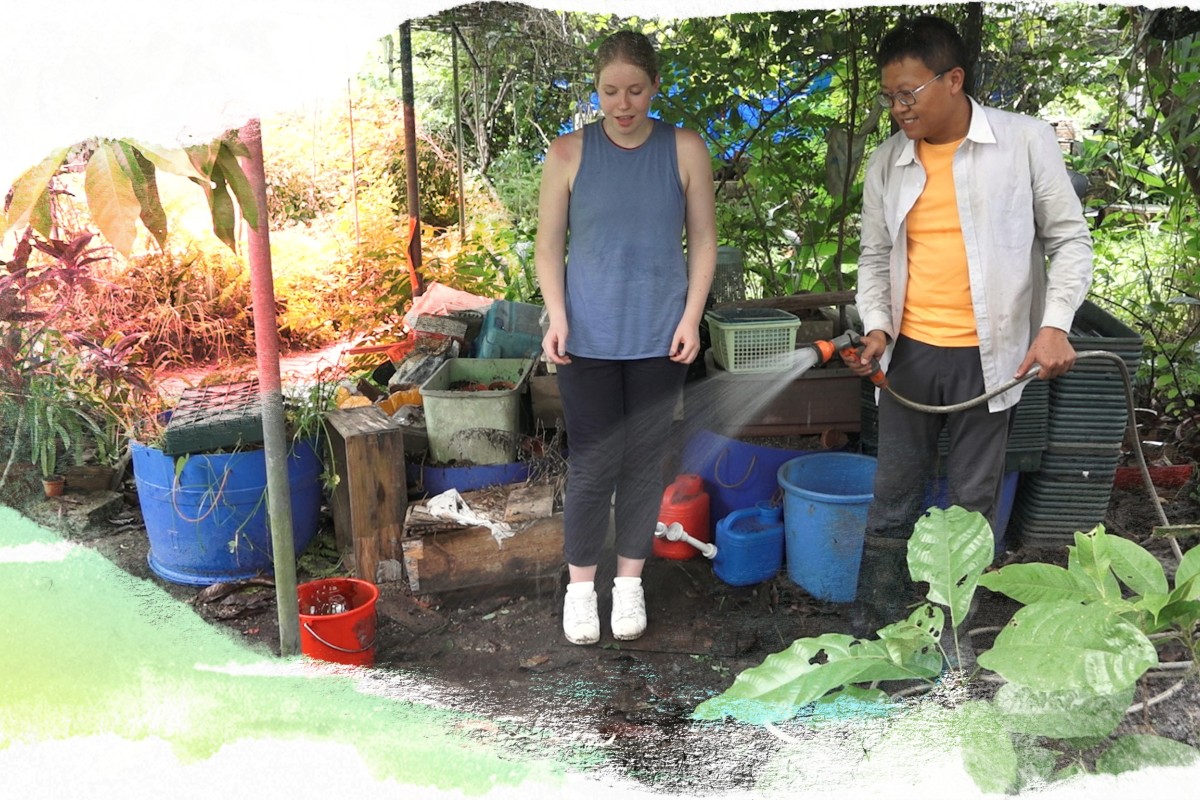 Choi Wing-lun (right) hands Charlotte Ames-Ettridge a hose so she can water the plants.
When I was told I'd be visiting a farm in the New Territories for Young Post's "On The Job" series, I envisaged running through golden fields, bottle-feeding lambs and braiding ponies' manes. It probably comes as no surprise that the reality was very different.
O Farm is a community-run plot in a relatively unspoilt corner of Fanling. Its organic produce – which ranges from winter melons and okra to beans and pulses – is sold at markets and in stores around the New Territories.
On the day of my visit, it was pouring, and I was already wet and messy when I arrived at the entrance of the farm. Waiting for me there was horticulturalist Choi Wing-lun, one of the farm's dedicated workers. Choi explained that a lot of the work that needed doing that day would have to be postponed because of the rain – but that didn't mean I was off the hook. Choi still had lots of jobs for me to do.
On the job: A doctor of Chinese medicine shows us the basics of acupuncture and other TCM techniques
The first task he set me was to harvest a winter melon – one of the farm's main crops. First, I had to wipe down the melon to remove all the hairs from its surface, as these can irritate human skin. Then, as Choi started to cut the melon from its stalk with a knife, I got ready to catch it. That thing was heavy – but I was determined not to let it show. Cradling my prize crop, we returned to the outhouse so I could weigh it: 7.6kg. I thought that was pretty impressive, but Choi said it was far too small, and that the melons he usually sells typically weigh around 10kg. I tried not to take this personally.
Next, it was time to plant some mint. Choi already had some growing in pots, but some had outgrown their pots and needed to be re-potted. Choi showed me just how much soil and fertiliser to add to each pot, and soon enough we had a row of brand new seedlings. Choi then handed me a hose so I could water them. I wasn't sure why we couldn't just put the plants out in the rain if they needed watering, but Choi explained that the plants needed to be kept inside until they sprouted, because they were too fragile to be placed
in heavy rain or direct sunlight.
On the Job: The surprising challenges of becoming a bubble tea master
As Choi also explained, there is a lot more to running a farm than the crops themselves; the grounds also require constant maintenance. I discovered this when Choi handed me a saw and told me we were going to cut down a tree – a prospect I was immediately unnerved and excited by. Even with no lambs or calves, community farming could be fun.
I followed Choi down a muddy path to a small but overgrown tree. He showed how to first saw off the end of the branch, and then remove it completely at the trunk. To stop the skin of the branch from splitting, I had to first saw into it from beneath, then again from above. My dad is a carpenter, so I should've been great at this. In reality, I was … just about okay. I didn't want Choi to think I wasn't up to the task, so I did my best to keep sawing away – despite the fact that I could feel hundreds of insects gnawing at my poor ankles as we stood in the wet brushes.
Given that my day job usually requires me to be chained to my desk, it was really fun being able to spend some time outside getting my hands dirty. That said, a few hours in an allotment does not equate to a full-time job as a horticulturalist. I also didn't enjoy trudging through the mud and getting eaten alive by mosquitoes.
Farming can be really rewarding, but it's also very demanding. Choi gave up a well-paid job in banking to become a community farmer – that's the level of commitment you need to have to do this. Otherwise, you might be better off sticking to house plants.
Edited by M. J. Premaratne
Sign up for the YP Teachers Newsletter
Get updates for teachers sent directly to your inbox
Sign up for YP Weekly
Get updates sent directly to your inbox