Britain's rule of Hong Kong was 'occupation', say draft teaching materials for the revamped subject

Teachers say the revisions could narrow room for classroom discussion of Hong Kong's history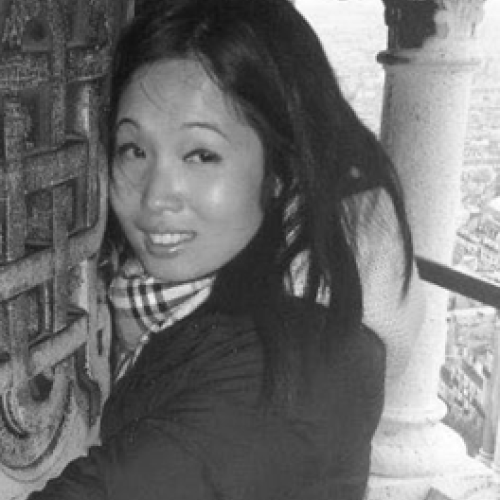 Doris worked in educational publishing, including the BBC and Cengage prior to joining the Post in 2018. She specialises in creating graphics and digital learning content, and has a particular interest in issues related to mental health and wellness.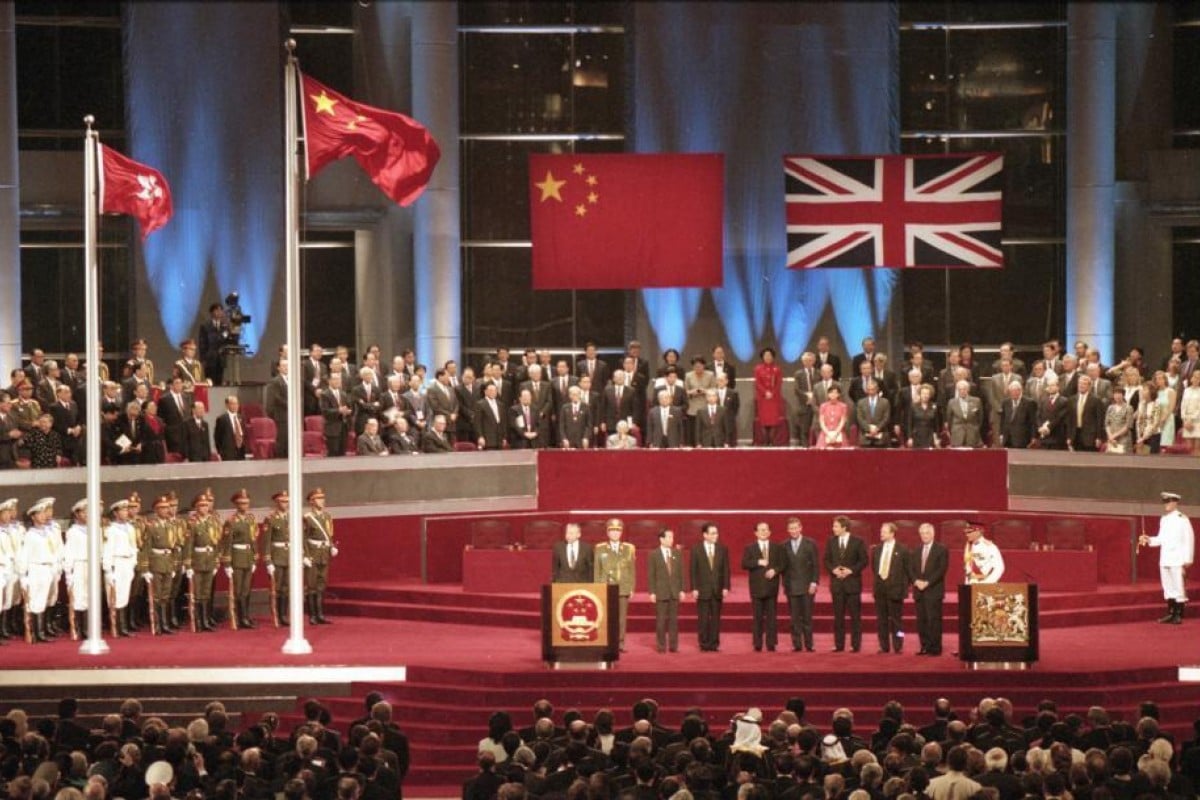 Draft learning materials from a major publisher no longer describe this 1997 event as a "handover". Photo: Robert Ng
News: Sample questions offer glimpse of how Hong Kong pupils will be tested in newly revamped liberal studies 
At the end of last month, Hong Kong students had a glimpse of how they would be tested in the revamped liberal studies subject. The sample exam paper released by the city's exams authority on July 23 dealt with three themes: vaccine hesitancy, the national security law, and China's Greater Bay Area scheme.
The subject has been renamed "citizenship and social development". 
One sample question asked students to identify one concern people might have over the business environment after the national security law's implementation, and to use the materials provided to explain how this concern could be eased.
The materials included excerpts  from the financial secretary's blog and  a speech in which he mentioned the  city's financial markets remaining stable and continuing to operate smoothly  after the security law came into effect in June 2020.
Students were also given Article 1 of the legislation, which states that one of its purposes is to "protect the lawful rights and interests of [Hong Kong] residents". This came along with a photo of a flag-raising ceremony at a school during the government's National Security Education Day on April 15.
Militant Ronald McDonald sparks controversy in liberal studies textbooks 
Based on the same set of materials, they were also asked to explain how important school education was in nurturing young people with a sense of belonging towards the country.
Tin Fong-chak, who has taught liberal studies for more than 10 years, said the sample questions appeared to do little to hone pupils' critical thinking skills. They were, instead, a more straightforward way to score a passing mark.
"When the materials provided are mostly on a positive note, pupils lack the skills to think from multiple perspectives and come up with their own judgments," said Tin, who is also vice-chairman of the opposition-leaning Professional Teachers' Union.
But Wong Wai-shing, vice-chairman of the pro-establishment Federation of Education Workers and a deputy principal at a secondary school, said he believed issues such as national security should not be dealt with in terms of negative and positive sides.
"For some values, it is not necessary to discuss the negative side of them," he said. "For instance, it is a natural thing for each resident of every country to safeguard national security, just like every child should be good to their parents."
Staff writer
Is the former liberal studies syllabus able to improve Hong Kong students' critical thinking skills? Explain.

In no more than 50 words, explain how the Education Bureau's attitude towards the subject has evolved from when it was first introduced to today. Explain your answer based on News, Context and your own knowledge.

Who in the Quotes box is MOST likely to agree with Wong Wai-shing that it is not necessary to discuss both positive and negative aspects of issues such as national security, and why? 
Liberal studies could be renamed 'citizenship and social development'
First introduced in 2009 as one of four core subjects for senior secondary school students in a major curriculum revamp, liberal studies aimed to enhance pupils' social awareness and develop their critical thinking skills.
But the subject became controversial in recent years. Pro-establishment lawmakers and heavyweights blamed it for escalating violence among young people during the 2019 anti-­government protests, and some teaching materials were labelled as biased.
Chief Executive Carrie Lam Cheng Yuet-ngor said in her fourth policy address last December that the subject needed to be reformed because it had deviated from its original objectives. She later added that under the curriculum, critical thinking had been interpreted as objecting to everything about the government.
The Education Bureau announced early this year the subject would be renamed "citizenship and social development" under wide-ranging reforms. The overhauled course will be taught to pupils starting from this September, and the first Diploma of Secondary Education (DSE) exam in the subject is expected to take place in 2024.
Under the new changes, teaching hours for the subject will be cut by half, while the assessment criteria will shift to a simple pass or fail, rather than a traditional grade. 
The syllabus will include new elements on national security, patriotism, national development and lawfulness. National development and patriotism will account for more than a third of the adjusted syllabus. All textbooks will be vetted, and students will be required to visit the mainland.
Staff writers 
The 1989 Tiananmen crackdown can be discussed in the revamped liberal studies. Photo: AP
Issue 1: New liberal studies curriculum should not cover current affairs, can include Tiananmen crackdown
The revamped liberal studies syllabus should not cover ongoing current affairs, but events  such as the 1989 Tiananmen Square crackdown could be kept, according to Hong Kong's  education minister.
"Controversies surrounding the subject have been incessant since its introduction, from debates on whether the [compulsory] subject should be introduced, to its content, teaching, and whether there should be textbooks," Secretary for Education Kevin Yeung Yun-hung said last December.
Some of the subject's initial curriculum aims included the enhancement of critical thinking skills and knowledge of contemporary social issues. Teachers were advised to use news clippings and online materials to encourage pupils to keep themselves updated on current issues, under the government's guidelines in 2007.
While schools were not required to use textbooks for the sake of flexibility, there was criticism in recent years that some teaching materials were biased.
Teachers are split over the changes to liberal studies
"We don't think [teachers] should talk about something which has just happened – simply showing students newspaper clippings and having them discuss the issue. In terms of information gathering and to know the whole truth about the event and its development, it is difficult for pupils to come up with a [holistic] analysis," Yeung said.‌
He added that while Hong Kong enjoyed freedom of expression, students also had to  understand the importance of being law-abiding citizens, and how Hong Kong fit into the nation and its constitution. "For example, under the 'one country, two systems' framework, it is impossible for us to allow discussions in classrooms on Hong Kong independence. But on certain topics such as the June 4 [Tiananmen Square crackdown in 1989], for instance … there is no saying that June 4 cannot be discussed during class," Yeung said.
Asked whether the 2019 anti-government protests or the 2014 Occupy movement could be discussed, Yeung said: "I don't think students cannot discuss any of the incidents which happened in our community over the past few years.
But the important thing is that students should not have a misconception about [what is being taught]."‌
Staff writer
From Issue 1, identify and elaborate on TWO new changes that students studying citizenship and social development in September can expect when compared to liberal studies.

In your opinion, how can the 1989 Tiananmen Square crackdown be taught in a fair and unbiased manner so that students do not have any misconception about the event? Explain your answer using your knowledge of the incident.
What is the tone in both cartoons towards the citizenship and social development subject?

Based on News and your answer to the question above, suggest how both cartoons might be biased regarding the revamping of liberal studies.
Issue 2: Revamped liberal studies textbook rewrites British  rule over Hong Kong 
Britain's rule of Hong Kong was an "occupation which violated international conventions", according to draft versions of the revamped liberal studies textbooks from a major publisher.
The learning materials described the transfer of power back to China in 1997 as Beijing "resuming the exercise of sovereignty over Hong Kong", whereas "handover" was exclusively used to describe the event in the company's liberal studies textbooks previously.
Teachers said the revisions, which were part of a wider revamp of the mandatory subject for older students, could narrow room for classroom discussion of the watershed moment in Hong Kong's history.
The new materials developed by Ling Kee Publishing were sent to schools in May to help teachers prepare classes for Form Four students starting in September. Publishers started distributing new teaching materials to schools earlier this year, which were all vetted by the Education Bureau under rules adopted in 2020.
Ling Kee's version also said the Chinese government had "never recognised the effectiveness of unfair treaties" between the Qing dynasty (1644-1911) and Britain.
"Over the more than 100 years before the handover, Britain's governance of Hong Kong was an act of occupation which had violated international conventions. China did not recognise unequal treaties and had never given up sovereignty over Hong Kong's territories," the book stated.
A veteran liberal studies teacher said he had not seen the phrase that stated Britain's "occupation of [Hong Kong] had violated international conventions" in school textbooks before, and that it was in contrast with the understanding of many Hongkongers.
"Questions will arise among many people why the narrative of Britain occupying Hong Kong illegally should prevail," he said. "Students may also question if the subject acts as a purpose of political propaganda and if teachers are helping to promote that."
Staff writer
Based on the explanation of how Hong Kong was ceded to Britain in the Glossary, explain to what extent the new materials developed by Ling Kee Publishing border on political propaganda.

Refer to Secretary for Education Kevin Yeung's quote in the last paragraph of Issue 1. How is that in agreement or conflict with Issue 2, and why? 
How students feel about the liberal studies changes
"Liberal studies would undoubtedly benefit from a revamp, especially given the rapid flow of misinformation [due to] modern technology that ... polarises opinions and breeds distrust."
– Jaden, a student who will start studying for the DSE exam in the revamped subject in September 2022
"As we are now going to refine the subject, we are trying to [give] the subject a new start … We have no problem with the word liberal. It's just that when we discuss the subject with different sectors in society, there are certain sectors who feel that this subject is very bad."
– Secretary for Education Kevin Yeung Yun-hung
"Some commentators worry that the revamped curriculum might overemphasise Chinese cultural heritage and overlook other civilisations ... Critical thinking means that we must not blindly applaud the adversarial political system of the West, nor should we praise the Chinese system without analysis. We need to nurture independent thinking and personal development."
– Ho Lok-sang, senior research fellow at Pan Sutong Shanghai-Hong Kong Economic Policy Research Institute at Lingnan University
Britain's rule of Hong Kong: Britain took possession of Hong Kong in three phases. Britain and China's Qing dynasty signed the Treaty of Nanking in 1842 after the first opium war, ceding Hong Kong Island. Control of Kowloon Peninsula followed under the Convention of Peking in 1860 after the second opium war. The New Territories were added under a 99-year lease in 1898, three years after China's defeat in the first Sino-Japanese War.
critical thinking skills: the ability to engage in reflective and independent thinking, and to understand and address situations based on all available facts and information provided
Education Bureau: responsible for formulating and implementing education policies in Hong Kong
international conventions: treaties or agreements between countries
Greater Bay Area: the central government's plan to link the cities of Hong Kong, Macau, Guangzhou, Shenzhen, Zhuhai, Foshan, Zhongshan, Dongguan, Huizhou, Jiangmen and Zhaoqing into an integrated economic and business hub
political propaganda: information, which is false or which emphasises just one part of a situation, used by a government or political group to influence opinions
1989 Tiananmen Square crackdown: also known as the June  Fourth incident. This refers to a series of student-led protests and demonstrations in China in the spring of 1989. It culminated on the  night of June 3 and 4 with a government military crackdown on demonstrators in Tiananmen Square in Beijing. 
Sign up for the YP Teachers Newsletter
Get updates for teachers sent directly to your inbox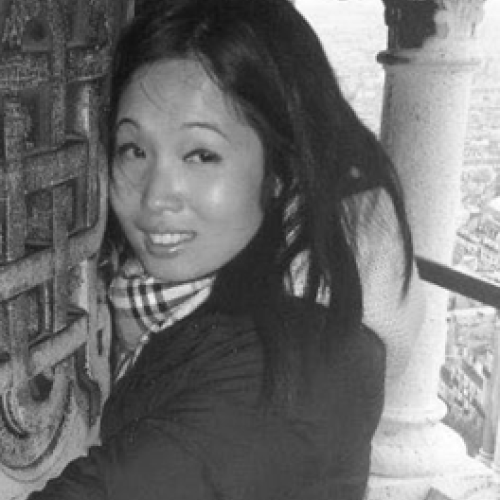 Doris worked in educational publishing, including the BBC and Cengage prior to joining the Post in 2018. She specialises in creating graphics and digital learning content, and has a particular interest in issues related to mental health and wellness.
Sign up for YP Weekly
Get updates sent directly to your inbox