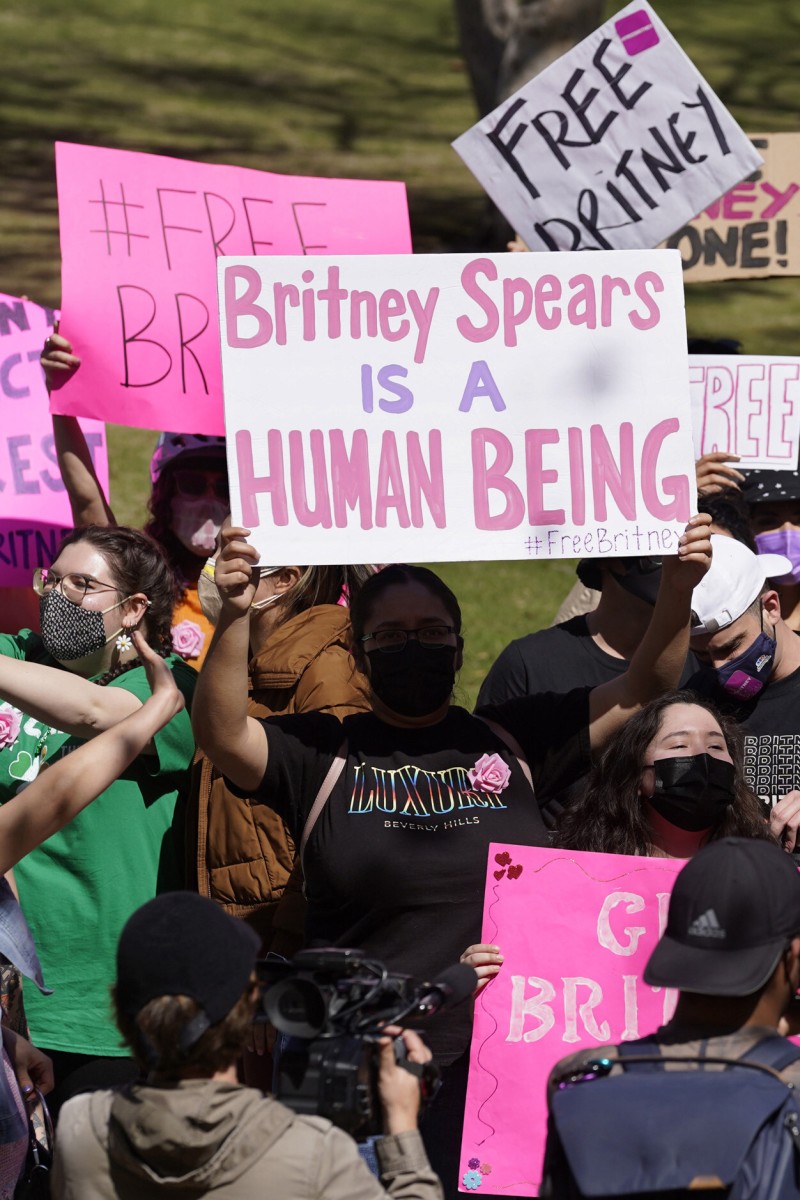 Study Buddy (Explorer): Britney Spears urges judge to end conservatorship that gives her father control of her affairs
Each week, Study Buddy Explorer presents an interesting story that we have adjusted to be more accessible for all English learners

Check your reading comprehension using the questions below or in the linked Kahoot! game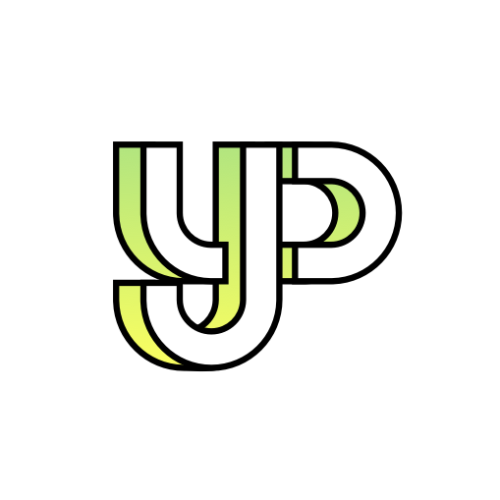 We cover the latest news, views and stories on Hong Kong students, school life, sport and local education, as well as keeping tabs on what's hot and what's not.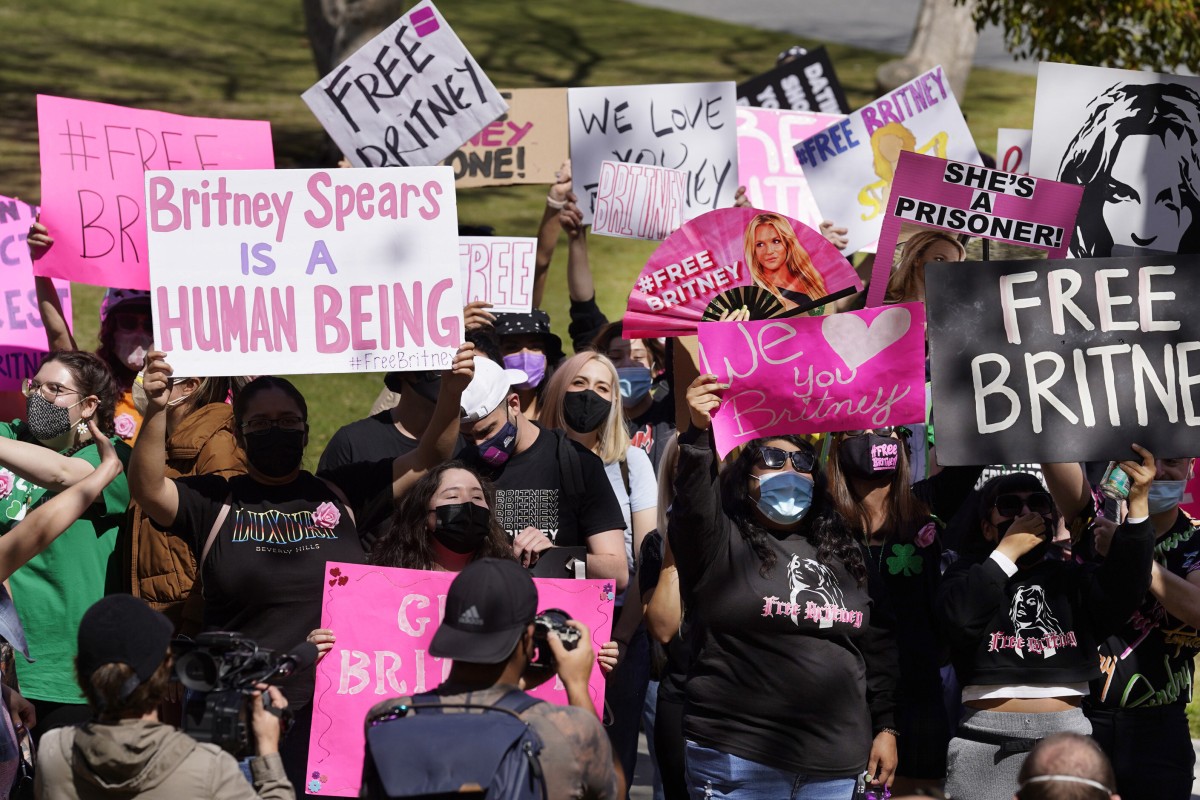 Britney Spears fans hold signs outside a court hearing concerning the pop singer's conservatorship. Photo: AP
Content provided by the British Council
Read the following text and answer questions 1-9 below:
[1] American pop singer Britney Spears urged a judge to end a controversial conservatorship that has given her father control of her affairs since 2008 during an emotional court hearing in June. Under the conservatorship, the singer's career, finances and daily life has been in the hands of legal guardians. This arrangement began when she faced a mental health crisis, and the court decided she was unable to make her own decisions.
[2] "I just want my life back. It's been 13 years, and it's enough," Spears said in the 20-minute video address. Outside the courthouse in Los Angeles, California, loyal fans were chanting their support.
[3] The 39-year-old star's finances and personal life have been mostly managed by her father, Jamie Spears, since her public breakdown more than a decade ago. This situation has led some fans to launch a "Free Britney" online campaign in recent years.
[4] In her passionate speech, Spears barely stopped to catch her breath and swore twice. The singer said the legal arrangement had left her "traumatised" and "depressed". "I'm not happy. I can't sleep. I'm so angry. It's insane," she said, adding that she cries every day. "I truly believe this conservatorship is abusive. I want changes – I deserve changes," Spears pleaded to Judge Brenda Penny. The singer has rarely spoken directly about the conservatorship. But her lawyer Samuel Ingham said that the hearing was happening because Spears wanted to directly address the court.
[5] Spears has long had a difficult relationship with her father Jamie Spears. In 2020, she filed to remove him from the conservatorship and give all the power over her money and property to a financial institution. Her court-appointed lawyer said she was "afraid" of her father. For many years, devoted Spears fans have looked closely at her social media accounts for hints about her well-being, and any signs that she wanted to end the conservatorship.
[6] Confidential records published in June by The New York Times said Spears told a court investigator that the conservatorship had "become an oppressive and controlling tool against her" as far back as 2016. Spears reportedly said the conservatorship system had "too much control", and that she was not allowed to make her own decisions on friendships, dating, spending and even the colour of her kitchen cabinets.
[7] Spears is currently required to pay the legal bills for both sides – including the hefty fees charged by the lawyers on the other side of her case.
[8] The controversy about Spears' legal case exploded after the documentary Framing Britney Spears was released in February. The documentary showed her breakdown and how her father was appointed as her guardian.
[9] In a statement read in court, a lawyer for Jamie said he was "sorry to hear her in so much pain" and that he loved his daughter "very much".
Source: Agence France-Presse, June 24
Play a Kahoot! game about this story as a class or with your friends by clicking on the link here.
Or play on your own below to test your understanding:
1. Find a word or phrase in paragraph 1 that has a similar meaning to "encouraged".
2. According to paragraph 2, what were Britney's fans doing as she gave her video address?
3. What happened to Britney almost a decade ago, according to paragraph 3?
A. Her father began to manage her finances.
B. Her father began to manage her personal life.
C. She had a breakdown.
D. all of the above
4. Read paragraph 4 and decide whether the following statements about Britney are True, False or Not Given. (4 marks)
Statement
(i) She was calm and unemotional in her video.
(ii) She used curse words in the video.
(iii) Her fan were really upset after watching the video.
(iv) She often speaks about the issues she has with her conservatorship.
5. Whom did Britney want to give control of her money and property to?
A. her father
B. herself
C. a financial institution
D. a lawyer

6. List two things Britney has reportedly said she has no control over in paragraph 6. (2 marks)
7. Which word has an OPPOSITE meaning to "hefty"?
A. high
B. reasonable
C. expensive
D. none of the above
8. According to paragraph 8, what caused the public to have interest in Britney's case?
9. How might Jamie Spears be feeling according to paragraph 9?
A. apologetic
B. angry
C. worried
D. confused
1. urged
2. chanting their support for her
3. D
4. (i) F; (ii) T; (iii) NG; (iv) F
5. C
6. friendships, dating, spending, the colour of her kitchen cabinets (any 2)
7. D
8. the release of the documentary Framing Britney Spears
9. A
Sign up for the YP Teachers Newsletter
Get updates for teachers sent directly to your inbox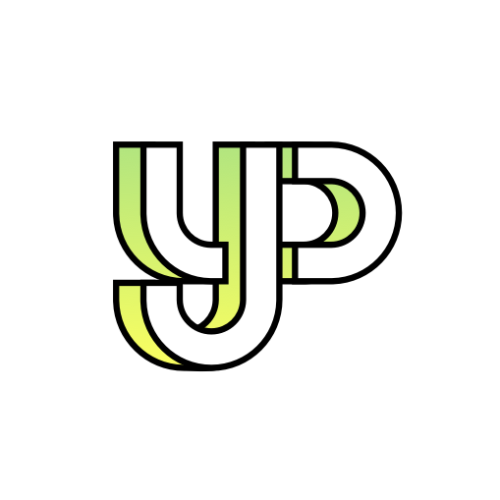 We cover the latest news, views and stories on Hong Kong students, school life, sport and local education, as well as keeping tabs on what's hot and what's not.
Sign up for YP Weekly
Get updates sent directly to your inbox