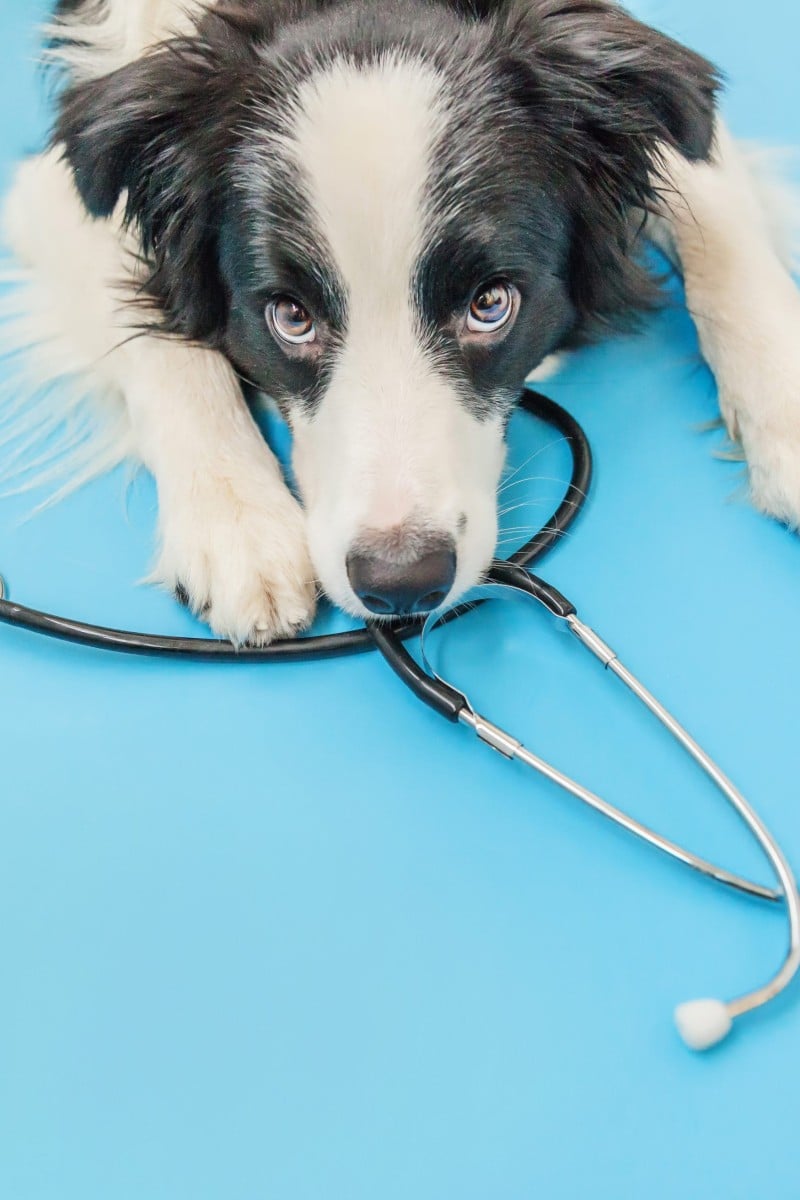 5-minute listening: A day in the life of a vet nurse
Practise your English with our short listening exercises: play the audio linked below; answer the questions; and check the answers at the bottom of the page

In this week's podcast, a veterinary nurse tells her friend about her work schedule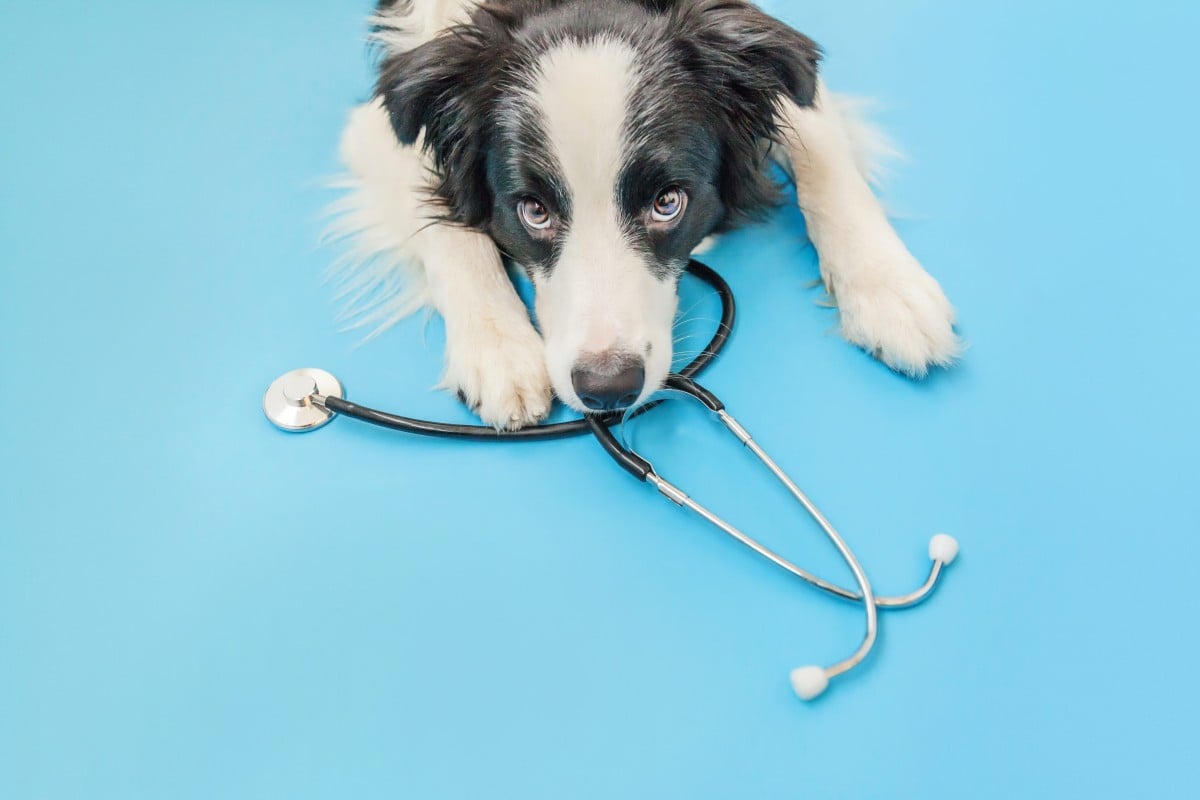 The dog is the nurse actually, and he would appreciate some respect. Photo: Shutterstock
Click on the video below for the audio.
Play a Kahoot! game about this podcast as a class or with your friends by clicking on the link here.
Or play on your own below to test your understanding:
1. What are Aisha and Vicky trying to figure out in this conversation?
A. how Aisha is feeling post surgery
B. how Vicky is doing at her new job
C. when they can meet each other
D. when they both can take time off from work

2. What does Vicky do?
A. She performs operations on injured animals.
B. She assists vets in the treatment and care of sick animals.
C. She rescues animals that have been abused.
D. She takes care of stray animals and helps them to find a new home.

3. What is another word for "hectic"?
A. restless
B. busy
C. exciting
D. active

4. What does Vicky need to do apart from assisting in regular consultations on Monday?
A. help out with a surgery
B. write and file reports
C. groom animals
D. train new staff

5. Why will Vicky have additional work to take care of on Tuesday?
A. because there are two major surgeries scheduled that day
B. because she needs to finish all the paperwork from the previous day
C. because all the appointments for that day are fully booked
D. because her colleague will be away

6. What special animal "patients" is Vicky taking care of on Wednesday?
A. two new-born puppies
B. a couple of senior cats
C. some kittens
D. a few stray hamsters
7. If two or more things happen "back to back", they take place …
A. one after the other
B. at the same time
C. very often
D. at the end of the day

8. What time does the vet clinic usually close?
A. right after lunchtime
B. close to evening time
C. after midnight
D. information not given

9. Which of the following best describes a workplace that is "understaffed"?
A. There are more workers than is necessary.
B. Some of the people employed to work there are lazy.
C. It has fewer than the usual number of people available.
D. It does not have enough workers.

10. What positions are the clinic hiring?
A. a veterinary surgeon and a receptionist
B. a veterinary nurse and an assistant
C. an animal therapist and a manager
D. a receptionist and part-time volunteers

11. How does Vicky feel about her workload in the coming days when she says "Things should get better soon!"?
A. disgruntled
B. determined
C. optimistic
D. uncertain
12. What are "walk-in" patients?
A. These animals have difficulty walking and moving around.
B. They are animal patients that require immediate medical attention.
C. This refers to pets whose owners have not made an appointment to see a vet.
D. These pets are usually seeing a vet for the first time.

13. What day of the week is the vet clinic the least busy?
A. Monday
B. Tuesday
C. Friday
D. information not given

14. Which of the following phrases can replace "have a quick lunch"?
A. grab a bite
B. work up an appetite
C. eat one's heart out
D. stuff one's face
15. Why did Aisha suggest having lunch at a café next to Shau Kei Wan MTR station?
A. because it is near Vicky's workplace
B. because the café has received good reviews
C. because it is walking distance from her home
D. because the café is pet-friendly
1. C
2. B
3. B
4. A
5. D
6. C
7. A
8. B
9. D
10. B
11. C
12. C
13. D
14. A
15. A
Aisha: Thanks for calling to check on me, Vicky! I'm feeling much better now. It's been ages since we last met each other. I'm thinking of taking some time off from work next week. Would you be free to meet up?

Vicky: I'm glad you're recovering well from the surgery. I'd love to catch up with you but I'm afraid I won't be available for the next couple of weeks. I've just started my new job as a veterinary nurse at a clinic in Shau Kei Wan and my schedule for the next three weeks is looking pretty hectic.
Aisha: Ohh … would you have time for a quick lunch or a coffee perhaps?
Vicky: Hmm … I'm looking at my schedule for next week on the computer. We have consultations from 10 in the morning until 2pm on Monday, and I have to help out with a surgery on a senior dog at half past three. I will need some time to prepare for the operation, as it is quite complicated. After this, I'll have to get ready for more consultations in the evening.

Aisha: How does Tuesday sound?

Vicky: Tuesday's not great either. One of our staff is on leave that day and I'll have to cover for her duties on top of my usual responsibilities. As for Wednesday, we are expecting a litter of stray kittens from the animal shelter in the morning. They need to have their X-rays taken and some tests run before they are rehomed. And there's back-to-back consultations from noon until closing time at 5.30pm. I suppose it's going to be a really busy day. I'll be lucky if I get to have proper lunch break.
Aisha: It sounds like your new job is really demanding. I hope you can find time to rest.

Vicky: Well, the clinic only opened last month and we are understaffed at the moment. There are only two veterinary nurses, including myself, so it's been a little overwhelming lately. We've recently put up job ads to hire another veterinary nurse and an assistant to help us out. Things should get better soon!
Aisha: Right. That should lessen your workload! So, how about Thursday and Friday?

Vicky: There is another morning surgery on Thursday and I have to catch up on some paperwork in the afternoon. The clinic's fully booked that day and … ohh … I just saw a 1pm appointment has been cancelled and the next one's at 1.45pm. Would you be free for lunch then? The clinic is busiest on Fridays with more walk-in patients, so I'm not sure when I'll have time for a break.
Aisha: Thursday at 1pm sounds good! There's a decent café right next to Shau Kei Wan MTR station. We could have a quick lunch before you get back to work?

Vicky: Yes, please. That would be terrific! Looking forward to catching up with you next Thursday!

Aisha: Great! See you then!
Sign up for the YP Teachers Newsletter
Get updates for teachers sent directly to your inbox
Sign up for YP Weekly
Get updates sent directly to your inbox