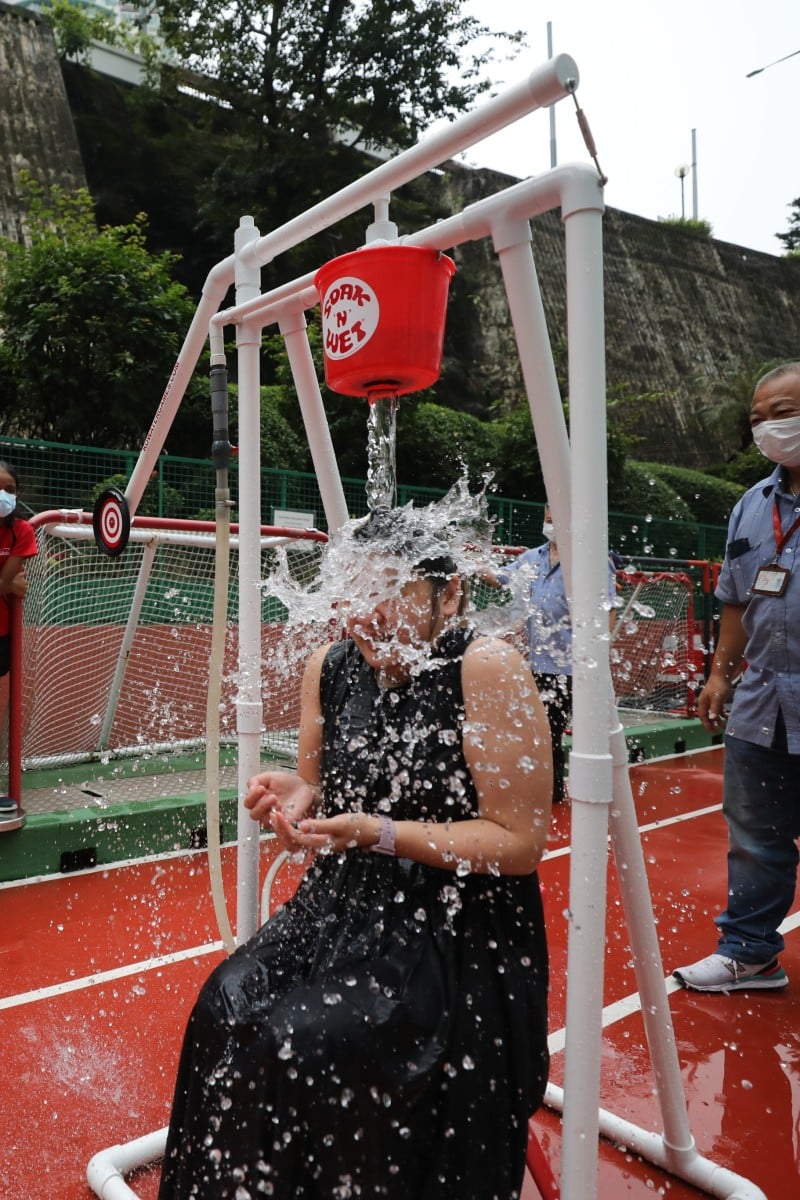 Sponsored
Operation Santa Claus: DSC International School uses dunk tank, dodgeball, crazy hats to raise HK$110,000 for charity
Students and teachers at the school in Taikoo Shing share the lessons they have learned from organising fundraising events for those in need

Marking its 35th anniversary this year, Operation Santa Claus is an annual fundraising campaign co-organised by South China Morning Post and RTHK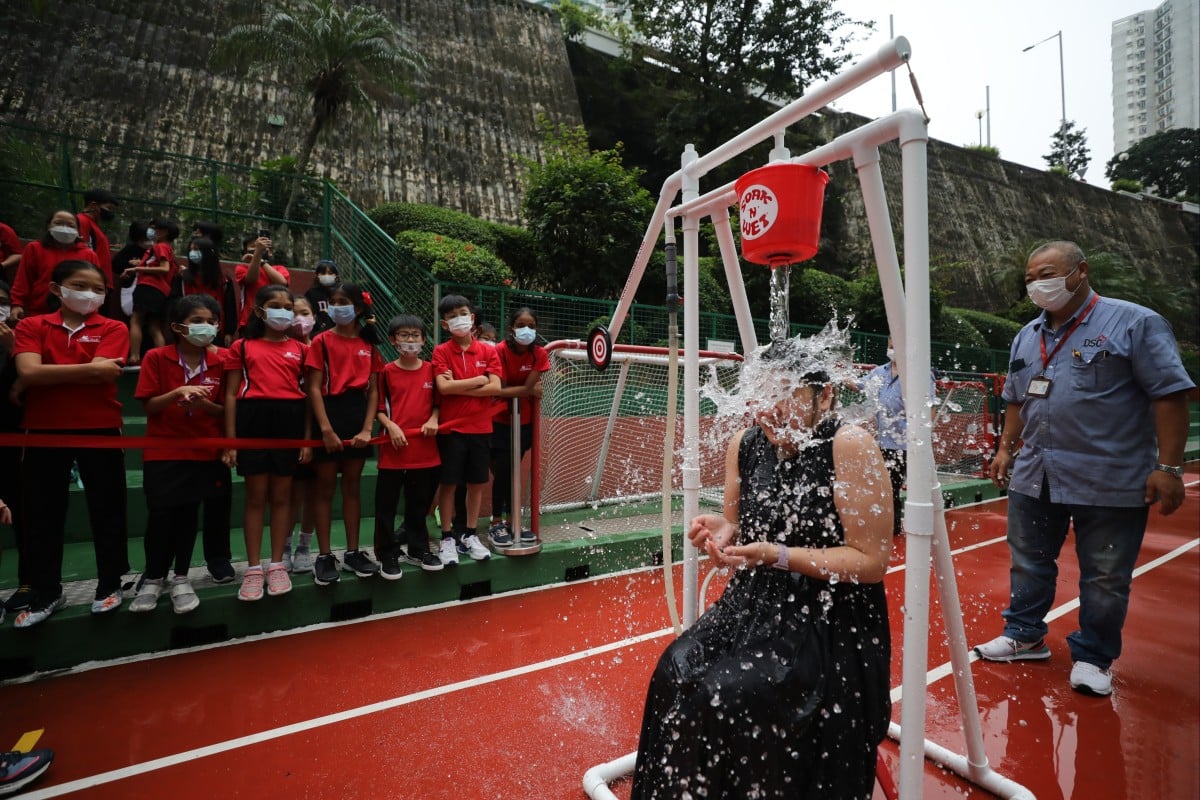 Wanda Wong, a teacher at DSC International School of Canada, takes part in the Dunk Tank Challenge to raise money for charity. Photo: Xiaomei Chen
Teachers getting soaked and students donning crazy hats were just some of the activities bringing fun and laughter to an international school in Hong Kong recently – and all for a good cause.
DSC International School held four fundraising events in November and December, raking in more than HK$110,000 for Operation Santa Claus (OSC) – an annual fundraising campaign co-organised by the South China Morning Post and public broadcaster RTHK.
Marking its 35th anniversary this year, OSC has raised HK$353 million to support the Hong Kong community through 323 charitable projects since its launch in 1988. A total of 15 projects are being funded in 2022.
"We feel very strongly about this charity [drive] because it supports so many different people in Hong Kong. It's not just giving to one group. So we really appreciate the opportunity to be able to give and help lots of different people in Hong Kong," said Rebecca Marans, head teacher of the school's elementary division.
Operation Santa Claus: Teaching Hong Kong children how to give back to those in need
"It really allows the kids to realise that they are quite lucky. Here in Hong Kong, there are a lot of people that need extra help," Marans explained.
"They often see people on the street. But they don't realise that there are also lots of other groups, like people who are differently abled and sometimes domestic workers, and lots of other groups that need help in Hong Kong. So this really gives them a chance to see that."
Established in 1986, the school in Taikoo Shing offers classes for pupils aged four to 18, of more than 40 nationalities.
Its series of OSC fundraising events, running from November 16 to December 9, kicked off with the Dunk Tank Challenge, where a student donor could throw a ball or beanbag at a target which, if hit, would trigger water to pour down from a bucket onto the selected teacher or school administrator sitting beneath it. It was a variant of the original "dunk tank" game where the player is dunked into a water tank beneath them.
Rebecca Marans (left, front) says Operation Santa Claus helps students learn more about groups in Hong Kong that need help. Photo: Xiaomei Chen
"Every year we try and come up with a new way to raise money for Operation Santa Claus. This year we are doing our Dunk Tank Challenge. The kids are really enjoying it," said Marans.
As one of the teachers who got soaked, she said: "I don't mind. We are doing it for a good cause. And we all have a good time."
The school's OSC fundraising events culminated in a new dodgeball tournament in which the winning student team played against the teacher team.
Hong Kong international school fosters culture of giving with 'free dress days'
"It takes a lot of work to organise," said Grade 12 student Manaya Buntain, one of the organisers of the tournament. "But it's 100 per cent worthwhile. It's for a really good cause, for Operation Santa Claus. The money goes to those in need," said the 17-year-old Hong Kong-born Canadian.
Other OSC fundraising activities included the annual "Crazy Hat & Hair Day" when students who had made donations could wear casual clothes and silly hats to school, as well as a candy gram sale.
"Operation Santa Claus raises funds for local charities and supports [charitable] projects. The donations will go to people who need help. I feel happy that we can help them so they can live happily," said Grade Six student Julianna Yu Yee-yan, who helped with the candy gram sales.
For more information on this year's beneficiaries, please click here.
Sign up for the YP Teachers Newsletter
Get updates for teachers sent directly to your inbox
Sign up for YP Weekly
Get updates sent directly to your inbox