Children at the school have raised more than HK$6,000 for Operation Santa Claus by taking pictures with Old Saint Nick

The school also hosted a festive event with delicious food, mulled wine and Christmas carols to remind families to enjoy the little things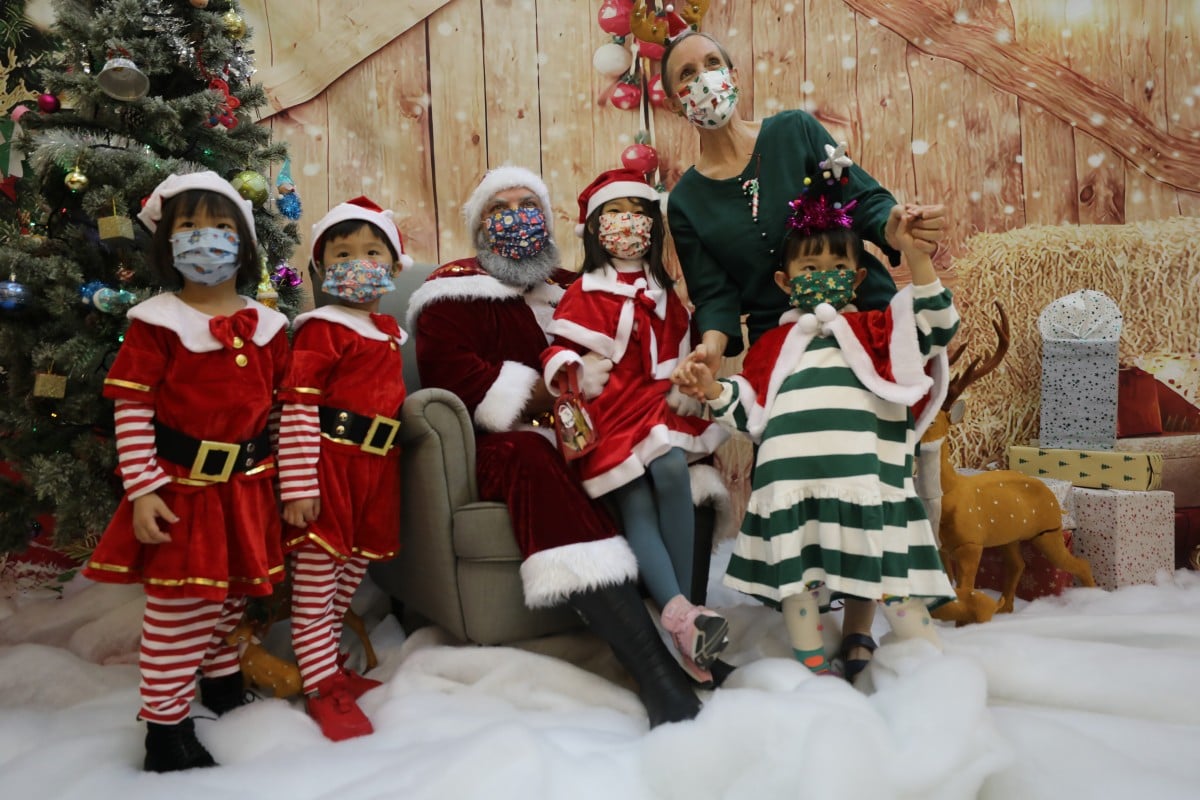 Norwegian International School Vice-Principal and Head of Kindergarten Lisa Husmann and Santa Claus enjoy a photo with pupils. Photo: Xiaomei Chen
An international school and kindergarten in Tai Po hosted its first-ever on-campus Christmas party last month, with Santa Claus showing up to bring festive cheer to all the children.
Taking place over December 10 and 11, 90 pupils and their parents at the Norwegian International School enjoyed two days of carol singing, bake sales, an ornaments workshop and a photo op with Santa himself!
Santa's appearance at Hong Kong school helps raise HK$30,000 for charity
In the past, the pupils used to perform at the nearby Tai Po Civic Centre. But vice-principal of Norwegian International School (Kindergarten Section) Lisa Husmann said social-distancing measures last year had forced them to "do things very differently".
"The parents and kids really like the [on-campus Christmas party]. It really suits us as we can do the carolling together to give it that community and family feel," said Husmann.
She added that staff returned to campus the day after to remove all the decorations to create a feeling "as if nothing has happened here, so we can keep the Christmas magic alive".
A pupil learns to make a reindeer ornament. Photo: Xiaomei Chen
Home-made sausage rolls, gingerbread men and cookies were among the treats on offer at the bake sale. Mulled wine, sold at HK$20 a cup and created with Husmann's own recipe, was also available, with all the money made from the bake sale going to the school's parent-teacher association.
Pupils could also make a donation to take a photo with Santa against a backdrop of snowy mountains and brown-and-white dotted reindeer, with all proceeds going to Operation Santa Claus (OSC) – an annual initiative held by the South China Morning Post and public broadcaster RTHK since 1988.
Hong Kong school raises Christmas cheer, HK$14,000 for Operation Santa Claus
Matthew Walsh, father of four-year-old pupil Leo, was grateful for the opportunity to bring his family to meet Father Christmas.
"Meeting Santa in Hong Kong is very difficult, and he really brings the magic of Christmas around: to kids of three to four years old, Santa is everything," he said. "We're also glad that money made from this is going to a good cause."
Husmann agreed, adding that partnering with a local charity made sense, given the travel restrictions.
"It's good to keep [activities] at home because we can't go anywhere, and teaching children about things happening internationally is quite tricky," she said. "Plus, we want to instil a sense of appreciation among our staff, pupils and parents."
"Throughout the pandemic, it's easy to feel sorry for yourself. So we want to remind families that we have it pretty good," the vice-principal said.
Children, parents and staff at the school certainly had a reason to feel good, with the event's photo op with Santa successfully raising more than HK$6,000 (US$769) for OSC.
Hong Kong school fundraiser brings community closer with messages of kindness
As a first-time donor for OSC, Husmann said she was open to exploring new opportunities with the organisation, after previously donating school supplies and toys to war-torn areas.
Established in 1992, Norwegian International School's kindergarten division offers classes for three to four-year-olds.