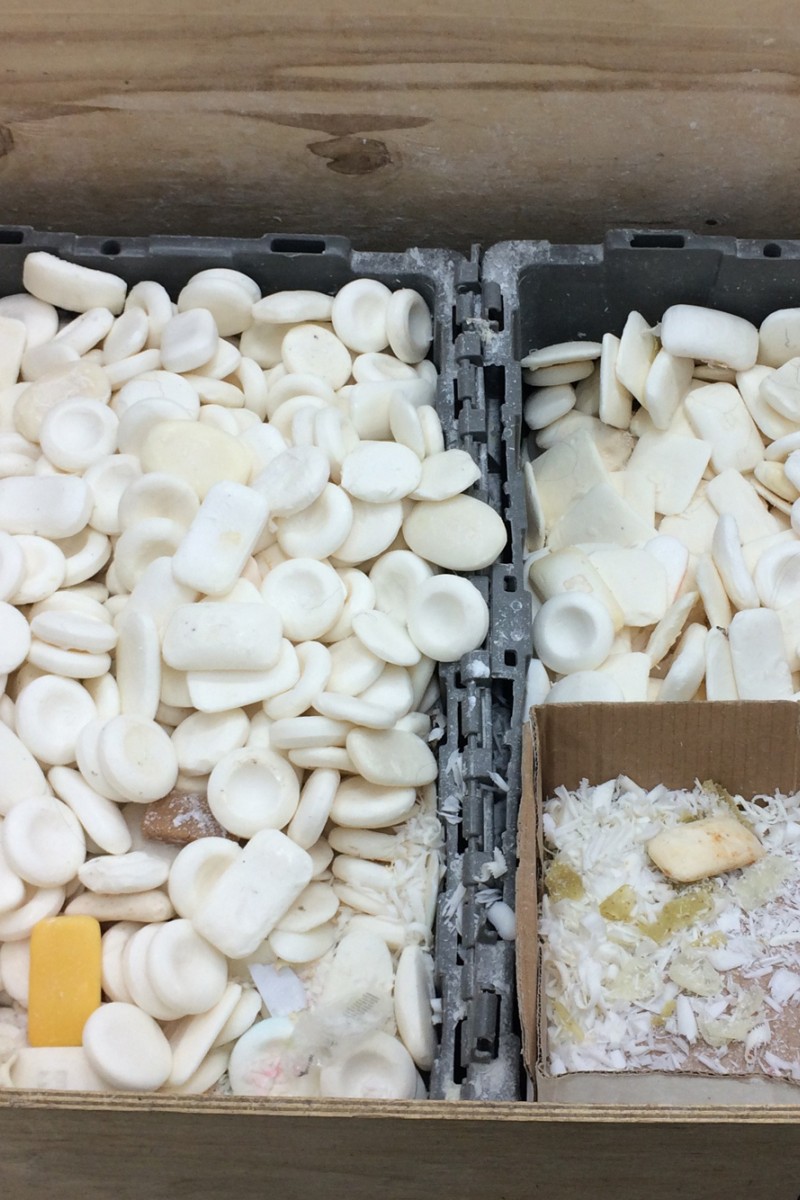 Soap Cycling recycles soaps from Hong Kong hotels and donates them to those in need
Our junior reporters Angelina Wang and Molly Taylor find out what can be done with the slightly used soaps from hotels that we're throwing away every single day.
YP Reporter
Angelina Wang
|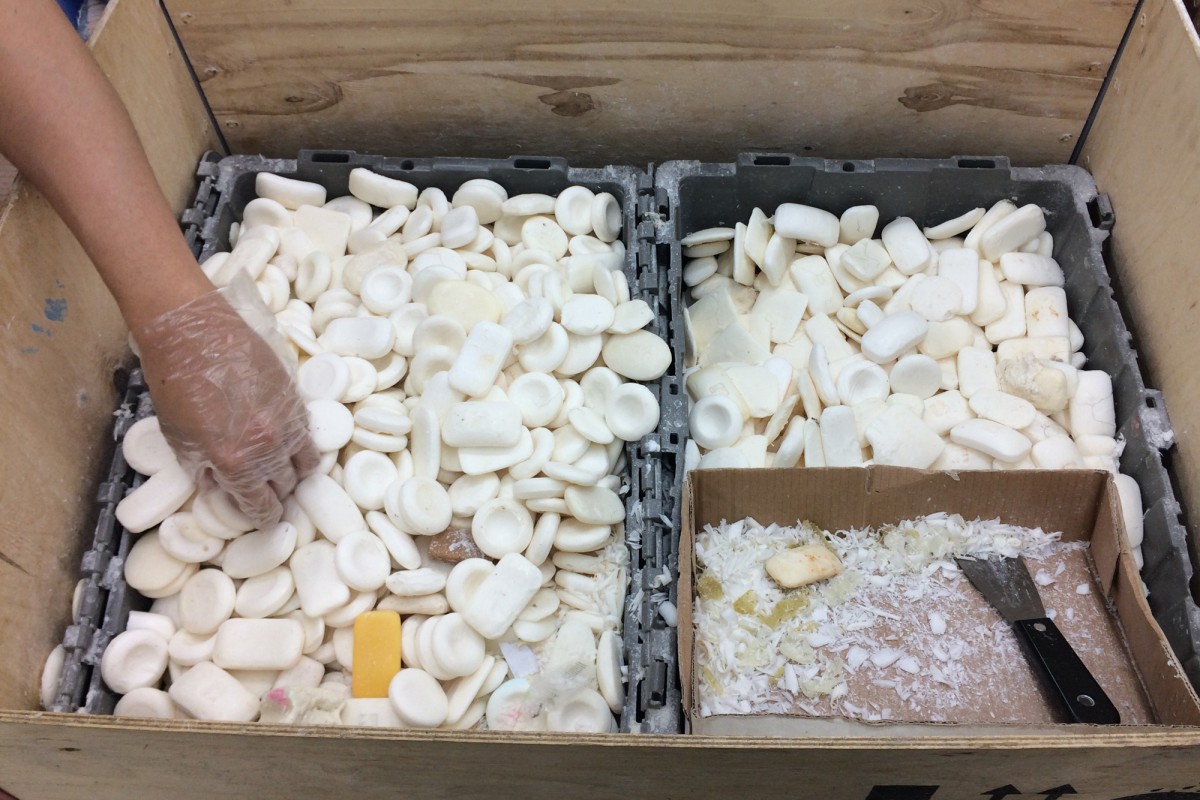 Sorted soaps waiting for volunteers to pick up for craving.
You'll find toilet seat sanitizers and automatic hand gel dispensers everywhere in Hong Kong. The 852 is a city that's obsessed with hygiene – and that extends to our hotels too. Those little bars of soap in hotels never get completely used up – one bar of soap will last only as long as current hotel occupant is checked in. Once they're gone, the soap goes too.
There are a lot of impoverished communities in the world that can't afford soap, yet a little bit of antibacterial soap goes a long way to prevent easily contaminated diseases, like diarrhoea and pneumonia from spreading. In Southeast Asia, these two diseases kill more children every year than AIDS, malaria and measles put together, and are they the leading causes of death for children under the age of five. Studies have shown that simply washing with soap is one of the easiest and most effective ways of preventing children from catching diarrhoea and pneumonia.
We took part in an event that was part of Serve-a-thon, Hong Kong's first-ever community service marathon organised by HandsOn Hong Kong. Along with 20 SCMP staff members (the SCMPis the Champion Media Partner), we went to help recycle hotel soap bars in a commercial building in Kwai Hing.
Saving what we throw away
Did you know that a lot of hotels throw away the bars of soap left in rooms after a guest has checked out – even if hasn't been used? It's not exactly a small amount that gets thrown away either – that's such a waste.
Instead of throwing away hotel soaps after a few days of use, Soap Cycling – a NGO based in Hong Kong – is trying to encourage, and is working with, the hospitality industry to collect, clean and recycle slightly used soaps for those who need them most.
These life-saving items are then distributed to underprivileged families and schools in developing communities around the world, particularly in Asia.
"We also donate to the homeless in Hong Kong, and throughout South Asia as well – in earthquake areas in places like the Philippines, Cambodia, Indonesia, and more," said Hazel Kam, a volunteer leader at HandsOn Hong Kong, a charity serving as a hub for volunteers and NGO partners.
The soap sorting process was relatively simple: the soap arrived in crates from various hotels around Hong Kong, and we looked through the boxes. If the bars of soap were clean, then we put it in a "clean" pile to be processed and repackaged. If the soap was dirty – if it had hair stuck on them or were discoloured for example, we put them on a "dirty" pile to be carved.
The soaps from the dirty pile needed to have the surface layer scraped off. This was done using a metal scraping tool. We wore plastic gloves to help us avoid contamination. We were allowed to carve the soap into any shape we liked, which was pretty easy to do once we got the hang of it!
Although we thought that the newly carved soaps would be treated with chemicals, sanitised and shaped before being shipped out, we were wrong. The bars of soap that we had carved out, along with the soap in the clean pile, would just get sent off as they were. Hazel assured us that this wouldn't be a problem, as the carved soaps and the ones from the "clean" pile could now be considered "new", what with the top layer having been scraped off.
Once the soaps were carved and placed in the correct boxes, they were shipped by dedicated volunteers from Soap Cycling to countries all over Southeast Asia.
A single team could carve up more than seven kilograms of soap in three hours – that's enough soap for 140 children to use over the course of one year.
Helping others doesn't have to be dull
The soap recycling we did won't only help people out in countries like the Philippines and Cambodia. It'll also help Hong Kong too. By using all the soap that was just going to get thrown out, we've freed up more space in the landfills, and we've reduced the negative environmental impact the city is making on the world.
The atmosphere in the room we worked in was a bubbly one – and not only because we were working with soap. All of us, from volunteers like us to the Serve-a-thon organisers were all working towards the same goal – to help people in need.
By the end of the day, we had cleaned up seven kilograms of soap. Each kilogram of soap would go on to help 20 children, which meant our hard work had provided 140 children the means to maintain a decent standard of hygiene, and possibly helped them to avoid infectious diseases.
It was really interesting to learn about the importance of observing proper hygiene, and it was humbling to find out what difference a little bit of soap can make to someone else's life.
We left that day knowing that we had fun and we had also at the same time helped to provide people a better (and squeaky clean) future.
Sign up for the YP Teachers Newsletter
Get updates for teachers sent directly to your inbox
Sign up for YP Weekly
Get updates sent directly to your inbox