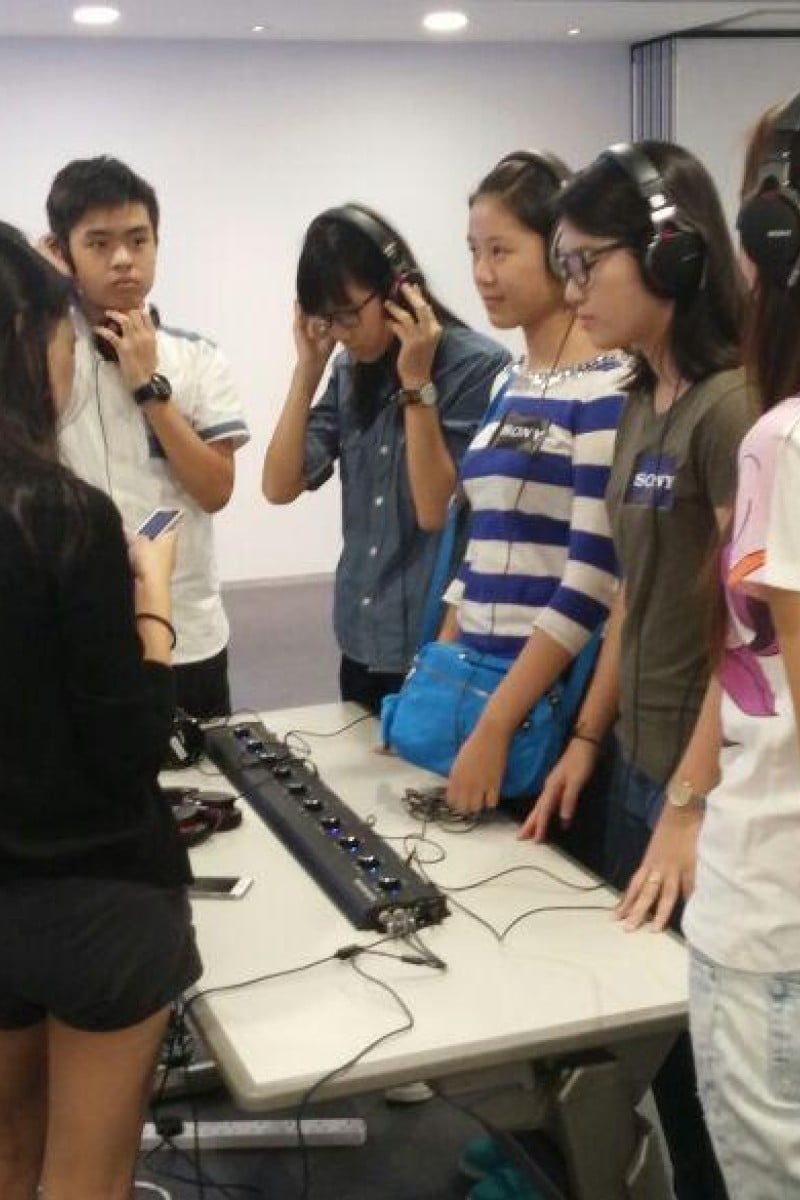 Phil Lam and Sony shows YP junior reporters the newest high-res audio products
YP junior reporters take what they know about music to the next level thanks to local singer and songwriter Phil Lam, and some high-resolution audio products at the Sony office in Hong Kong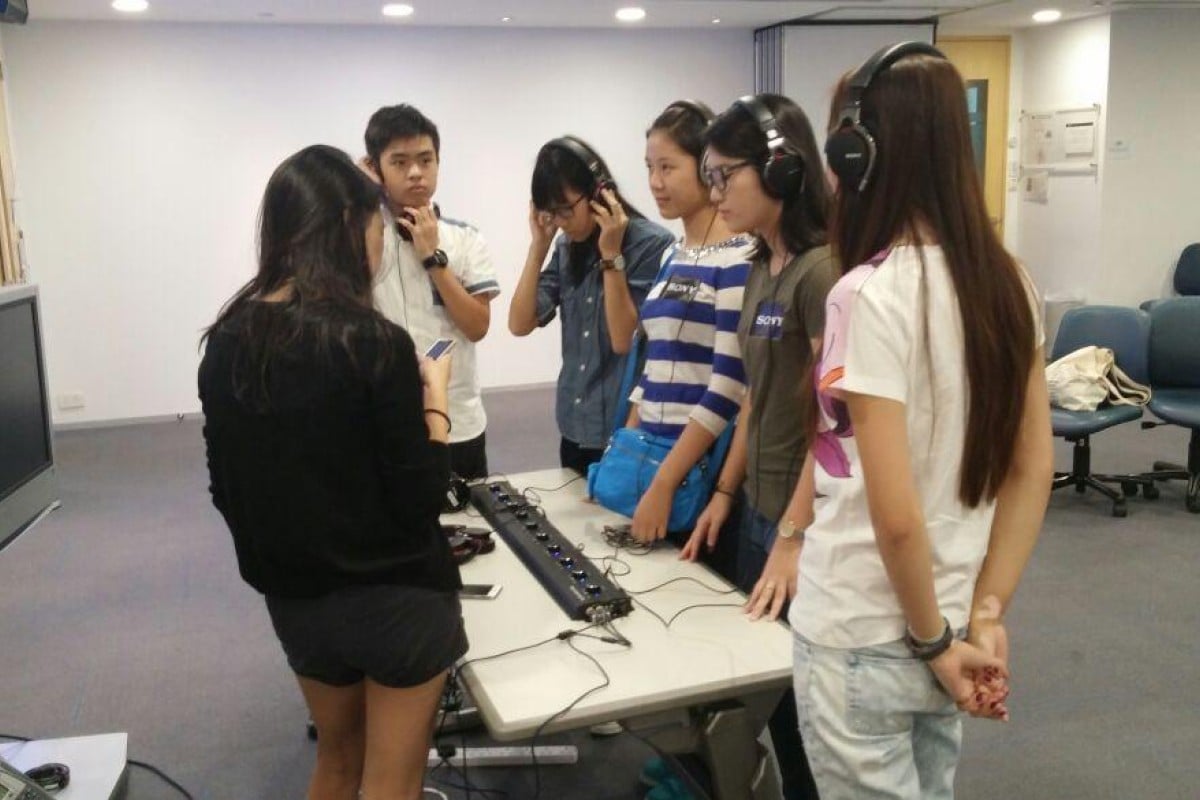 Young Post readers and junior reporters try out Sony's new high-resolution music player.
Some Young Post readers were invited to Canadian-born singer Phil Lam's studio to learn about music production, and also to Sony's Hong Kong office to check out their new high-resolution audio products. Our junior reporters tagged along, and this is what they learned ...
With the arrival of the portable music player at the end of the 20th century, the masses have been able to enjoy music on the go without having to spend a lot. But when smartphones came along, everything changed. People no longer carry dedicated music players; their smartphones do the job well enough.
However, the folks at Sony - the company which created Memory Stick Duo, Betamax and Blu-ray - have come up with something new and exciting, something that may cause people to go back to carrying an additional device solely for the purpose of playing music.
It's called high-resolution audio - audio that is of a higher resolution (surprisingly). As they are "hi-res", these audio files carry a greater amount of information, allowing fine details to be heard on the track. With this, you'll be able to hear even the slightest Miley Cyrus whimper. In fact, it's so good that an average human ear would not be able tell the difference between it and a live studio performance.
Most fans consider "hi-res" audio as anything above that of a CD, which is 16bit/44.1kHz. Every minute sound is recorded on to the track, allowing the final result to more closely imitate studio-quality audio. It allows the listener to truly experience the live studio atmosphere.
Although the audio recording equipment used in studios has always been capable of recording the tiniest sounds, the recorded data never makes it to the consumer as the files are often compressed and converted into mp3 format. The trouble with mp3 is that a vast amount of information is discarded during the conversion process and the fine details completely left out as a result. To overcome this problem and bring studio-quality audio to the masses, Sony uses the FLAC format, which allows compressed audio data to be unpacked and restored to its original state, allowing for relatively smaller file sizes with greater amounts of detail.
Now that the extra detail is being given to consumers, artists such as Phil Lam have to try even harder when they're toiling away in their studio. The 29-year-old even said one of his songs required 191 takes recorded over four studio sessions to ensure that every single note was perfect.
Even before the artist begins recording their vocals, other musicians involved must record their instrumental sections multiple times. Again, this has to be done without any hint of error.
When the artist is finished, a bunch of sound engineers come in and do their audio-fixing wizardry. Their job is to ensure that the tracks (acoustics and vocals) are in perfect balance and in the right order. Hundreds of hours are spent creating the perfect listening experience for the user.
Even though artists, producers and manufacturers alike are putting in extra effort to produce flawless audio tracks for their fans, not everyone will be able to appreciate their hard work. Many smartphones and mp3 players simply aren't able to handle these files; a dedicated music player is required in order to take advantage of it.
Of course, high-resolution audio isn't for everybody. But for those who really want to hear the music the way the artist intended it to be heard, having such a device is a must-have.
In many ways, the mp3 file is like the film adaptation of a book - a forcefully combined mess. For all the purists out there who have already spent a considerable sum of money on a pair of fancy headphones and speakers, buying a relatively cheap high-resolution player is no big deal.
Henry Lui
If a record company asked you to sign before finishing your degree at university, would you choose the record deal that could change your life, or wait until you graduated?
Singer-songwriter Phil Lam chose to wait. Born and raised in Canada, Lam loved music as a child. He played the saxophone and was an avid choir member in high school. After winning the New Talent Singing Awards (NTSA) Vancouver Audition and finishing in the top four at the NTSA finals, Lam was approached by a record company.
Initially, Lam persuaded the company to let him finish his degree first. But once he graduated things changed: the record company told him they had new plans.
After the initial rejection, Lam continued to write songs and make demos and sent them to record companies. "Before I found Sony, I was looking around, trying to find another company, and it is much harder than it sounds. It's a very difficult business to get into."
Finally, Sony showed interest in one of his demos. Does he ever regret not signing with the first company that approached him? "I don't think I would like it any other way. You never know what will happen. If I debuted earlier, maybe I wouldn't know as much music [as I do now], or I wouldn't write songs as well and maybe I wouldn't be as good an overall artist [as I am now]. Maybe after two or three years, I would have dropped out and returned to Canada." Knowledge, he says, is always valuable. "Having more knowledge, before you become a singer, is always going to work to your benefit."
Lam passed on these words of wisdom and his story to 14 Young Post Junior Reporters and readers. Among them were aspiring singers, audio-visual team members at school and Phil Lam fans, who were all curious about how a song was recorded at a professional studio. They were treated to a tour of Sony Music's A&R Consultant Edward Chan's studio, after gaining a basic understanding of what high-resolution audio is from the Sony headquarters.
"When you get to the studio, everything is amplified," Lam said. There are lots of things to keep in mind in order to sing well for a record. "You have to have a very loose voice. Tight vocals never sound great," he said. Tight vocals might result in a very soft verse and a very loud chorus. Even though this could be fixed, the voice would not sound natural. Lam then sang a yet-to-be released song to demonstrate.
Being a singer is certainly not all glam and glitz. It takes a huge effort to produce a song: hardware, software, great musicians, a good vocalist and a mixer. To produce a perfect version, each song might be recorded up to 100 times. Once, Lam stayed up in the studio until 5am hoping to produce a flawless album. A little pressure helps, he says. "But it all comes down to passion. If you don't have the passion, you won't have the energy."
Ruby Leung
Win a high-resolution audio music player - NWZ-A10 Series DMP - by answering this question: Above how many bit/kHz does an audio file need to be before it is considered hi-res audio? Email your answer, together with your name, age, school and contact number, to [email protected] with "Sony hi-res audio" in the subject box.
Sign up for the YP Teachers Newsletter
Get updates for teachers sent directly to your inbox
Sign up for YP Weekly
Get updates sent directly to your inbox