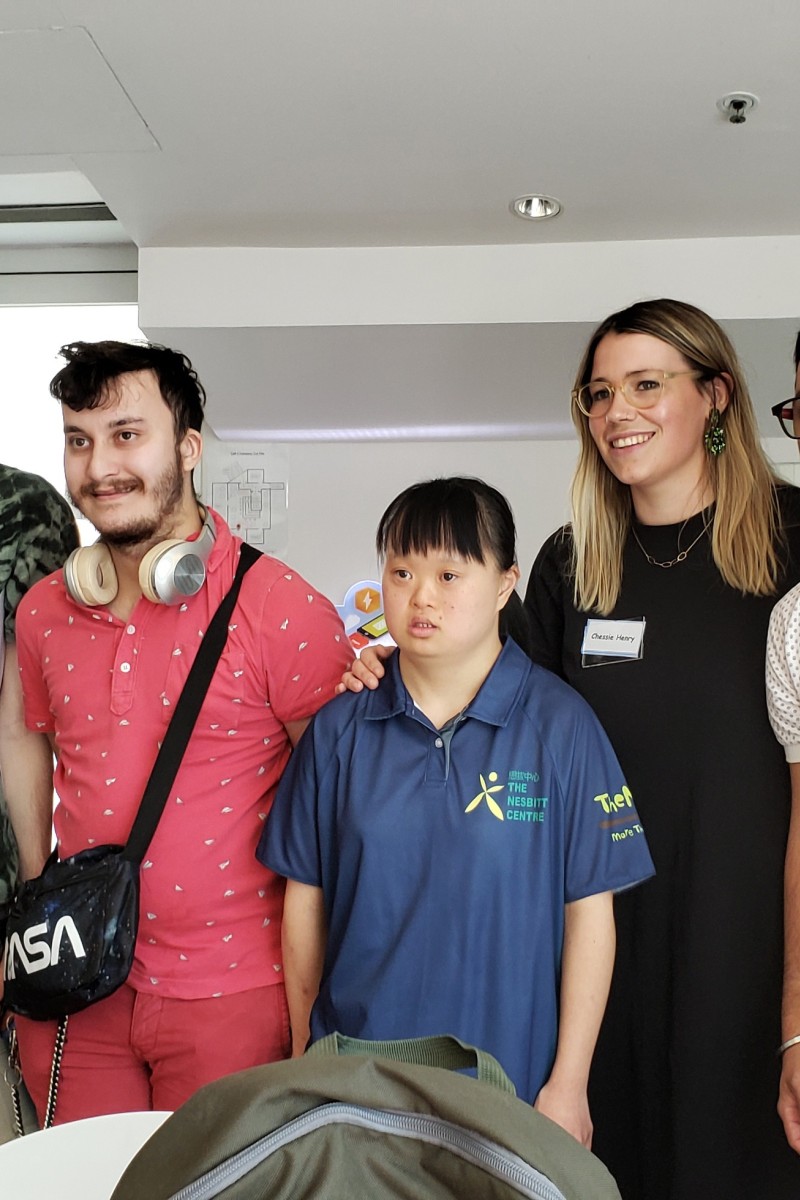 Why diversity and inclusion are so important in the creative arts
By junior reporter Andrea Lo
Differently-abled young poets showcase their work at International Literary Festival event, and raise awareness about the challenges they face
By junior reporter Andrea Lo
|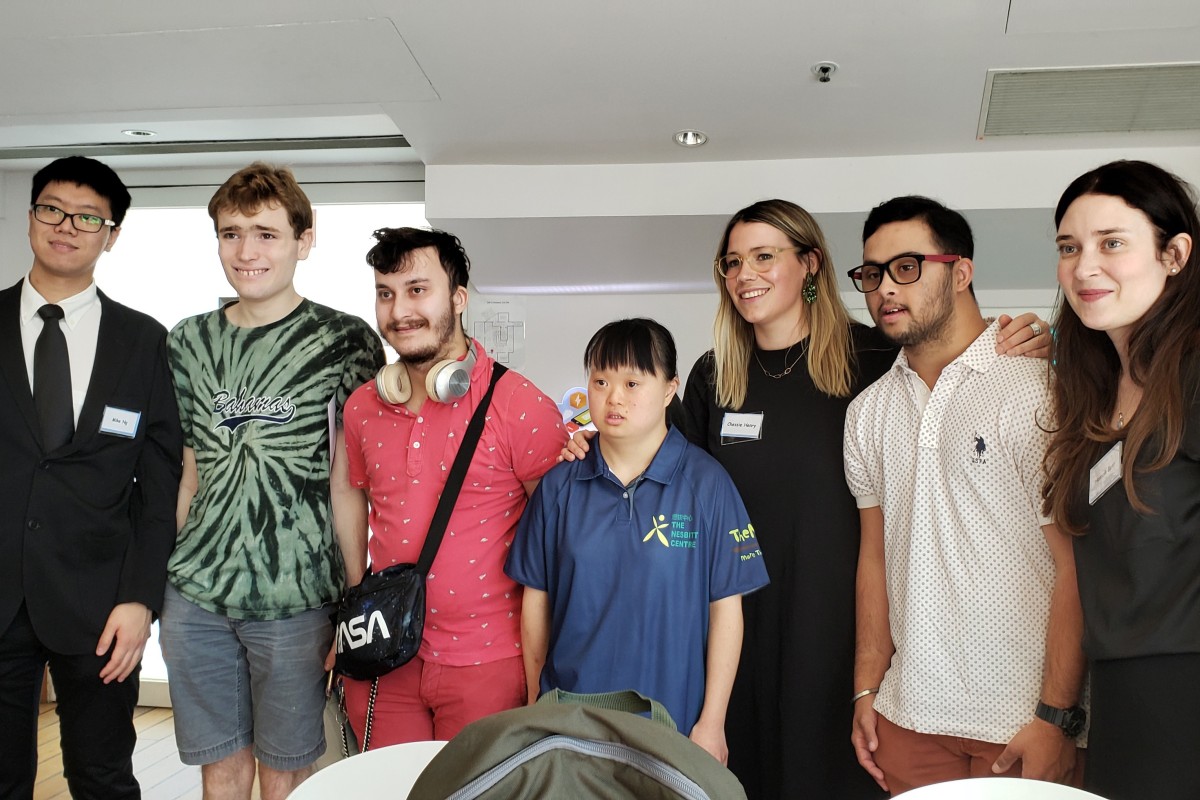 Learners from the Nesbitt Centre gather at the Hong Kong Maritime Museum to present their poetry.
Hong Kong is often lauded for its diversity, but in reality, this diversity is not always properly represented. And one group in particular in need of greater visibility in our city are those living with disabilities.
While there are many services that support differently-abled people in their day-to-day lives, what's lacking is the chance for them to show off what they can do themselves.
That's why Young Post was excited to attend a poetry recital and panel discussion for differently-abled people at the Hong Kong Maritime Museum last Friday.
Chinese poetry comes alive at King George V School
The event, hosted by the International Literary Festival, invited people with a broad range of learning disabilities, from Down's syndrome to Autism Spectrum Disorder, to share their creativity, while also raising awareness about some of the challenges they face.
We spoke to some of the writers about what inspired their work.
"My poem is dedicated to my sister." said Wendy Ahn, 26. "I wrote it because my sister is always so kind to me, and I wanted to show my appreciation."
Ahn's poem Me and My Sister, imagines her memories of time spent with her sister as beads on a bracelet.
Australian slam poet Zohab Khan on being "the other" as an ethnic minority, how his art is like hip hop, and the discipline of creativity
Some of the other poets chose to write about their families too, like Nisarg Shah, 23, who presented her poem The Colours of my Family, and Jeffrey Joubert, 23, who recited his poem, Nanny's Cooking.
Each poem puts the audience in the viewpoint of the writer, vividly describing what they can see and hear, from the sound of a bell ringing to the smell of their mother's perfume.
"This is a good opportunity for our learners to engage in writing, to express themselves, and to be empowered to speak in front of an audience," said Jeanette Fong, who works at the Nesbitt Centre, an educational facility for adults with learning disabilities.
"It's great that young people with disabilities were given the chance to speak for themselves, create their own work, and have the public listen," added Hannah Bent, one of the speakers at the panel.
Hong Kong's dying trades: a tour of pawnshops, coppersmiths and more with 'Sunset Survivor' author Lindsay Varty
The event gave the poets the chance to speak not only about their own lives, but the topics they care about, such as the environment.
Nineteen-year old Henri Lashinski's poem, 'Chocolate Hong Kong' is about pollution. It depicts the city as bitter chocolate, coated in sticky, caramel-like smog.
"The most important thing about this event was that it shows off people's abilities," said Faride Shroff, founder of SENsational Consultancy, an agency which helps people with disabilities find work. 
How one Hong Kong designer is keeping the traditional craft of crochet alive
Shroff also stressed how important it is to have a creative outlet, whether its poetry, painting, or acting. In addition to writing, Ahn is a keen painter, and has sold several of her pieces.
"I think it's important to create spaces where people can express themselves and feel included," Bent noted.
But despite these efforts, more needs to be done to make Hong Kong a liveable city for its disabled population.
Elaine Leung, a waitress at The Nesbitt Centre's very own social enterprise, Café 8, describes how having a job has given her independence and something to be proud of. These feelings are vividly portrayed through her poem, "Home". 
HKYAF's #Be The Change project invites local teenagers to confront issues like food waste and plastic pollution in our city
Mike Ng, 28, an administrative assistant who is on the autism spectrum, voiced his concern about the lack of opportunities for differently-abled people.
"Often, I find it's the Hong Kong Jockey Club that finances the majority of the initiatives for individuals with special needs. But I don't think it should be solely their responsibility," he said. "Many other associations such as the social welfare and education bureaus should take more action."
"There needs to be a massive cultural shift. In Hong Kong, there's a lot of shame around having a disability," said Bent.
"I would say it's improving, but we still have a lot to do to get rid of the stigma surrounding disabilities, and the idea that hiring people with disabilities is just for charity," Shroff added.
But Lashinski summed it up best, saying: "We all need to be fierce champions for the value of diversity, and diversity in all its forms."
Edited by Charlotte Ames-Ettridge
Sign up for the YP Teachers Newsletter
Get updates for teachers sent directly to your inbox
Sign up for YP Weekly
Get updates sent directly to your inbox