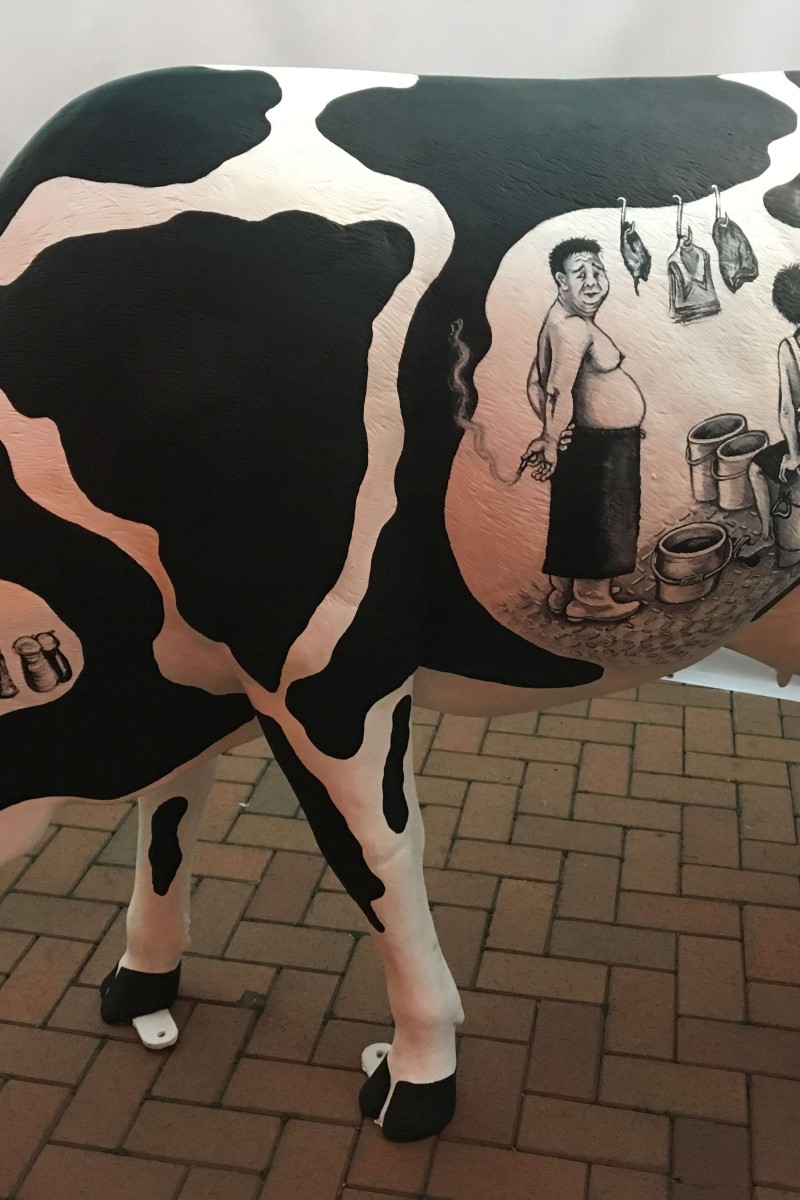 Painting a moo-sterpiece: artists use their creativity to raise money for FilmAid Asia's charity programmes
Our junior reporters talk to artists about the inspiration behind their creations
YP Reporter
Angelina Wang
|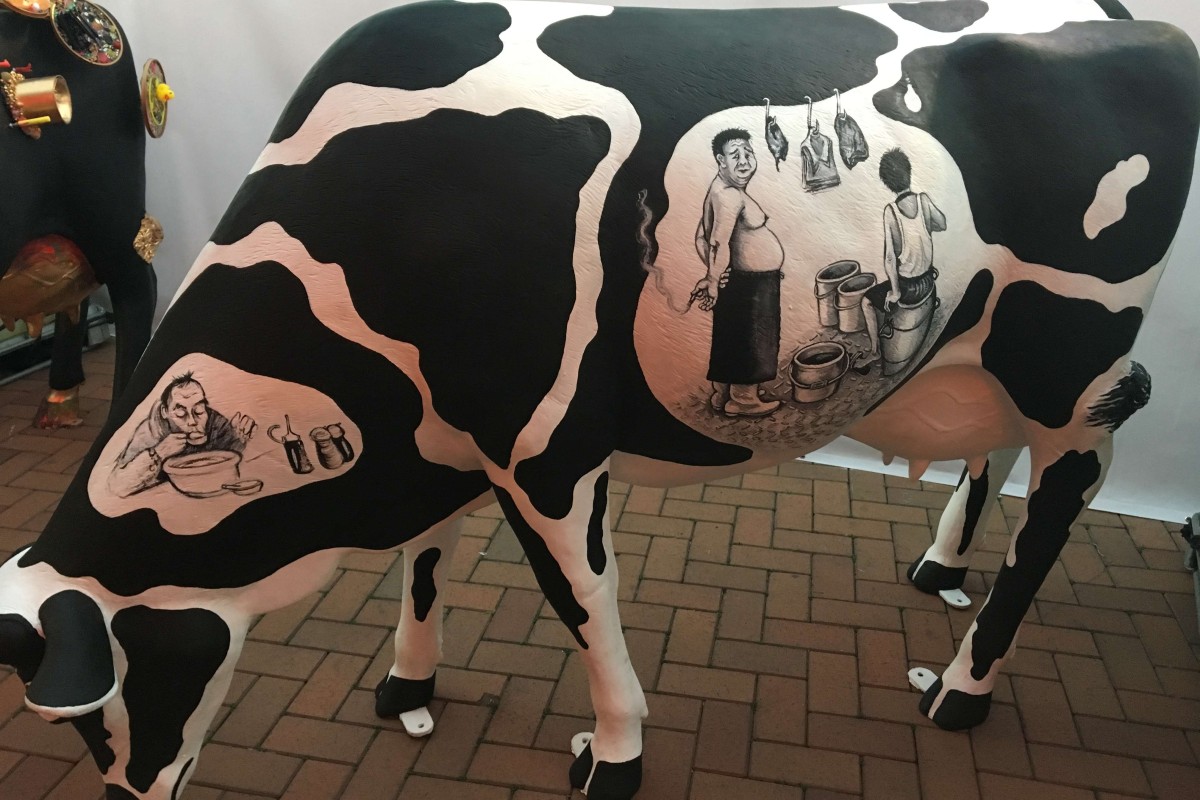 Art that raises questions about how we look at cows.
This year's AIA Great European Carnival has more than just roller coasters, it also features art pieces for a good cause. In its "Art-is-on Cow Project", 10 local artists were invited to put their creative skills to work, adding some artistic flair to plain cow statues. These works of art will then be auctioned off, with the money going to FilmAid Asia's local programmes in Hong Kong schools and community centres, and for its work in the refugee camps in Thailand.
Junior reporters Angelina Wang and Kaur Mukhjot went to check out the inspiration behind the herd of wonderful works of art.
Angela Yuen created a cow decked out in paraphernalia straight out of vintage Hong Kong. The 25-year-old graduate from Hong Kong Baptist University's (HKBU) art school took her inspiration from the plastic toys that were manufactured in Hong Kong in the 1960's, an era when the city's economy boomed, symbolising the "Lion Rock" spirit we used to have. Even though locals used to be proud of these creations, Yuen says: "Plastic toys are neglected nowadays, so I wanted to remind people to appreciate old things and old values again." Describing her artwork, she explained: "The cow even has a kaleidoscope, so people can look through and see different perspectives of plastic toys."
The Blue & White Cow
Angel Hui, 26, is a visual arts graduate from HKBU, now doing her master's in Beijing. The inspiration for her cow came from the blue and white of antique porcelain china. Some of the patterns show children, which adds some playfulness to the traditional art. To make the highly detailed patterns, she first traced them out, then took a very fine brush and carefully filled them in.
Cheng Chi-chi used to play a lot video games when she was young, and that inspired the pixelated 8-bit style of her cow. The 33-year-old artist studies in HKBU's Master's of Art programme. She embedded a TV monitor into the side of her cow, and it loops a six-minute film about one of her treasured memories. With her nostalgic cow, she hopes to convey the message that the things we grow up with make us who we are today.
Angelina Wang
Cow Hide
Created by Gustav Szabotage, aged 43, the inspiration for this piece came from the childhood game hide-and-seek. Szabotage has studied Architecture in London but now works as an interior designer and a street artist, because art gives him the opportunity to express himself. He used spraypaint to create the effects on his cow.
Yum Cha was created by Louise Soloway Chan, who is from the UK and has studied Fine Arts in India. She found inspiration in people's work and their daily lives to create her black and white painting. It contains scenes of local everyday life such as a wet market, a dai pai dong, and a butcher shop. Chan added the extra detail of a cow's tear, which she says is because the cow is disappointed with humans eating beef.
The Silver Lining
This extremely colourful piece was created by Rainbow Kwok Man-wai, a 22-year-old visual arts graduate from HKBU. It was inspired by kids, and Kwok designed it so that they could have a way to interact with the exhibition. She built two games into the statue: a bean bag toss and a version of the wiggle wire carnival game.
Kaur Mukhjot
Sign up for the YP Teachers Newsletter
Get updates for teachers sent directly to your inbox
Sign up for YP Weekly
Get updates sent directly to your inbox