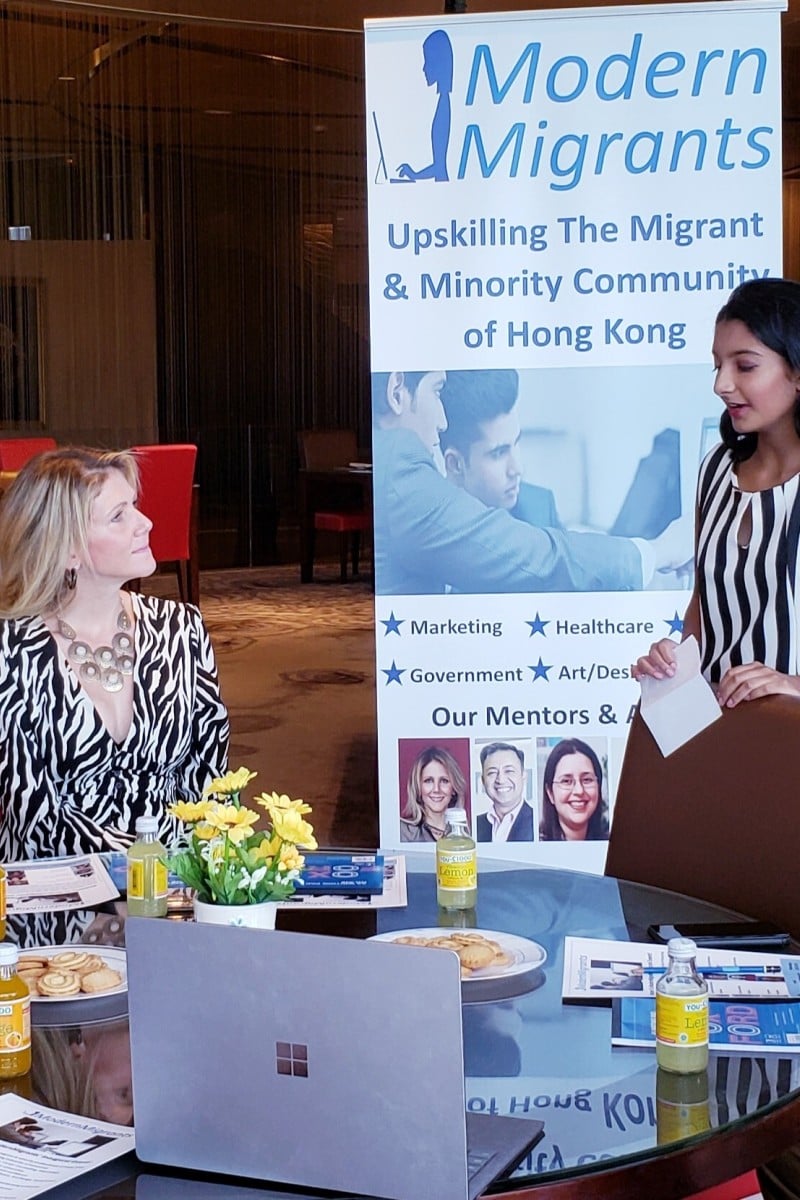 Hong Kong teen launches ModernMigrants to help minorities gain new skills
By junior reporter Pradyumn Dayal
Professionals in fields like digital education and digital healthcare pair with mentees and provide advice over Zoom

17-year-old Pankhuri Dayal hopes to one day work with Facebook, Amazon, LinkedIn and Google
By junior reporter Pradyumn Dayal
|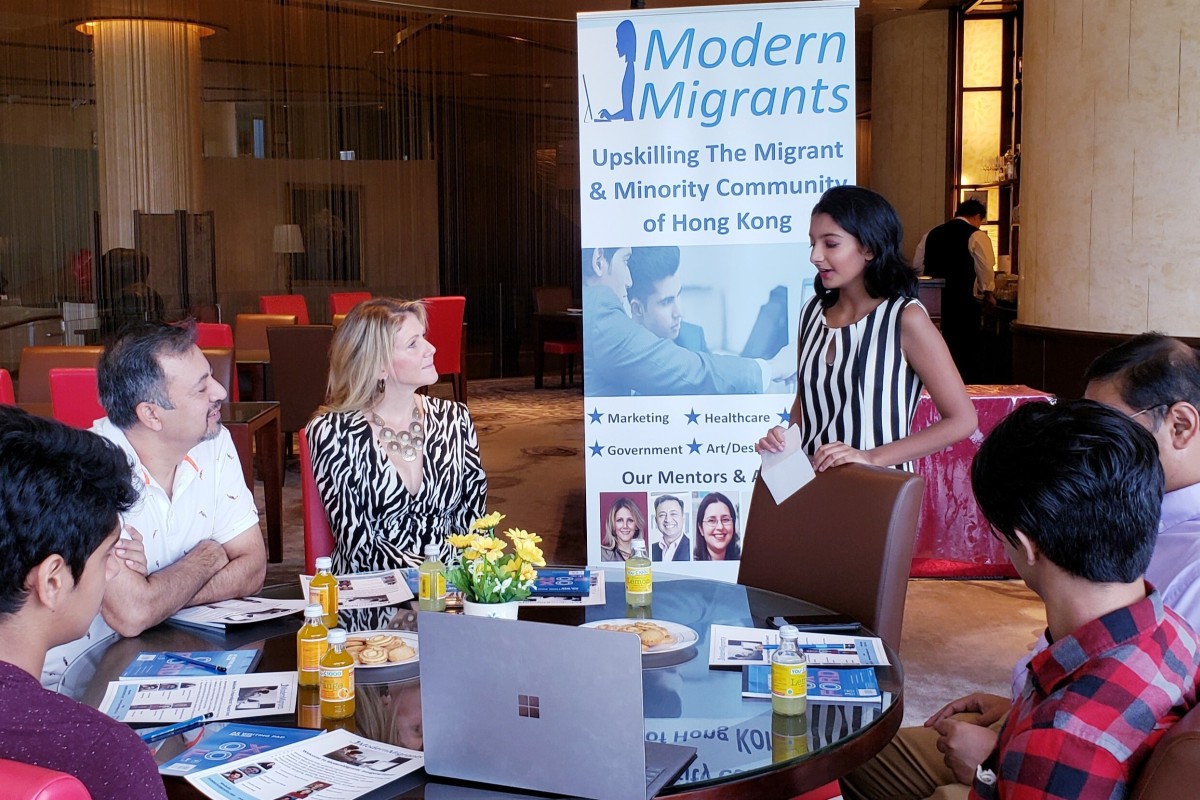 ModernMigrants helps to upskill the migrant and minority community in Hong Kong.
In March this year, Pankhuri Dayal, 17, from Milton Academy in Boston, the United States, was abruptly sent back home to Hong Kong after her school closed due to Covid-19. As her classes resumed via Zoom, she realised that the traditional industries, including education, would never be the same.
"Journalists need to adapt their style for online audiences, educators need to learn to teach over Zoom, and doctors must practice diagnosing patients via healthcare apps," says Pankhuri. "Pretty much all industries are now going digital, and Covid-19 has proven to be a catalyst."
In light of this, Pankhuri wanted to do something for Hong Kong's ethnic minority community. Coming from a migrant family herself, she has always felt strongly about giving back to the less fortunate members of the community she grew up with.
"Colour Away Covid" provides masks to communities in need
"Advancements in technology are redefining the future workforce, but one incredibly vulnerable group is being left behind: migrants and minorities," says Pankhuri.
"I've grown up seeing members of my community receive fewer opportunities to advance their careers beyond low-level jobs, due to a lack of connections and knowledge about how their chosen fields will change in the future."
As these two concepts melded in her mind, the concept of ModernMigrants was born.
ModernMigrants aims to retrain migrant and minority workers by upskilling them in six key areas: digital marketing and branding, online media, digital education, digital healthcare, creative arts, and digital government services.
Four friends use their free time for a good cause
They do this by matching mentors with participants. Mentors are well-respected professionals across the six industries and have weekly Zoom calls with their mentees, offering them advice, teaching them skills and guiding them through their career.
Amit Mehra, 23, a science tutor who had lost his job due to the closure of his tutorial centre, is one of the people enrolled in the programme. He has been having weekly sessions with a mentor who works in digital education.
"I have been thinking about starting my own online tutorial business," says Amit. "The programme really taught me how to create engaging lessons via Zoom, do online workshops, and mark papers online. I have realised that my business can now be global and crisis resilient."
Founder of ModernMigrants programme Pankhuri Dayal (centre) with her volunteer mentors.
Abisha Navaratne, 25, an artist and Singhalese migrant, found herself out of work after all art galleries closed due to Covid-19. She since signed up to the programme and has weekly calls with two mentors, one in digital media and another who specialises in gallery management. "My sessions with my mentor introduced me a new avenue to display my talent to clients anywhere in the world, while sitting at home," says Navaratne.
Navaratne is also experimenting with new digital art forms like photoprinting, pixel art and 3D graphics.
"It's like a whole new world has opened to me," she says.
The Hong Kong teen helping kids in India learn online during Covid-19
ModernMigrants now has about 45 programme participants, and the number is growing as word spreads on social media.
Pankhuri advertised the platform by posting about it on Facebook, and in various Southeast Asian subgroups. She also contacted the Hong Kong Vocation Training Council to send them suitable candidates.
"We want to grow it slowly and test a few success cases [before expanding]," says Pankhuri.
Candidates must be at least 18 years old to join the programme. They can be students or young professionals with some work experience. They can sign up via WhatsApp or by sending ModenMigrants a message on Facebook.
Connecting with the community through exercise
Naresh Kumra, the CEO of a multinational company, and mentor at ModernMigrants, says that migrants are more enterprising, risk taking and hardworking than many other people in their adopted country. For example, 27 per cent of all entrepreneurs in the US are immigrants, according to a study by Harvard Business Review.
"But the world has always had a divide in terms of land, education, and access to opportunities," says Kumra. "For the first time [with Covid-19], we have a crisis that can be an opportunity to create a level playing field for all."
"At this stage, we are only working with Hong Kong participants but there is no reason why we can't open it to global candidates in the future," says Pankhuri.
GSIS students give back to the community during the coronavirus pandemic
While the programme is already up and running, Pankhuri has a vision for expansion. She hopes to someday work with Facebook, Amazon, LinkedIn and Google.
"I am sure our programme participants will benefit so much from these networks, as these companies are at the forefront of technological advancement," says Pankhuri.
She is also planning to provide participants with free online courses from top universities and companies such as Stanford University and Alibaba Cloud. These courses will teach them new skills including how to build a unique brand and how to grow a successful business.
"Historically, migrant and minority workers have been stuck in traditional industries such as catering and transport," says Pankhuri. "But we hope that they will become leaders in the industries of the future, and emerge as true stakeholders in our digitally evolving society."
Sign up for the YP Teachers Newsletter
Get updates for teachers sent directly to your inbox
Sign up for YP Weekly
Get updates sent directly to your inbox