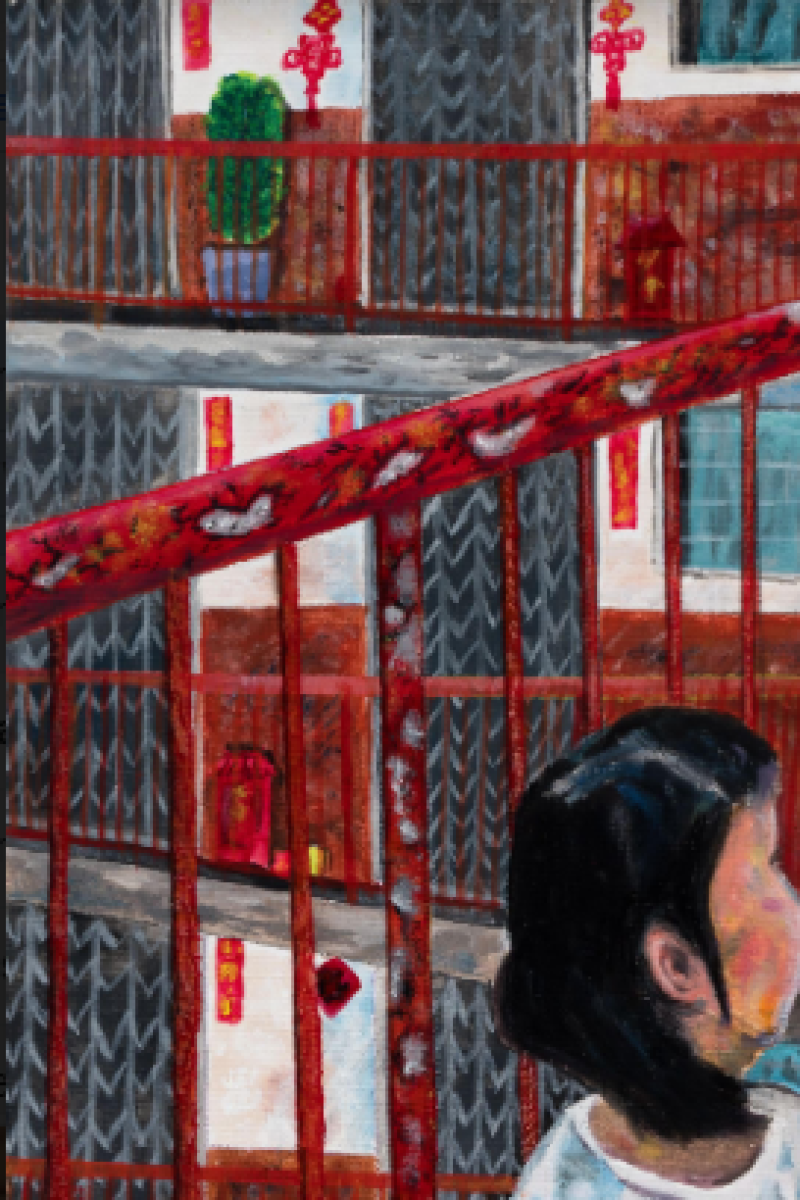 Wharf Secondary School Art Competition 2020: Runner-up inspired by his 'childhood memories' of Hong Kong
By junior reporter Vijay Sathappan
Marcel Hui of G.T. (Ellen Yeung) College chose to paint a scene of children eating dinner outside in a public housing estate

He wanted to convey the feeling of a simpler time, when people would concentrate on each other instead of their smartphones
By junior reporter Vijay Sathappan
|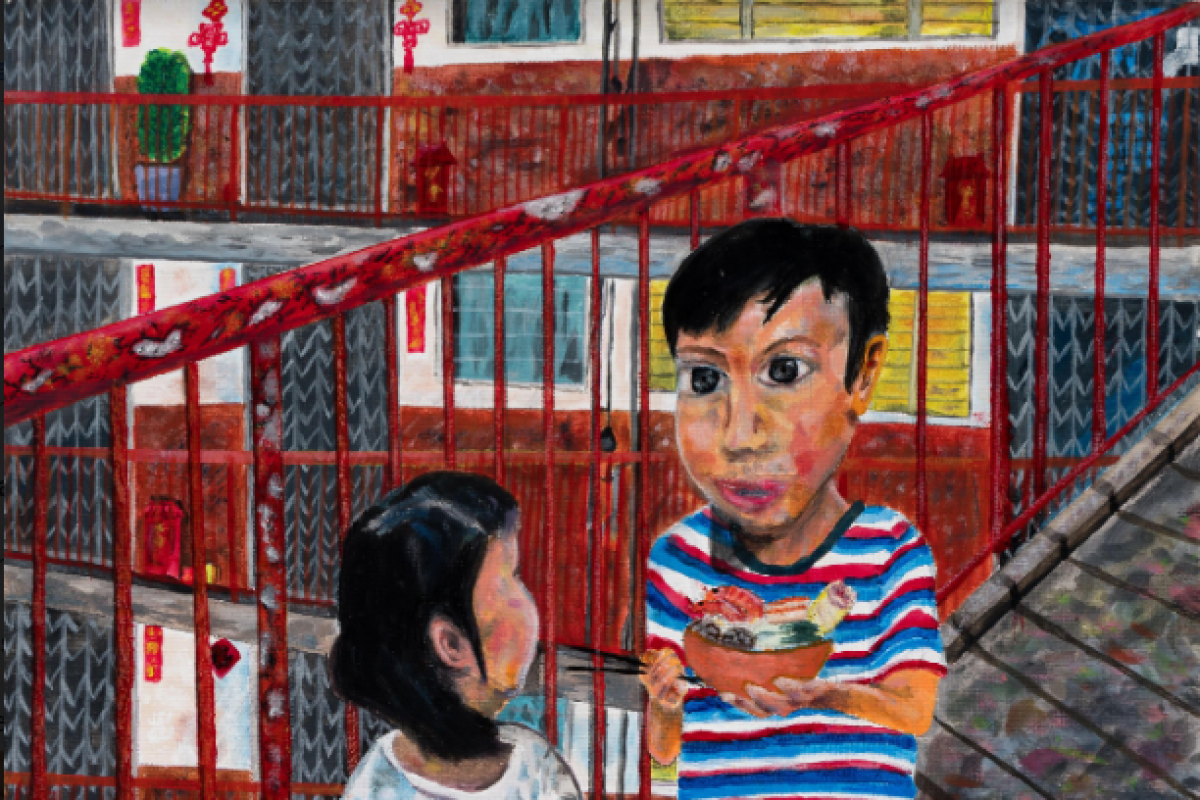 Wharf Art Competition 2020 runner-up piece, by Marcel Hui.
Marcel Hui, a Form 5 student from G.T. (Ellen Yeung) College, is the runner-up of the 2020 Wharf Hong Kong Secondary School Art competition. His painting, based around the theme 'Local Hong Kong Life', represents his memories as a child when his family lived in a public housing estate.
In an interview with Marcel after the results had been announced, he shared about the inspiration behind his paintings, and his childhood memories of Hong Kong.
The original idea for the piece came from his weekly visits to his grandma's house in the Wu Pik Estate in Tuen Mun. One time at her house, he was flipping through a photo album when he came across pictures of him eating dinner with his cousins. "That's where the inspiration came from", Marcel said with a laugh.
SOTY 2019: Individuality, not originality, is the key to success as an artist
His work depicts children sitting and eating on a balcony in his painting. He specifically chose to paint children because they have lots of emotions, and he wanted to capture some of those emotions in his work.
Marcel shared that his idea of children eating in a public housing estate is representative of how people used to live in harmony in their family, pre-technology. "These days, people come back home and either switch on the TV or scroll their phone mindlessly." The painting does not show any signs of distractions, other than the bowls they are eating from. Back then, people used to come back home and talk about their day with their loved ones."
"Public estates in Hong Kong are always colorful to look at, especially during the Mid- Autumn Festival. I also wanted to capture the colorful scenes that I saw whenever I went to my grandmother's house," he says.
Marcel's piece was inspired by his childhood memories.
Marcel's use of colours was not a choice, as he did most of the painting at home and he didn't have a lot of paints to choose from. What was important for him was that he "wanted to convey a warm atmosphere in my painting, hence I used up all the warm colors in my painting, such as peach, red, and orange."
The children in the painting are painted with surreal proportions, with large heads and features. When asked why he chose to do this he replied, "Interestingly many people, including the judges, have asked me the same question as if there was a reason behind this. It's just because my drawing skills aren't top-class!"
Given the current health situation in Hong Kong, some readers may wonder if Covid-19 had any influence on his painting. Interestingly, it did in a positive way. "After school, I found that I had more time on my hands without the extra-curricular activities. I used this time to pursue my hobbies, like badminton and drawing." Marcel keeps a tiny sketchbook, in which he draws cityscapes of various cities like Hong Kong and Singapore.
HKDSE 2020: How one student with a disability pursues her dream of becoming a graphic designer
He added, "I also used to spend more time on my painting skills, always polishing my skills." When asked why he decided to paint one of his memories and not something else, he replied that it was personally more fun for him to recreate his memories. Marcel believes that the children of this generation need to start conversing more with their families or close friends. "People should cherish their memories," he said.
Finally when asked if he would encourage future generations to study art, and he said he would. "Art is not like other subjects like English or Science, where you have to memorise things. Art is basically you in another form. Art allows you to express yourself, to think, to experiment."
Sign up for the YP Teachers Newsletter
Get updates for teachers sent directly to your inbox
Sign up for YP Weekly
Get updates sent directly to your inbox