Huawei
Get more with myNEWS
A personalised news feed of stories that matter to you
Learn more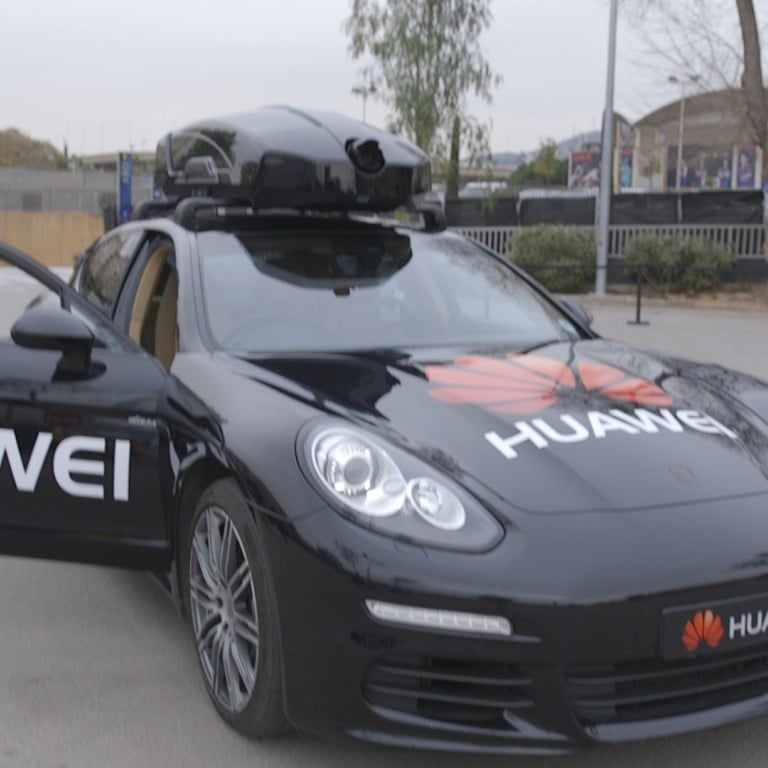 We took a ride in Huawei's smartphone-controlled Porsche
Not fully autonomous driving, but still impressive
This article originally appeared on
ABACUS
Last week Huawei announced
it outfitted a Porsche sports car to take commands from one of its smartphones. This week they brought the car to the Mobile World Congress in Barcelona and I came back from a (short) ride in one piece to tell you what it felt like.
It was a pretty blatant publicity stunt… but as stunts go, it was a fun one.
First of all, it was a very brief ride. The car drove forward twice, with each run lasting less than ten seconds.
Most of our time inside the car was spent listening to instructions from the backup driver, and putting commands into the smartphone. While the phone can (allegedly) recognize obstacles, in this demo it required passengers to select how they'd like to avoid obstacles, whether by swerving left, right, or stopping.
In front of the car were giant cardboard pictures of a cyclist, a football and a dog. A camera mounted on top of the car sent images of what it saw to the phone, which then recognized the objects and instantly proceeded to tell the car how to react.
This was Huawei's way to show off the Mate 10 Pro's dedicated AI chip. The phone mostly uses it in the camera app to recognise different objects, allowing it to adjust camera settings. Essentially, the Mate 10 Pro is doing the same thing here -- except instead of using it to take the best picture, it's recognizing an obstacle so the car can avoid it.
Once everything was set up and we'd told the car how to react when it saw an obstacle, we pushed the big red button marked "Drive" -- and off we went, at 30 miles per hour towards a cardboard picture.
That was when I started to panic, but the moment didn't last long. Just seconds before we were about to hit the obstacle, the car swerved to the left -- exactly like we told it to.
I was impressed, especially considering Huawei claims they built this in just five weeks.
But don't mistake this for full self-driving technology. The Mate 10 Pro's AI can only recognize a limited set of object types, allowing it to avoid certain obstacles but not navigate by itself on a real road. And when they needed the car to reverse? A human driver had to take over.
Not that Huawei wants to get into the autonomous driving business anytime soon. During the demo, company reps reminded me once again that the demo was done purely to promote its smartphones and AI.
The company didn't announce any new phones at the Mobile World Congress this year, but it is expected to to so in Paris later in March.