Brawl Stars is bite-sized fun that strips away too much to be great
Supercell's follow up to Clash Royale and Clash of Clans has issues
This article originally appeared on
ABACUS
After three years, Supercell -- the company that brought us Clash Royale and Clash of Clans -- finally released its fifth mobile title,
Brawl Stars
.
It's almost a minimalist version of what a MOBA can be. But while it got rid of all the excessive bits that I hate about today's mobile games, it ends up leaving me wanting more.
Brawl Stars, which Supercell tested through
a soft-launch for over 500 days
, is similar to Arena of Valor. But if you think Arena of Valor is a stripped-down version of League of Legends, Brawl Stars is even more so; a MOBA game with only the most bare-bone essentials.
Instead of destroying turrets in three different lanes, you collect gems. Its default game mode,
Gem Grab
, is a 3v3 team battle in which both sides compete to collect gems sprung by a well in the center of the map. The team managing to hold 10 gems for 15 seconds wins the game.
As you can tell from this clip, the game looks amazing and it feels silky smooth (although it did crash on me once). Most importantly, it avoids what I consider as the biggest sin of mobile games nowadays (especially the Chinese ones) -- it doesn't cram itself full of different systems.
With each character having only one normal attack and one ultimate, the gameplay is extremely easy to pick up. Your character can automatically regen health if you take a break from action. And if you die, you also get to respawn just a few seconds later. So you are always
given something to do
.
And since each game lasts for about a minute, it's highly playable at any given moment of your day.
On paper, this should sound like a perfect game. But in actuality, here's the problem: It's perhaps too simple.
Since the types of attack are so limited, with no items that you can pick up in-game, with a map that has nothing to explore, the game feels like it's severely lacking in variety, be it in terms of gameplay or spectating experience.
At times, it even feels like a different genre. It's like
Metal Slug
with just one gun, one type of grenade, unlimited respawn and you only get to fight other people instead of exploring the map.
And the game's biggest weakness is that it lacks genuine in-game tension and any edge-of-your-seat moments. I understand that the game tries to build its tension around the tug-of-war aspect, with each side trying to stay around the gem-springing well for as long as possible. But I'd have to say it doesn't feel very tense.
Furthermore, with each game lasting only one minute, it doesn't feel like it carries any sort of stakes. Within the first three hours I played the game, I mainly recorded lopsided wins (mostly because I was playing against bots). But even with the losses, with many of them also being quite lopsided, it didn't feel like a big deal to me at all.
In other words, I felt like if a friend wanted to interrupt me while I was playing, I'd let them. I wouldn't say "Shut up, I am playing a game."
To be fair, there are other modes in this game. What stands out the most is perhaps its 10-player battle royale mode. But with no items that you can pick up and the fact that you can see where threats are coming from (because it's a 2D game seen from a bird's eye view), there's no sense of surprise in battle.
Besides battle royale, there is also a mode in which you can play 3v3 football and another in which you try to deal as much damage to the opposing team's base as possible.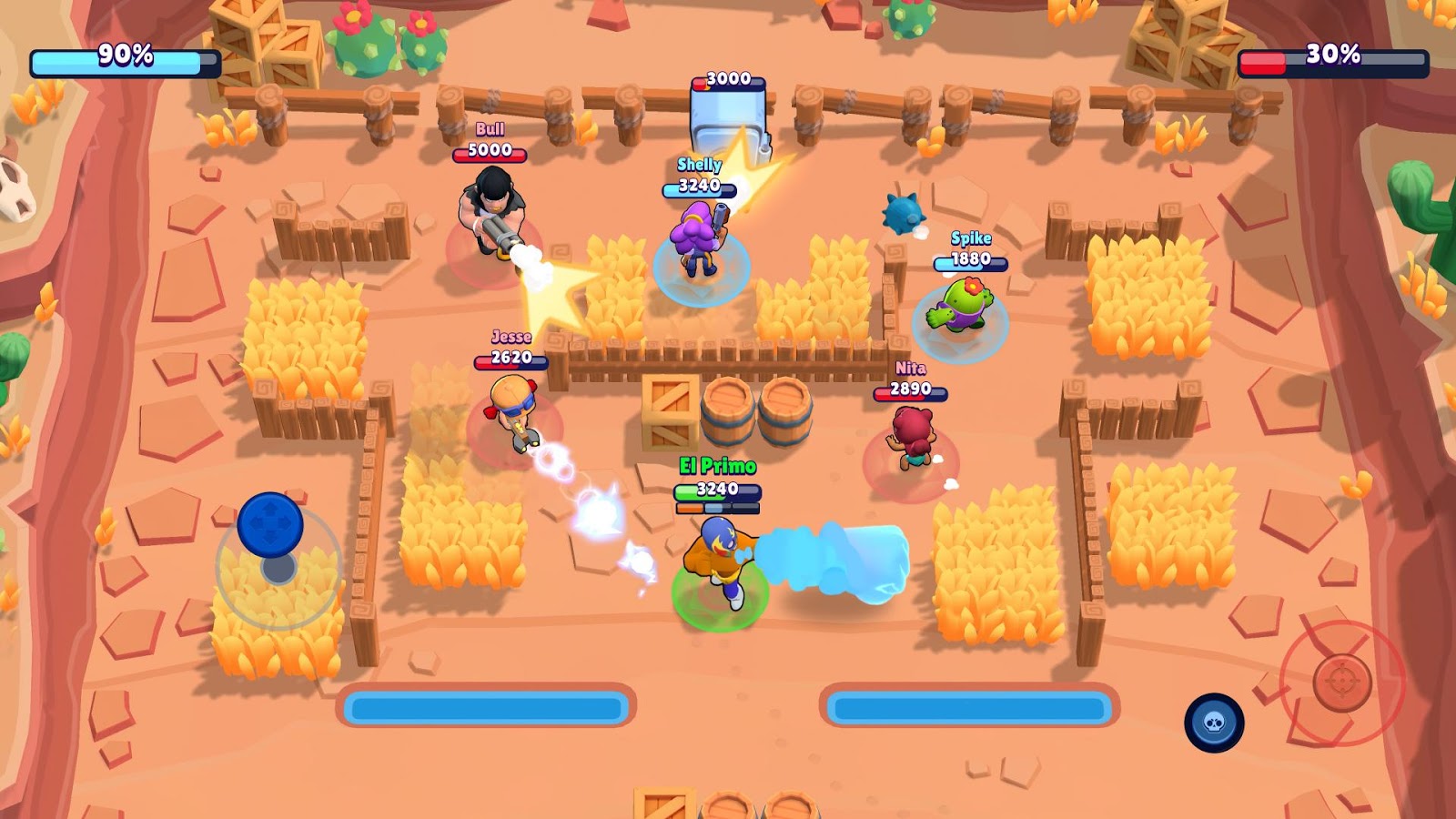 The option to play different modes in this game seems refreshing at first. But the truth is many mobile MOBAs -- like Arena of Valor -- also provide these "
arcade modes
". Consequently, Brawl Stars' secondary game modes don't feel different enough from other games.
How Arena of Valor and Brawl Stars feel similar is actually interesting given that the format is Tencent's flagship mobile game and Tencent owns 84% of Supercell.
Despite all the shortcomings, Brawl Stars is hands-down one of the most well-produced mobile multiplayer games on the market. On its launch day, it
topped the iOS download charts
in nine countries and made it into the top five in 24 others.
While it remains to be seen if Brawl Stars can amount to the level of success met by Clash Royale, it's definitely a game that you should check out during the holiday season.